Maintaining a landscape is no simple feat as there is so much involved. But these are important tasks not only for your own enjoyment and pleasure but also to maintain the value of your home. You can't overlook landscape maintenance if you want your property to look its best.
Of course, it's possible you don't even know what tasks should be performed (and when). With so much to do, you might be feeling a bit uncertain about what to tackle.

That's why we've rounded up this helpful guide to maintaining your landscape. This cheat sheet will fill you in on the vital landscape maintenance tasks you need to be performing and how they can be done.
Table of Contents
Caring For Your Trees and Shrubs
Maintaining Healthy Flower Beds and Seasonal Color
Mulching and Edging your Landscape
Lawn Care and Mowing
Preparing your Landscape for Winter
Hiring Landscaping Services in Alexandria, Arlington, or Springfield, VA
Caring For Your Trees and Shrubs
When it comes to landscape maintenance, caring for your trees and shrubs is important to the overall look of your property. That's because these elements are an essential part of the property's aesthetic appeal. Let's dive into the ways to maintain your landscape in Northern Virginia.
Pruning and Trimming Trees and Shrubs
Pruning and trimming are important aspects of tree and shrub maintenance. But it's not just about keeping these elements well-groomed. It's also about preserving their health.

Pruning is an essential part of caring for a tree or shrub because it removes the dead or dying material and allows the tree or shrub to restore its energy to the healthy parts of the plant.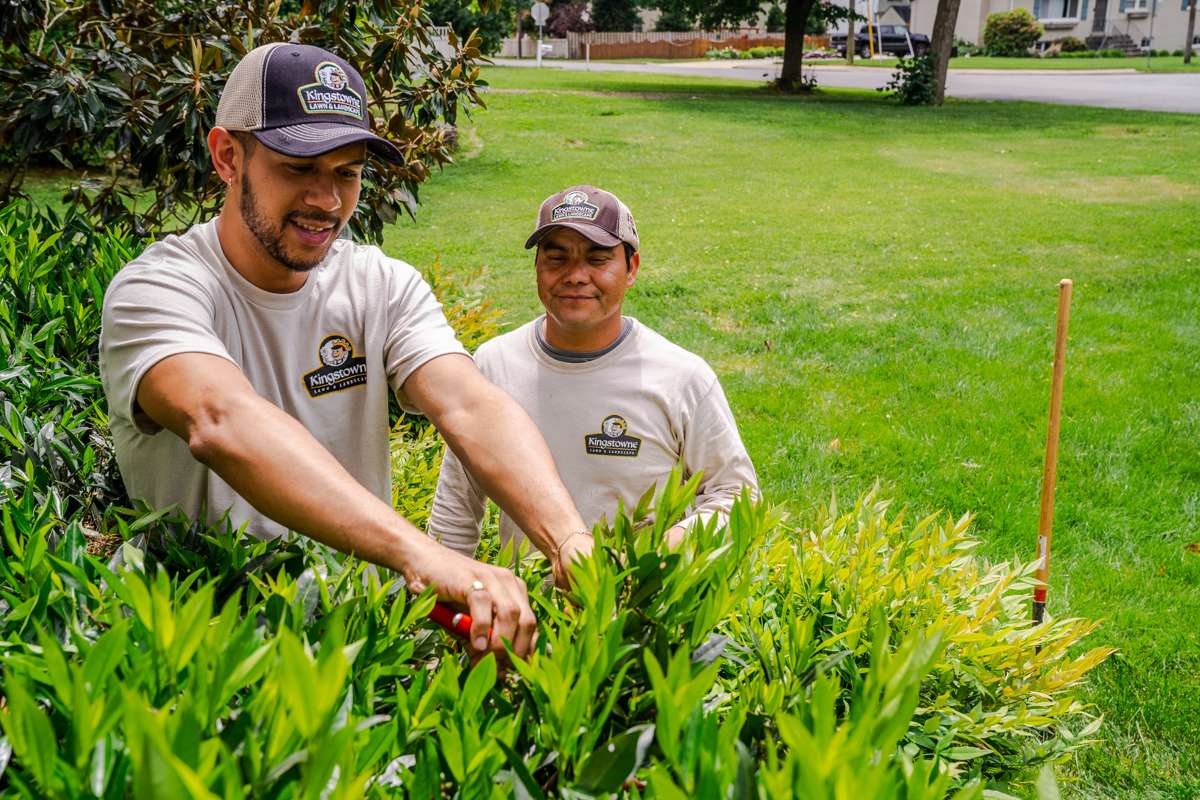 As far as how to prune trees and shrubs, the key is to remember that each tree and shrub is unique and this can impact how it's cared for. Timing, for instance, can really vary. If you prune a flowering shrub, such as an azalea, at the wrong time, you may prevent it from blooming. Considering that an azalea typically only provides three spectacular weeks of bloom time, you could essentially ruin that shrub for the season.

Utilizing the proper tools is also important. While some trees and shrubs can handle electric shears, other varieties should ideally be hand-pruned, only.

This is all a bit different from trimming, which is more about grooming your plants for looks. Trimming bushes to shape and control their growth is also an important aspect of tree and shrub maintenance.
Tree and Shrub Diseases and Pests
Tree and shrub insects as well as tree and shrub diseases also need to be on your radar. You do not want your beloved plant material to succumb to these problems.

There are surprisingly many different tree and shrub insects that can cause trouble. Some of the most common tree and shrub insects in Northern Virginia include the following.
Japanese Beetles
Scale insects
Spider Mites
Lace Bugs
But these are just some potential pests that could be killing your plants. Identifying the problem will be important when it comes to implementing a solution.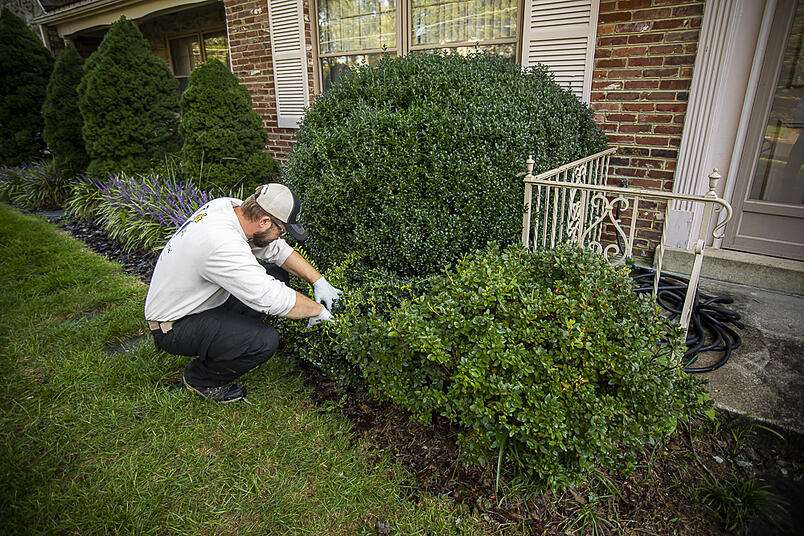 The same goes for tree and shrub diseases. Some of the common tree and shrub diseases that we see in Northern Virginia include the following:
Fungal Leaf Spot
Juniper Tip Blight
Boxwood Blight
But these are just some. Shrub disease identification can be difficult. Even if you are looking at shrub disease pictures, without professional training in horticulture, you might miss certain nuances or subtle signs of a problem. That's why it's important to bring in a pro.
Fertilizing your Trees and Shrubs
Good tree and shrub care should also include proper fertilization. When it comes to how to fertilize trees and shrubs, the key is to provide added nutrients to the trees and shrubs so that they will perform their best. This can help trees and shrubs to grow stronger and healthier.

While it is often mistakenly believed that trees and shrubs are entirely self-sustaining, in reality, they perform best with some added help. Your soil likely does not have all the nutrients needed for optimal performance so some fertilization will help.
Utilizing Plant Health Care Treatments
Fertilization, insect control, and disease control all fall under "Plant Health Care."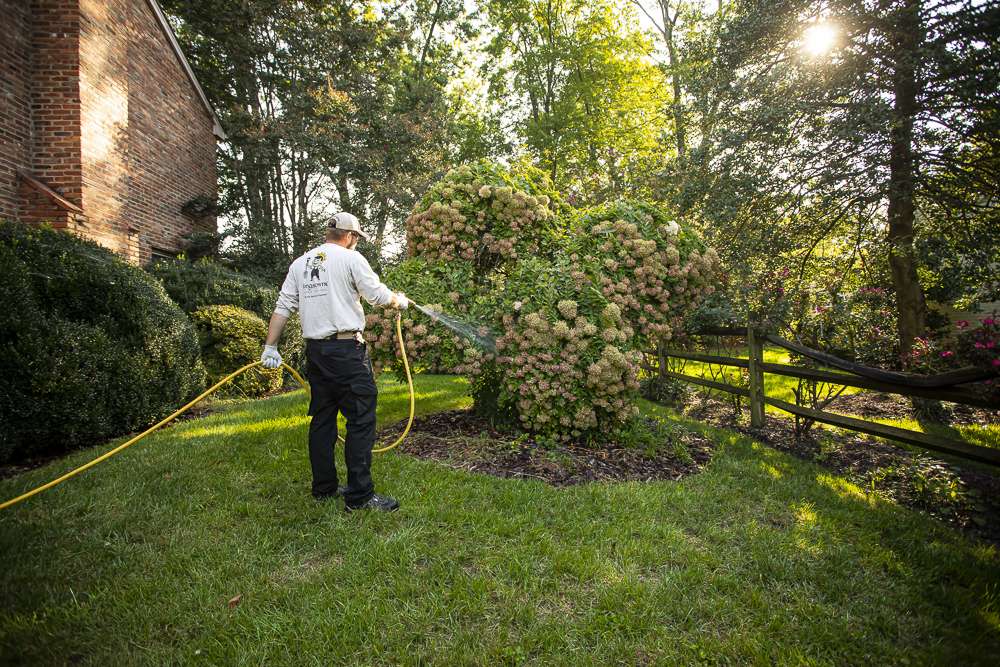 Simply put, Plant Health Care provides your plants with the vital nutrients they need to thrive while also protecting them against insects and disease. The tree and shrub treatments combine fertilization, pest control, and disease control. That means, with plant health care, your plants' leaves may be greener, your plants' flowers may grow more profuse with potentially longer bloom time, and your plants may be better protected against the threat of insects or disease.

If you are looking to invest in tree and shrub treatments in Alexandria, Arlington, or Springfield, VA, then you want to find a company that offers a comprehensive Plant Health Care program. This will help to set your plant material up for success.
Maintaining Healthy Flower Beds and Seasonal Color
Trees and shrubs are a key aspect of your landscape. But so are your flower beds and seasonal flowers. This is where you really get that wow factor that makes your landscaping pop.

Of course, you can't have beautiful plant material installed and then just hope it will continue to look good. You'll need to invest in flower bed maintenance to get the most out of them.

Let's talk about what's involved.
Flower Bed Maintenance
A key aspect of flower bed maintenance is your effort to keep weeds out of the flower beds. Unfortunately, it does not take much for weeds to grow. A single weed can put out thousands of seeds, and weeds can quickly spread throughout your beautiful beds.

But there are a few ways to keep weeds out of flower beds.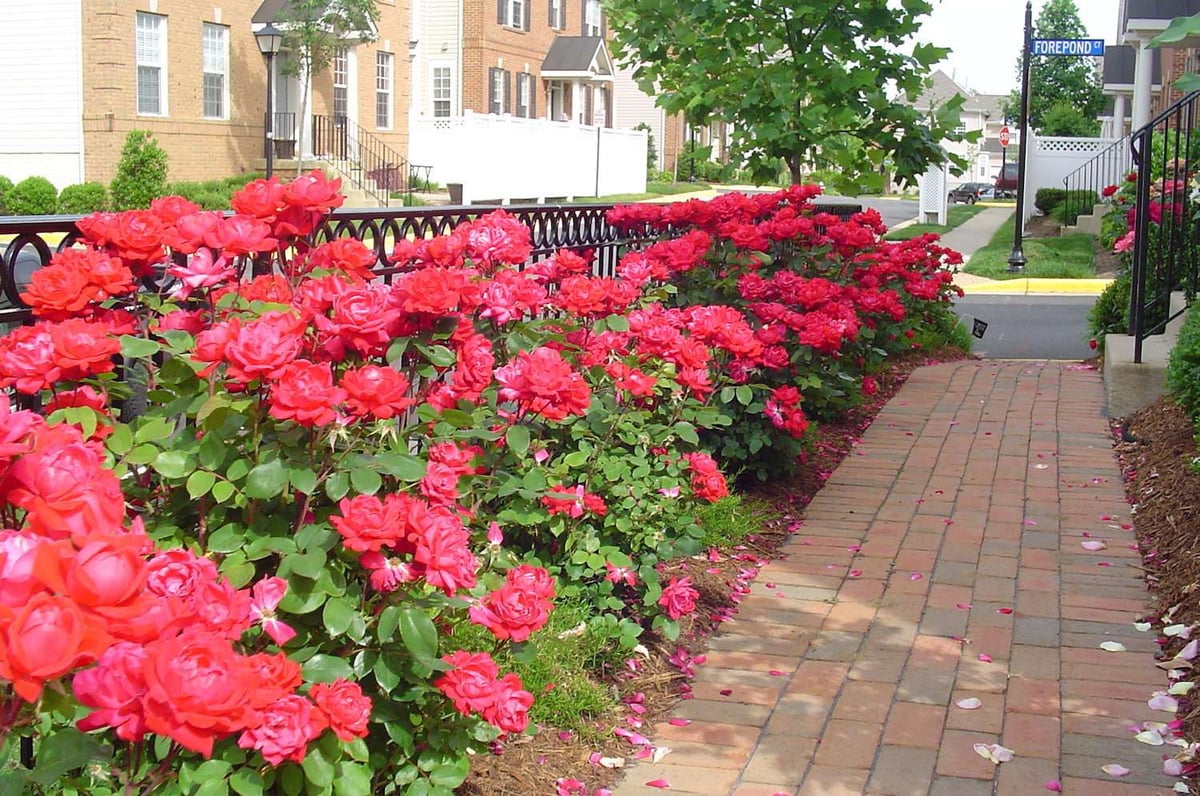 For one, you can keep up with regular weeding. If weeding is a chore that you absolutely hate, you might want to invest in a professional weeding program.

By having this service performed professionally, on a regular basis, you're going to save yourself a tremendous amount of time and energy. We find that homeowners often underestimate how long weeding will take. They assume they can get all of their weeds pulled in an hour. Several hours later they may start to wish they'd left the task in the hands of a professional.

Other key aspects of flower bed maintenance include dividing perennials, cutbacks, and seasonal flower installations, which we'll discuss next.

By keeping up with these tasks, you can maintain your landscape in an appealing way.
Seasonal Flower Installation
When it comes to having a beautiful and well-rounded landscape in Northern Virginia, it's important to think about all of the seasons and how you can keep your plant beds looking their best as long as possible.

Spring is probably the most popular (or at least most "thought of") season for seasonal flowers. There are lots of options out in nurseries and even local big box stores.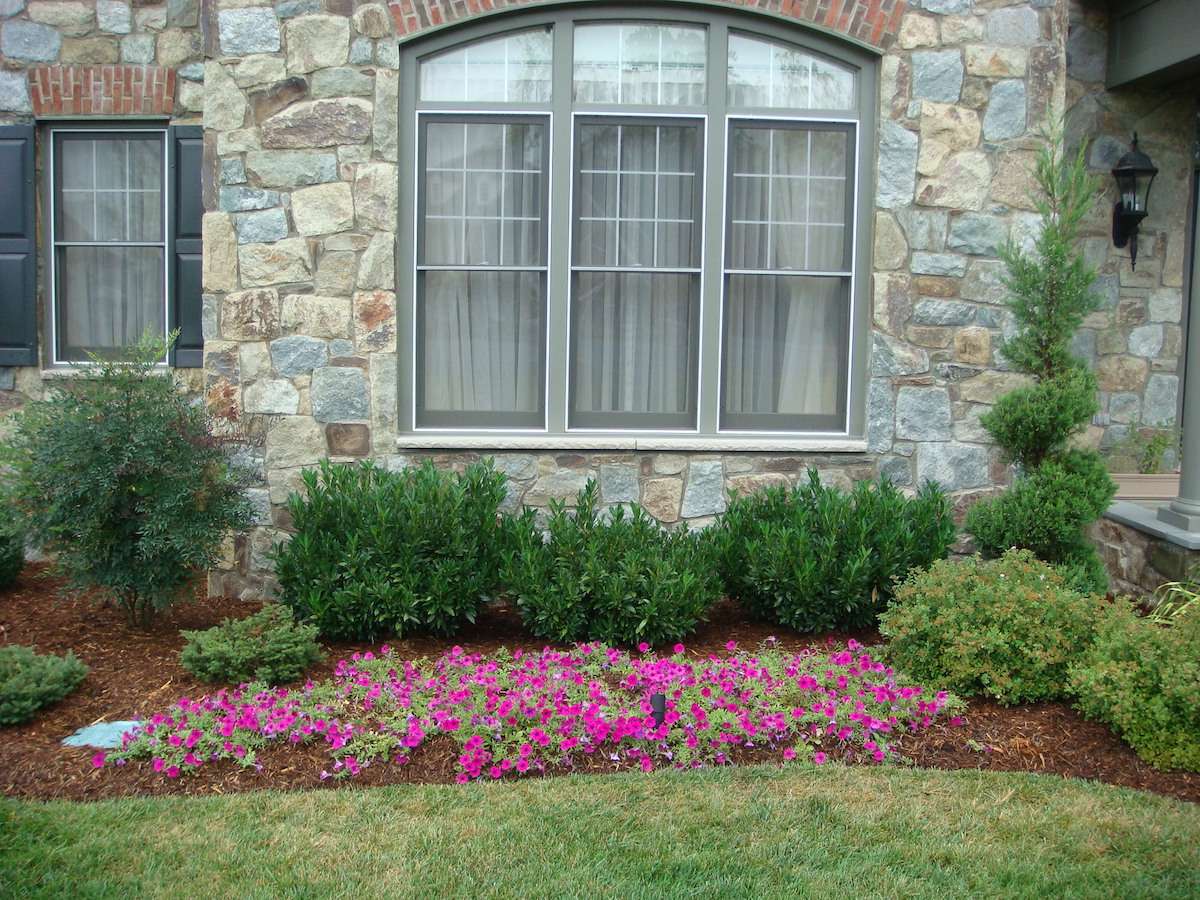 Most often, we start annual planting around May. You'll want to take good care of early blooming spring flowers so that you get as much time out of them as you can.

But the fall is also a fantastic time for seasonal color. Flowers like Mums, Pansies, and Ornamental Kale can add beautiful fall color. And colorful fall shrubs like Smoke Bush and Oakleaf Hydrangea can brighten up a landscape, too.
Mulching and Edging your Landscape
Mulching and edging are two more yard maintenance tasks that will help your Northern Virginia home to look its best. These services are sometimes undervalued for the benefits that they deliver. Let's look at why they're important and how to ensure they are performed right.
Mulching Tips and Tricks
Mulching is one of those services that seems super simple. But there are some nuances that can be overlooked. Before we provide some mulching tips, we first want to explain why to mulch in the first place.

Why is mulching important?
Most people think of mulching in terms of aesthetics, and that is certainly a benefit. But mulching also helps to insulate plant roots and regulate soil temperatures, assist with water retention, and suppress weed growth.

But gaining these benefits comes down to avoiding mulching mistakes.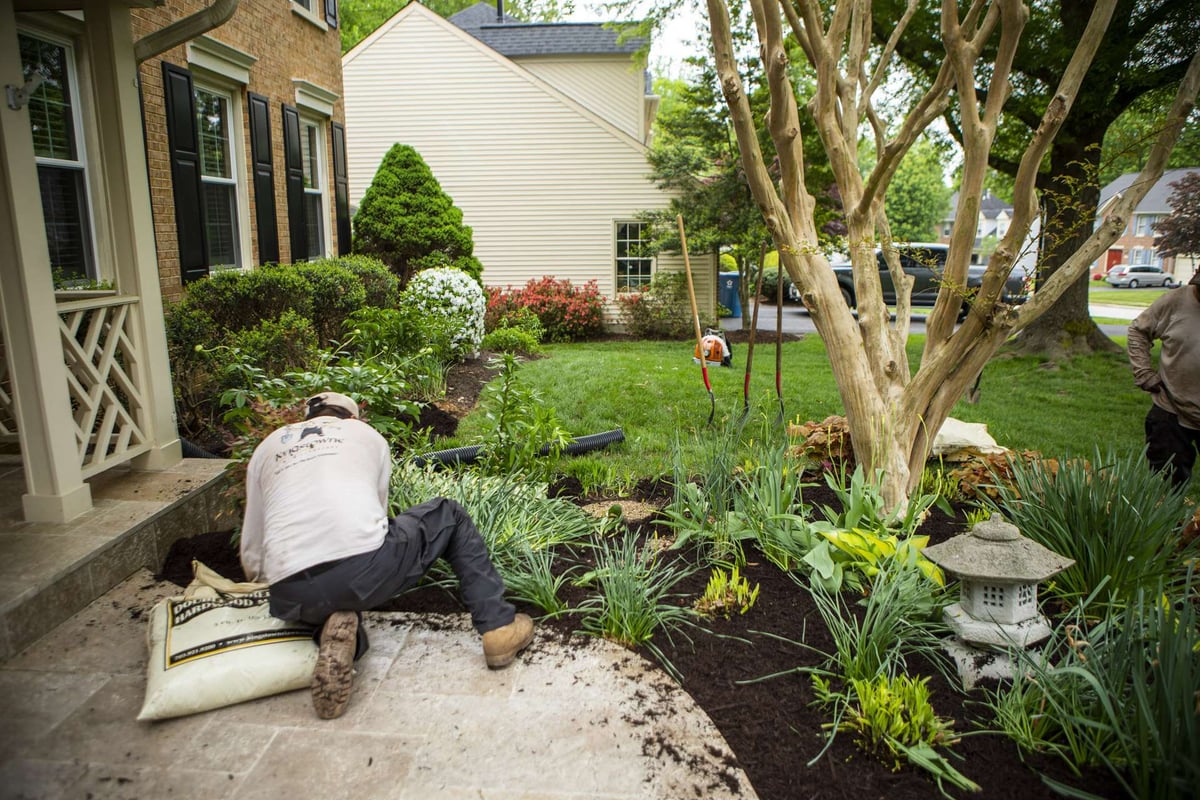 Here are some mulching tips to make sure you get the most out of this service.
Proper Amount: There is such a thing as over- or under-mulching. In fact, putting down the wrong amount of mulch is a common mulch mistake. Excessive mulch will fail to decompose over the year and can actually start to promote a moist environment that attracts insects and causes rot. But on the flip side, too little mulch isn't going to give you the benefits that mulch can offer such as root insulation and weed suppression. On average, most plant beds need between 2 and 3 inches of mulch per year.


Use High-Quality Mulch: Contrary to what many believe, mulches are not all created equal. Mulch can vary dramatically in terms of its quality. In fact, subpar mulches often come from recycling centers that take all types of garden debris, including invasive weeds. It can be filled with all sorts of junk you don't want in your beds. You want to make sure that you are putting down a high-quality mulch if you want to get the most out of it.


Invest in Professional Mulching Services
There is a lot of value in investing in a professional mulching service rather than performing this task on your own. For one, you can be confident that mulching will be performed properly so that you get the most out of it. But you'll also avoid hassles, headaches, and messes from doing the work on your own. Plus, a professional should also be able to incorporate landscape edging into your mulch beds to give them that professional touch that makes them look amazing.
Landscape Edging
The main reason that people like landscape edging is for aesthetic appeal. Creating a clean, crisp edge in a plant bed is a finishing touch that adds a lot of curb appeal. It makes a nice delineation between your lawn and your landscaped beds.

Of course, there are some functional benefits of edging, too. For instance, it can help prevent your mulch from washing out of the beds. It can also help prevent weeds from creeping from the lawn to the landscape (or vice versa).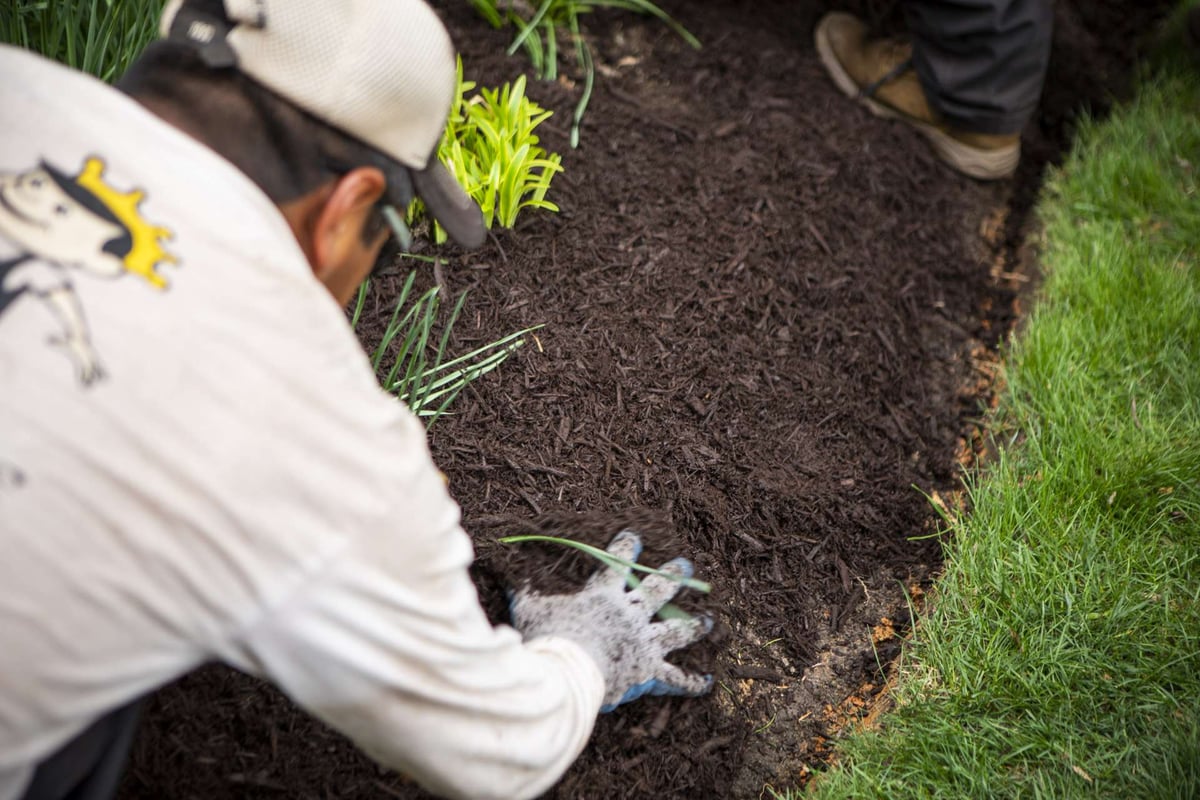 Most of our clients prefer natural edging in which the edge is professionally cut into the lawn. As far as the process to maintain landscape edging, a natural edge does take some upkeep. It will need to be re-cut again.

Another option is edging stone or steel edging. One option that we would strongly advise against is plastic edging. This is a cheap material that never holds up and tends to cause trouble.

As you think about edging and budget, also keep in mind that you don't necessarily need your entire property edged. It might make sense to choose edging stone for an architectural highlight in a prominent part of your front yard. This could go a long way in enhancing curb appeal. But perhaps other plant beds or tree rings around your property can simply have a natural edge cut in when mulching.
Lawn Care and Mowing
Other yard maintenance tasks that need to be tended to are regular lawn care treatments and mowing. Your turf is such a vital part of your overall landscape but it is not self-sustaining. It needs ongoing care.
Let's look at a few ways this can be achieved.
Lawn Weed Control and Fertilization
Lawn care in Northern Virginia needs to include regular weed control and lawn fertilization. There are a lot of different weeds that thrive here in our climate and having an effective weed control solution will help to keep them at bay.

Some of the common weeds that we see include:
Chickweed
Dandelions
Crabgrass
Clover
Henbit
Hairy Bittercress
Wild Violets
Since different weeds have different control solutions, it's important that you are investing in a lawn care program that takes a customized approach to weed control.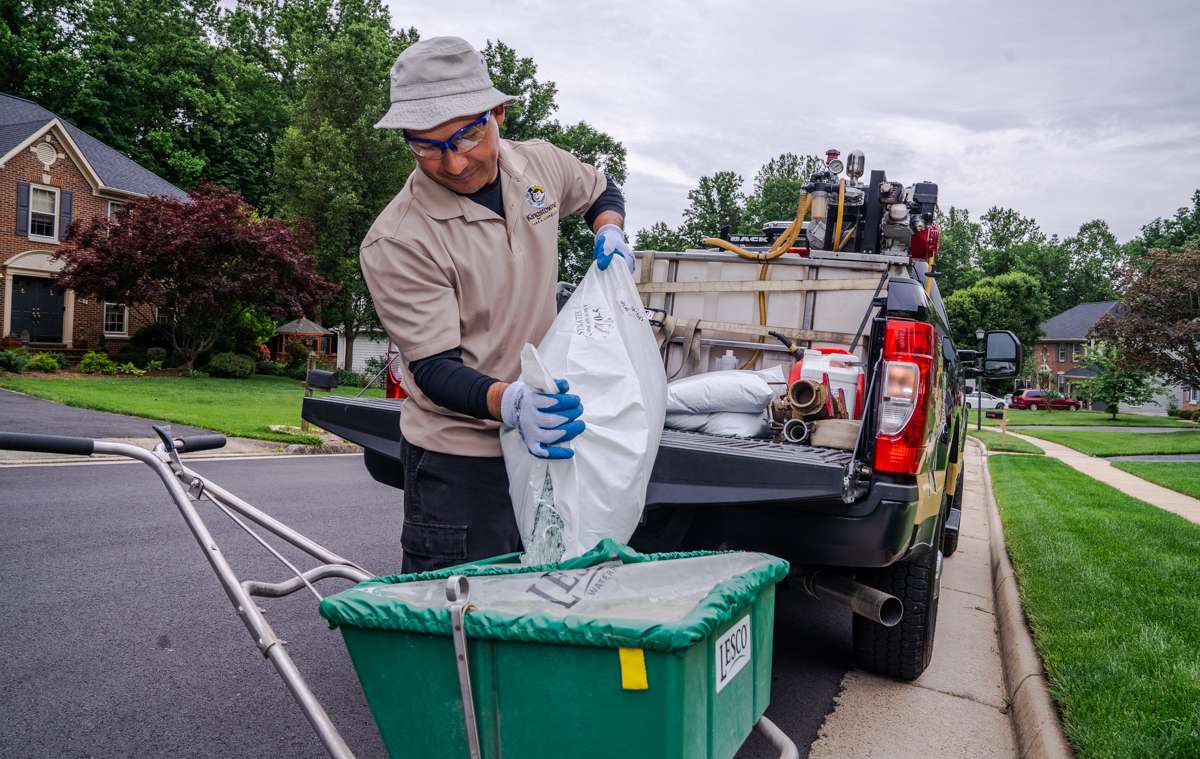 Similarly, lawn fertilization is also quite critical. Lawns are often lacking in key nutrients that they need to perform optimally. Lawn fertilization helps to add these nutrients back to the soil. Applying fertilizer to the lawn can help it to grow greener and stronger, too.
Lawn Mowing and Watering
It's also important that you are performing mowing and watering properly if you want to get the best lawn care results. These two seemingly simple tasks actually have a tremendous impact on your overall lawn.

Let's look at how they can be done best.
How to Mow Your Lawn
The key to proper mowing is keeping the grass mowed regularly. Mowing every two weeks, as opposed to weekly, is not in the best interest of your turf. The main reason is that regular mowing actually reduces the stress that is put on the lawn. After all, you have to remember that your lawn is made up of all these different grass plants, and as with any plant, cutting it can cause stress.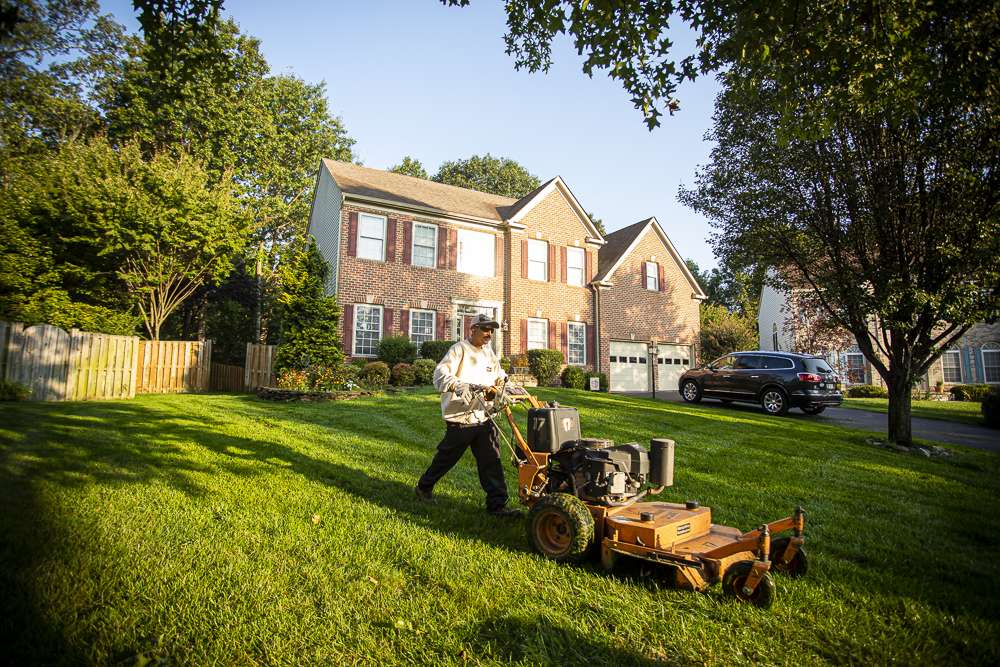 When you let the grass grow too long, you're making a much more significant cut. Ideally, you want to cut no more than one-third of the grass blade at a time.

You also want to be sure that you are mowing with sharp mower blades and a level mowing deck. If you don't, you could put unnecessary stress on the lawn.
How to Water Your Lawn
Proper watering is also key to your lawn's good health.

Established lawns need around one to two inches of consistent water per week. There are certainly plenty of times of the year when this can be met by rainfall. However, during dry spells, you may need to step up your sprinkler watering game or even have an irrigation system installed to simplify the task.

One sign that your lawn might not be receiving enough water is if the color changes from green to dull green, yellow, or even brown. Another sign is if you notice footprints when you walk across the lawn. If the grass blades crumple they might be drought-stressed.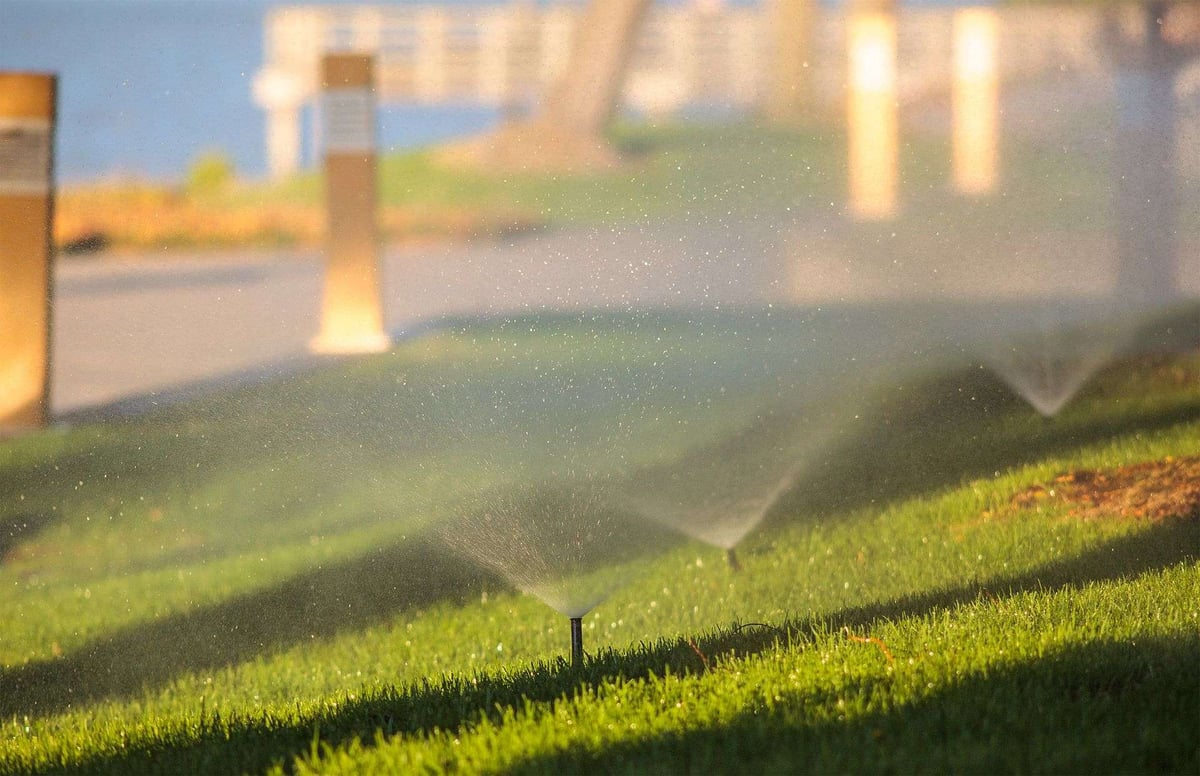 When you do water, try to emulate nature by providing deep soaking rain so that the soil is moist to a few inches of depth. This could mean somewhere between 45-60 minutes per zone.

Finally, we also recommend that people water in the morning as it will provide plenty of soak time before evaporation removes it. If you water in the afternoon, or even worse, in the evening, there's not enough sunlight to allow excess water to be evaporated. Overnight, water is just going to sit on your lawn which could actually lead to lawn disease.
Preparing your Landscape for Winter
Winter is a time of year when people often aren't thinking about their yards. But there are some important landscape maintenance tasks that need to be performed to prepare your yard for the winter in Northern Virginia.
Leaf Cleanup
One of these key tasks is leaf cleanup. Homeowners do not always realize that fallen leaves can harm their property. Obviously, there is an aesthetic component to getting leaves picked up. However, there is also the functional benefit of continuing your lawn's access to sunlight. When leaves are left on the ground they block the sun.

We know that a lot of people hate leaf cleanup. It can be back-breaking and exhausting work. Plus, if you have a lot of trees, it can feel like the leaves just keep on coming.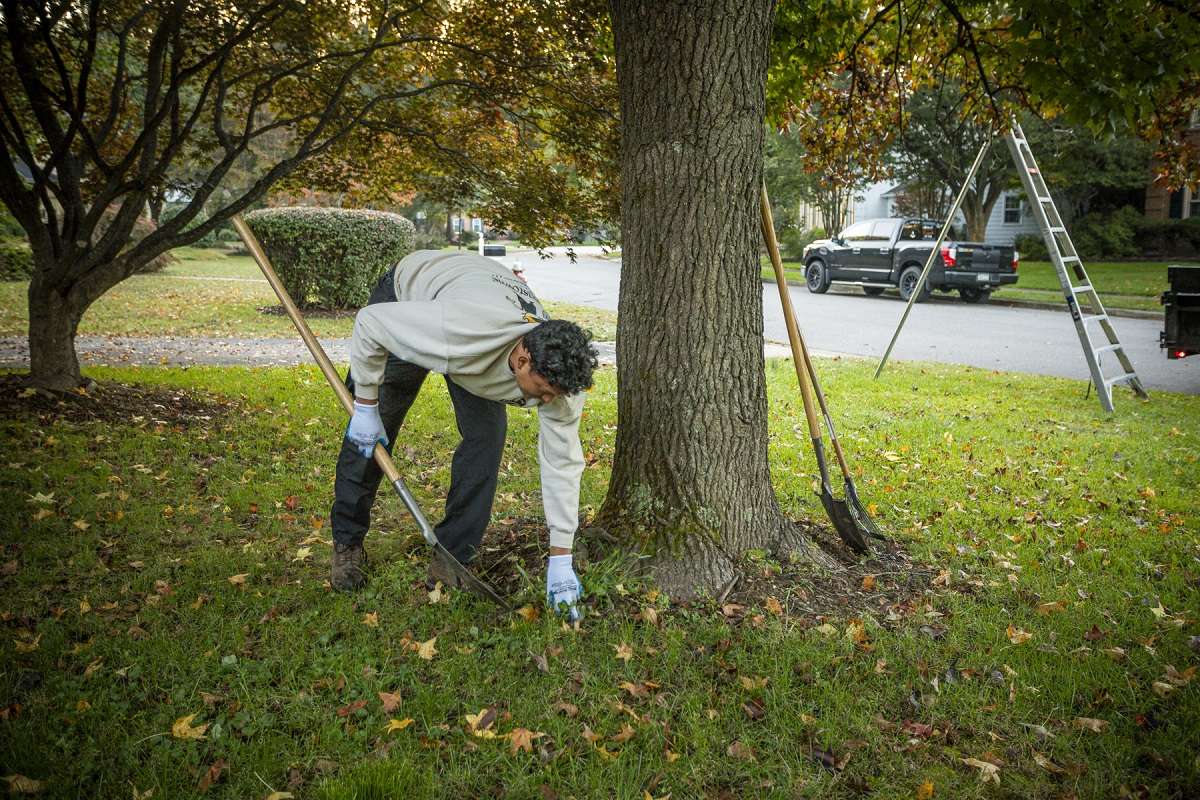 For that reason, many homeowners are interested in leaf cleanup services.

At Kingstowne Lawn & Landscape, we come out every 2 to 3 weeks for our professional leaf cleanup service near Alexandria, Arlington, and Springfield, VA. This is usually 3 visits during the course of the season and for most homeowners, that covers it. However, if you have a property with a lot of trees, we can create a schedule that includes more visits.
Protecting Trees and Shrubs From Winter Damage
The other key winter landscape maintenance task to consider is how to protect trees and shrubs in the winter.

For instance, snow and ice damage can cause major trouble for your trees and shrubs. One of the mistakes that homeowners make is trying to break ice off of branches. Attempting to knock the ice off of branches can actually cause even more breakage than just leaving the tree or shrub alone. If you allow time for the tree or shrub to thaw, you'll be less likely to cause problems.

On the flip side, if we're receiving snow and no ice has formed, then it's definitely okay to go ahead and shake some of that snow off of your shrubs and ornamental tree branches to try and prevent problems. Of course, we would never advise that you stand on a ladder to do this. Only shake the snow off of trees and shrubs from the ground.

Winter damage to trees and shrubs can also be avoided with proper and regular pruning. Ornamental trees, in particular, can be pruned so that any defects or weak branches are removed allowing your trees to have a better chance of withstanding snow or ice.
Hiring Landscaping Services in Alexandria, Arlington, and Springfield, VA
We know that we've thrown a lot out and that you might be feeling overwhelmed with all the yard maintenance tasks that need to be completed. But the good news is that you do not have to handle these on your own. Instead, you could hire professional landscaping services in Alexandria, Arlington, and Springfield, VA.
The Benefits of Hiring a Professional Landscaper
As you might have guessed, one of the key benefits of hiring a pro to handle your landscape maintenance in Alexandria, Arlington, or Springfield, VA, is that you don't have to perform these tasks on your own.

Yard maintenance can be back-breaking and very time-consuming work. It could even easily use up all of your free time. But when you hire a pro, you can hand these tasks over.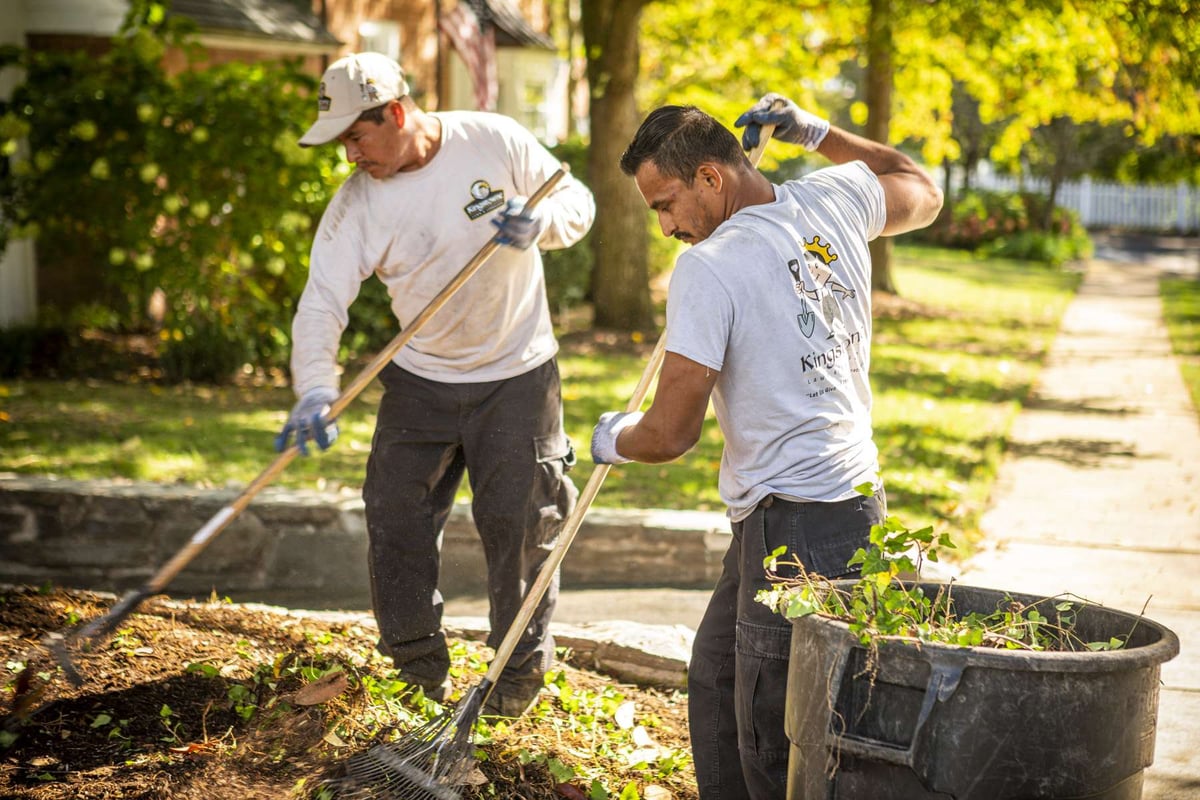 Of course, that will also mean you gain peace of mind that these tasks are being performed properly. While some landscaping services seem relatively "easy," others are more complex. Sometimes landscaping mistakes can be detrimental and negatively impact your investment in your landscape.

Another thing that homeowners don't always realize is that a landscaping professional is going to have access to better products and equipment to ensure that you get the best results. You really can tell the difference between a property that is cared for with professional landscaping services and one that is a DIY job.
How to Choose the Best Landscaping Services
If you are in search of landscaping services in Alexandria, Arlington, or Springfield, VA, then you might be feeling a bit overwhelmed by the selection process. After all, there are a lot of companies out there.

The last thing you want is to throw a lot of money away on a company that is not meeting your needs. You might have heard the horror stories about the landscaping companies that are in and out of your property without communicating what they've done or how they can best meet your needs.

When it comes to how to find the best landscaping company, you should spend some time researching landscaping company reviews. These are a great way to narrow your options down to companies that are producing a lot of happy clients.

You should also spend time on a landscaping company's website to learn more about them and what they can offer you. This is a great way to gain a sense of who is going to be performing the work.

At the end of the day, it's important that you choose a company that has your best interest at heart and will make the entire experience positive and convenient for you. While landscape maintenance can feel overwhelming, it truly does not have to be that way. With the right professional landscaping in Alexandria, Arlington, or Springfield, VA, you'll be able to rest assured you're in good hands.

If you'd like to find out more about our landscaping company and how we can fulfill your needs, request a consultation, get your customized plan, and relax while we get to work.
Image Source: Sprinkler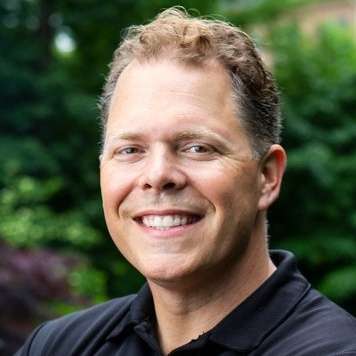 Krisjan Berzins - Owner, CEO
Since 1997, Krisjan has led the Kingstowne team with one simple philosophy, treat every customer like the "only" customer. His passionate pursuit of impeccable customer service has resulted in 24 successful years and a thriving company with over 85 employees, helping thousands of homeowners in the Alexandria, Arlington, and Springfield, VA area get what they want -- a worry-free property they can be proud of.