Are you stressed out by the sight of your unruly shrubs? It doesn't take long at all for shrubs to look messy and uncared for, and you may be worried that it's negatively impacting the overall look of your landscape.
While you may have looked into how to trim shrubs, and possibly considered doing it on your own, you might be worried that you don't really know how to take care of your shrubs properly. You ought to be able to find a reliable expert that you can depend on to perform this service for you.
And if you do find a pro, you want to feel confident that the service is correctly performed and also don't want to get ripped off when it comes to the shrub pruning cost.
Understanding more about what's involved in shrub pruning will help you make a wise decision when it comes to these services.
How to Prune and Trim Your Shrubs
One of the most important facts when it comes to shrub trimming, which homeowners sometimes overlook, is that timing matters. If you prune a flowering shrub, such as an azalea, at the wrong time, you may prevent it from blooming. Considering that an azalea typically only provides three spectacular weeks of bloom time, you could essentially ruin that shrub for the season.
In addition to impacting your shrub's ability to bloom, improper pruning can also lead to insect or disease concerns. While certain shrubs should not be aggressively pruned, others can tolerate it. Understanding how to trim shrubs really comes down to plant identification. Unfortunately, this is more difficult than a lot of people realize.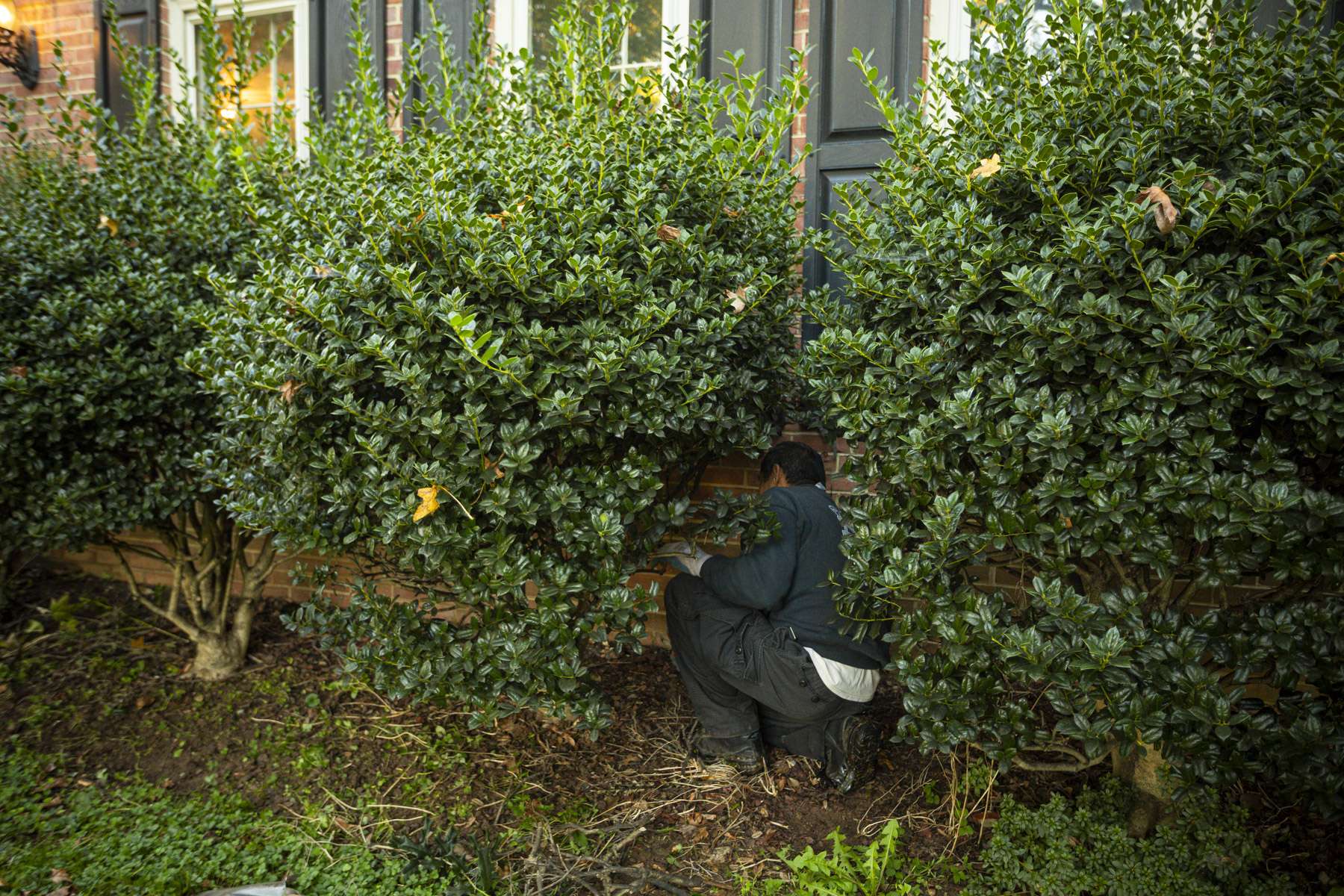 Besides knowing what to prune and when to prune it, you'll also need the right pruning tools. It's very important that your trimming tools are sharp. This is one of the hassles of DIY shrub trimming as you may not know where to go to get your tools sharpened or you may not feel like standing in a long line to do so.
You also have to be sure that you've selected the right tool for the right shrub. While some homeowners, and even some landscapers, want to use gas or electric-powered shears on everything, many shrubs require hand trimming with a precise instrument or you could risk damage.
Chances are, you just don't want to deal with these hassles. You likely don't want to worry about choosing the right tool or about making sure they're always sharpened. And it's very unlikely that you feel like learning anything about plant identification—for instance, most people mix up boxwoods and certain hollies.
For these reasons, you might be searching online for a local shrub pruning service. You may also want to know more about shrub trimming costs and what's involved in hiring a professional to maintain your shrubs.
Professional Shrub Pruning
A search for shrub pruning services in your area likely revealed a lot of options. So, how can you be sure that you're hiring a company that is going to provide top-notch shrub pruning services?
By understanding more about these services, you know that shrub trimming requires a bit more skill than you may have thought. Unfortunately, even some professional landscaping services fail to perform pruning properly. Therefore, you want to be sure to find a landscaping company that takes the following steps.
Takes the time of year into account when performing shrub pruning

Hand prunes varieties that need extra care

Takes your personal preferences into account (after all, some aspects of trimming, such as how hard you want your shrubs pruned, are subjective)

Maintains sharp tools in excellent condition
A company that takes some of these extra steps is one that you can feel confident has the expertise to know the intricacies of shrub pruning. Of course, when they're finished with the work, you want to see that they've cleaned up, too. Leaving branches and clippings all around your property creates an eyesore. You want a company that will also perform diligent clean up.
Shrub Pruning Cost
Shrub pruning plans starts at $50 per service for a small townhome. How often you prune will obviously have an effect on how much you ultimately pay. The longer that you wait to prune, the more traumatic it is for the plant and that can potentially kill it. You can look at pruning as an investment in the overall well being of your shrubs.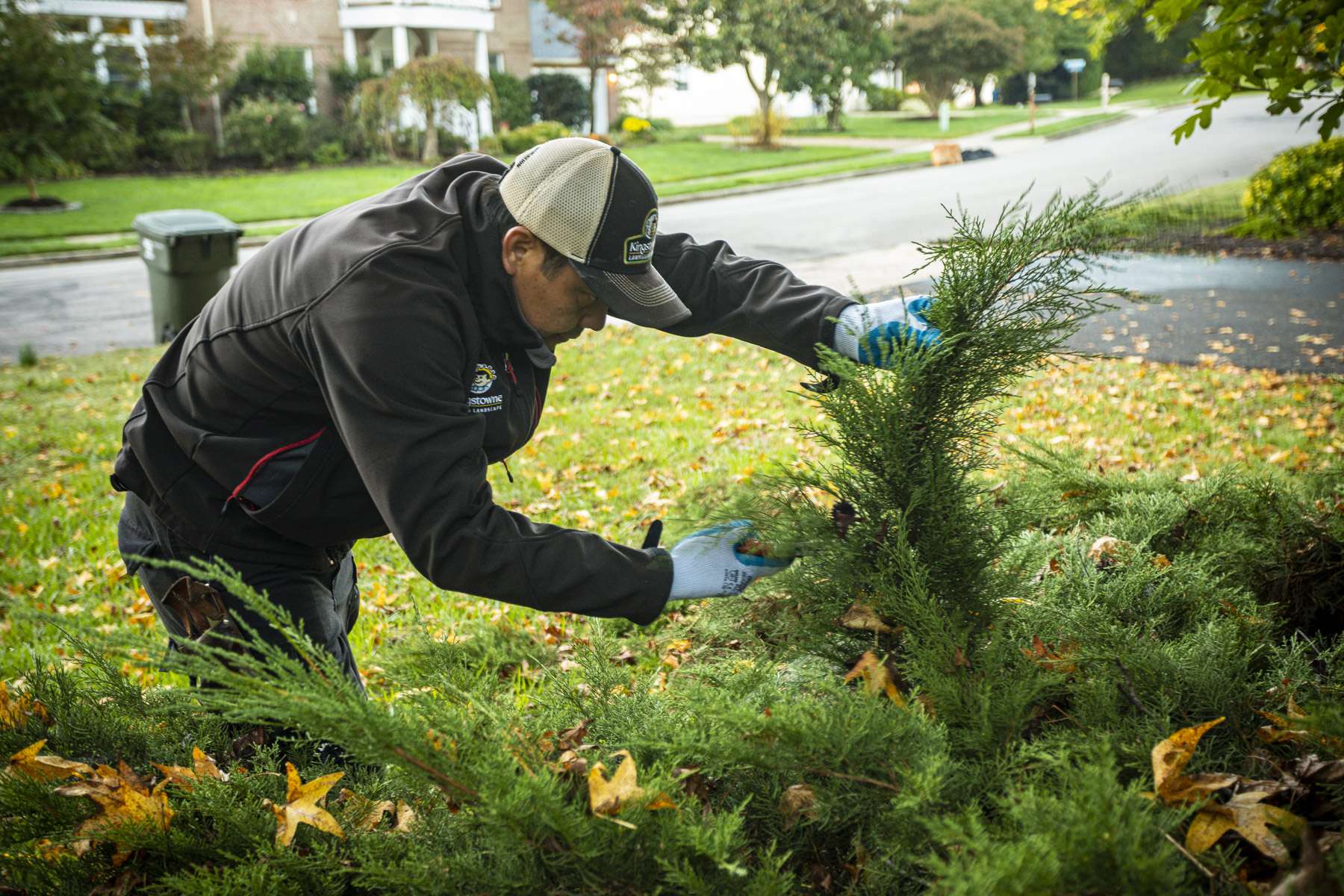 Some homeowners choose to have pruning performed as a one-time service. This is a viable option but be aware that the lack of frequency (when compared to a plan as listed above) causes an increase in the shrub pruning price.
How Often Should I Prune?
The bare minimum plan for pruning is twice a year, but for most properties, this really isn't enough to help keep your shrubs looking their best. You probably already know just how fast shrubs grow and start to look messy. If you wait too long, your shrubs will start to become an eyesore.
Pruning less of the plant but more frequently is by far the best for the overall health of it. We recommend pruning shrubs every other month, which comes out to be five times per year. This is the sweet spot for pruning and will help keep everything looking and performing its best.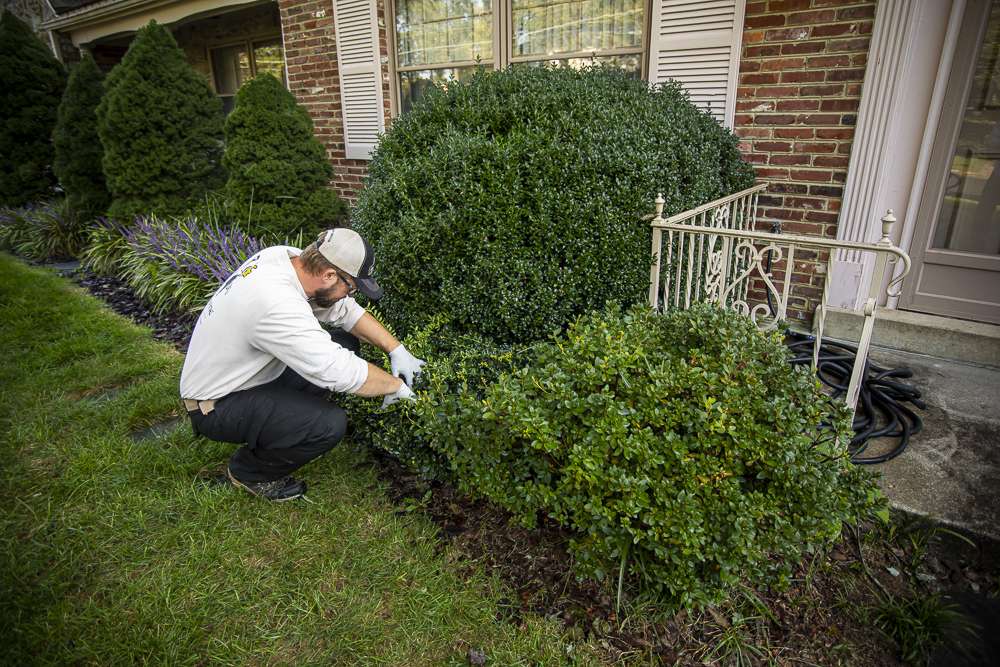 In fact, shrubs grow thicker when you prune more regularly. Frequent trims make slight "injuries" to the plant which forces it to put its energy into growing (to recover). In turn, this helps thicken up your shrubs.
Another benefit to pruning more often is that it helps keep the plants looking more natural and less obvious that they've been pruned. It's a lot like getting a haircut. It would be a very obvious difference—long then suddenly short. But regular pruning maintains more of a consistent, attractive look.
Working with a Professional for Your Shrub Pruning
By choosing a landscaping professional who knows how to properly handle your shrub trimming not only will you hand over the hassles associated with this service but you'll also wind up with superior results compared to what you might have been able to do on your own. That means you'll wind up looking like the best property on the block. No longer will you be embarrassed by your overgrown or messy shrubs. Instead, you'll be proud to show off your property.
Are you ready to ditch the worries associated with keeping your shrubs well maintained? Get started today! Request a quote, get your customized plan, and relax as you let us get to work.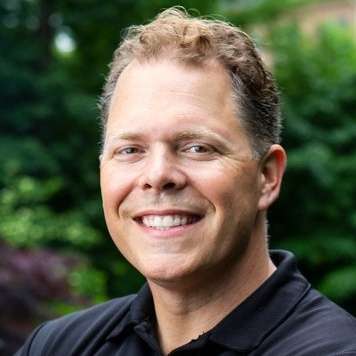 Krisjan Berzins - Owner, CEO
Since 1997, Krisjan has led the Kingstowne team with one simple philosophy, treat every customer like the "only" customer. His passionate pursuit of impeccable customer service has resulted in 24 successful years and a thriving company with over 85 employees, helping thousands of homeowners in the Alexandria, Arlington, and Springfield, VA area get what they want -- a worry-free property they can be proud of.