Picture this—it's a beautiful night and you're sitting outside with some of your friends, gathered around your roaring fire pit. Having the fire feature there brings ambiance, light, and heat to your space. It's a picture-perfect scene. With the fire pit drawing you all in, the experience is even more memorable. There's a sense of "coziness" to the atmosphere.
While that all sounds great, you may be wondering can I have a fire pit in my backyard? You have no idea what's involved or how to add one. As you start to explore the process, there are some important things to know about fire pits so that you can make wise choices.
1.
Fire Pits
can be Free-Standing or Built-In
A lot of stores sell free-standing, movable fire pits, typically made from steel. If you're just looking to achieve a backyard fire and don't really care about the aesthetic appeal of the structure, this might be enough to meet your needs.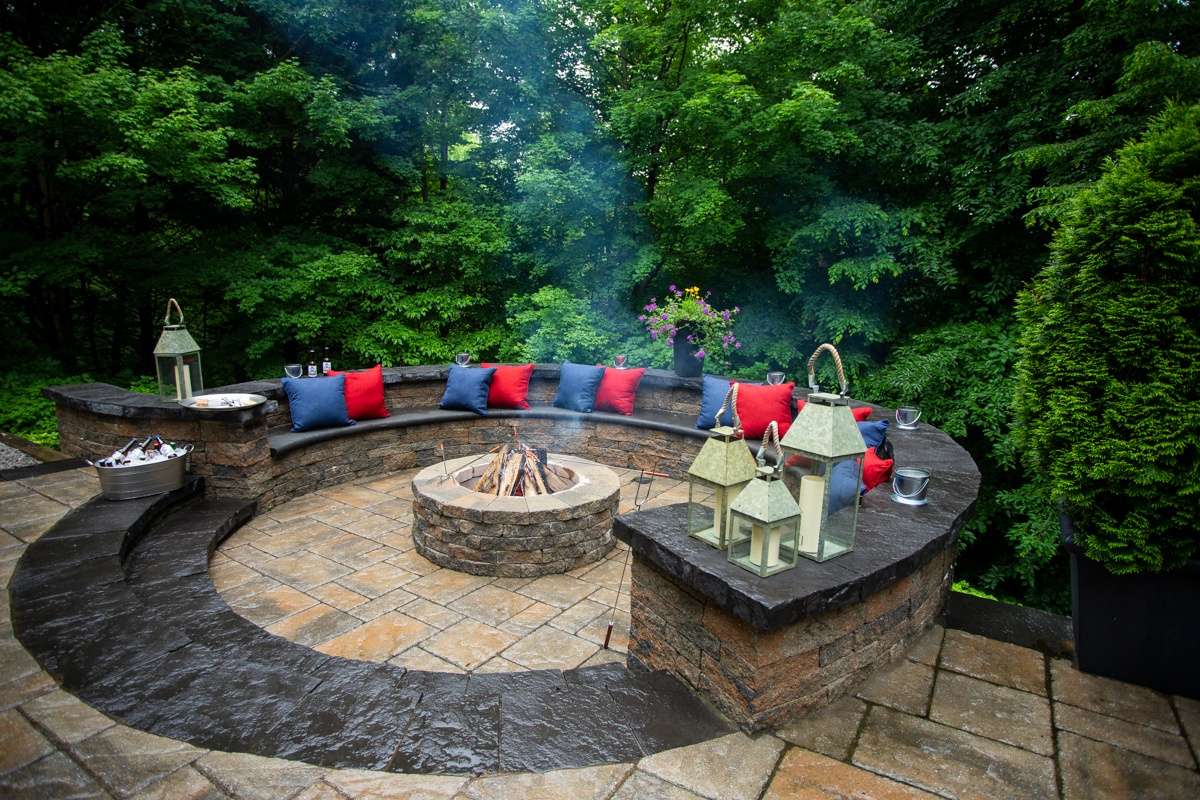 However, if you're looking for something that is going to add value to your property and become part of the overall outdoor living space, then you might be looking at building a fire pit on a patio—something that is built-in and permanent, which may even become the showpiece of your entire space.
2. A Fire Pit Can Be Fueled by Gas or Wood
Another fact about fire pits is whether your built-in fire pit is fueled by gas or wood is a matter of personal preference. You should know enough about each option that you can make a decision that's best for you. Some people just love the smell and sound of burning real wood. That crackle and pop of the wood burning is part of the overall appeal for them of having a fire. For those who prefer a wood-burning fire, even the process of building the fire may be part of the fun.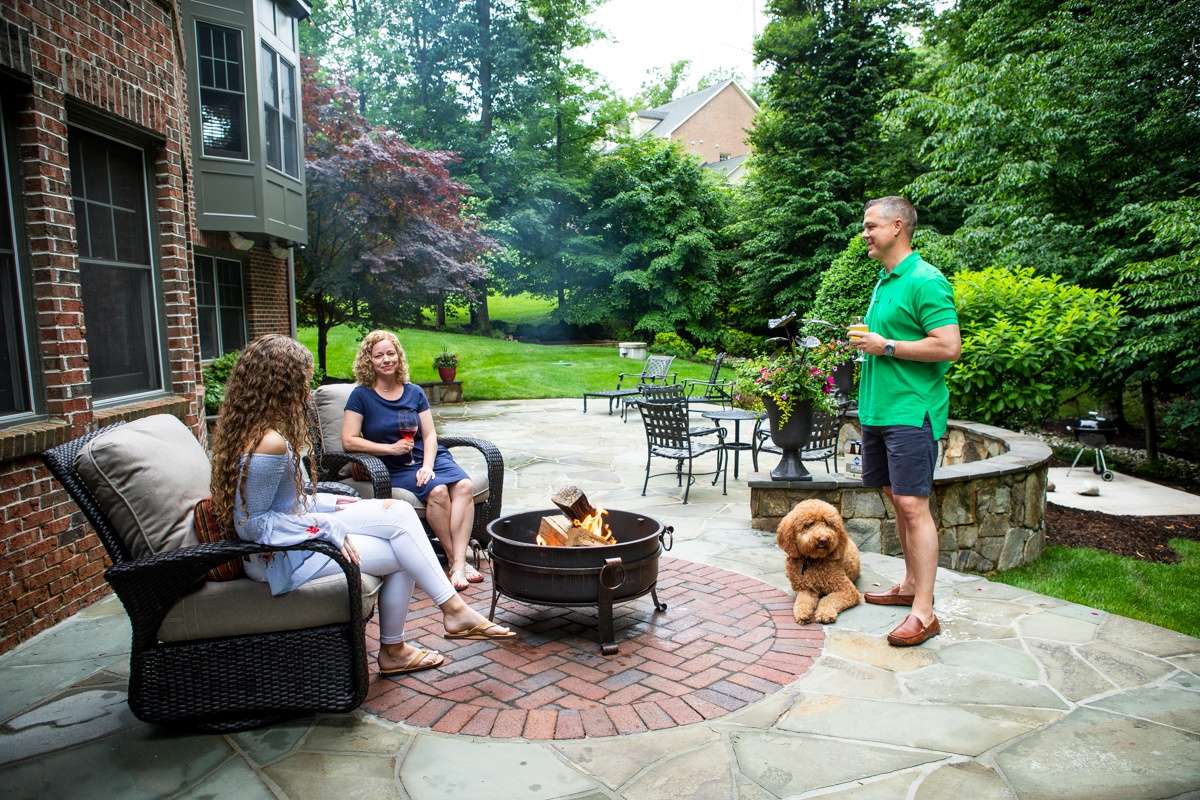 However, for others, the convenience of gas is key to their enjoyment of a fire pit. It can be turned on (or off) at the push of a button. For those that prefer gas (which can either be tapped into an existing gas line or run off of a separate propane tank), they may like the idea that they don't have to build the fire. They may also like the idea that they don't have to store wood on their property. Plus, while the smell of wood burning is an appeal for some, for others, it's a frustration to have that scent on their hair and clothing long after the fire has been put out.
3. Custom Fire Pits Come in Various Shapes and Sizes
Custom-built fire pits can come in many different shapes and sizes considering the fact that they can be designed to your liking. Choosing the best design for your space is a mix of personal preference regarding style as well as what will work best for your space.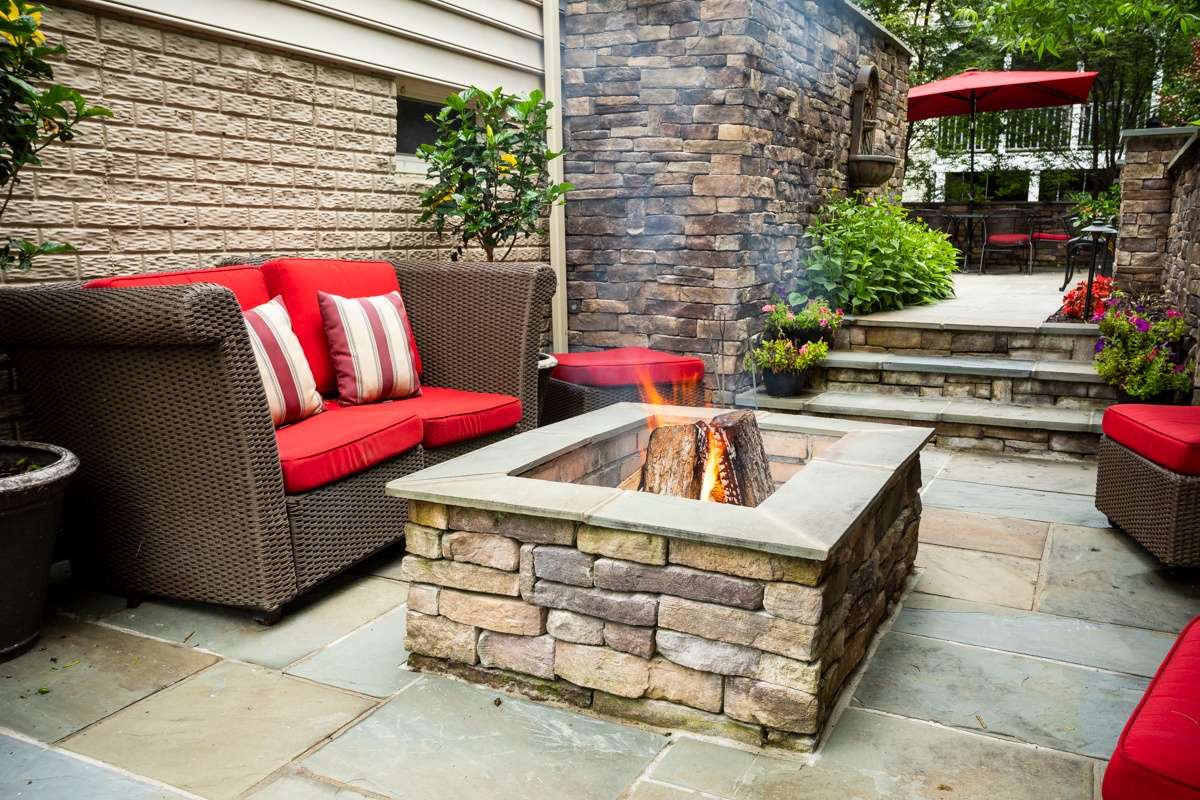 For instance, fire pits can be round or rectangular. A round fire pit has a bit more of a campfire and casual feel to it while a rectangular fire pit has a little bit more of a modern feel to it. You'll need to consider what fire pit design will work best for you.
4. Spatial Considerations are Critical when Building
Fire Pits
When it comes to building a fire pit on a patio, you need to think about spatial considerations. We often find that homeowners don't realize how much space a built-in fire pit can take up. On a small patio, it's going to take up a lot of room, possibly even the entire space, once you consider adding seating around it. If you are someone who will use their fire pit all of the time, that won't be a problem.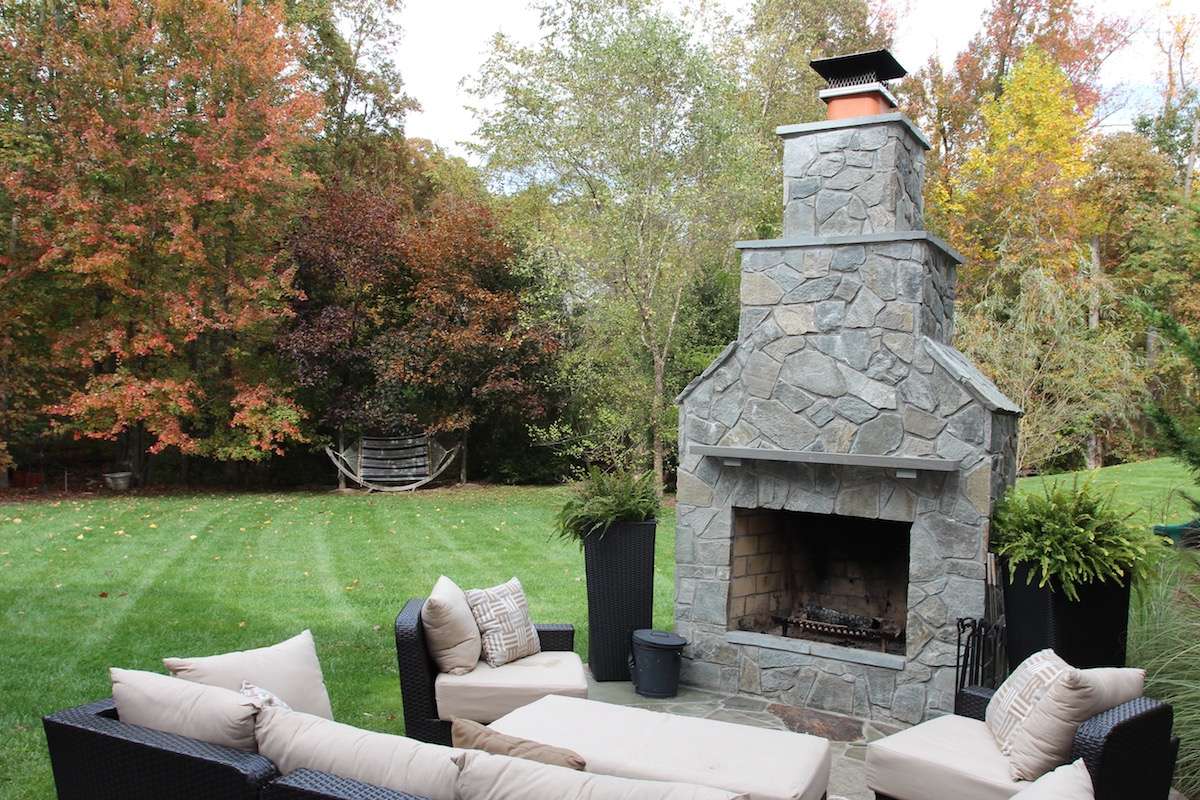 But if you only plan to use a fire feature from time to time, and you want the space for other activities, then you might want to consider an outdoor fireplace, instead. An outdoor fireplace can be built on the edge of a patio and won't take up as much useable space.
5. Fire Pit Safety Should be a Priority
Safety is obviously something to consider when installing an outdoor fire feature. What some people don't realize is that certain materials from which a fire pit can be built are not suited to the high heat and can splinter, making it dangerous. For instance, some people attempt a DIY fire pit from various materials in their yard, having no idea what the fire rating is of that material. Even more concerning, a material such as concrete blocks can actually explode when subject to extreme temperatures.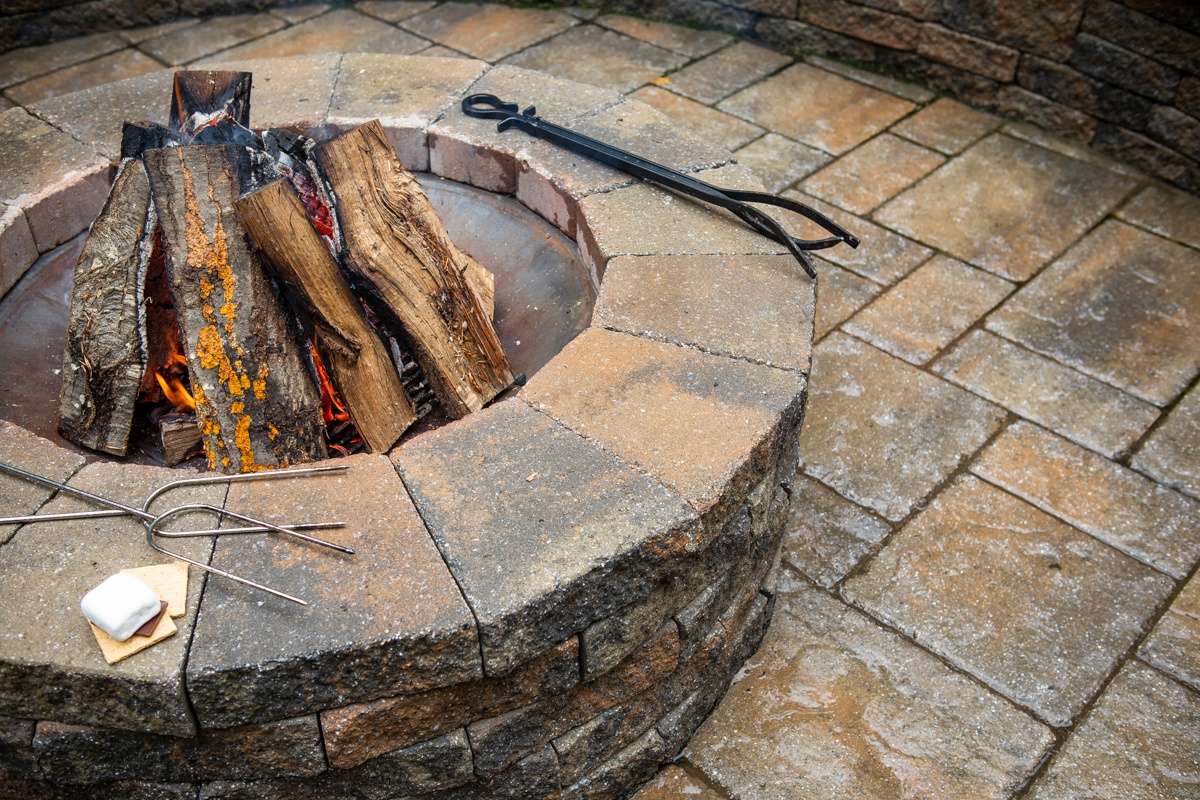 There are also local ordinances to adhere to when building a fire pit. For instance, in some municipalities in Northern Virginia, the law states that a recreational fire cannot be conducted within a certain number of feet from a structure or combustible material. The issue is further complicated by each municipality's interpretation of these ordinances based on the specifications of each fire pit. This can become a bit overwhelming for most homeowners, but is something an experienced landscape designer usually investigates.
In addition, there are some common sense safety tips such as not building it near low-hanging branches or underneath a covering such as a pavilion. When built with safety in mind, you can enjoy your fire pit without any worries.
6. DIY
Fire Pits
May Pose Risks
You might also be deciding between building your own fire pit or having one installed professionally. With the safety factors that are involved with a fire pit as well as the importance of having it built properly, it's not worth the risk of trying to build something on your own. You could make a mistake that could be potentially dangerous.
However, it's not just DIY fire pits that you need to worry about. You should also be wary of contractors who have only built an occasional fire pit and don't really have the experience. Instead seek out fire pit builders in Alexandria or Arlington, who have constructed numerous fire pits over the years and have lots of experience in what's involved.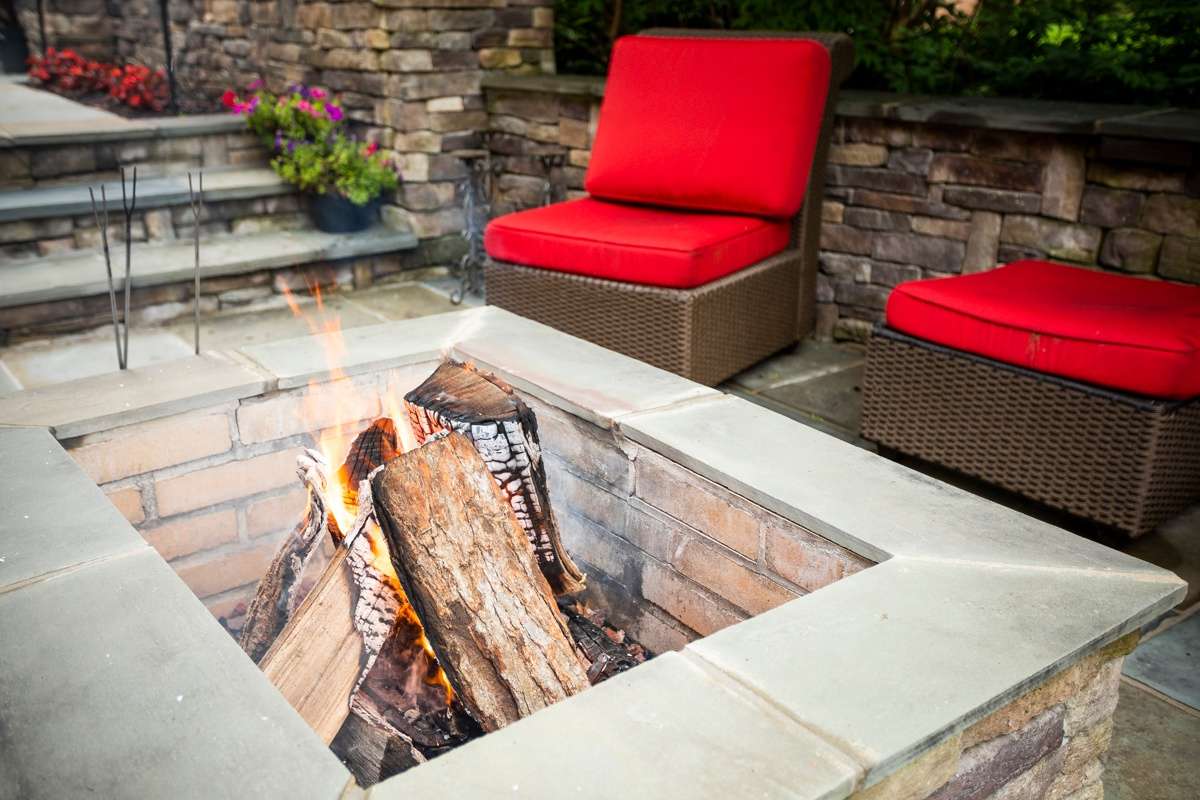 Even a detail as small as where on the property the fire pit is placed can have the power to make or break your enjoyment of the feature. If the fire pit is placed in a location where the wind constantly blows the fire's smoke into guests' faces, using your fire pit won't be an enjoyable experience.
7. Fire Pit "Accessories" Include Inserts, Covers, and Screens
Something else to know about fire pits, there is more to a fire pit than just the exterior material from which it is built. A special insert installed with the proper amount of space between the fire pit material will prevent the exterior from getting too hot and causing problems. We use a special ceramic insert in our custom-built fire pits.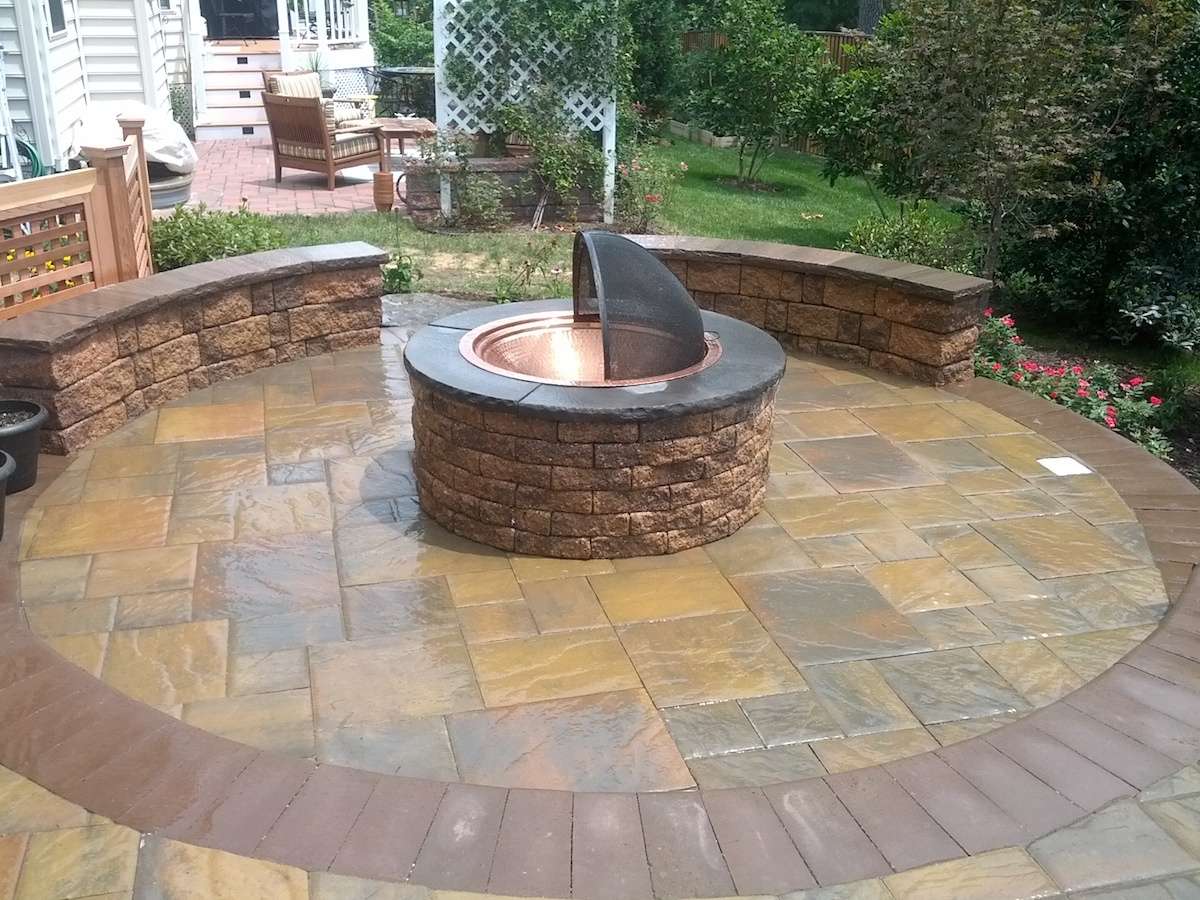 You might also be considering a cover for your fire pit to assist in putting out a wood-burning fire. A protective cover can also be used for weather protection. In addition, screens are also a consideration for fire pits in order to help contain the sparks. It's something else to think about if you'd like to add a wood-burning fire pit.
Working With a Pro to Install a Fire Pit in Alexandria, VA
The addition of a fire pit to your backyard can add value and enjoyment to your space—but only if its built properly. There is a tendency to underestimate how complex fire pit installation can be. Not only are there a lot of details to keep in mind in order to maximize enjoyment, but it's also important that safety and proper construction are taken into account in order to ensure your new fire pit is not a danger.
For these reasons, it is definitely a project best left to the pros. By choosing to work with professional fire pit builders in Alexandria and Arlington, VA who have constructed numerous fire pits over the years, you can feel confident that your new fire pit comes together the way you envision and doesn't have any dangerous problems to worry about.
If you'd like some guidance on adding a fire pit, request a consultation, get your customized plan, and relax knowing that you're in good hands.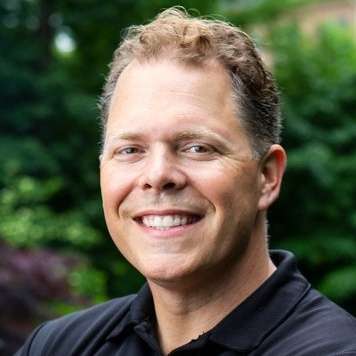 Krisjan Berzins - Owner, CEO
Since 1997, Krisjan has led the Kingstowne team with one simple philosophy, treat every customer like the "only" customer. His passionate pursuit of impeccable customer service has resulted in 24 successful years and a thriving company with over 85 employees, helping thousands of homeowners in the Alexandria, Arlington, and Springfield, VA area get what they want -- a worry-free property they can be proud of.