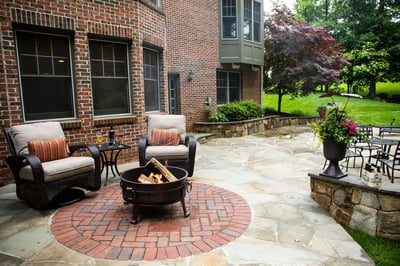 You love the idea of having a patio. You can picture yourself enjoying your morning coffee outside or even dining al fresco in the evening hours. But what you don't love is the thought of all the hassle involved in getting the patio that you really want.
You know there are various material choices and you're really not sure which route you want to go. Chances are, you know each material has advantages and disadvantages and you just want to make sure you don't overspend or end up with something you hate later.
You ought to be able to carefully weigh all of the options and have a landscape contractor walk you through them so that you can choose what's best.
At Kingstowne, we have designed and built concrete, paver, and natural stone patios and have extensive experience with each material. That allows us to be able to objectively weigh each option and help you make the decision that's right for you (not just our preference).
Concrete Patio
Pros and Cons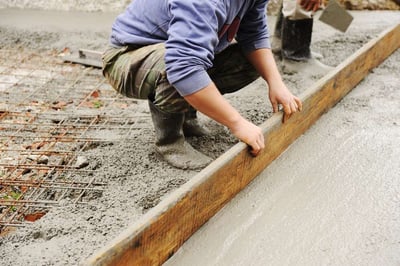 A poured concrete patio is a versatile option in that it can be formed into any size or shape to suit your yard. These days, there are more decorative concrete options with the emergence of stamped concrete. Let's look at some of the other pros and cons of a concrete patio.
Concrete Patio
Pros
The

concrete patio cost

is the biggest pro as it is the least expensive of the 3 options
Minimal maintenance other than occasional power washing
Concrete Patio
Cons
Poured concrete is prone to cracking, particularly in our region where there is a frequent freeze and thaw cycle.
While concrete doesn't require much maintenance on an ongoing basis, when it cracks, it will require "patching" which is hard to disguise.
Concrete has a more "cookie cutter" or even industrial look to it than other materials.
Not many color choices or patterns available
Paver Patio
Pros and Cons
Another option to explore is a paver patio. Pavers are a man-made material, meaning they can be made in a variety of shapes and sizes. Pavers can be anything from long and plank-like to small and brick-like. Let's look at some more pros and cons of choosing a paver patio.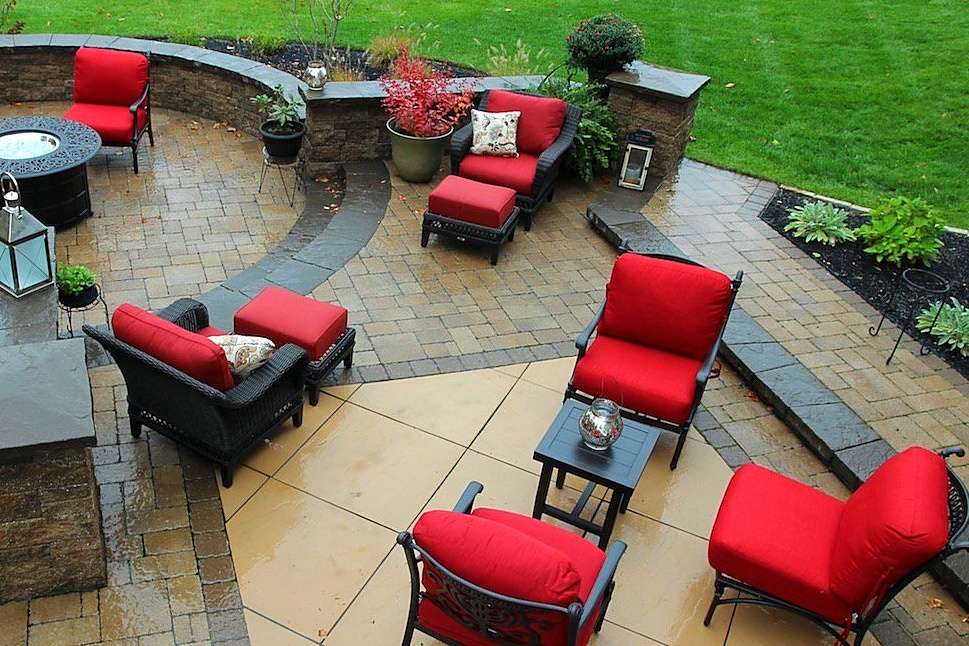 Paver Patio Pros
There is a vast array of sizes, shapes, and even colors, giving you a lot of room for customization, including creating patterns.
Pavers are not slippery when wet.
While problems with pavers are unlikely, should an issue arise, such as needing utility lines run or worked on, then pavers are easy to remove and replace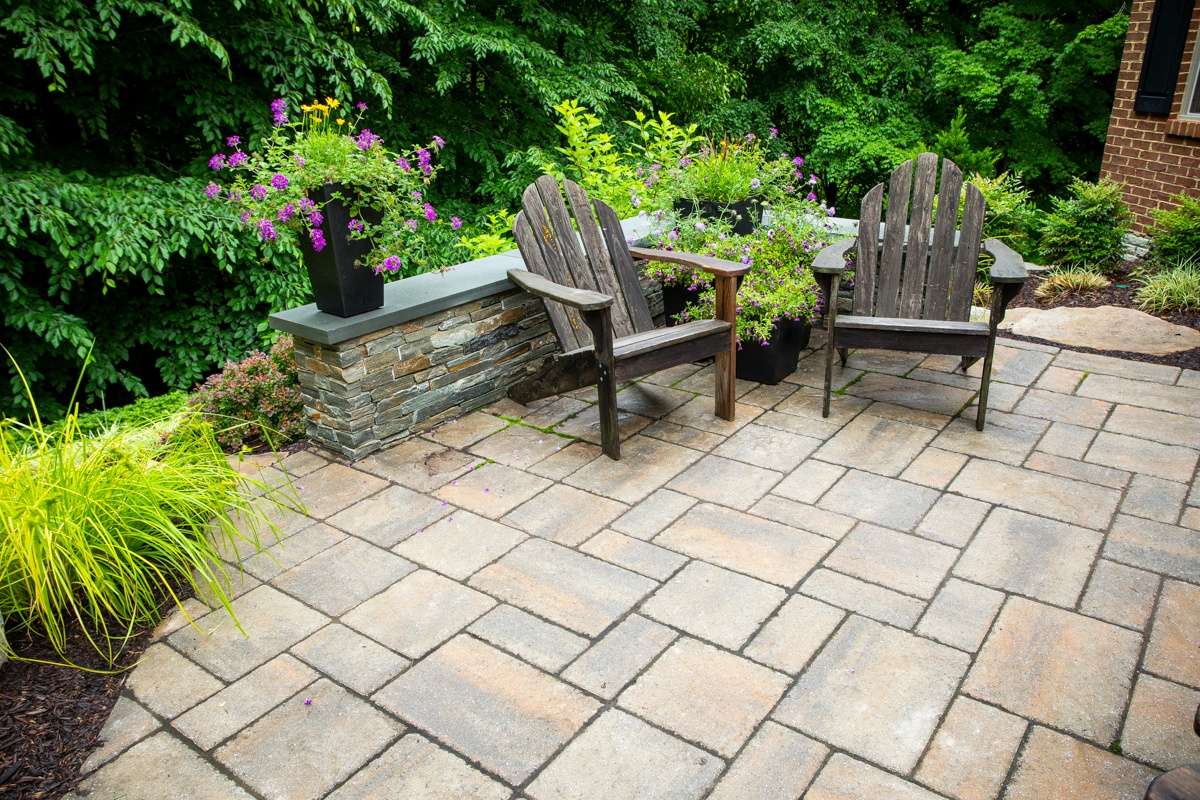 Paver Patio
Cons
The

paver patio cost

is higher than concrete.
A perceived con of paver patios is that weeds grow between the pavers. However, this will not happen if they are properly installed.
Natural Stone Patio
Pros and Cons
A final option to consider is a natural stone patio. In Alexandria, Arlington, and Springfield, VA, the main stone used for patios is flagstone. Flagstone patios can have a very natural look and fit in quite nicely with many of the colonial homes in our area.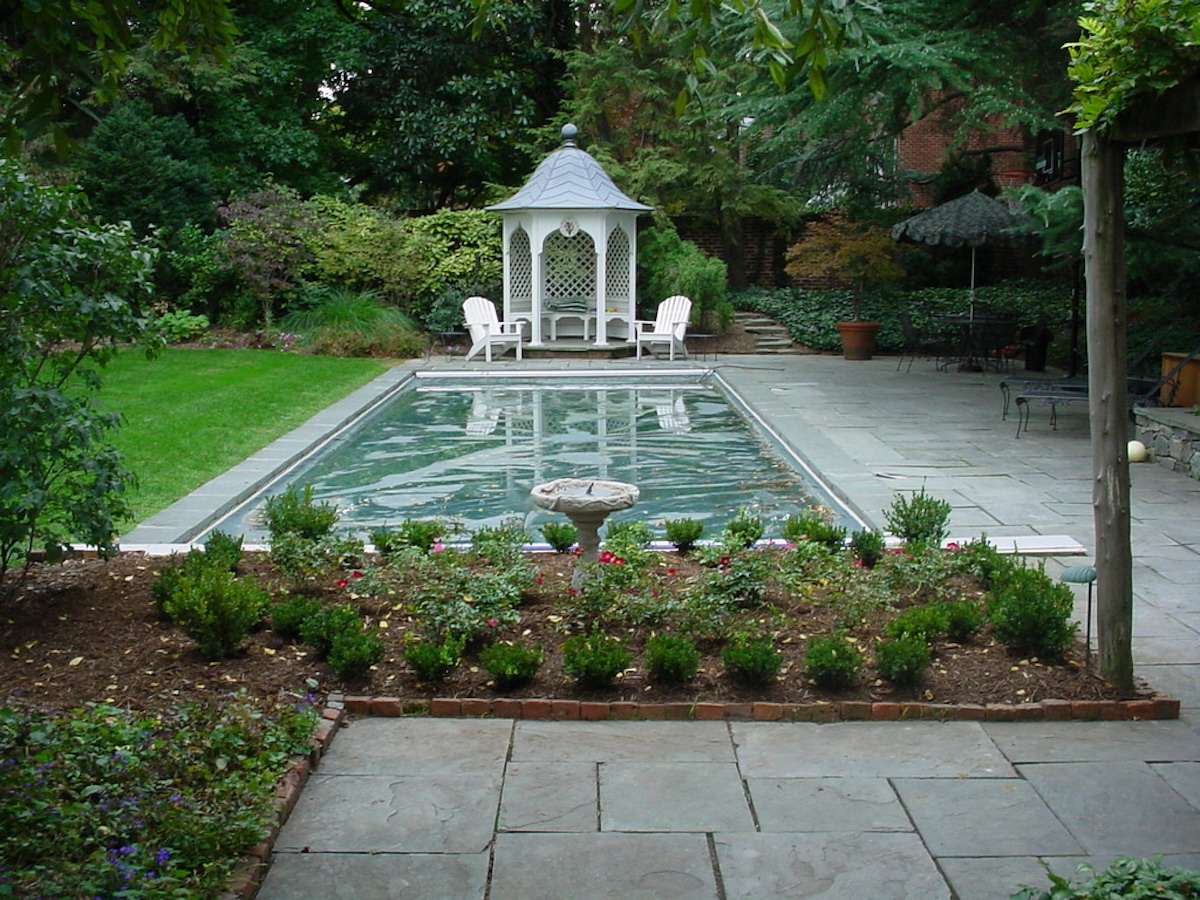 Because they have such a classic look, they'll work with new construction, as well, without fear of going out of style. Let's look at some additional pros and cons of a natural stone patio.
Natural Stone Patio
Pros
The biggest upside to using natural stone is that it's the "real deal." Instead of choosing a paver that

looks

like natural stone, you could have the real thing.
Natural stone is highly durable. After all, it's survived in nature for thousands of years.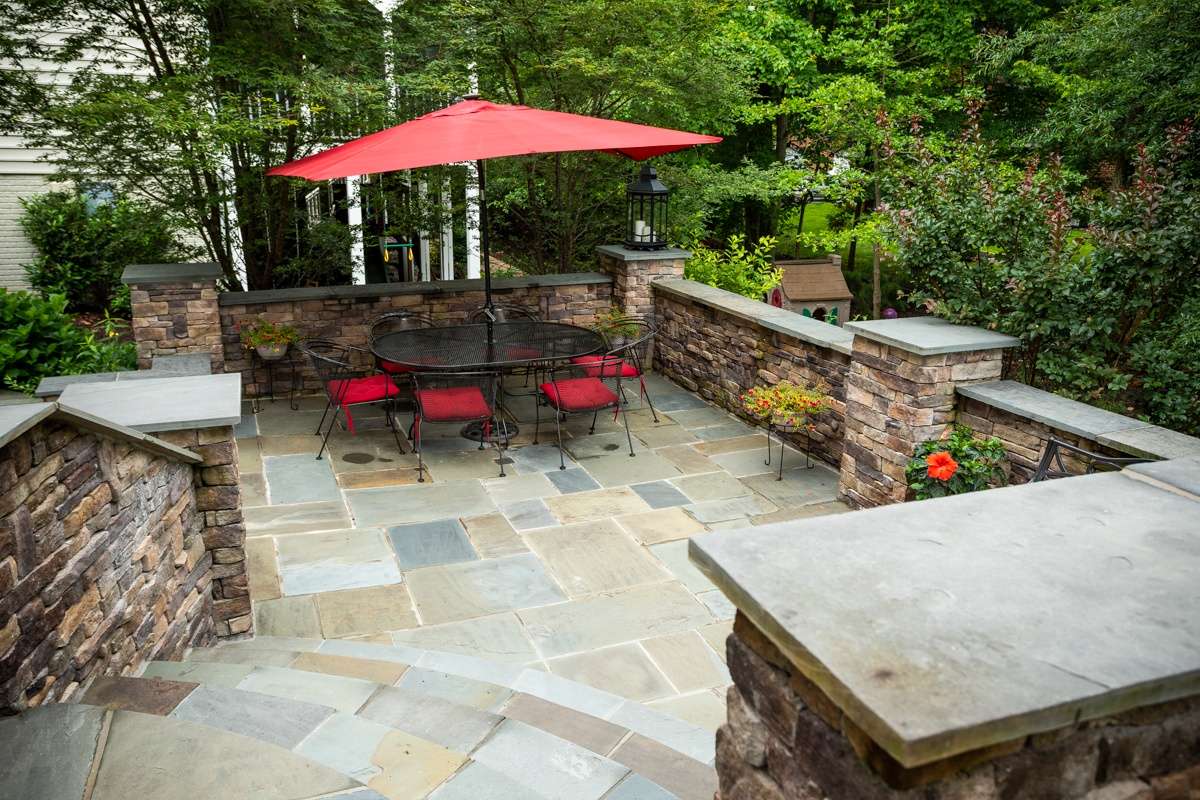 Natural Stone Patio
Cons
The

natural stone patio cost

is more than any other material and is, therefore, cost prohibitive for some budgets.
Mortar used between stones can crack after about 5-10 years and could need re-pointing
Choosing the Best Material for your Alexandria or Arlington, VA Home
We know that choosing the best material can feel overwhelming. After all, your patio is a place where you'll be spending most of your outdoor time and you want to be sure that you choose wisely. That's why we are here to help should you have questions or need guidance.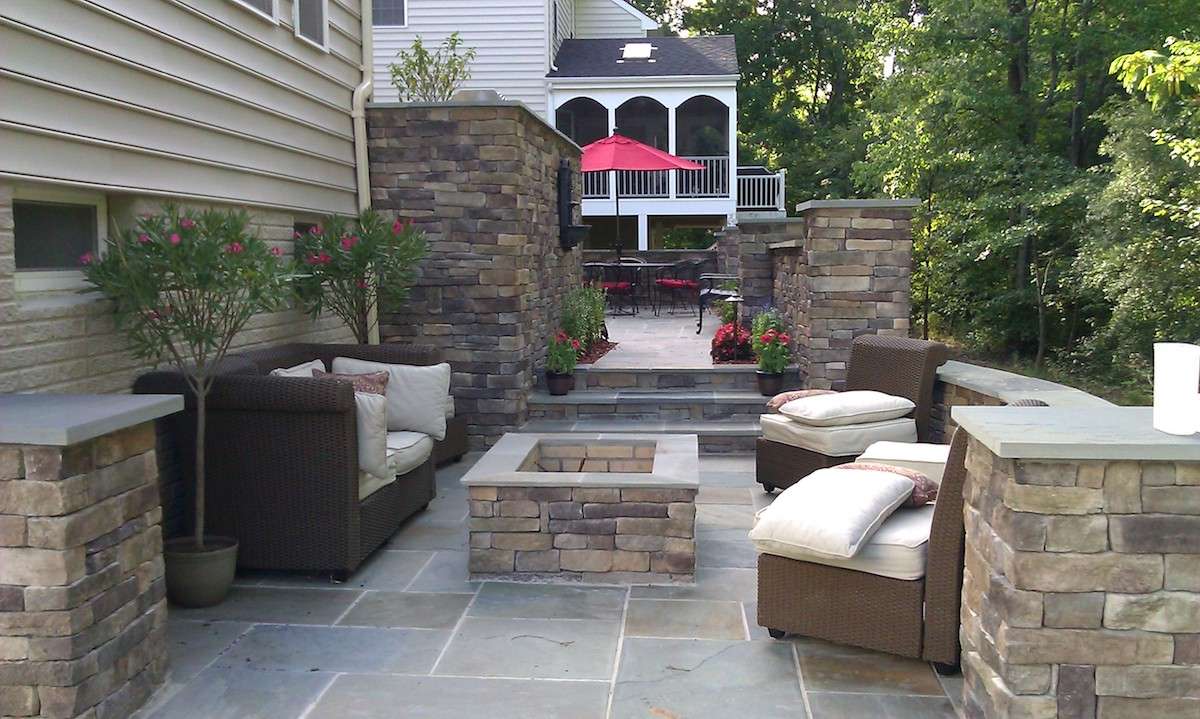 There is typically a main driving force in what material you choose and that is cost. As we mentioned, concrete is the least expensive option, pavers are a step up from there at a mid-level price point, and natural stone is the most expensive. We have worked with homeowners who have had a limited budget but really preferred pavers or natural stone to poured concrete. Instead of compromising on the material, we've reduced the square footage of the patio and that's been a suitable solution to keep the cost in line.
In the end, every budget is different and every list of personal preferences is different, and those factors will dictate what you choose. Working with a contractor who is experienced with all 3 materials will be key in guiding you through that process.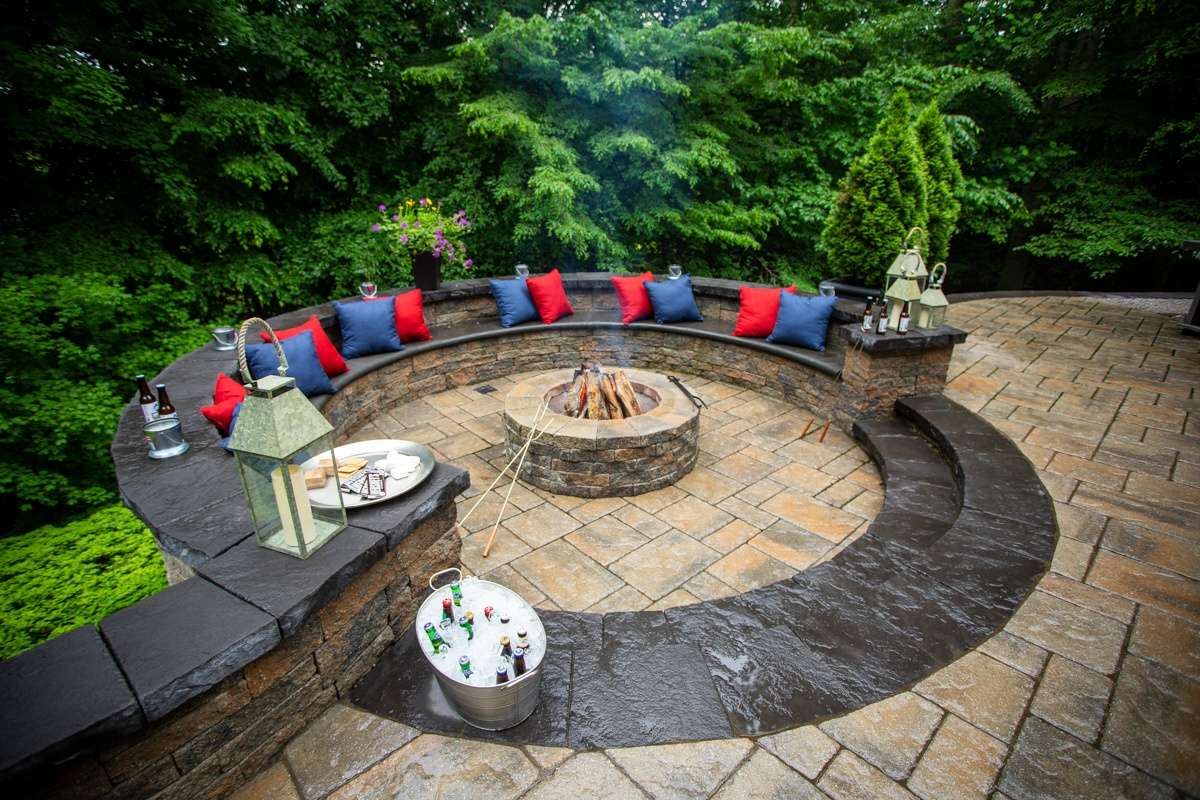 Of course, a lot of companies do not work with concrete as they prefer to work only with higher-end materials. But there is a place for concrete on some properties where they may not get a good return on investment on a higher end material. At Kingstowne, we also have experience working with a mixed use of materials. You may choose concrete for a small patio but want a paver walkway. We can do both.
When looking for concrete, paver, or natural stone patio contractors, also be sure to look for a pro who has not only worked with all 3 materials but who has designed and installed a lot of patios. At Kingstowne, we have installed thousands of patios in Alexandria and Arlington, VA so there's no doubt we know our way around hardscaping and the various material options. We can answer your questions and help guide you through these big decisions. After all, you absolutely want to feel confident that you've made the right decision when it comes to something so important.
If you'd like some guidance when it comes to your patio design ideas, request a consultation, get your customized plan, and relax while we transform your space.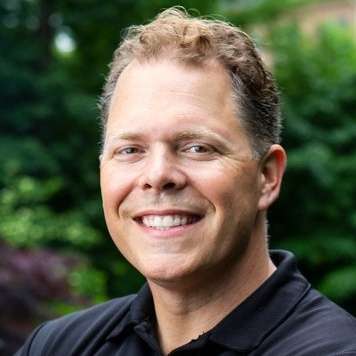 Krisjan Berzins - Owner, CEO
Since 1997, Krisjan has led the Kingstowne team with one simple philosophy, treat every customer like the "only" customer. His passionate pursuit of impeccable customer service has resulted in 24 successful years and a thriving company with over 85 employees, helping thousands of homeowners in the Alexandria, Arlington, and Springfield, VA area get what they want -- a worry-free property they can be proud of.