Adding outside steps to your outdoor living area can be a great way to enhance the functionality and value. After all, you want to be able to use your space to the fullest and if you have steep slopes, areas that are difficult to navigate, or even upper-level decks or patios, then steps are a vital solution.

Of course, you want to be sure that your steps are thoughtfully designed and installed. The last thing that you want is a designer or landscape contractor that hastily slaps together a design without taking the time to understand the proper dimensions, placement, or other important factors.

Here are some best practices to keep in mind for the addition of deck or patio steps.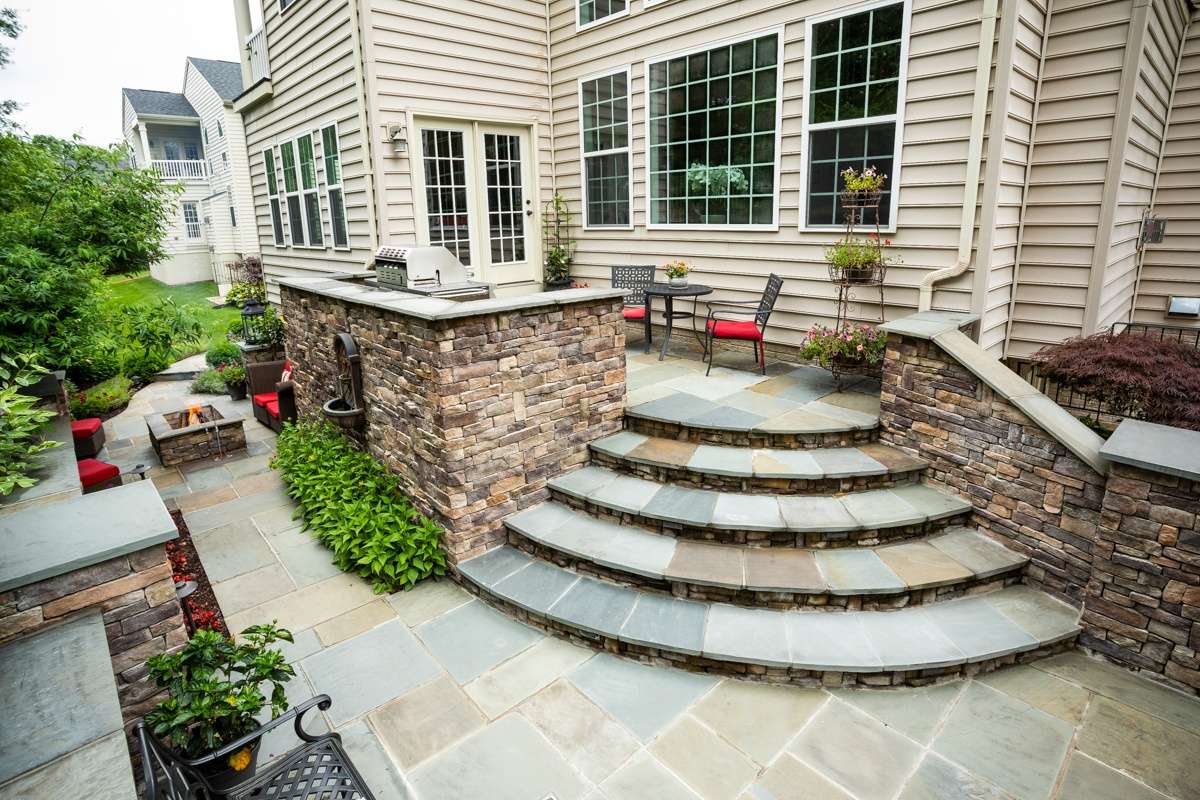 Reconsider a Single Row of Outside Steps
If you have 10 straight steps in a row that runs straight down, you might want to consider breaking them up with a landing. It looks better but it's also a lot safer.

Falling down 10 steps in a row is a really big deal. Falling down 4 steps to a landing is still serious but definitely safer. If you have young children or some who are elderly living in your home, it's an important consideration.

That being said, adding a landing can be expensive and we understand that many people are working on a budget. If your budget affords only one long row of stairs, then you might want to consider an option like a gate at the top, if it's part of a deck.
The Placement of Outside Steps is Critical
One of the biggest mistakes that can be made with the layout of outside steps is that they are placed somewhere detrimental to the layout as a whole—or even negatively impact another area.

For instance, deck stairs can be bulky and block light to a basement window if placed right in front of one. It's really important that proper consideration is given during the design process to prevent this from happening.

Steps can also block a desirable view. If you imagine an upper-level deck with a patio underneath, you do not want the deck steps to block your patio view. Thought needs to be given to their placement so that this doesn't occur. On a similar token, you really don't want a poorly designed deck staircase taking up usable patio space.

Sometimes the problem with the placement of deck or patio steps is just that they're in a spot that impedes the flow of traffic. Your designer should consider how people will move about the area, too.
Outside Steps Should be Comfortable to Traverse
Another common mistake is when a designer or builder fails to give any thought to how the steps will "feel" as you traverse them. If you've ever walked down an awkward set of steps, you know exactly what this means. Thought needs to be given to the length in between the steps so that it flows with a person's natural gait.

There are different formulas that we can play with, depending upon exactly what you're looking for. Some people do like a longer tread on a patio step. If it's part of a walkway, we might also cluster several steps at a time, to slowly make your way down the path to the lower level patio (or up the path to the upper level). A lot of it depends upon your specific wants and needs as well as the layout of your outdoor living room.

We do find that many people love the look of a natural stone stepper. When you go with a natural stone, not every step is exactly the same so you lose some of that rigidity and end up with something a lot more naturalistic. With the right outdoor space, this can be a really nice addition. While the stairs should not be the "star of the show," they should be a strong "supporting cast."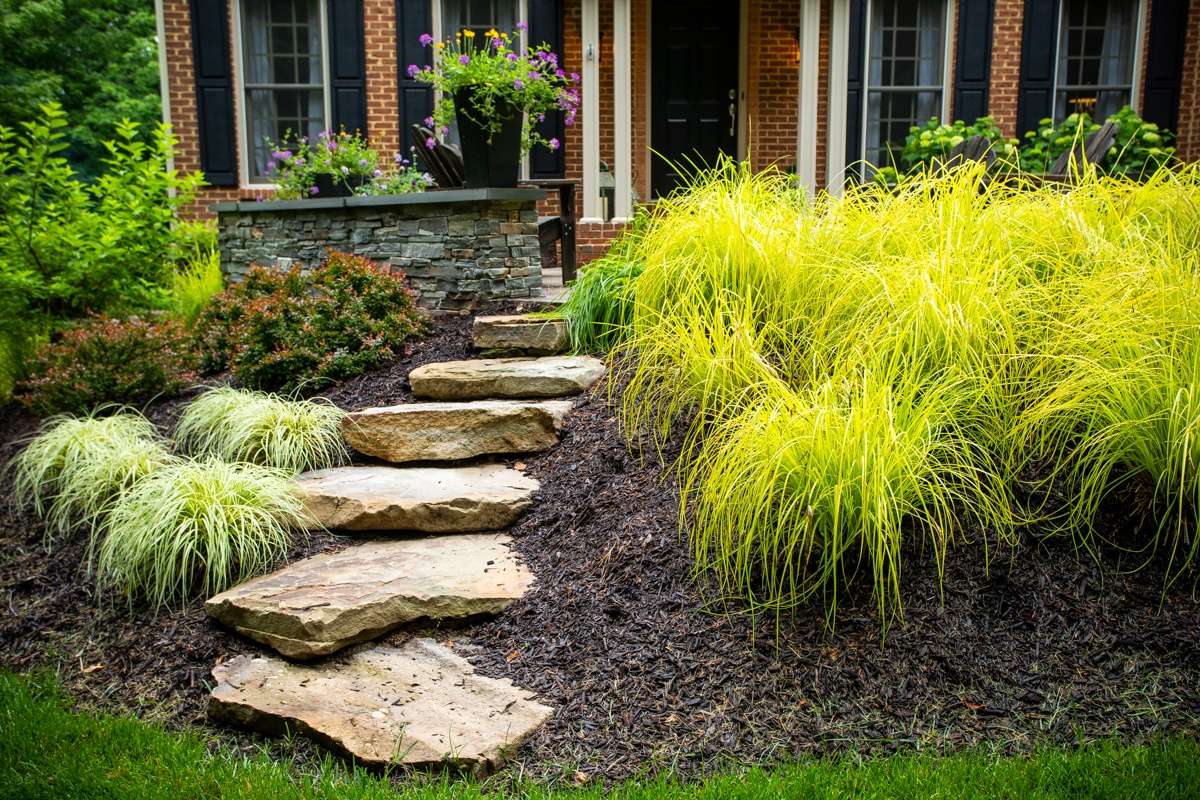 Spiral Staircases are an Option—But Not Right for Everyone
One option that doesn't always come to mind with outside steps is the addition of a spiral staircase. On the right project, these can be a lovely addition. Honestly, they are a piece of art as we have them custom made by a husband and wife metal-working team in the region. They're artists and they design the steps exactly to the specific needs of the project. When you try to throw something pre-made into a layout, it may not look just right—or even worse, not function optimally.

Spiral staircases can be a solution where space is limited. They also complement a contemporary or "modern" style.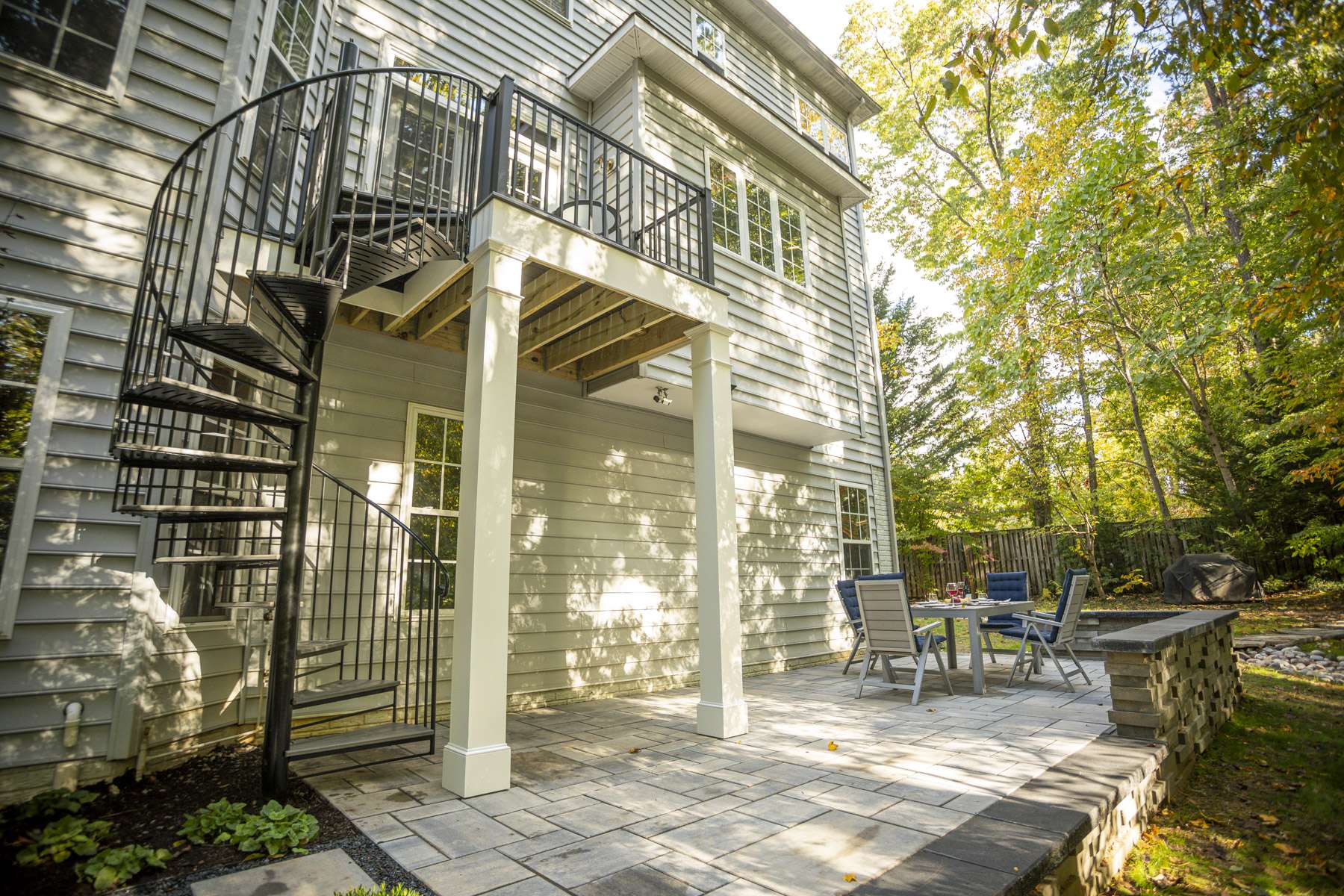 But there are some reasons why a spiral staircase might not be the best choice. For one, not all HOAs approve them, so if you live in an HOA, you'll need to first make sure you're even allowed to have one. Plus, they can be expensive. Since they truly are a piece of art, they're not exactly cheap so they may not fit into everyone's budget. But they're also not something that everyone loves. Some people have a little bit of anxiety associated with traversing them and we've found that most pets cannot use them safely.

The bottom line is that for the right client and the right space, they can be an amazing, artistic addition. But they're not for everyone.
With Outside Steps, Safety is Everything
Finally, you also want to make sure that your designer/builder is giving thought to safety when designing and building your outside steps. There are strict building codes that must be adhered to which include lighting step treads and including handrails. A shoddy contractor might overlook these—and that can put you, your family, and your guests at risk! You absolutely need to make sure that safety is given the utmost attention when outside steps are being designed and built so that they are a welcomed addition as opposed to a risk on your property.
Finding a Trustworthy Landscape Designer in Alexandria, Arlington, or Springfield, VA
Making sure that you end up with outside steps that complement your outdoor living area and function as they should (keeping safety at the forefront) comes down to choosing the right designer and builder for your project.

At Kingstowne Lawn & Landscape, we have designed and built many outdoor living spaces with multiple areas like decks and patios, as well as on properties with slopes. We use out-of-the-box thinking and come up with creative strategies to give you the best possible solutions.

In the end, making a smart choice will help give you peace of mind. After all, you want to know that your project is going to be enhanced by the addition of stairs, not that they'll become an eyesore or even worse, a danger. By choosing the right landscaping contractor for the work, you'll be able to feel confident that you have the optimal solution for traversing your space.

If you're looking for confidence that your landscape design, including outside steps, will have everything it needs, request a landscape consultation, get your customized plan, and relax as you get the royal treatment.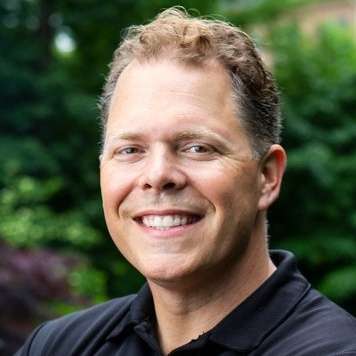 Krisjan Berzins - Owner, CEO
Since 1997, Krisjan has led the Kingstowne team with one simple philosophy, treat every customer like the "only" customer. His passionate pursuit of impeccable customer service has resulted in 24 successful years and a thriving company with over 85 employees, helping thousands of homeowners in the Alexandria, Arlington, and Springfield, VA area get what they want -- a worry-free property they can be proud of.