If you have a home with a daylight basement or a significant downward slope, adding both a deck and a patio to your backyard is a great way to ensure that your multi-level landscape needs are being fully met. Since some homes have first floors that are built 10-12 ft. above the ground, a deck is the ideal, raised space to become an outdoor extension of your primary living area.
But you then also have lower level space underneath that deck which requires a solution as well. That's where a lower patio and landscaping come into play. Together, these upper and lower level areas can provide a unique solution that will allow you to use your entire outdoor space wisely.
Of course, you want to be confident that a landscape design which includes both a deck and a patio is going to come together in a way that is both highly functional and aesthetically appealing.
The last thing that you want is to end up with one of these spaces you don't love. That's why we're talking about some of the key considerations that should be part of the development of a landscape design for decks and patios.
Multi-Level Deck
and Patio Design Ideas
A key consideration of the design and construction of a patio and deck is where to start. You might be wondering about phasing a large-scale project like this.
A lot of times when homeowners decide to opt for both a deck and patio, they choose to have the deck built first and then build the patio later. While a plan like this can certainly be phased, it's important to at least have them designed at the same time so that the spaces flow seamlessly.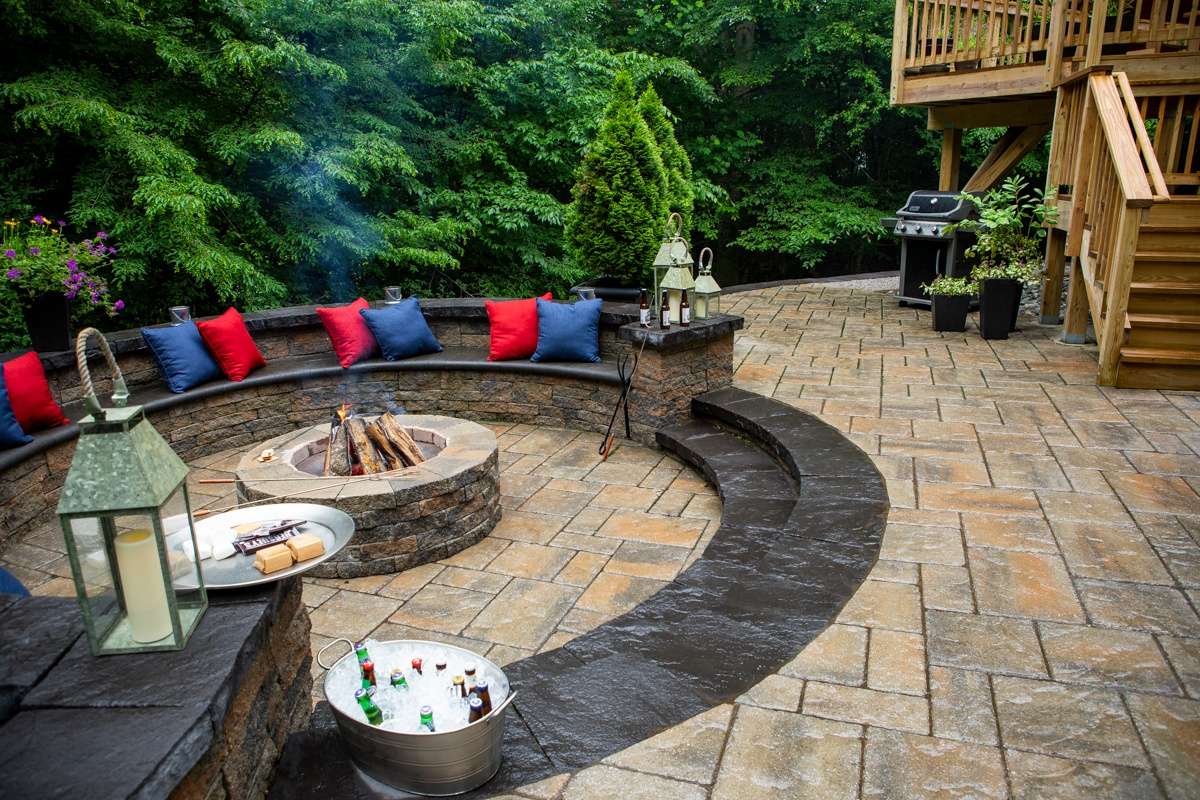 If the two spaces are designed separately by two different companies, you really can't be sure what you'll get in the end.
Unfortunately, a lot of homeowners do wind up having there deck and patio built as two entirely separate entities. They have a deck company design and build their deck and a patio company (or landscaper) build the patio later.
The Deck and Patio Design Problems
One of the biggest mistakes that we see when a deck and patio are designed and built separately is that the spaces don't look like they were ever meant to be together.
Even worse, they don't function well together. Oftentimes, it's an issue with the deck staircase. If it's not designed to flow directly into the patio space, it can be awkward or even in the way. We've seen deck designs where the staircase greatly reduces the amount of usable space around or beneath it. If it's not designed in an optimal location, it can really make your patio much less functional.
One solution that we've had a lot of success with for a landscape design around decks is the use of a spiral staircase that leads to the patio. It is much more efficient and compact—not to mention the fact that it looks pretty unique, too.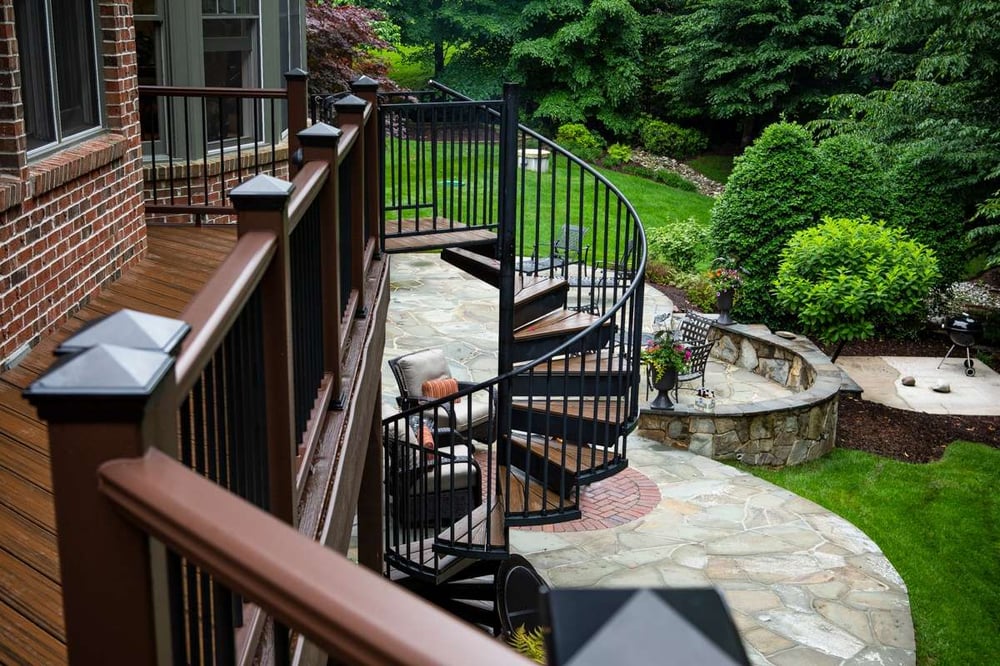 Deck Builders vs. Patio Companies
We've already mentioned that having two different companies design and build the different spaces in your outdoor living area can create an enormous challenge. If you build them at different times, you could risk that the spaces won't look or function as one big space like you want them to. And if you're attempting of building these two spaces at the same time, you also put yourself in the position to play the role of "general contractor," which is not something you have the time or desire to do.
Knowing all this, you might be wondering who to hire and how to pull this off. Do you choose from the various deck building companies in Alexandria, Arlington, and Springfield, VA or do you hire a landscaper who seems to specialize in patios—but might say they can build you a deck, too? Someone has to run point on this project, and you already know it's not going to be you. Who do you trust?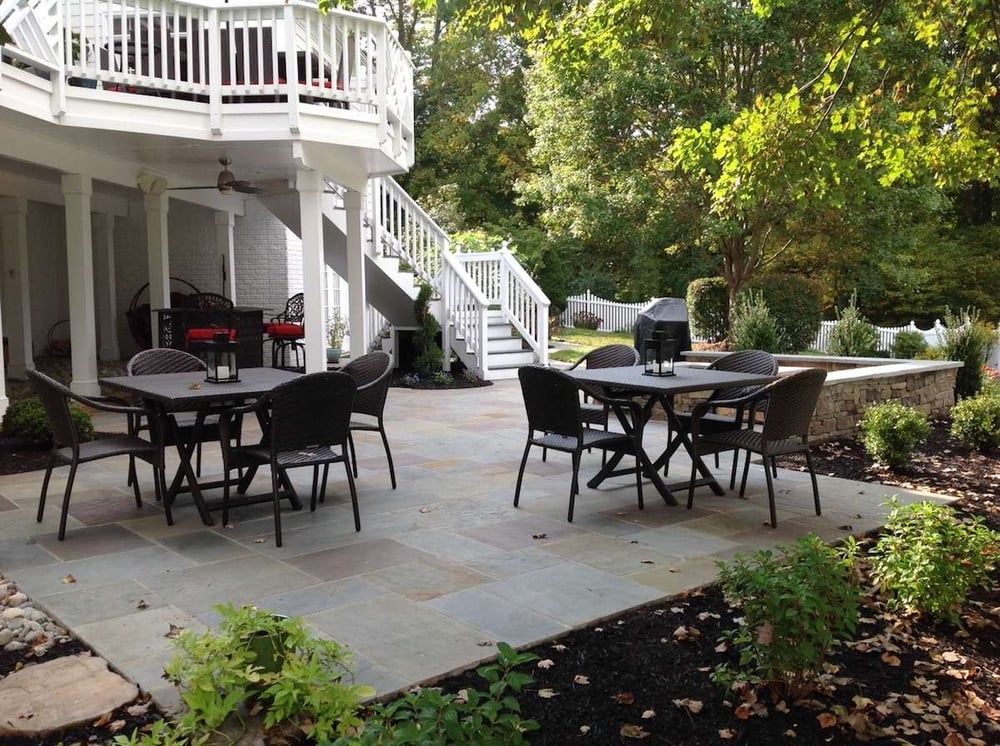 While each type of landscape company may have their strength, having a landscape designer who has a lot of experience in both designing and constructing these multi-level areas is your best shot.
Even if they subcontract the deck's construction, the entire project should be under the detailed guidelines of a meticulous master plan for the entire backyard. What is critical is their relationship with their deck subcontractor. It should be one of longstanding and filled with many successes over the years.
Be aware that most landscape companies don't frequently design and build decks in their projects. If you get the feeling that this is a rarity for them, it may be best to keep looking for another landscape design company.
Choosing Wisely for Your Complete Landscape Design
Success depends on many factors but is most impacted by your choice in a landscape company. Many of our clients found that we're in the unique position of having designed and built numerous projects with both decks and patios over the years (not just solely one or the other).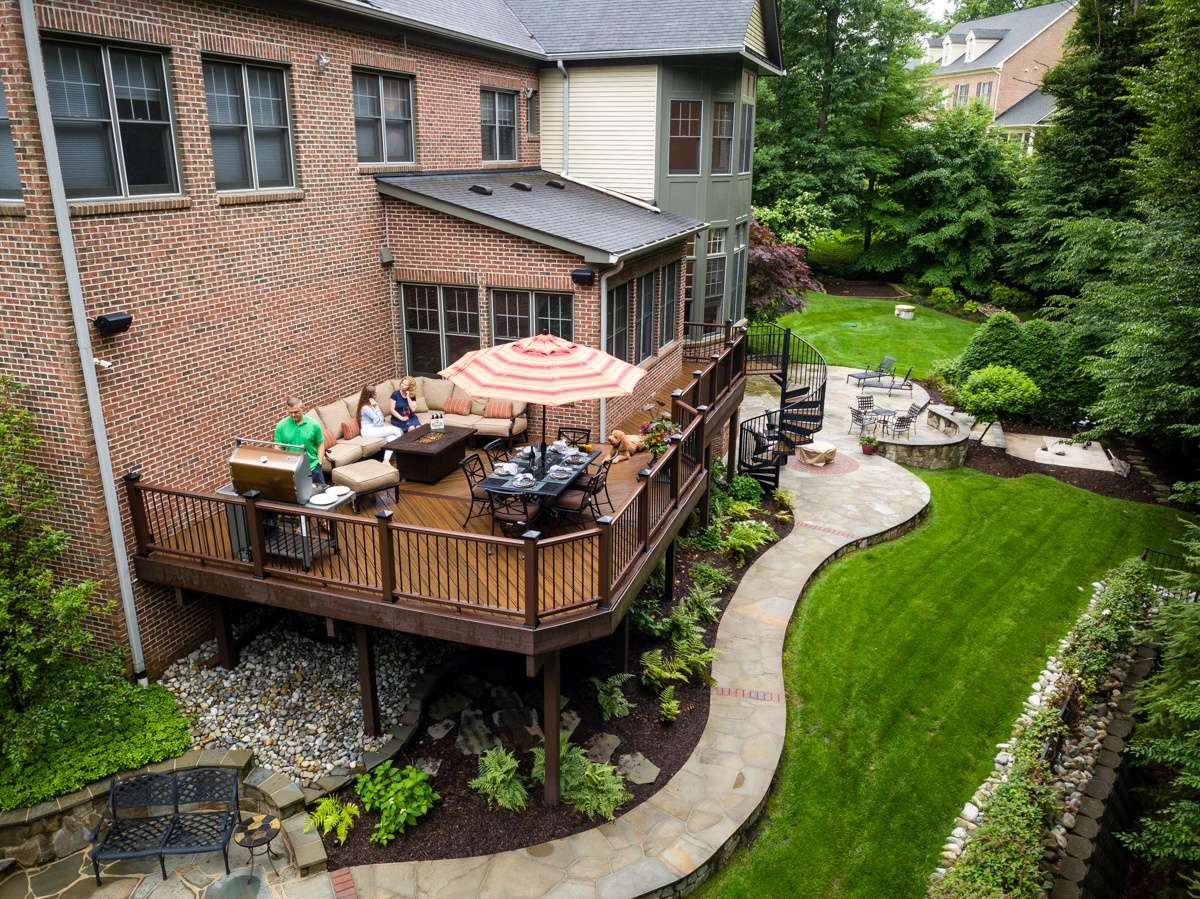 Many of our clients also realized it's also important to choose a landscaping company that can offer additional features such as lighting, surrounding plants, outdoor kitchens, pergolas, and pavilions, as well. A landscape company should also offer the latest material options, which for decks, has been composite decking, a material that won't splinter or produce nail pops and that requires minimal maintenance. Besides the latest decking materials, at Kingstowne, we also work with a variety of patio materials.
Having honed our expertise in total outdoor living spaces, we sometimes get asked about how we can truly specialize in every aspect of an outdoor project.
Most importantly, these spaces are designed by an in-house landscape designer that works directly with you. Our designers have a close level of involvement in the construction to help ensure tour crews work seamlessly together for one unified space that is built in the most efficient way.
Our clients have found that means that we're not just thinking about your patio with tunnel vision and your deck with tunnel vision. We're thinking about both spaces and how they work together and the team can pull it off as specialized team members focus on each component while working under the designer's guidance.
This provides a tremendous amount of value to you. Choosing the best company for the work also takes the burden off your shoulders. Instead of playing general contractor or worrying that your two spaces won't come together, you can feel confident that you're going to end up with a complete space that looks and feels like it was always meant to be together.
If you'd like to know more about how to create a deck and patio space that's right for you, request a consultation, get your customized plan, and relax while we give you the royal treatment.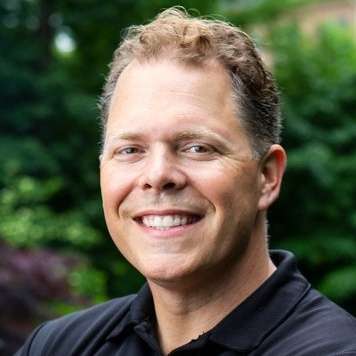 Krisjan Berzins - Owner, CEO
Since 1997, Krisjan has led the Kingstowne team with one simple philosophy, treat every customer like the "only" customer. His passionate pursuit of impeccable customer service has resulted in 24 successful years and a thriving company with over 85 employees, helping thousands of homeowners in the Alexandria, Arlington, and Springfield, VA area get what they want -- a worry-free property they can be proud of.