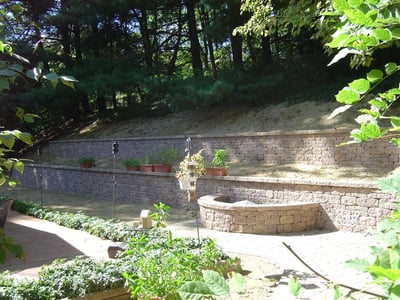 If you have a property with slopes, then you're already familiar with the frustrations that they can cause. Not only can slopes be problematic because they detract from the functionality of the space, but they can also impact the aesthetics of the overall landscape. Plants are difficult to grow on slopes and there's always the potential for erosion and drainage concerns.
If you're dealing with some of these frustrations at your Alexandria, Arlington, or Springfield, VA home, then you may be looking for solutions for landscaping a sloped yard that actually work. After all, you ought to be able to hire a pro that can address your concerns and implement changes. Unfortunately, it's not uncommon for people (including even landscapers) to make a sloping yard worse.
That's why it's important that you find the right solution from a professional that is experienced with landscaping slopes. Here are some considerations to keep in mind.
Landscaping Slopes Ideas
First and foremost, it's important to recognize that there is not one single landscaping slope solution that works for all scenarios. There are some key factors that will come into play as you work toward finding the solution that is best for you. These include, but are not limited to the following.
The severity of the slope
How you plan to use the space (are you trying to gain functionality or just make it look better and/or stop runoff?)
Keeping in mind that the best solution will need to address those factors, here are some landscaping slopes ideas that might work for you.
Terraces
Terraces are one way to address a sloping property. They create a step-down sort of feel with multiple levels. This is often a great solution for a front yard where you want to avoid runoff into your driveway or walkways but you're not really using the space to hang-out.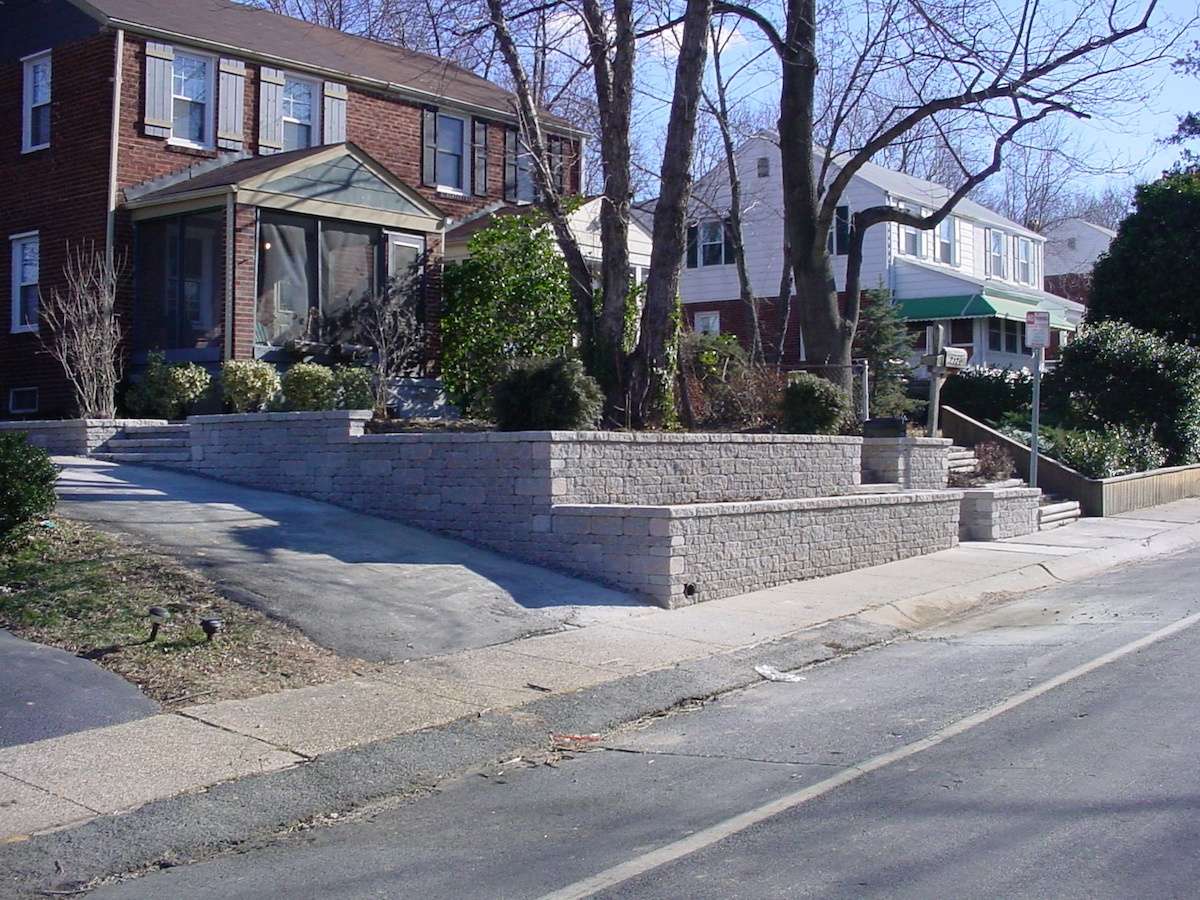 Of course, the "use of the space" factor will play a big role as to whether this option is right for you. If your main objective for landscaping a sloped yard is to create useable space for your kids or dogs to run around, terraces aren't going to achieve this.
Grading
If your objective really does come down to making your property more functional, then grading may be the best solution to landscaping your sloped yard. With the right approach, a landscaper could level out a large portion of your yard in order to create more usable space.
Of course, grading can create drainage issues that will need to be properly addressed or else your sloped yard solution could actually become more of a problem. Grading often requires the implementation of retaining walls, which we'll discuss in more detail next.
Retaining Walls
Functional retaining walls perform a valuable task of holding soil in place and preventing erosion. Of course, when built properly, retaining walls can be both functional and aesthetically beneficial to your property.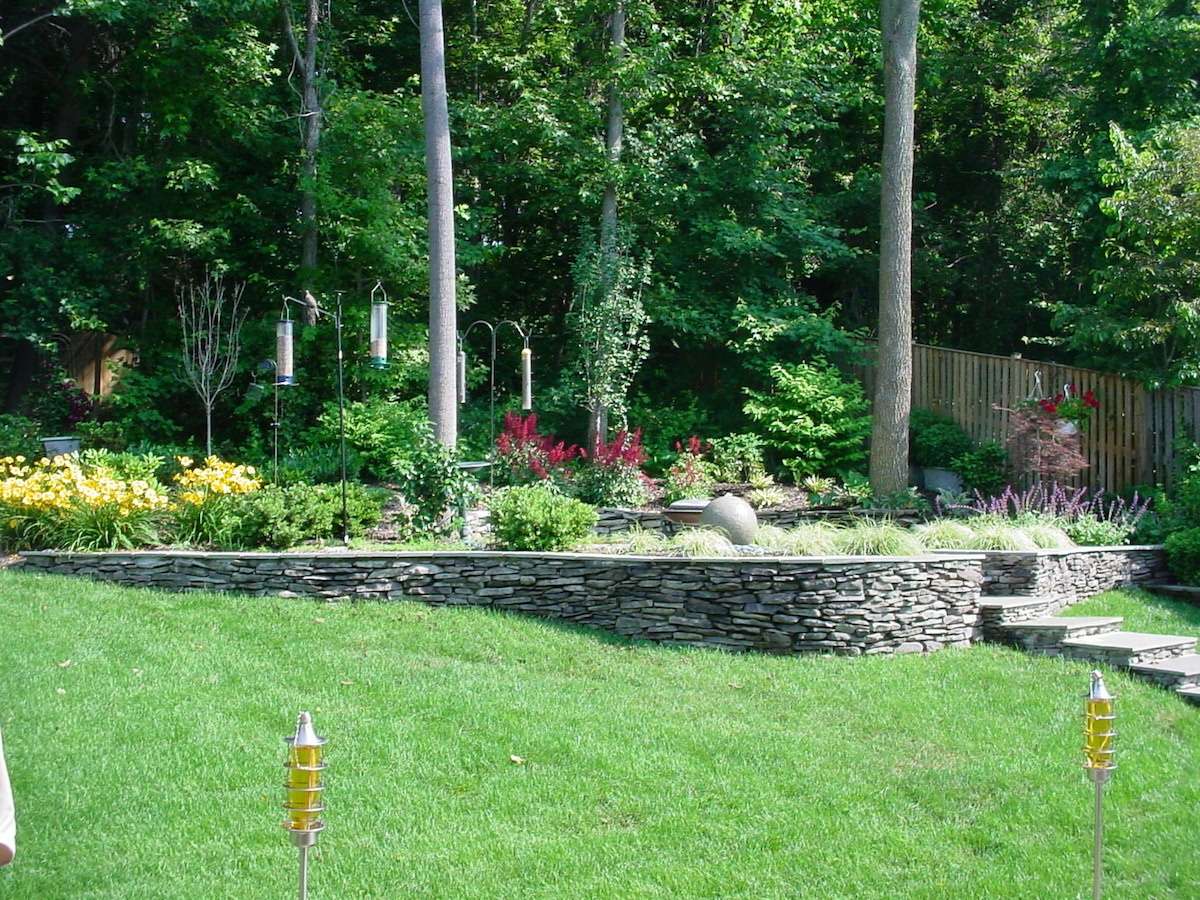 There are a lot of important retaining wall considerations to keep in mind including material, site accessibility, wall length and height, and of course, drainage, which absolutely must be addressed or you could risk the retaining wall failing.
Planting on a Slope
While it's true that many plants will fail on a slope, with the right plant material, beautiful landscaping on slopes can be achieved. The idea is to select plant material that is deep-rooted and therefore able to grip the soil and not fall victim to runoff.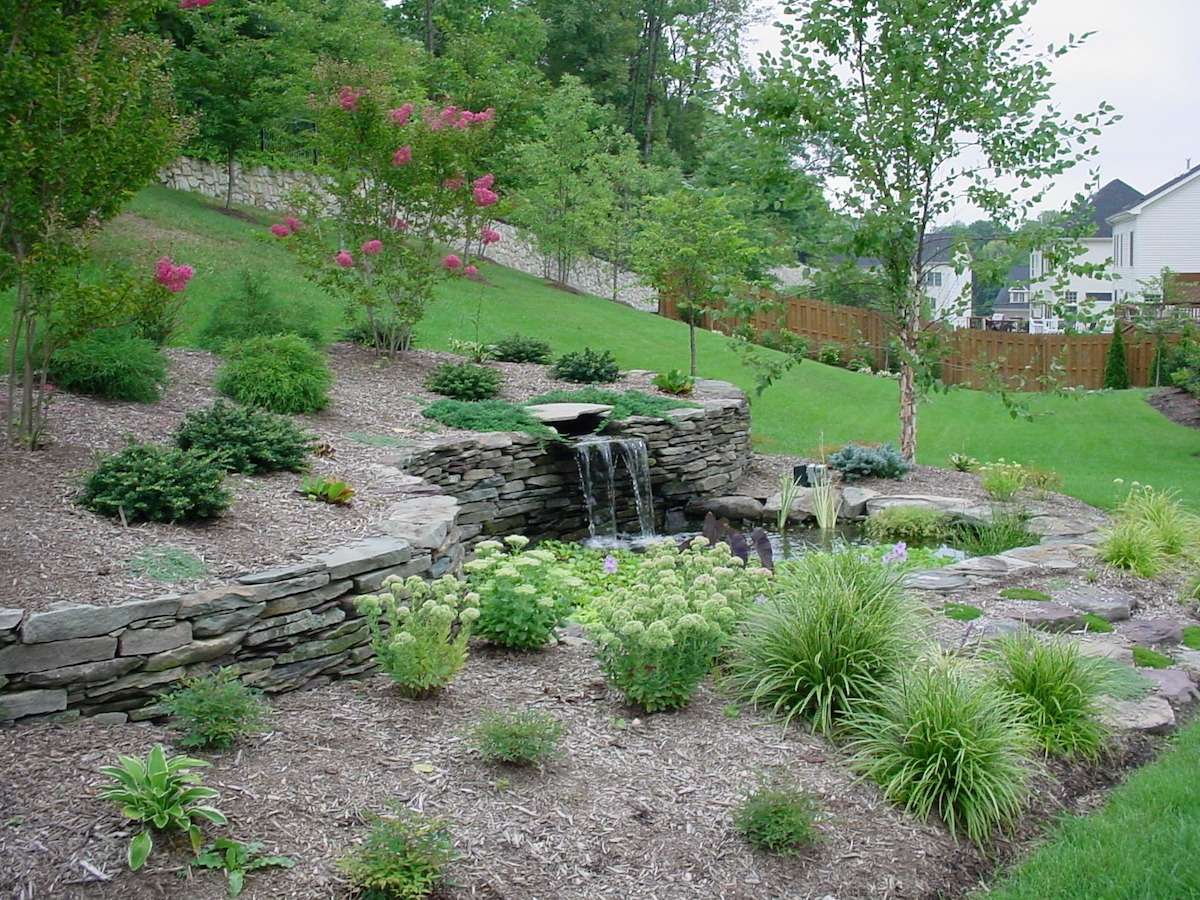 Some of the plants that we might suggest for a slope include groundcover options like sedum or pachysandra or even some various ornamental grasses which tend to be hardy enough to survive on a slope.
In addition, if you choose to create terraced areas in your slope, each leveled off area could incorporate its own plant bed. Since these areas will be level, you won't have to worry about selecting plant material with strong roots—you can choose anything that is suited to your property's growing conditions.
A Combination of Applications
Of course, you don't necessarily have to be limited to just one of these options. Your landscape design could potentially incorporate several of these solutions. For instance, while you may have part of the yard graded to allow for more useable space, where it slopes off the most you might incorporate some terraces or plantings.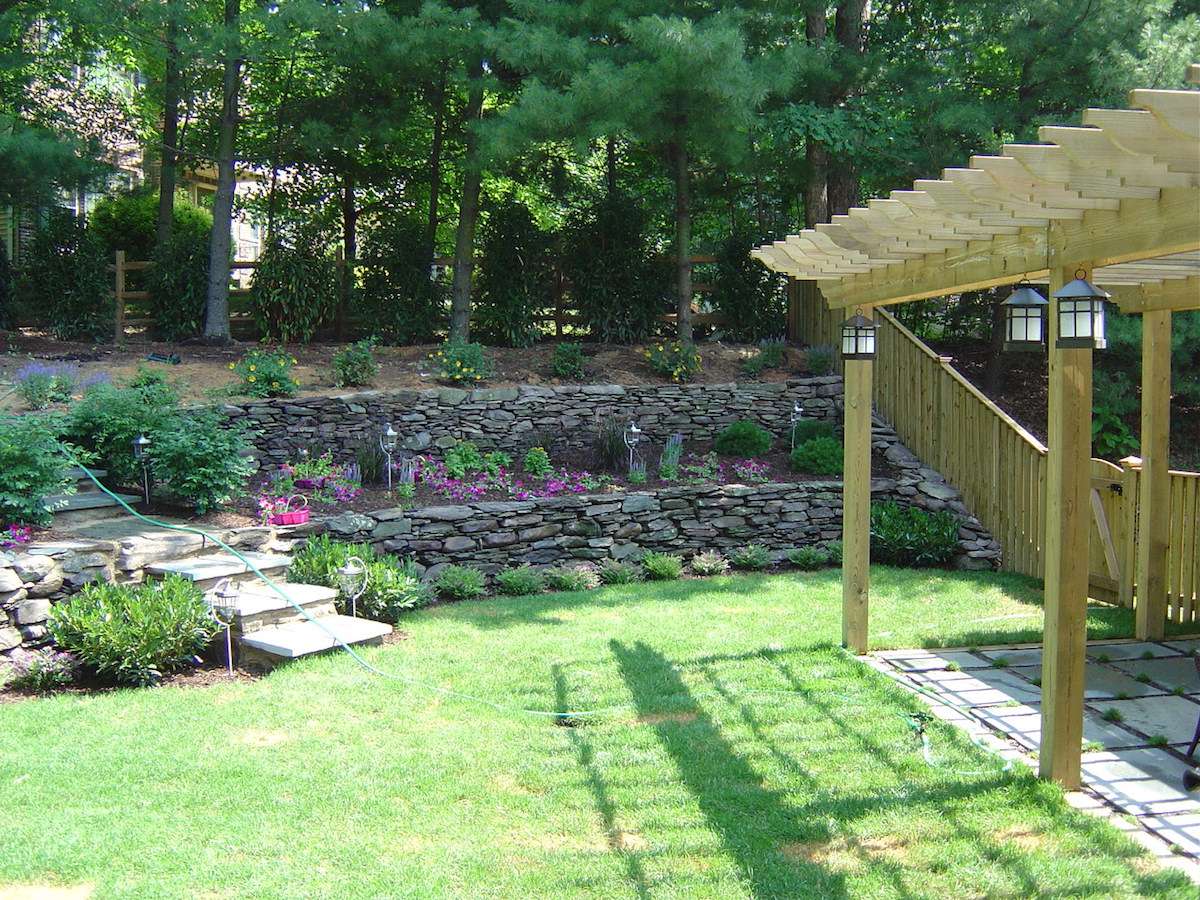 No matter how you choose to address your slopes, the key is to find a solution that will work best for your Alexandria, Arlington, or Springfield, VA property and not create any further problems. By working with a skilled landscape contractor who is experienced with landscaping slopes, you should have plenty of landscaping slopes ideas to consider.
Maintaining Your Sloped Landscape
There's no question that maintaining your sloped landscape is a consideration that should also come into play as you make decisions in terms of what solution will work best for you.
If you're going to opt for plantings on your slopes, you need to consider how accessible it will be to care for those plants. If the slopes are incredibly difficult or even impossible to traverse, then you need to be even more careful in choosing plant material that will require limited landscape maintenance.
Making an Informed Decision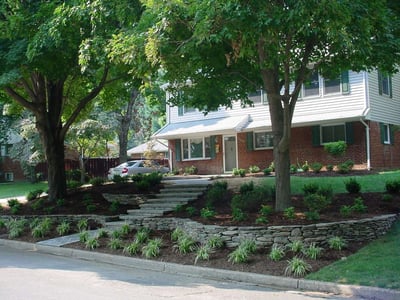 There is probably more to consider about landscaping a sloped yard than you might have initially thought. But by working with the right professional on this project, they should have plenty of ideas and solutions to talk through. In addition, it always helps to look at landscaping slopes photos to see what's been utilized on other properties to address these concerns.
Making a smart choice will ultimately give you peace of mind.
That's because by choosing the right landscaping solution for your sloped property, you'll no longer have to worry about unexpected mudslides, a dysfunctional outdoor space, or plants that continue to fail. Instead, you'll be able to feel confident that you've implemented a long-term solution that will finally put your concerns to rest.
If you're looking for some guidance on dealing with slopes, request a landscape consultation, get your customized plan, and relax as you get the royal treatment.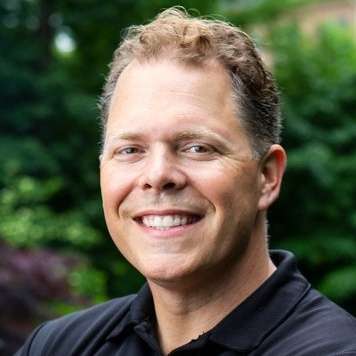 Krisjan Berzins - Owner, CEO
Since 1997, Krisjan has led the Kingstowne team with one simple philosophy, treat every customer like the "only" customer. His passionate pursuit of impeccable customer service has resulted in 24 successful years and a thriving company with over 85 employees, helping thousands of homeowners in the Alexandria, Arlington, and Springfield, VA area get what they want -- a worry-free property they can be proud of.