Despite the fact that this family of four loved spending time outside, they had an incredibly dysfunctional property. Like so many other Alexandria, VA homes, the home was gorgeous and certainly not small—but the yard just didn't compare. It was a tight space and on top of that, it was also sloped, making it difficult to use.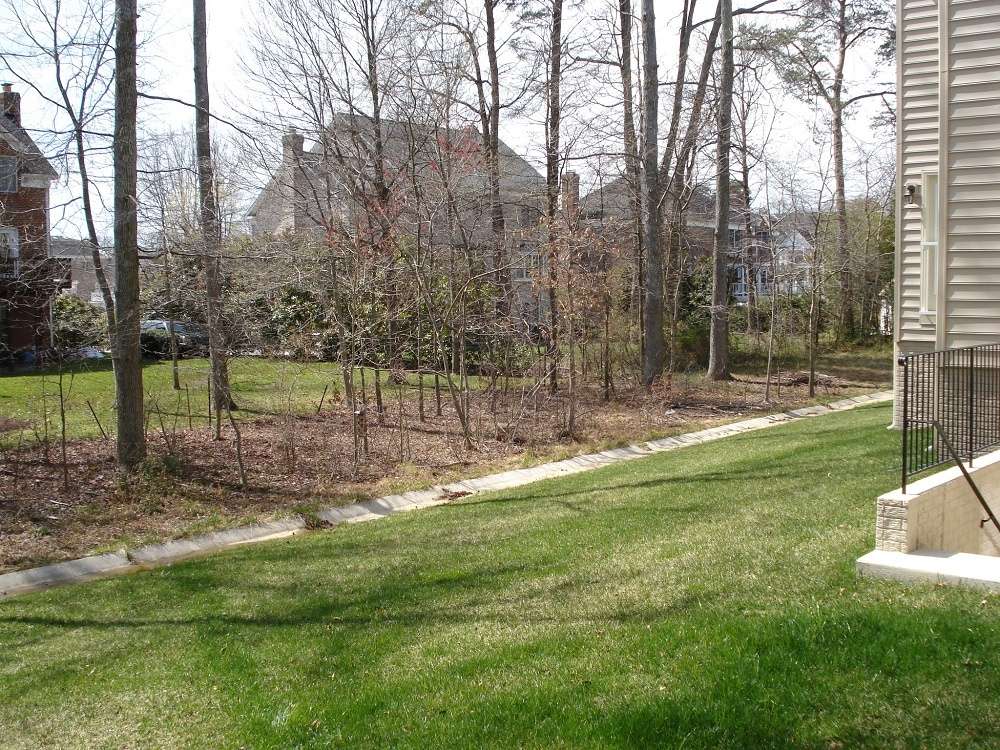 Although the family's two boys played lacrosse and would try to get some practice in with a backyard net, it didn't take long to realize there wasn't really any space to safely run around. That's when the family decided that if they couldn't have a level lawn, then they would explore their options for hardscaping with a new landscape design at their Alexandria, VA home.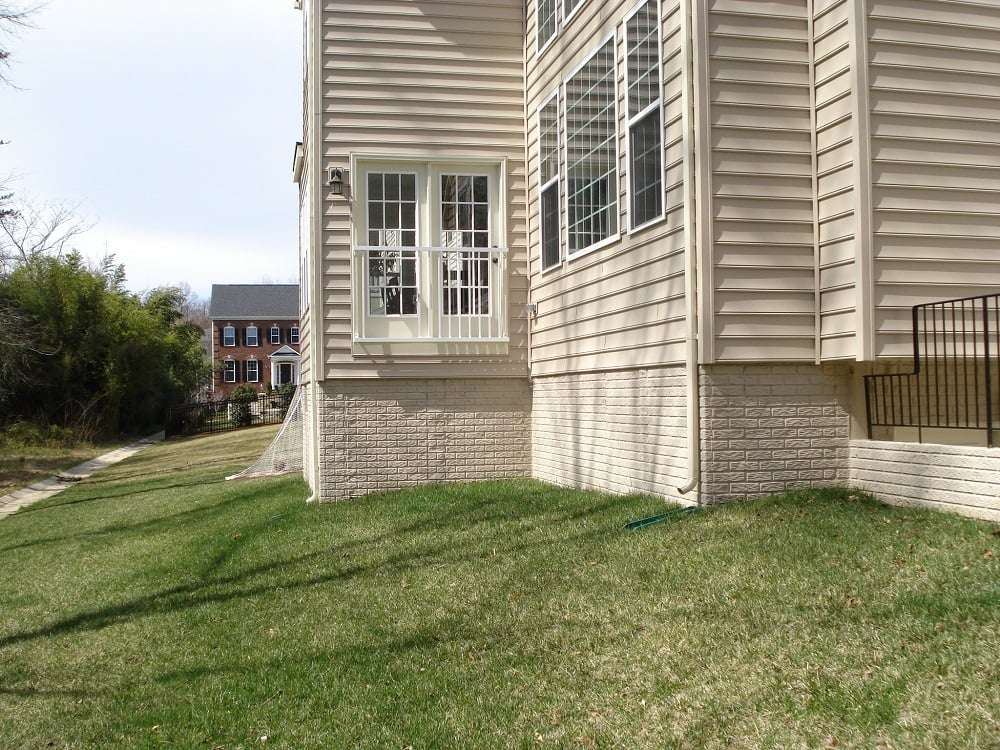 That decision led them to research patio companies in Alexandria, VA in order to create a space that they could actually get to use.
An Exciting Wish List for this
Alexandria, VA Landscape Design
This particular family had a lot of ideas and were informed about their options. They were avid watchers of home renovation shows, including one about landscape design. As a result, they had a very specific wish list for this project. It included adding a patio, fire pit area, water feature, fish pond, a grilling area, and some plantings. The family knew what they wanted, but weren't sure how all of that could fit into their existing space.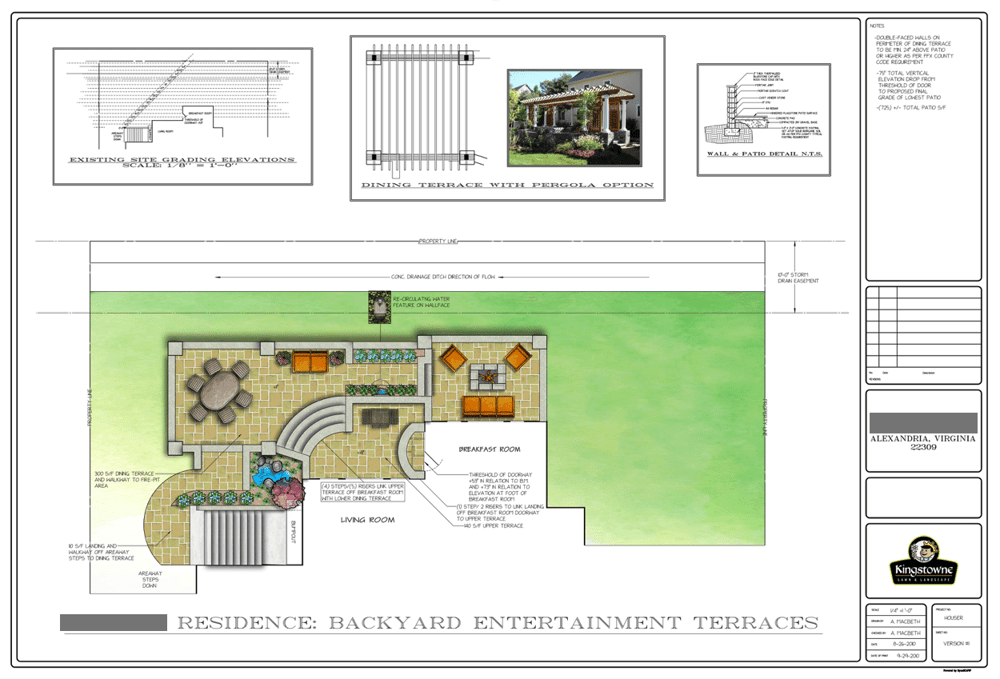 The answer came in the form of multiple outdoor rooms. The family loved this idea of having multiple individual spaces—in total, 3, plus "hallway" areas and steps that lead you from one space to the next—in which they could really spread out when they entertained. Like a lot of Alexandria, VA families, these homeowners entertained a lot for business.
Plus, their older boys often had friends over. The unique design gave everyone plenty of functional space where there once was none. The parents also loved the idea of giving their boys some privacy and space of their own while still being able to keep a watchful eye. In this sense, the design was a win for everyone.
Let's take a look at each space.
The Upper Terrace
The sunroom and kitchen exit to this upper terrace area. This is where the family is able to grill, which is something they like to do often. One of their requests was to have the grill easily accessible whether it was summer or winter, so it made sense to create this area immediately off of the kitchen.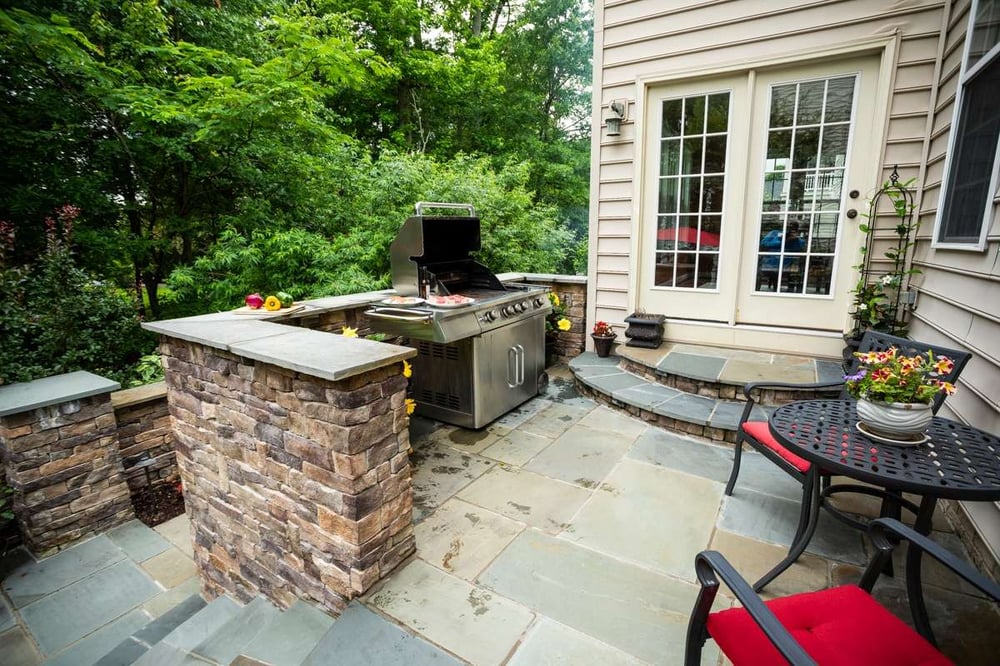 From the upper terrace, there are stairs leading down to the next area: the main dining terrace.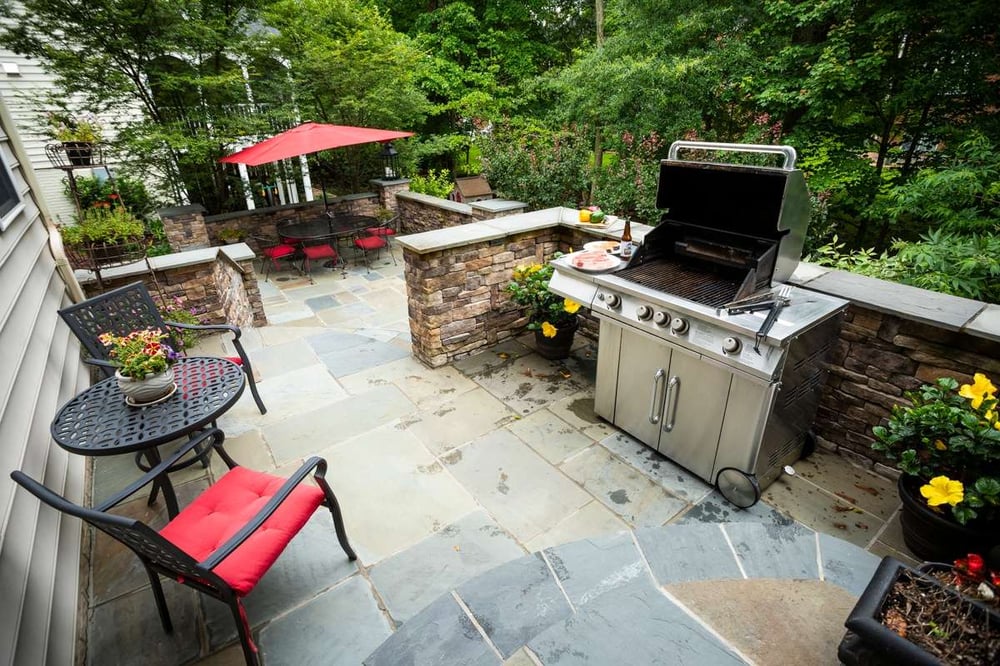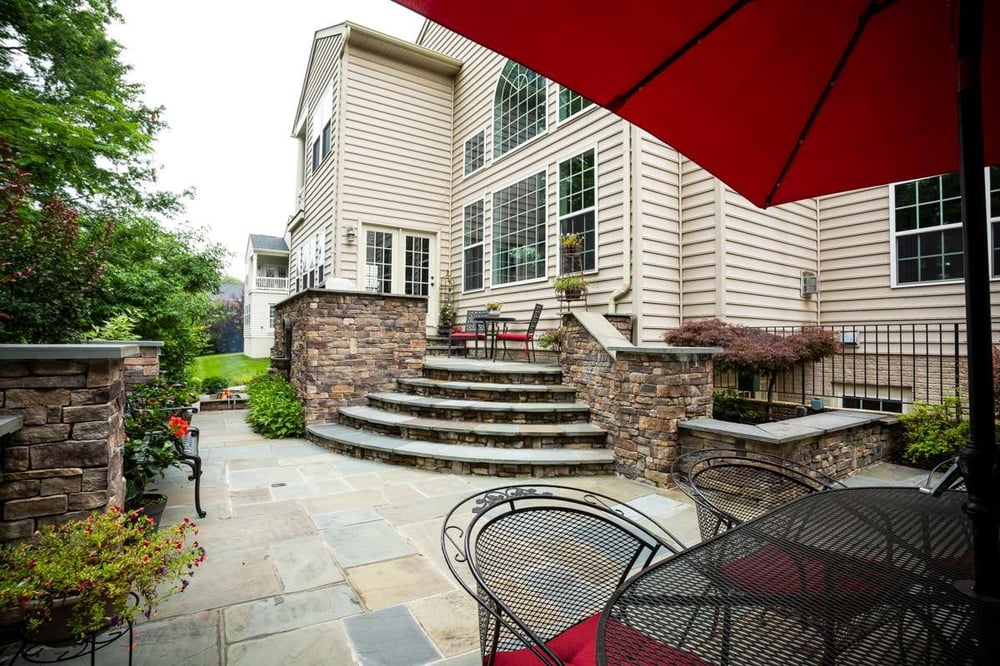 The Main Dining Terrace
If the family is not dining outside, then the main dining terrace is where the grilled food will be taken. This dining area is accessible by a beautiful, rounded staircase.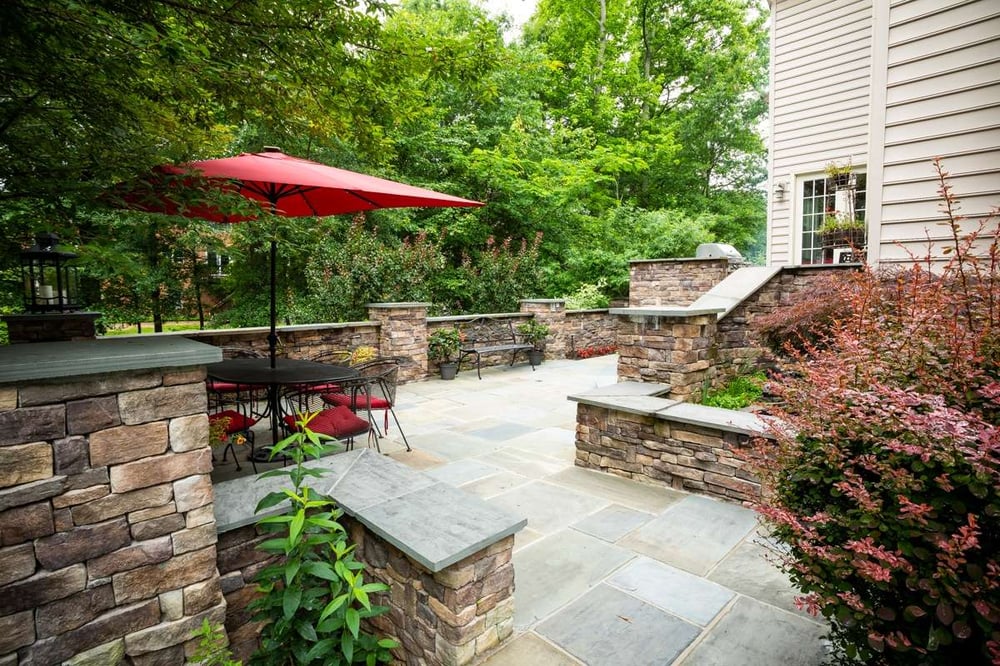 Just to the side of the dining terrace, near the stairs to the family's basement, there is a koi fish pond. This provides the sound of tranquil running water while the family is enjoying an outdoor meal.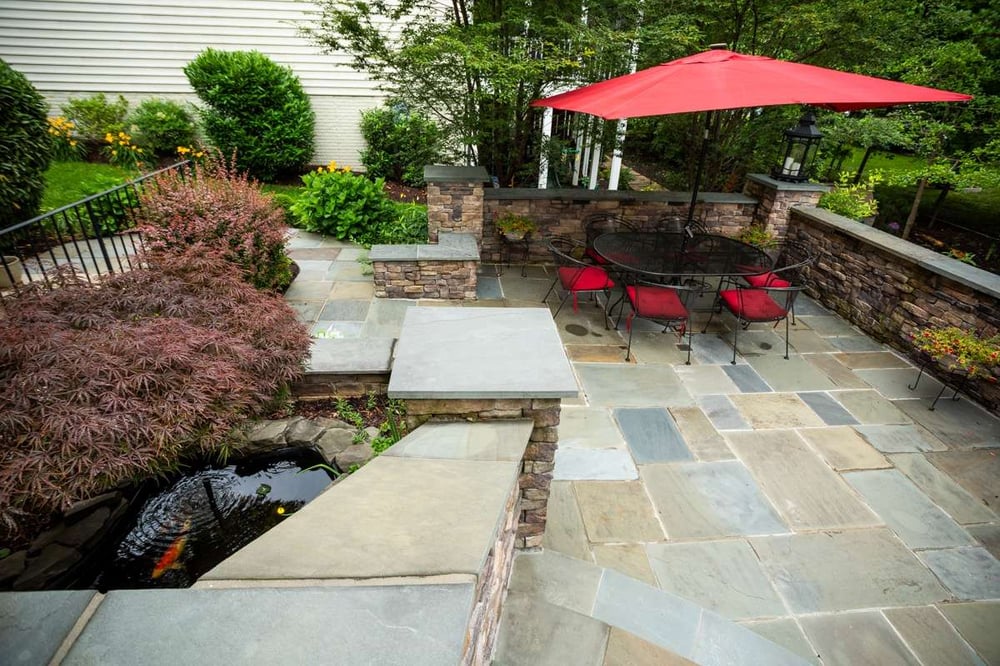 The Fire Pit Area
Beyond the main dining terrace, accessible by a little hallway and an additional set of stone steps, is the fire pit area. This is probably the coziest space of them all and where guests might move after having finished their dinner to go have an after-dinner drink.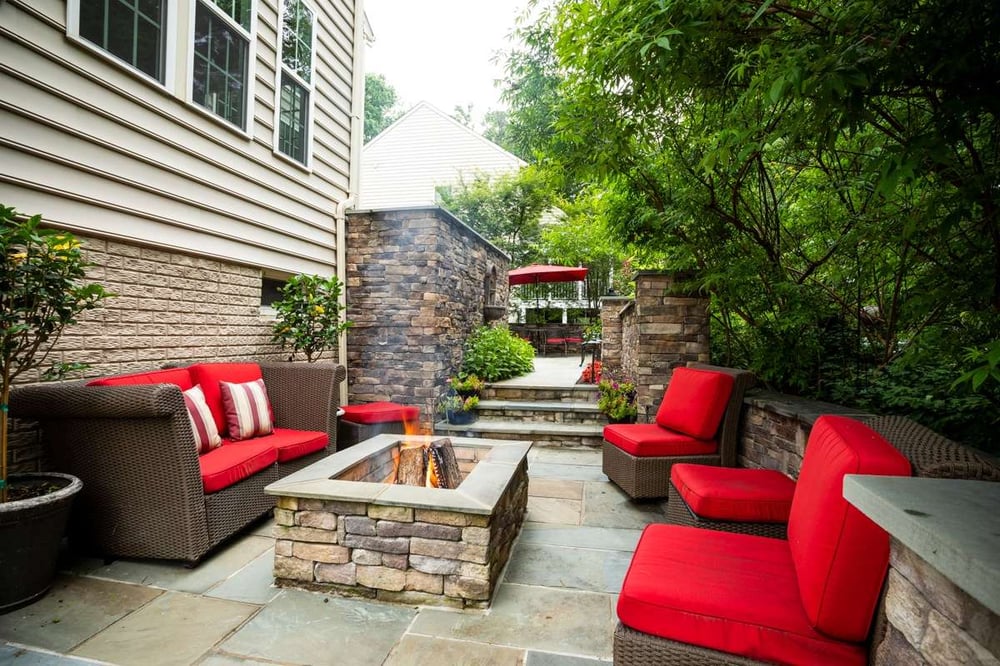 This area features a rectangular-shaped, wood-burning fire feature. We plumbed the line for gas in case at some point the family chooses to transition it to a gas-powered fire. This means the patio would not need to be dug up to make the switch. For now, the family loved the sound and smell of wood.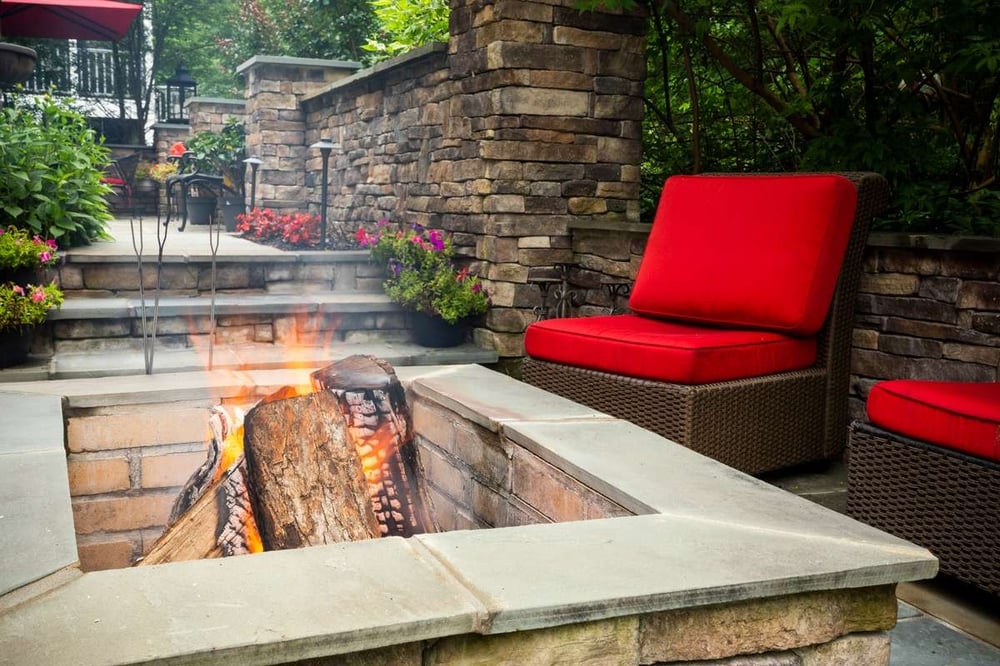 Of course, the hallway area leading to the fire pit cannot be overlooked. It features a recirculating sconce fountain that is attached to the wall as well as some lush plantings.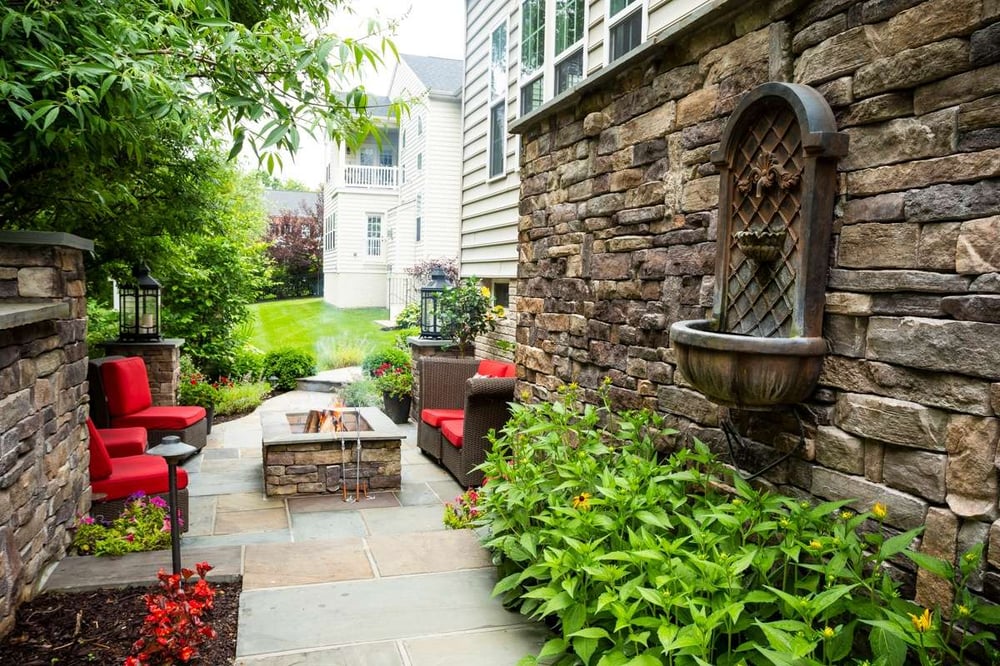 A bench isn't far off from that area. Even though it's a "transition zone," this hallway spot still feels purposeful and deliberate, as we want every space in this landscape design to feel. Whenever working with a small space, it's important to absolutely maximize every single area of it.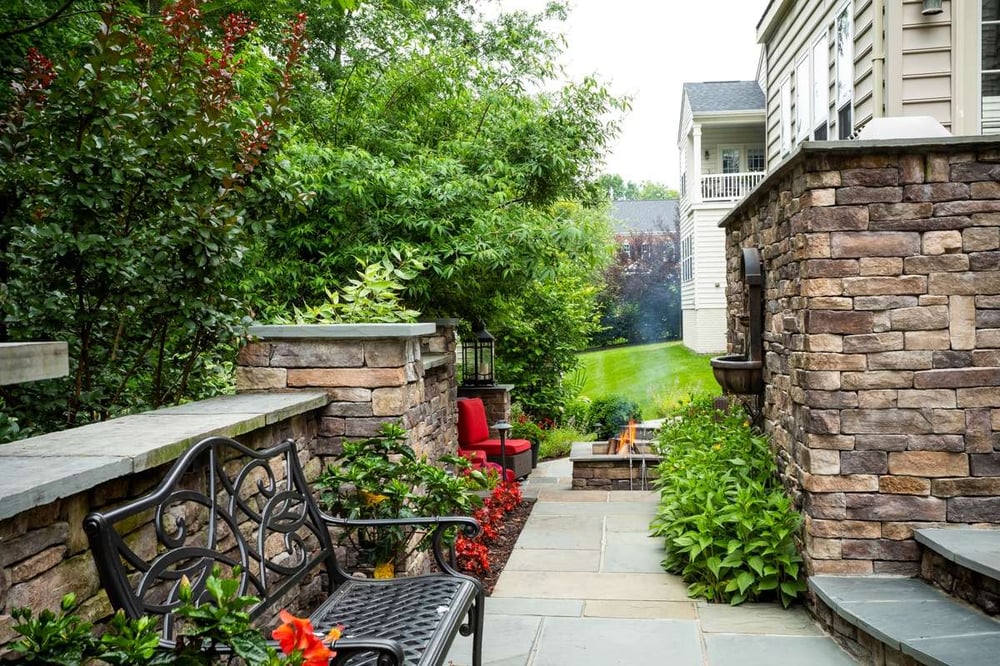 Other Features in This Landscape Design in Alexandria, VA
Throughout each of these spaces, there are other notable features worth pointing out as well. For one, the retaining walls utilized in this design are highly functional. Because of the tremendous sloping on this property, this project required retaining walls with footings that were 20 inches thick. This is much deeper than average. In fact, we had a soil engineer come out and test the soil before beginning construction of these walls. The engineer initially determined the soil was unstable, which required deeper and wider footings.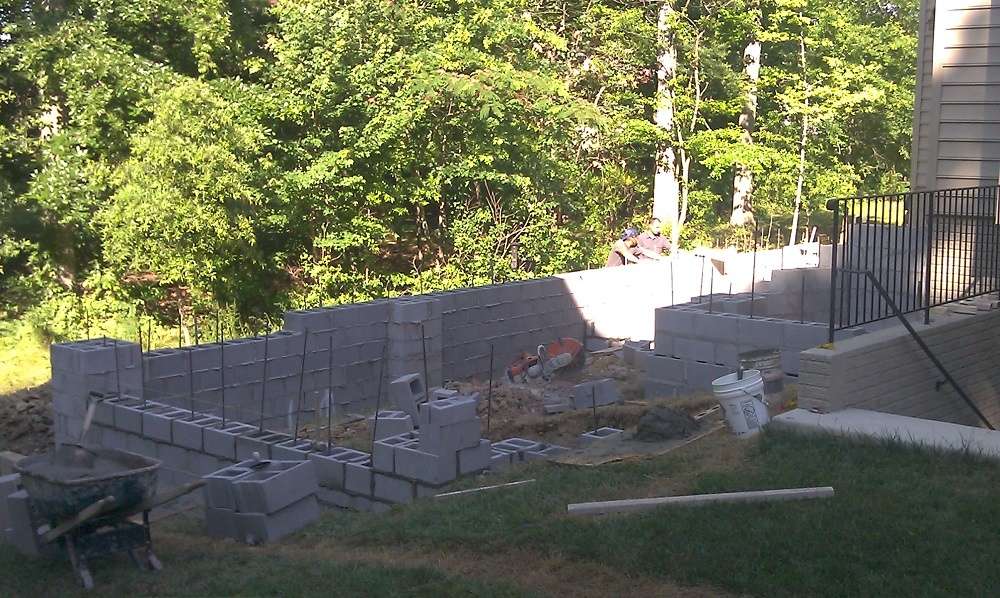 In addition to retaining walls, this project also features landscape lighting throughout. Lighting above the stair treads and built into the retaining walls make this space usable and safe no matter what the time of day.
It's also worth mentioning that in all 3 areas, the patio is comprised of flagstone, which is a look that the homeowners requested. But the vertical stone material is cast veneer, a man-made material that is quite convincing and blends nicely with the natural stone. The homeowners had fallen in love with the darker color and used it throughout all of the walls on this project.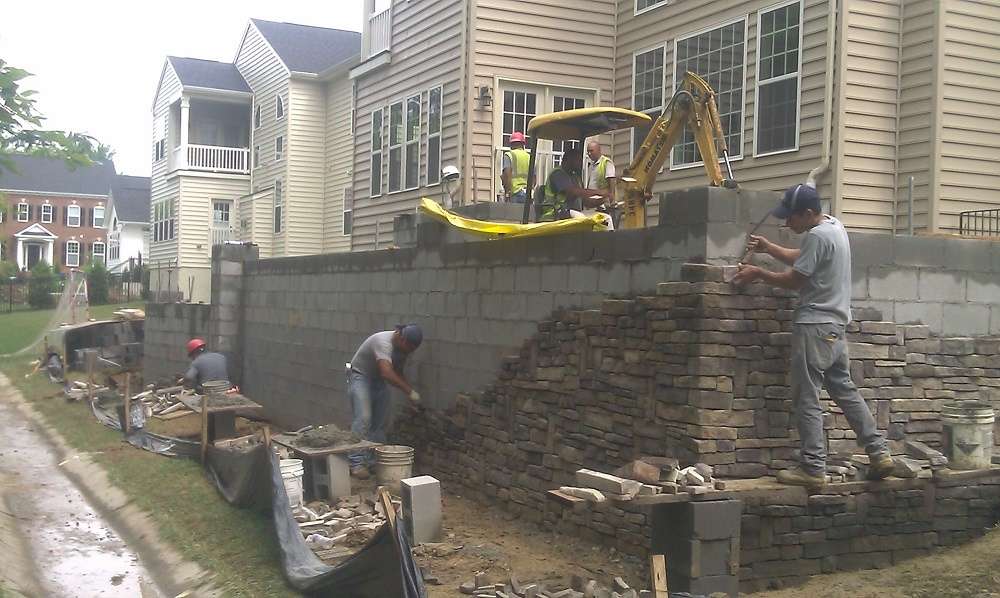 Finding a
Landscape Designer in Alexandria, VA
This is an example of a project that was fairly complicated in nature. The grading changes and the need for an effective retaining wall solution made it important that an experienced landscape designer handled the task. Not only did it require unique solutions to accommodate the sloping and the tight space in an attractive way, but it also required that serious attention was given to the engineering of the retaining walls.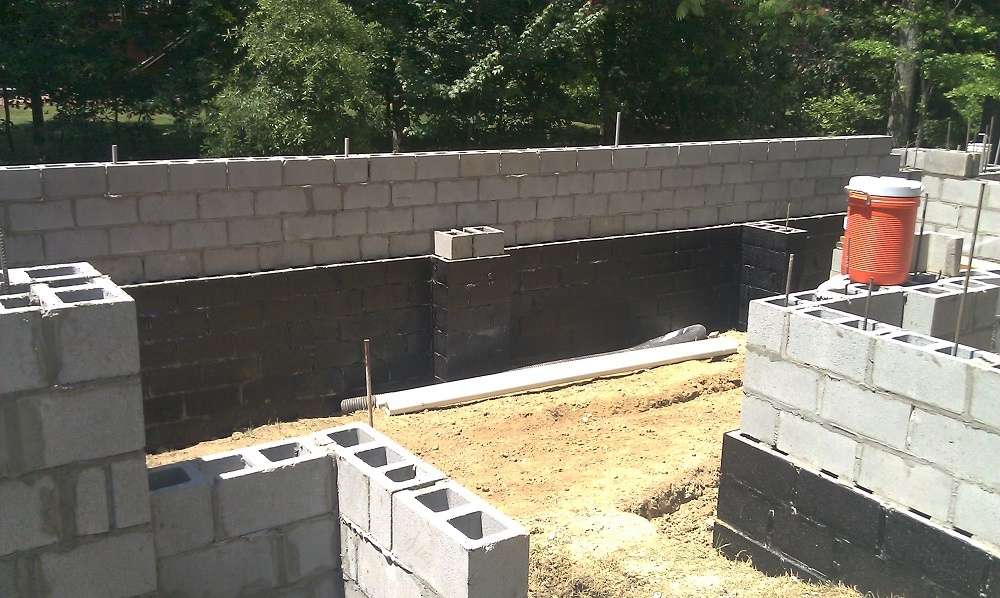 After all, had this project not been built properly, the retaining walls that are holding it all together could have ultimately failed. That could have caused the ultimate failure of the entire design.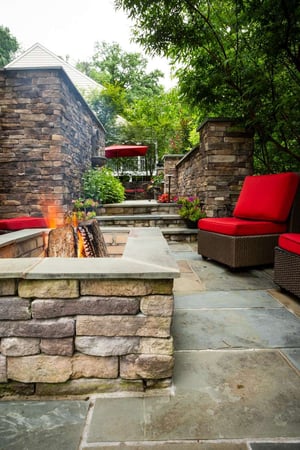 At Kingstowne, we have built hundreds of retaining walls and thousands of patios over the years and have worked with incredibly complicated designs. We've been able to take compact and seemingly unusable properties and transform them into highly functional spaces like this one.
We love landscape design challenges like these, but we're not the real heroes in this story. All the credit goes to this client who made a great choice.
Likewise, by doing your homework and choosing a landscape company that has a tremendous amount of experience and can truly partner with you, you can feel confident that the finished result will not only be incredibly functional and aesthetically beautiful but that it won't start to have problems down the road because it was designed properly from the start. When you're investing in an outdoor living project, you deserve the peace of mind that it's going to come together brilliantly.
If you'd like more information on an outdoor living project at your home, request a consultation, get your customized plan, and relax while we get to work creating your dream backyard.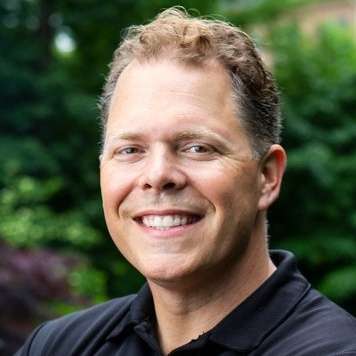 Krisjan Berzins - Owner, CEO
Since 1997, Krisjan has led the Kingstowne team with one simple philosophy, treat every customer like the "only" customer. His passionate pursuit of impeccable customer service has resulted in 24 successful years and a thriving company with over 85 employees, helping thousands of homeowners in the Alexandria, Arlington, and Springfield, VA area get what they want -- a worry-free property they can be proud of.