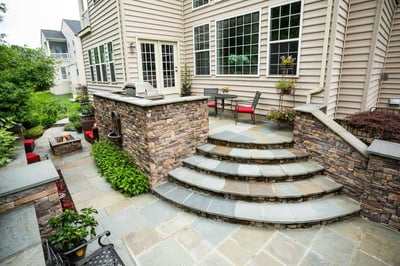 Beginning the process of building a patio can feel overwhelming. You may have no idea what's involved or you may even be afraid that you're going to end up with something you don't like.
You could also be wondering where do I even begin?
Knowing the right questions to ask will help get you started. They'll help you to narrow down the best company to work with. That's important since working with the right professional should make the entire patio design and build easy. You want to be able to work with a pro who not only knows what they're doing but who will ensure the process is fun—and not burdensome—for you.
That's why we've put together 10 total questions that will help equip you with important information.
Questions to Ask
Yourself
Before Working With
Patio Designers in Alexandria, Arlington, or Springfield, VA
First and foremost, it is really helpful for you to have a solid idea of what you're looking for before you even set up appointments with patio designers in Alexandria, Arlington, or Springfield, VA. You don't have to know exactly what you want—and it's certainly fine to lean on the patio experts for their advice. However, it's incredibly helpful to at least have some guidelines of what you have in mind.
To do so, here are 3 questions that you should ask (and answer) yourself.
1. What style patio do I like?
It can be very helpful to look at existing patios and get some sense of what you like in terms of the look and style of a patio. If you've already searched for patio designers near me online and you have chosen one or more patio designers you're interested in, then look at their gallery of photos and be prepared to show the designer which styles you like.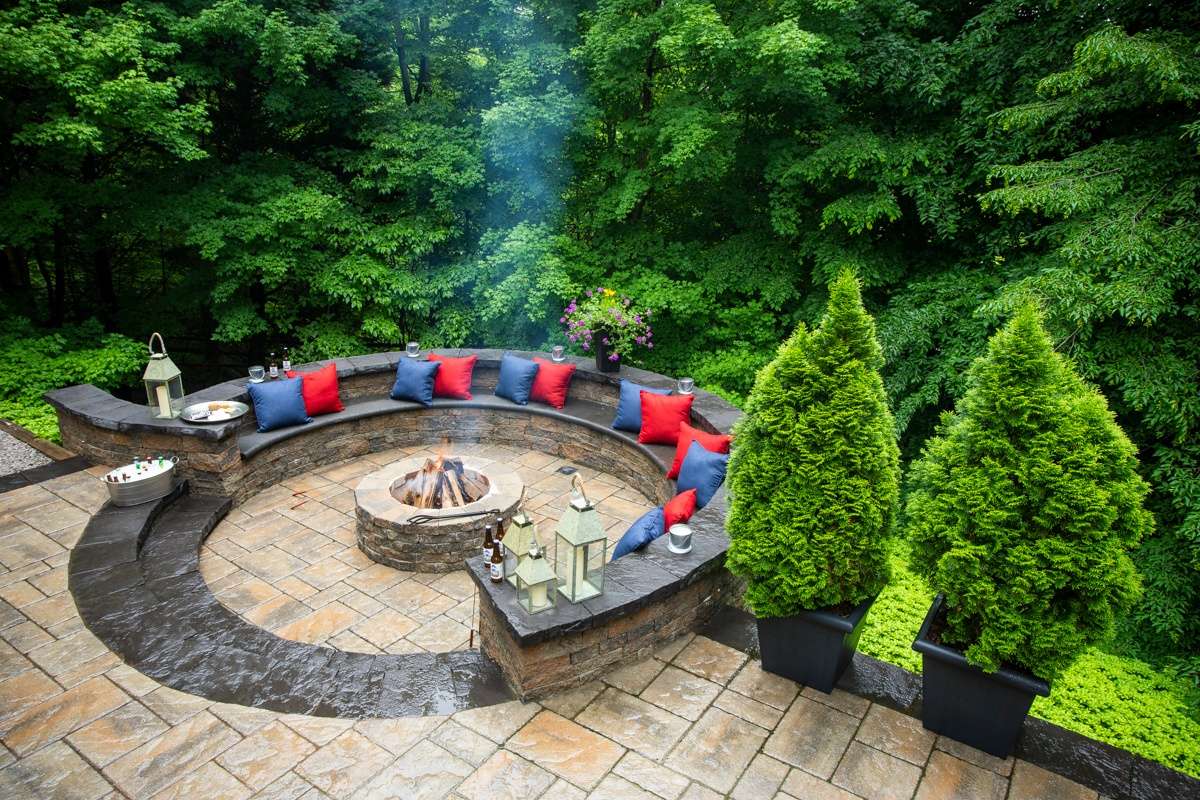 A photo gallery is an important tool on the website as it shows you real-life examples of the company's work. You should look at everything from the shape of the patio to the material that is used and make notes about what you like. Keep in mind that some materials may cost a lot more than others, so you may want to have more than one idea in mind.
You should also read some of the companies' in-depth articles (like this one) to get even more information about their patio projects and what you like. The right company will help guide you through the process so that you don't have to feel completely on your own as you try to come up with ideas.
2. How will I use the patio?
Do you just need a small patio, only big enough to fit a table and chairs? Or are you looking for more of an entertainment space with a patio that would fit multiple furniture sets? Beyond the dining table, do you also need some couches or comfy chairs near an outdoor fireplace or maybe even room for an outdoor kitchen?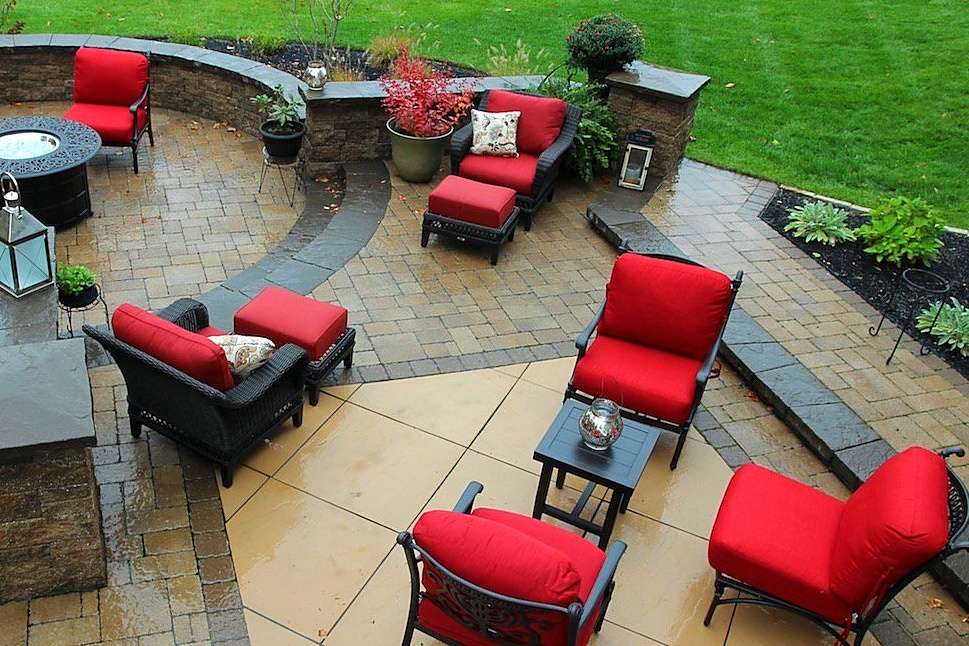 The answer to how you will use the patio will dictate the size that your patio needs to be in order to accommodate all your needs.
3. What is my budget?
Many of our customers tell us they don't have a budget because they don't know what a patio costs. There's nothing wrong with that, of course. If you've never had a patio built before, then you really have no reason to know the associated costs.
Even so, we find that most people still have an idea of what they're willing to spend and that number can be helpful as you begin the planning process. Your budget will come into play with making a lot of decisions, such as what material is used.
For instance, natural stone materials could cost more than pavers. If you have a tight budget but love the look of natural stone, you might compromise by choosing a paver that mimics the same look at a lower price point. Then again, there is a wide range of pricing and styles with pavers as well, so your landscape designer can help you sort out what will work for your desired price range.
Questions to Ask
Patio Contractors
in Alexandria, Arlington, or Springfield, VA
Now that you have some sense of what you're looking for, you might be ready to talk to a patio company. Whether you've performed an online search for patio companies near me, or you've been given some references by friends, you now want to know how to differentiate between the different companies that are out there and choose the one that is best for you. After all, you want to invest your time and money into the best possible company.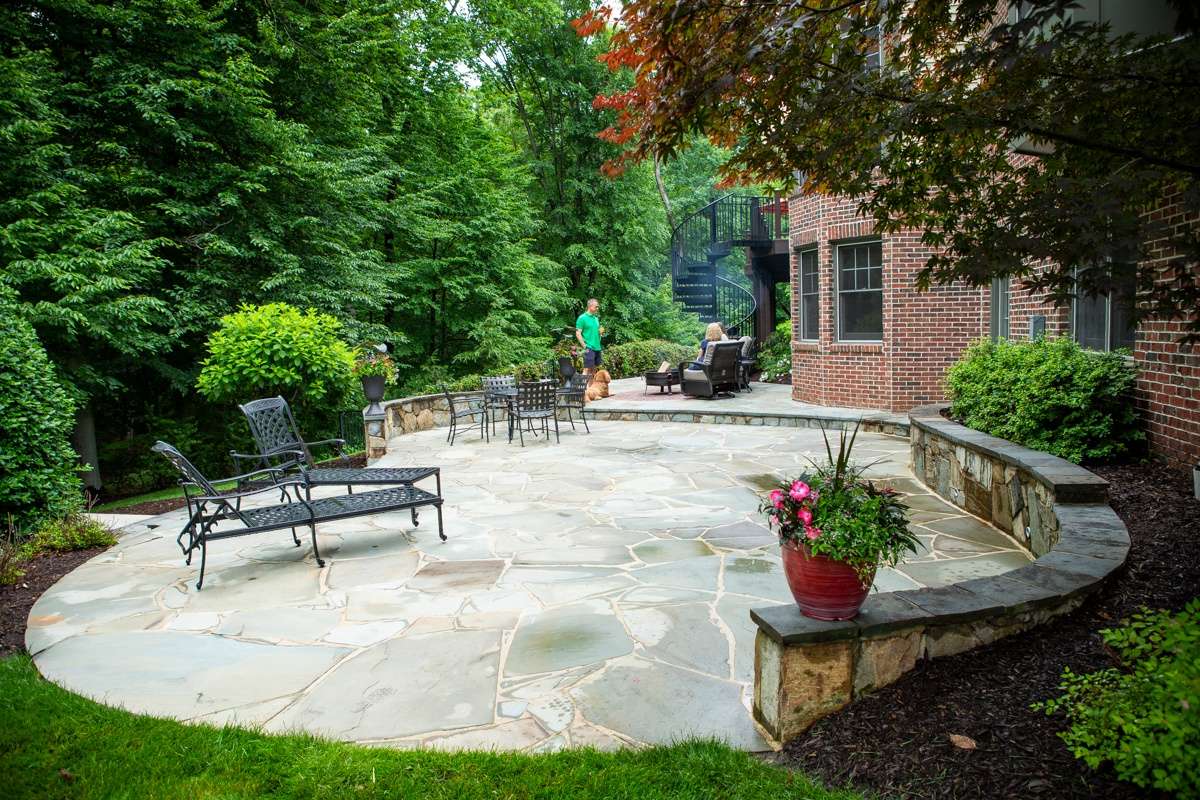 Asking these next 5 questions will help you to determine whether it's a patio company that you can truly trust to do the best job.
4. How many patios do you build per year?
To find a company that truly knows what it's doing, you need to find one that has built a lot of patios. That means you definitely do not want to hire a patio company that only builds a few patios a year. They simply can't be experts in hardscaping if they aren't doing it regularly.
You want a company that builds dozens of patios each year—maybe even more. At Kingstowne, we build between 150 and 200 patios each year and in our history have built thousands. It's an area of expertise for us, not just something we build from time to time.
5. Are you certified to build patios?
Additional (and optional) certifications exist to help guide people toward experts and it's no different when it comes to patio contractors in Alexandria, Arlington, or Springfield, VA. There are certifications out there that would confirm whether a patio company is a true master of the trade—or not.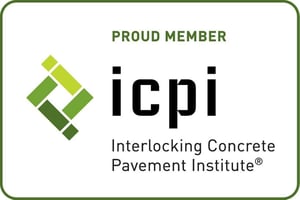 The Interlocking Concrete Pavement Institute (ICPI) is an organization that certifies patio companies in hardscaping. In order to receive proper certifications not only do the patio companies need to follow certain guidelines for how they build, but they also need to attend classes and seminars and keep credentials fresh.
ICPI credentials are valid for two years, during which, installers must earn 8 continuing education credits in order to renew their certification. You want to find a company that takes these extra steps to certify their crews.
Beyond that, even manufacturers offer certifications. Techo-Bloc, for instance, has the "Techo-Pro" certification. While lots of companies may use Techo-Bloc products, not every company is a certified "Pro." EP Henry and other manufacturers have similar programs in which guidelines must be met. Finding out whether the company you're considering has any of these certifications will give you a good sense of their level of expertise.
6. How is this patio going to affect our current drainage?
Throw this question at a patio company you're considering and they'll know that you know your stuff. It will also show you whether they know theirs!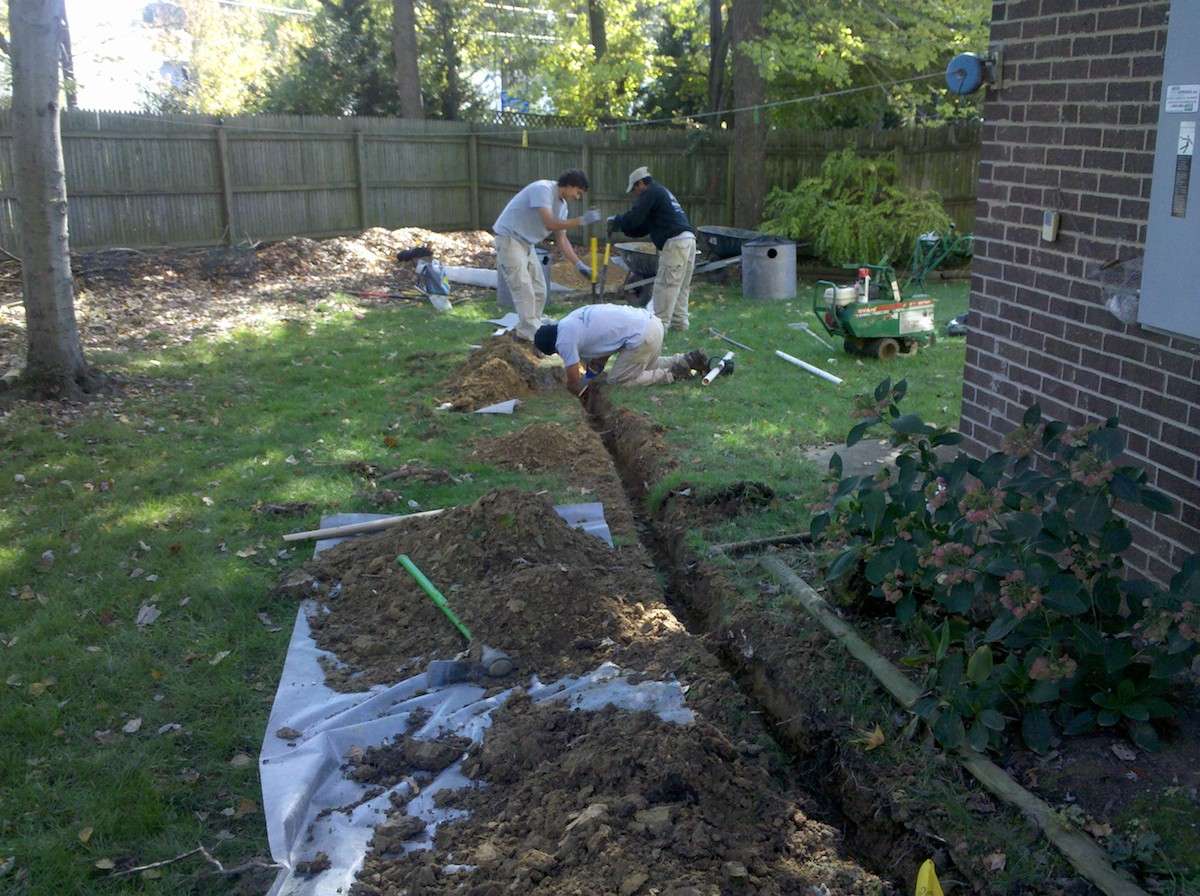 Most people don't talk much about drainage. It's not nearly as exciting as talking about what you want your patio to look like or how you plan to use it. But it's a vital issue. The last thing that you want is to deal with water pooling underneath your patio and causing pavers to lift up. Of course, you also don't want water rushing across your patio and causing a muddy mess, either.
Your patio should improve drainage, not make an existing problem worse (or even create an issue that wasn't there in the first place). However, we've seen many patios built that created a drainage problem because it was never addressed. You want to be sure that the patio company you choose to work with understands drainage and has a plan to deal with it.
7. How do you perform base prep?
Here's another not-so-sexy topic that rarely comes up in patio conversations—but is absolutely imperative to the success (or failure) of your patio. Base prep is all of the steps that are taken before your patio is actually laid. It includes excavation and creating the foundation for your patio, and it's incredibly important. Ultimately, your patio is only as strong as its foundation.
You don't have to completely understand the base prep process to ask a patio company about it. If they know their stuff, they'll have answers for you and be able to explain their responses. Ask them how they plan to excavate and how deep. Ask them what material the base will be made from. This will give you a good sense of whether they are experts in patio construction.
8. What sort of impact do you expect this patio build to have on the yard?
We want to be completely honest with you about the fact that building a patio is going to very likely tear up at least part of your yard. You're talking about lugging heavy materials back and forth over your lawn with equipment that is definitely going to make an impact.
Most companies will never bring this up with you. They may even cause the damage and then expect you to come up with a solution after the fact. It's an uncomfortable topic that a lot of patio companies would rather just avoid.
But we bring it up from the very start because we want to be honest. We don't think it's fair for you to be surprised by any damage after we're finished. While we take steps to minimize damage by using plywood to bring equipment in and out, we're also honest with you that it won't eliminate it. So, we also include lawn repair in our initial cost in order to tell you, up front, what it would cost to fix any damage that occurs.
So often we have homeowners tell us that XYZ Patio Company gave them a quote that was a little bit cheaper. Upon further exploration, it often comes out that they didn't include any lawn repair costs in their quote. We believe it's important for you to know what you're getting for your investment and that it's truly all-inclusive of everything that you might need.
Questions to ask
Patio Designers
in Alexandria, Arlington, or Springfield, VA
Then comes the time when you've found a company that you trust and now you're ready to work with a designer on bringing your ideas to life. Keep in mind that not every company has an in-house designer on staff. Sometimes patio companies use an outside designer to complete their design work.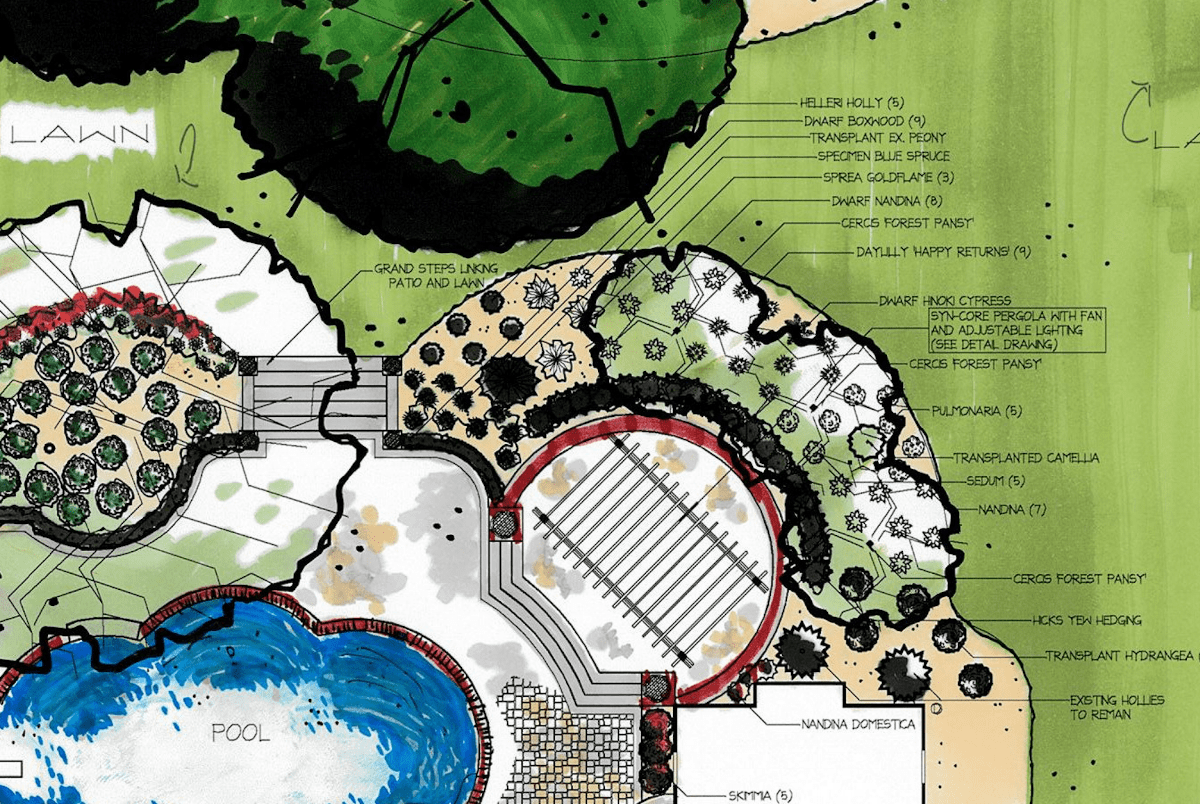 At Kingstowne, we believe that having in-house landscape designers prevents any disconnects between the design process and the build process. They should be seamless so that you end up with the patio you truly want. If you're unsure of the company's process or wondering if they really do their design work in-house, you might want to ask. Before you go any further in the process you could outright ask how they handle their designs.
Once you're satisfied that you're ready to begin the design process, here are two additional questions to pose to your designer.
9. What material do you think will work best for the patio I want?
If you've found a true patio expert, then now is a great time to lean on the designer for their expertise. You've told them what kind of patio you like and maybe even showed them pictures that you like the best.
Now, they can tell you what types of materials might work best not only for the style that you like but for the budget that you're working with. They can guide you through the various options and help you to determine what will meet the majority of your wants and needs.
10. What other ideas might I have missed?
A patio company that has built thousands of patios is likely going to have ideas you may not have thought of and there's nothing wrong with turning to them for some expertise.
Some of our clients create online idea boards on websites such as Pinterest or Houzz and share them with us. The best professional will not dismiss your ideas for their own but will instead take your ideas and also suggest ways to improve upon some of them or just give you suggestions you might not have thought of. In the end, your ideas and their expertise will mesh to help you create the patio of your dreams.
Making Your Patio Dreams a Reality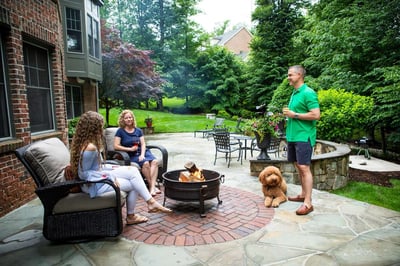 Adding a patio is an exciting endeavor. You'll have a beautiful space to sit outside and entertain friends and family over dinner or even to kick your feet up by your outdoor fireplace and relax after a long day.
Of course, seeing those dreams through is contingent upon hiring the right company for the job. You want to choose a company that has the authority and the expertise to bring your dreams to life in a way that won't lead to problems down the road. For instance, you don't want to be making costly repairs because drainage wasn't addressed and you don't want to end up with a patio that was nothing like the vision you had in mind.
Fortunately, you're now armed with information and you know the right questions to ask. As a result, you'll be able to feel confident that your patio dreams will be brought to life the right way—and that you won't be left with patio nightmares because of a poor choice.
If you'd like some guidance when it comes to your patio ideas, request a consultation, get your customized plan, and relax while we transform your space the way you dreamed it would be.
Image source: ICPI Logo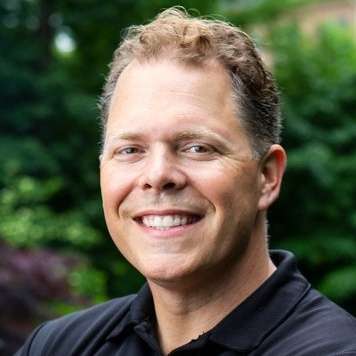 Krisjan Berzins - Owner, CEO
Since 1997, Krisjan has led the Kingstowne team with one simple philosophy, treat every customer like the "only" customer. His passionate pursuit of impeccable customer service has resulted in 24 successful years and a thriving company with over 85 employees, helping thousands of homeowners in the Alexandria, Arlington, and Springfield, VA area get what they want -- a worry-free property they can be proud of.