With a small existing deck that only had room for a table and grill, the Dibona family was having trouble entertaining.
They knew it was time to either build a new deck or to add a patio. Ultimately, the family decided to choose a patio design for their Alexandria, VA home as it would create a seamless transition from the home and open up an outdoor gathering space. A two-tiered paver patio design was able to meet those needs.
Addressing Slope and Size in This Patio Design in Alexandria, VA
The yard was sloped and narrow, so the design had to work within tight parameters. A two-tiered patio design was the answer to maximize as much functional space as possible.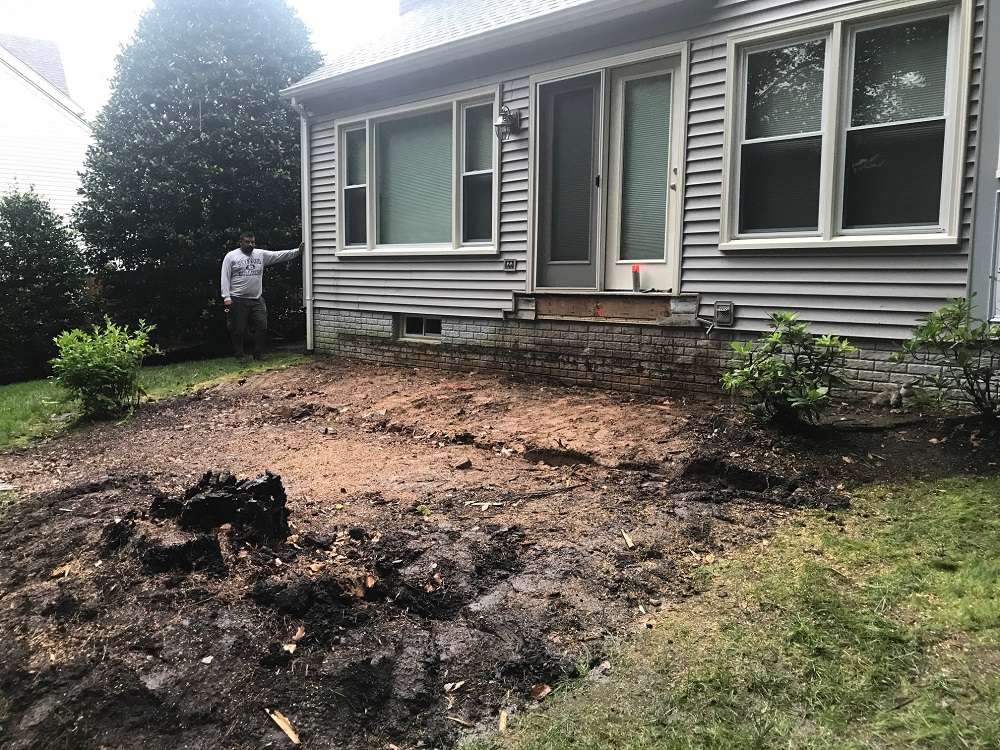 There was an approximate 42-inch elevation change and the steps down to the lower patio addressed this. These steps can also serve for extra seating during large gatherings.
The upper paver patio is large enough to comfortably hold the family's existing eight-person dining table that they loved.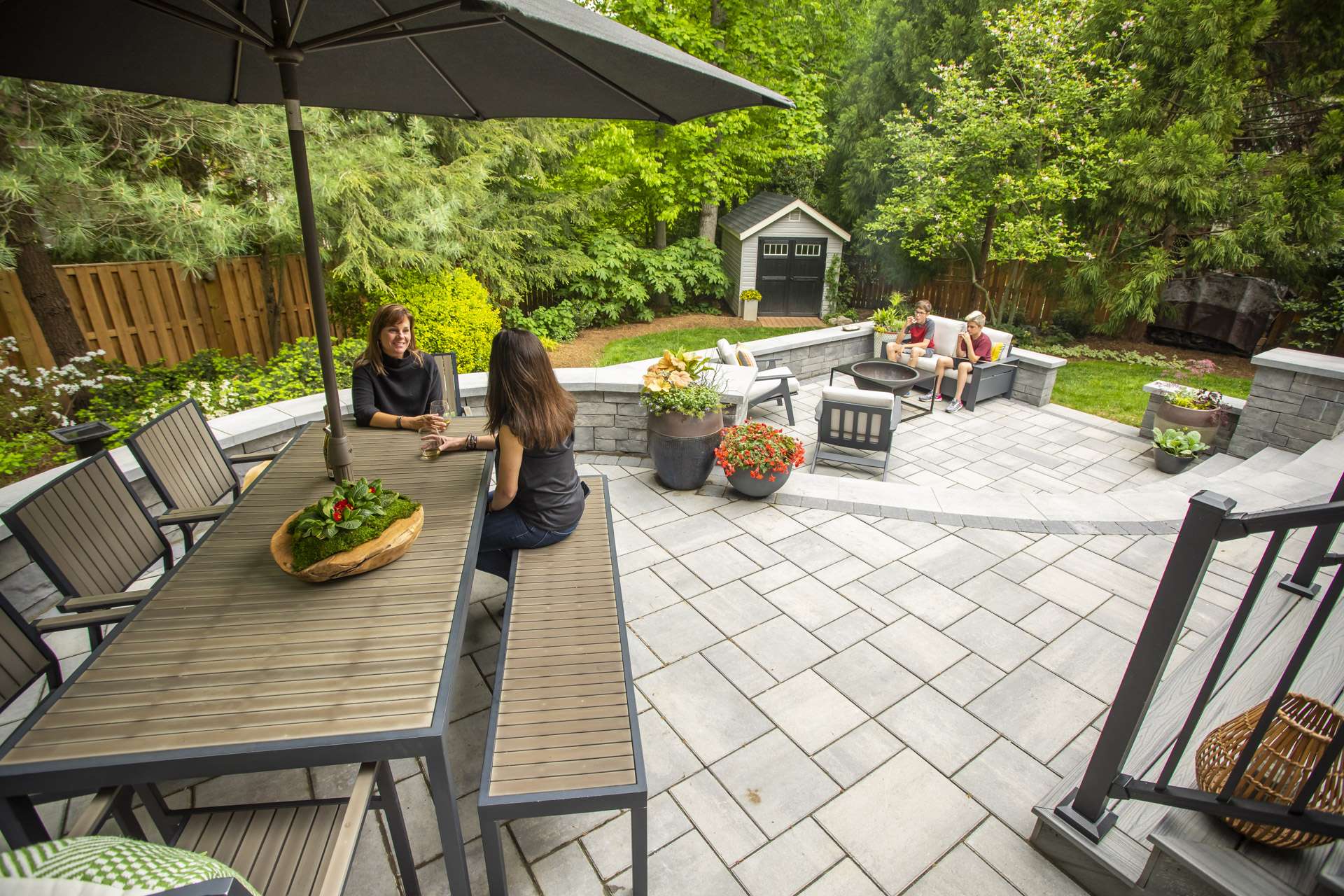 The lower patio features a more intimate and cozy fire pit area. This has allowed for a complete entertainment space for the family.
Fulfilling Landscape Design Needs
Another concern with the existing backyard was the fact that the old deck railings caused obstructed views of the scenic property.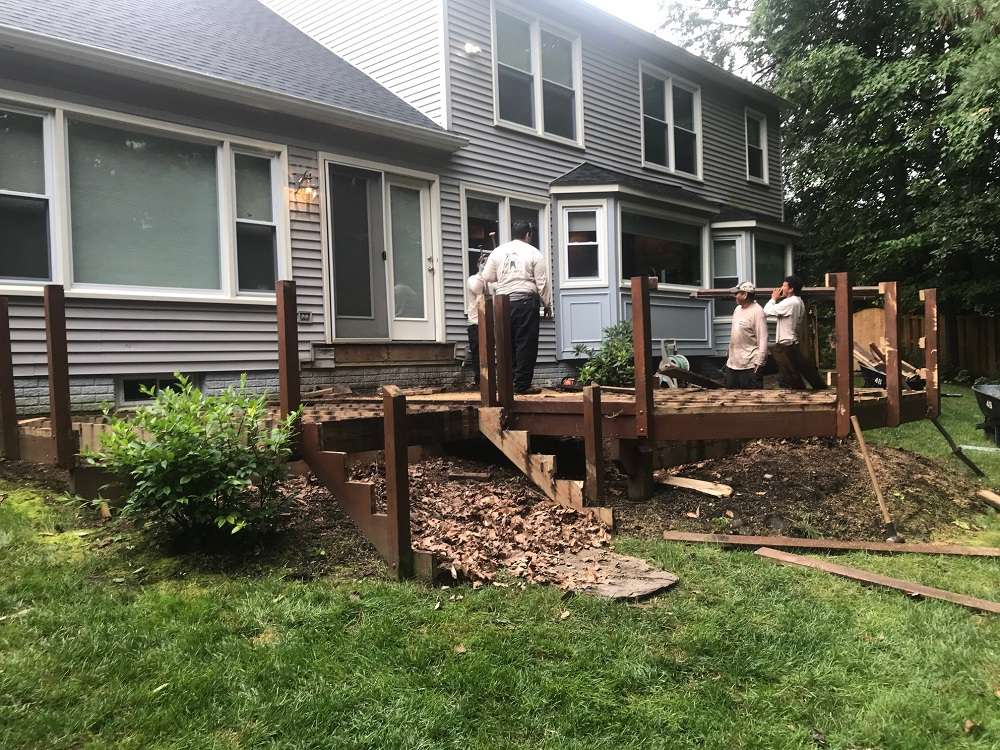 "This patio design really opened up our backyard," says homeowner Kim Dibona. "I'm a gardener and love my pots and flower beds and Alan's design increased the area for my gardens. The design also allows all the flower beds to be seen from the windows in my kitchen and living room. Previously, the deck we had was raised by footers because of our slope which blocked all views into my garden beds."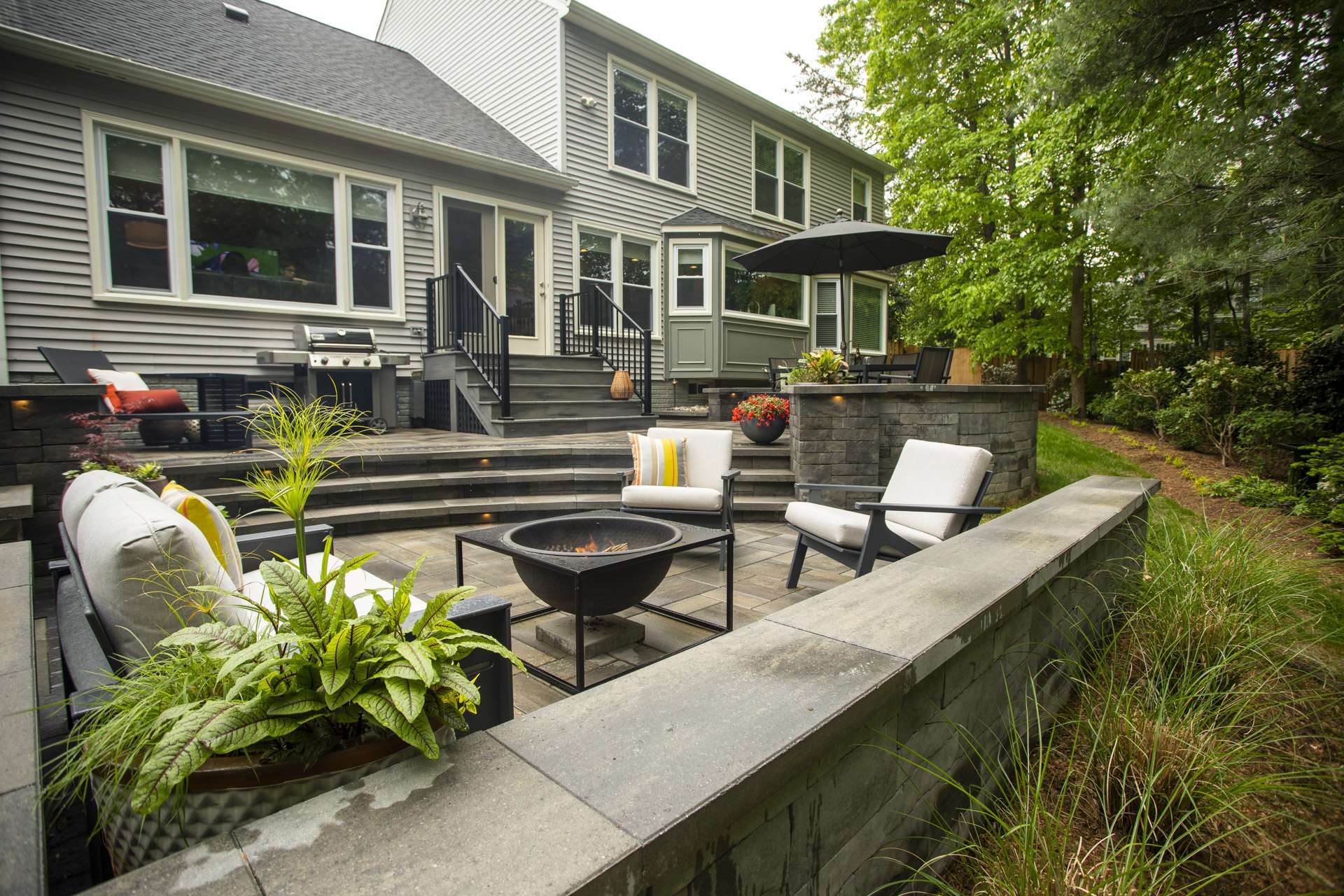 Kim says that the finished project fulfills two key needs—allowing for more functional entertaining space while also allowing them to enjoy the landscaping to the fullest.
"Our patio now allows not only increased room for entertaining but a full open view into our backyard since a patio sits more at ground level," she adds. "It was definitely the best solution for our backyard. Alan came up with the best design accommodating our original furniture and future ideas for seating and grilling."
A Little Bit of Curve
Though the preference was definitely for a primarily modern and linear design, the scenic property also called for some curves.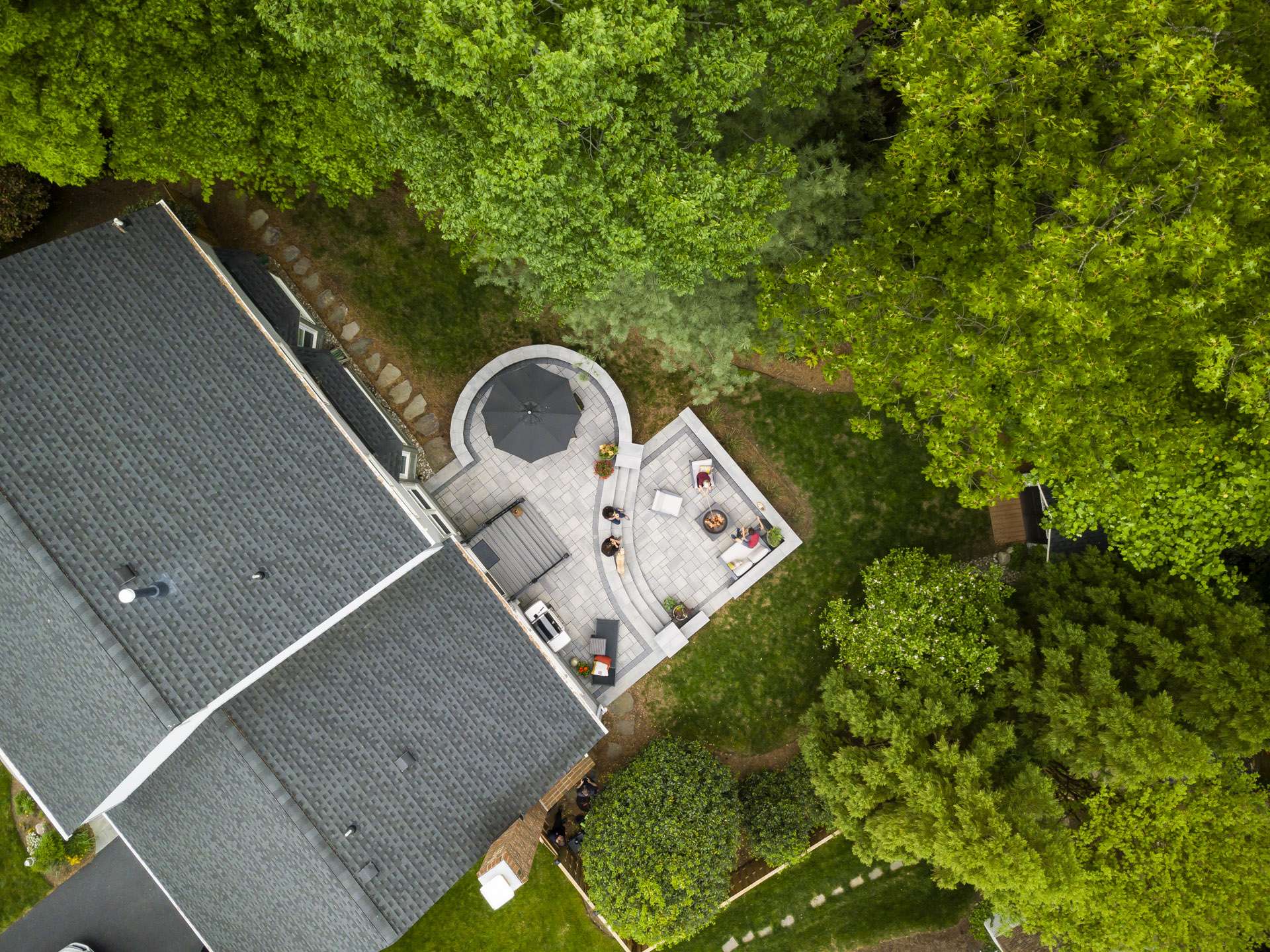 "Adding the curve was Alan's idea to best fit our backyard," says Kim. "It really worked out to give an organic feel since we have so many straight edges—from our furniture to the type of stone I knew I wanted to use. We have a more modern feel to design, clean and simple, but the curve with the wall added a special touch of interest. It also allowed the right amount of space for our eight-person rectangular table."
The family chose a light gray stone with accents of small black stones to pick up on the curve and highlight the steps.
"The steps and the lights underneath really make the patio look amazing at night," adds Kim. "The lighting was an extra expense that we debated at first but every night at dusk when they come on they are beautiful. The lights are on a timer which is great."
Getting Maximum Use
Since having the patio implemented, the family has been spending more time outdoors than ever before.
"We use the space so much more now since we added the second tier that allowed room for a small couch and two chairs and a fire pit," says Kim. "We can entertain so many more people now. The kids can be eating at the table while adults hang out around the outdoor living room area. Folks can even sit on the top of the wall since all the walls are a natural seat height. The walls make great extra space for seats and also extra places for drinks and dishes."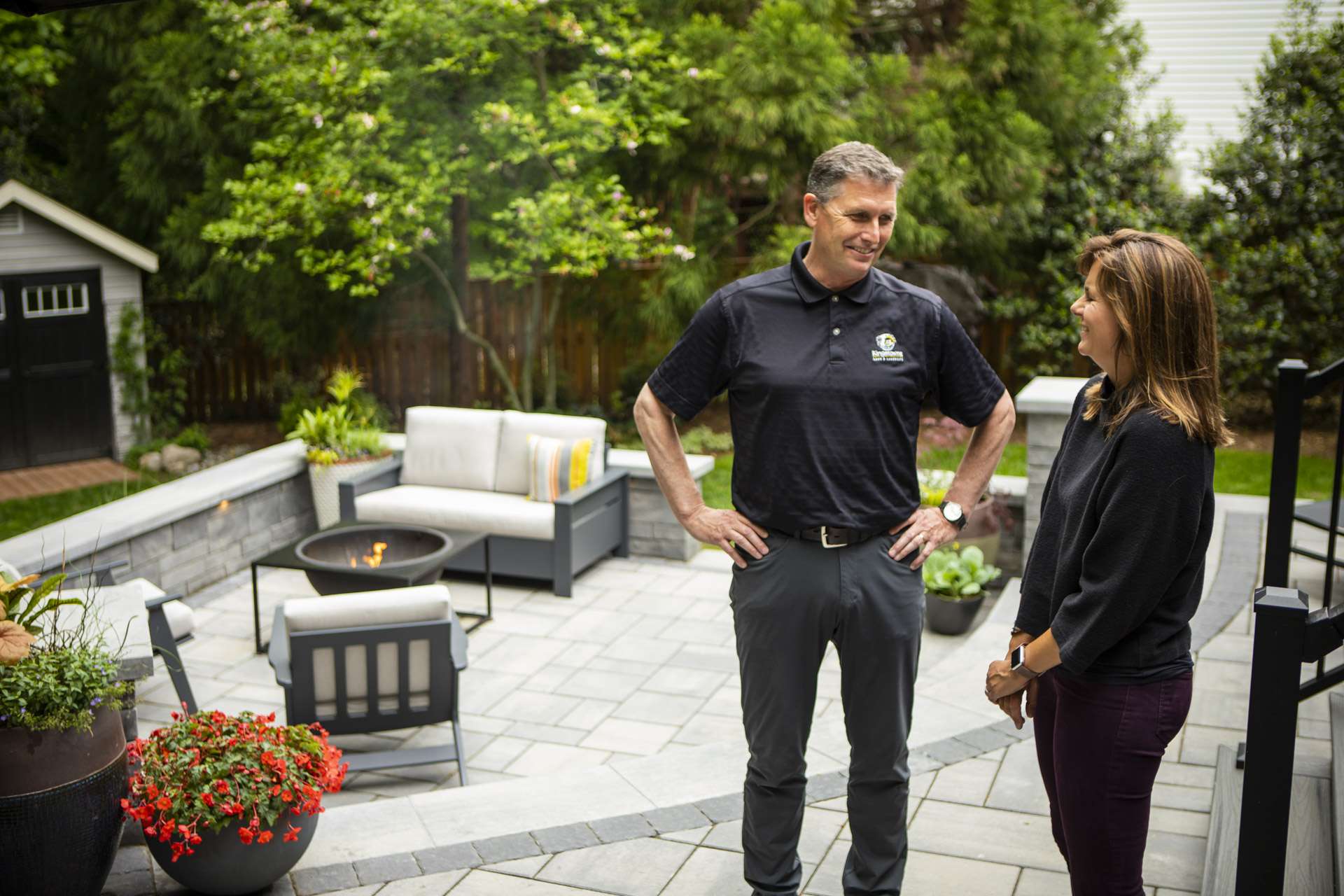 Kim says that the stairs have also become a great place to sit and relax. With all of these options, there are so many ways to use the space, unlike the boxed-in deck they had previously.
"We couldn't be happier with the overall design and construction of the patio," says Kim. "It really has opened up our indoor area to a large outdoor area and continues the feel of a bigger living space."
Choosing Patio Design Companies in Alexandria, VA
The Dibona's say that they recognize that this patio and landscape design had many nuances that other designers would have overlooked. Even the way that the sun hits the property at certain times of the day was taken into account with the design. In the end, all of the small details are greatly appreciated by these homeowners.
"Alan is a great landscape designer, not only did he work out the perfect plan for the patio but he also helped with plantings and future garden beds to soften up our backyard," Kim says. "The whole crew at Kingstowne was top-notch, professional and easy to work with!"
At Kingstowne, we love working with clients like the Dibona's, helping to solve their problems and also allowing them to enjoy their properties more (and get more use out of them, too!).
While Kim was incredibly involved in the decision making and had lots of fantastic ideas for this project, other homeowners would prefer to be more hands-off—and that's okay too. We are ready to work with clients at all levels of engagement in order to help bring their dream properties to life.
If you'd like more information on an outdoor living project at your home, request a consultation, get your customized plan, and relax while we get to work creating your dream backyard.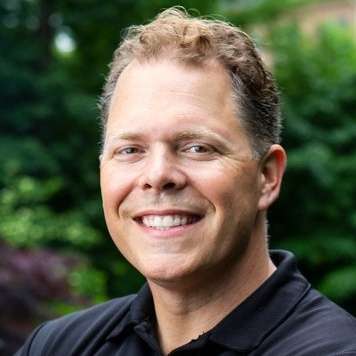 Krisjan Berzins - Owner, CEO
Since 1997, Krisjan has led the Kingstowne team with one simple philosophy, treat every customer like the "only" customer. His passionate pursuit of impeccable customer service has resulted in 24 successful years and a thriving company with over 85 employees, helping thousands of homeowners in the Alexandria, Arlington, and Springfield, VA area get what they want -- a worry-free property they can be proud of.