For many homeowners, having outdoor living space is a top priority. Of course, in our area of Northern Virginia, outdoor areas can sometimes be small—and many properties come with a number of challenges.

That was the case for this McLean, VA landscape design. It was a gorgeous home and the family made it even better with a large addition. But the yard was incredibly unusable.

It was a very sloped property that made any sort of entertaining outside of the home nearly impossible. And besides an old deck with stairs that came down to the driveway (instead of the yard), there wasn't anything to even draw people outside.

Everything about it lacked functionality and appeal.

The homeowners were looking for a total renovation so that they could have a usable and enjoyable outdoor space. In the end, it was a two-phase project to transform the entire outdoor space.

Their new landscape design enhanced both the functionality as well as the beauty of their yard.

Here's how they went from a frustrating to fabulous space.
Phase One: Exciting Upgrades to the Deck and Area Beneath It
With an old rickety deck that had to go, a big part of this project involved upgrading the deck—as well as the area underneath it.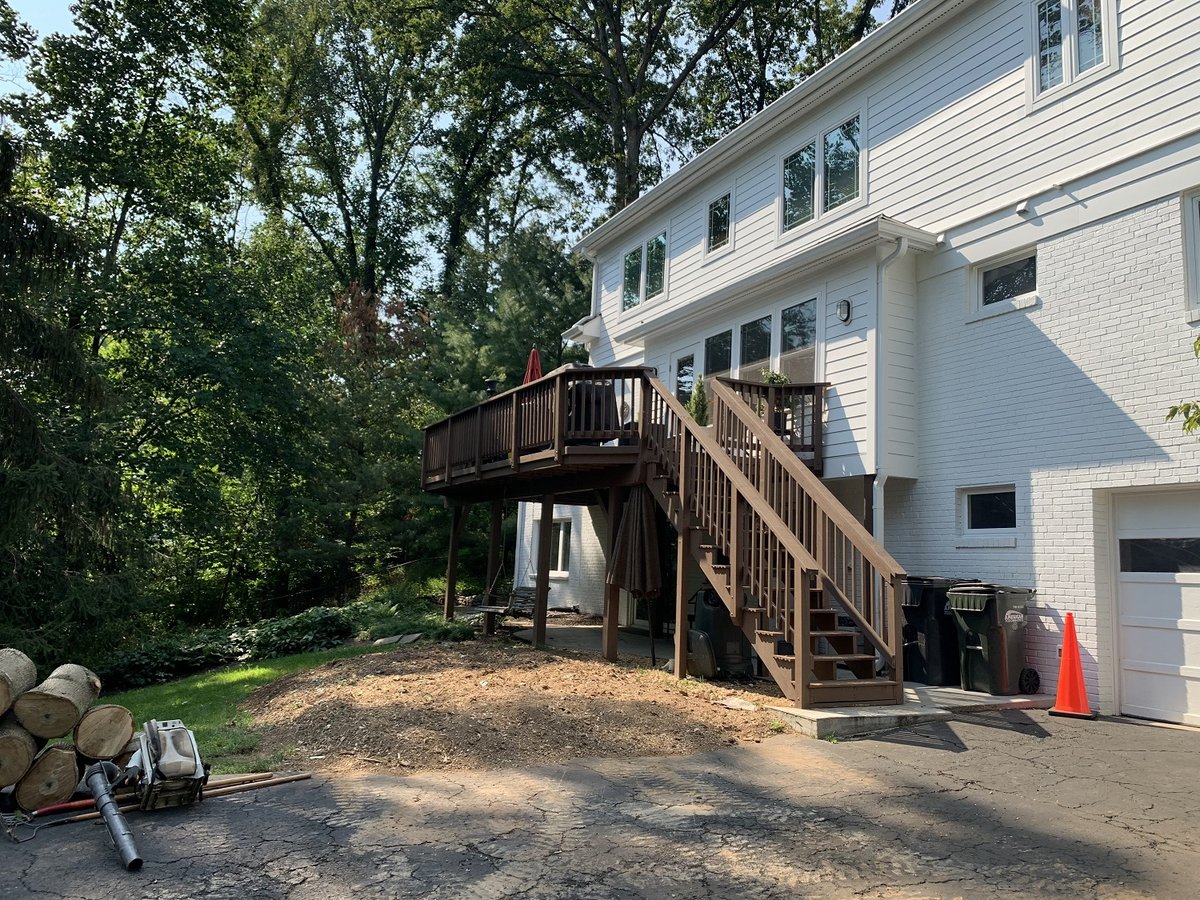 It started with a new layout. Whereas the previous deck went to the driveway, we created two stairways so that there could be a double exit.

People can now park in the driveway and take the stairs up to the deck. Or, they can take the stairs up or down from the entertaining area that we added below.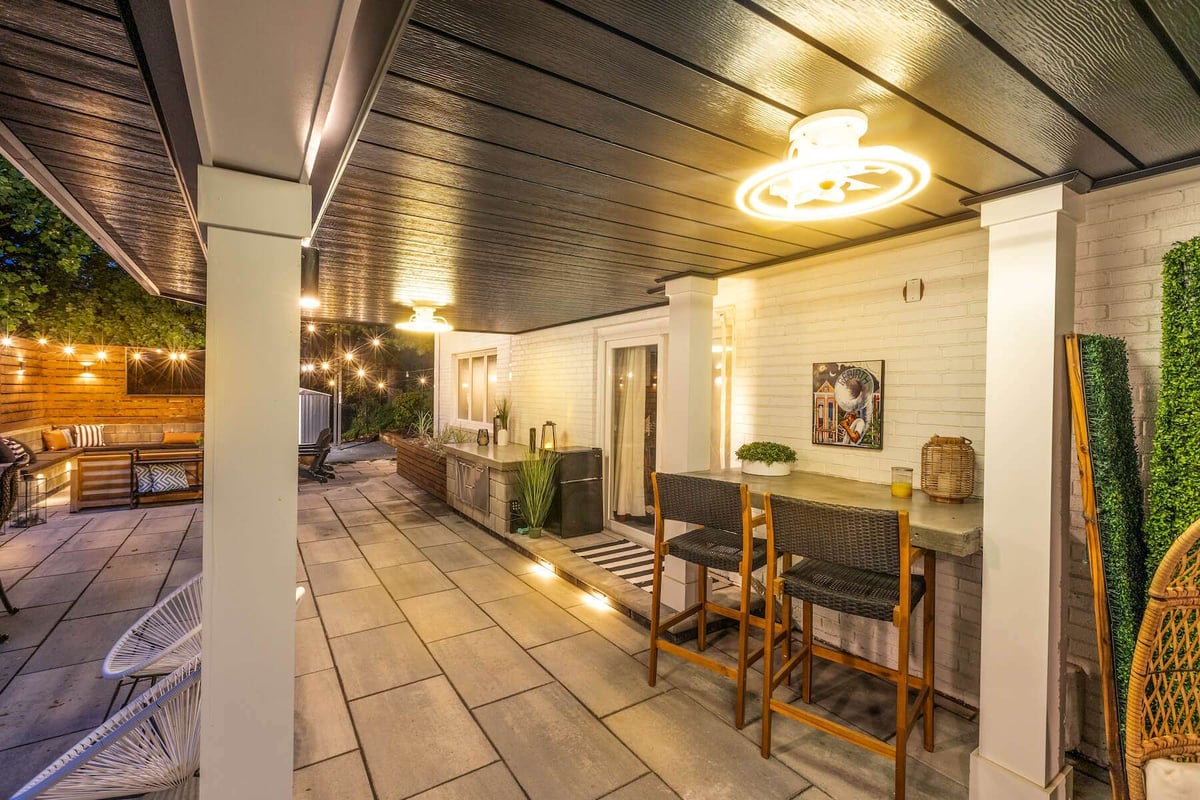 This made the space a lot more functional.

We also created an entire entertaining spot beneath the deck with more than 1,000 of gorgeous patio space. Because of the sloped property, this involved the addition of some retaining walls around so that we could build up the area.

The new patio has a little bit of everything.

There's a cozy corner with a fire pit, and a beefier retaining wall that doubles as bench seating. This area has an "outdoor room feel" to it, thanks to the walls we installed. These were multi-purpose.
For one, it gave the family something to mount their lighting and television to. But it also creates a lot of privacy. This is particularly valuable in the winter, when the trees are bare and the neighbors could see into the yard.

Behind the walls is an entire Cross Fit gym set-up that the family uses.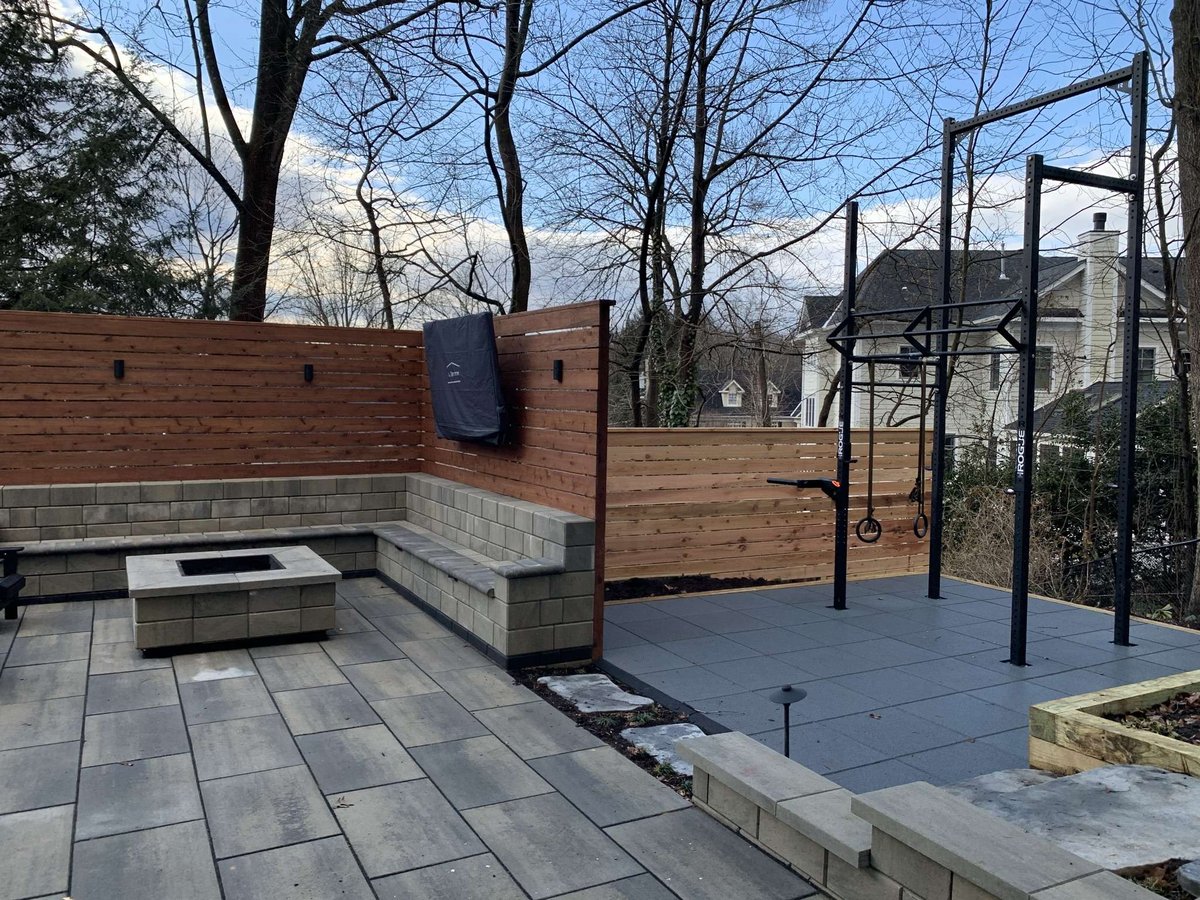 In addition, the new patio space also has plenty of room for seating and some built-in floating counter space to put out food and drinks when the family is entertaining friends and family.

While under-the-deck space isn't always usable, this family was intent on maximizing the functionality of their yard. With the addition of a black aluminum water-proof ceiling, this space is now fully functional rain or shine.

It has truly taken the home's entertainment possibilities to a whole new level as people can spread out and even have different "spots" for different purposes.
Phase Two: A Major Yard Upgrade
The second part of this project involved upgrading the yard space.

Where there was previously just one big slope, we created some tiered levels with gorgeous dry stacked stone walls.

This had multiple benefits.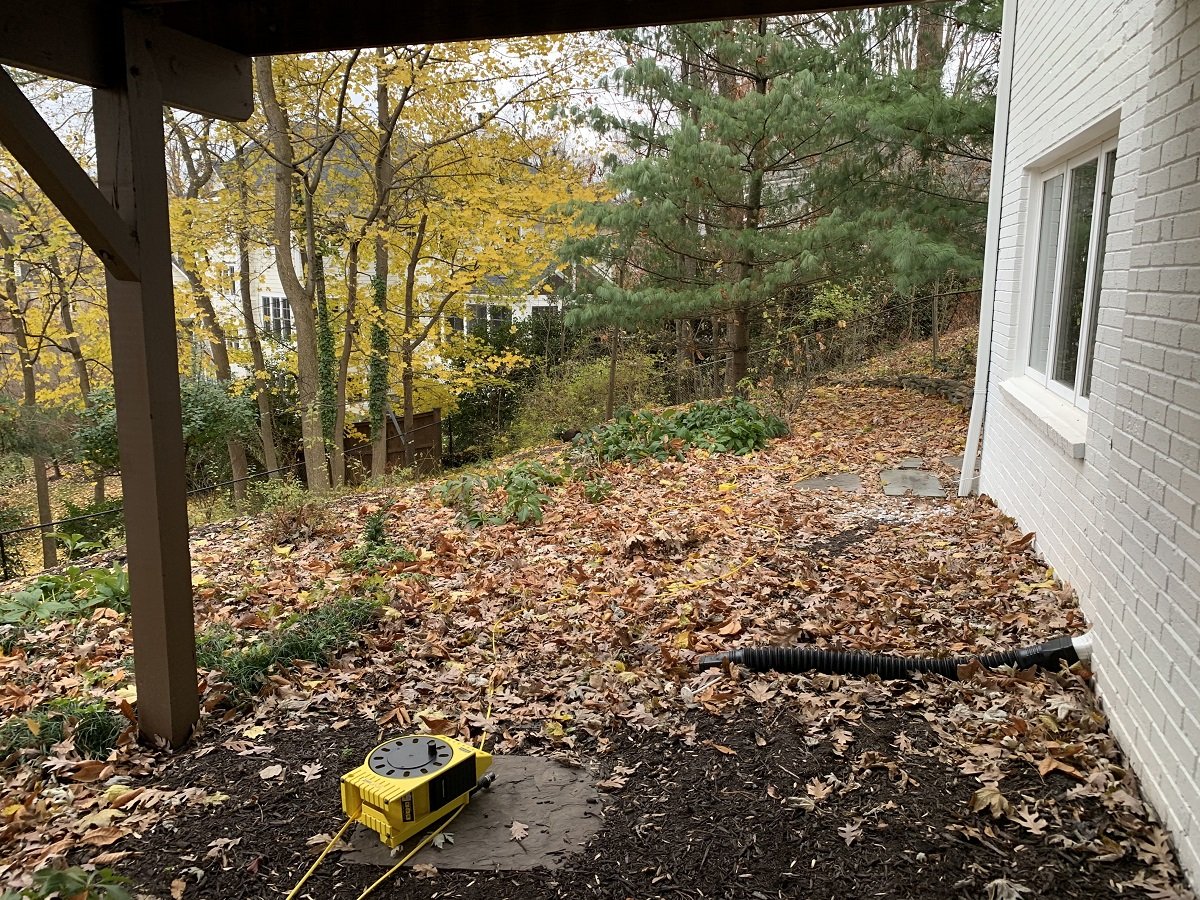 For one, we were able to achieve some leveled off areas of the yard, making it more usable. We installed stone steppers that allow the family (and guests) to make their way down to the usable part of the yard. Beyond those steps is both a swing set and an area where the adults can hang out.

It was really important to the family that their yard was more usable. With just one giant slope and no easy way to get down to the yard, they just weren't getting max use out of their space.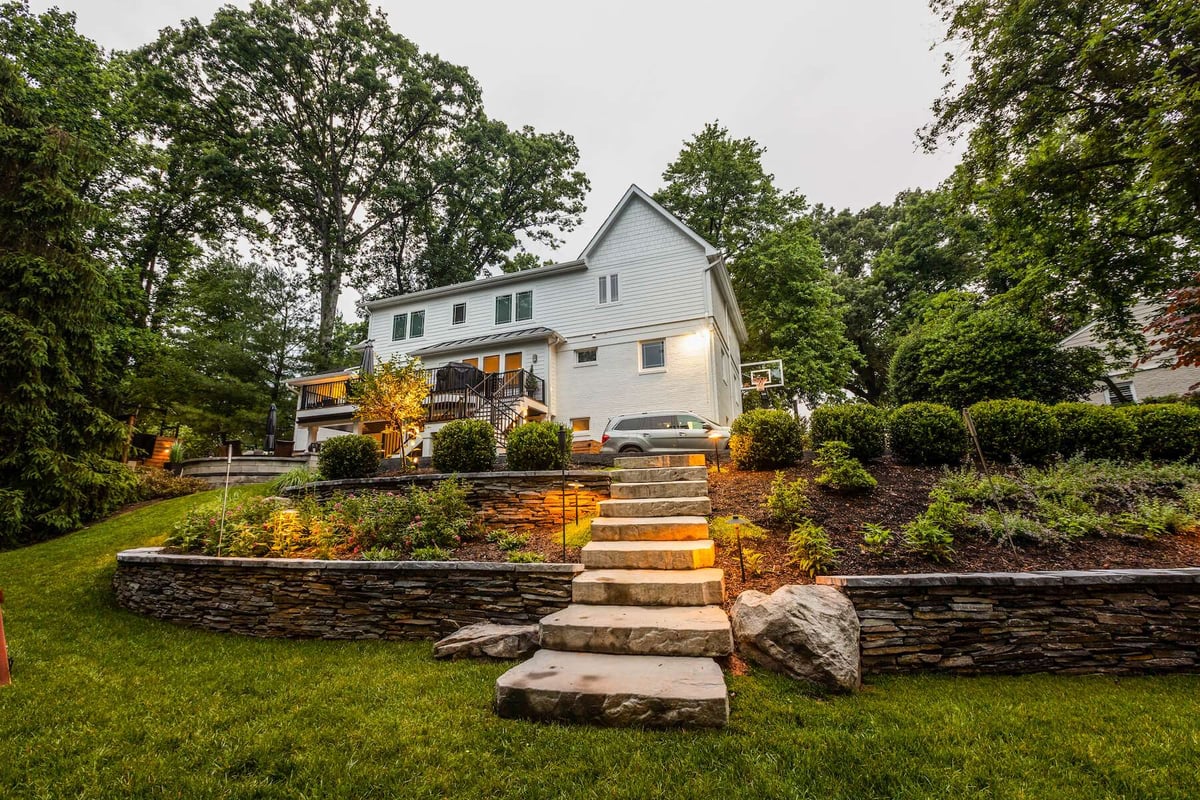 The other major benefit of the tiered landscaping is that it adds some aesthetic appeal where there was previously just a big hill. Planting on a slope can be quite challenging as it's difficult to grow plant material due to erosion and drainage concerns.

But by creating terraces, we can install plants in each of those leveled-off areas. This allows the family to enjoy some beautiful plant material where they previously were just looking at a hill.
Working with a Landscape professional to Transform Your Property near Alexandria, Arlington, & Springfield, VA
This landscaping project in McLean, VA is an excellent example of how an unusable space can be transformed into something entirely new with the right landscape design. It's all about maximizing space and creating as much functionality as possible.

Of course, you never want to sacrifice beauty for functionality. With this project, we were able to achieve both.

Now, the family can spend more time outside and even entertain friends and family.

At Kingstowne Lawn & Landscape, we love working with clients like the ones featured in this case study. We know that having a yard that doesn't fulfill your wants and needs can be a major source of frustration. But we love coming up with ideas that will help you get the most possible enjoyment and value out of your home.

We are passionate about solving problems! In fact, it is projects like this one that help inspire all of the work that we do. At the end of the day, we love knowing that we've made a difference in the way that our clients are able to enjoy their homes with their loved ones.

We know how important your outdoor space is to making precious memories with your family and we're here to help.

If you'd like more information on an outdoor living project at your home in Alexandria, Arlington, or Springfield, VA, request a consultation, get your customized plan, and relax while we get to work creating your dream backyard.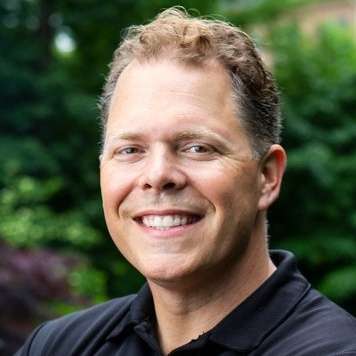 Krisjan Berzins - Owner, CEO
Since 1997, Krisjan has led the Kingstowne team with one simple philosophy, treat every customer like the "only" customer. His passionate pursuit of impeccable customer service has resulted in 24 successful years and a thriving company with over 85 employees, helping thousands of homeowners in the Alexandria, Arlington, and Springfield, VA area get what they want -- a worry-free property they can be proud of.