Although it's often not given the attention that it deserves, landscape lighting is one of those investments that can make a world of difference on a property. It can literally be the difference between a home that is gorgeously lit with value-boosting appeal and enhanced functionality and safety—and a home that's in the dark.

Of course, there's a big difference between a home that has a professional landscape lighting design and one that has a few spotlights or path lights thrown in here or there from a big box store.

In this article, we'll shine the light on a few things we think you ought to know about landscape lighting.
Professional Landscape Lighting is a Valuable Investment
There are a lot of benefits that come with the addition of professional lighting to your Northern Virginia property. Let's explore some of the ways that landscape lighting is a valuable investment both financially speaking (ROI) but also in terms of your enjoyment and use of the space.
Landscaping Lighting Adds Serious Curb Appeal
A great landscape lighting design is going to give you mega curb appeal by making your home look better. This is where the return on investment comes into play. If you do go to sell your home in the future, a home with great lighting will sell much easier than one without it.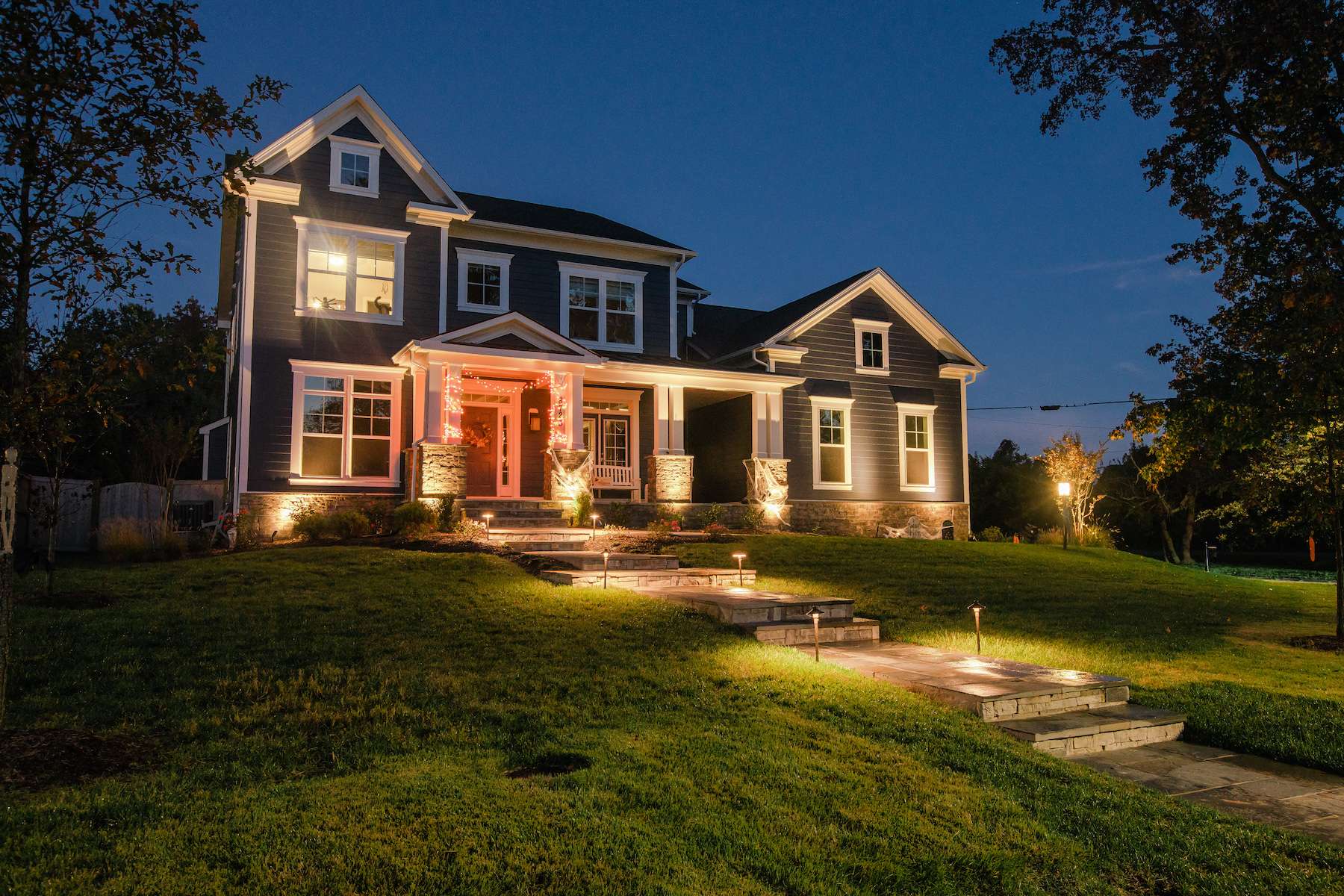 It's been said that a well-planned lighting design can add 20 percent to the home's overall value. And a recent poll by Realtor.com found that more than half of home buyers said outdoor living was the single most attractive quality in a home. Landscape lighting is a huge piece of that.

There are a number of different ways that lighting can be used around your property for enhanced appeal. Trees can be uplit to showcase them in the evening hours. We can also light the facade of your home, making the architecture really pop. Or, maybe you want some "moonlighting" in which we might strategically install lighting in your trees and light up the path below.

There are a lot of beautiful ways in which lighting can enhance your property when it's completed with a thoughtful design.
Landscaping Lighting Creates Safety and Security
Another valuable benefit of landscape lighting is that it creates both safety and security. These are two separate things.

It creates safety by allowing you to navigate around your outdoor areas after the sun goes down. By illuminating stairs, walkways, and objects that can be run into, you prevent trip and fall hazards.

On top of that, landscape lighting also enhances security by deterring would-be thieves. When a home is well-lit, burglars would rather move onto an easier target.
Landscaping Lighting Makes Your Outdoor Area Functional
This is where your "return on enjoyment" or "return on entertainment" comes into play. With thoughtful landscape lighting, you're able to use your outdoor living space even after the sun's gone down.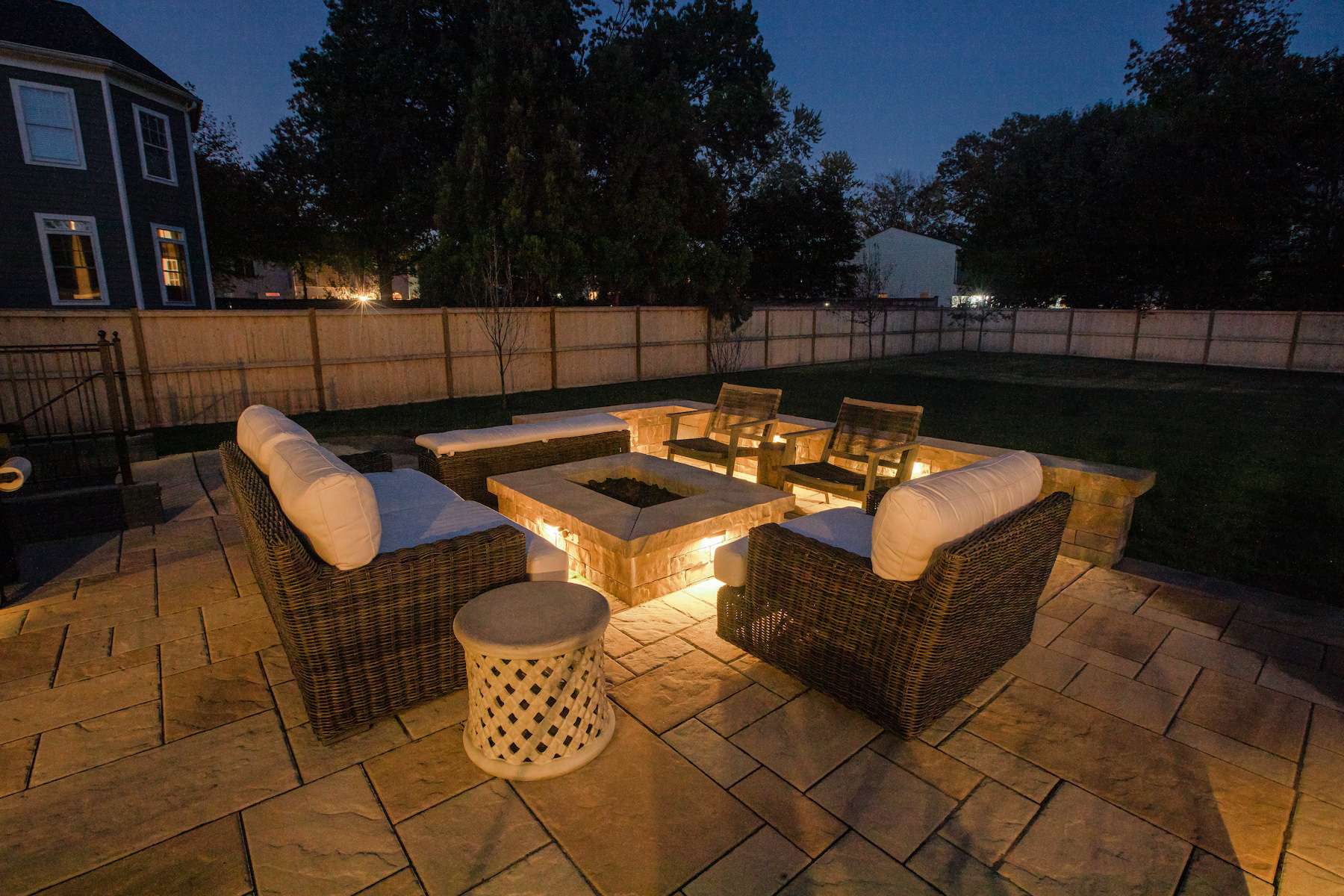 This enhanced functionality is a big deal. After all, if you've invested in having a beautiful patio or outdoor area, you want to be able to use it to the fullest. With outdoor lighting, you can enjoy an evening drink, dinner, or other entertainment without the need to bring the family (or party) inside.
DIY vs. Professional Outdoor Lighting
We find that homeowners don't always consider how important quality is when it comes to great landscape lighting. The truth is, the quality of fixtures and lights at the local big box store just isn't going to stack up to what a pro can offer.

At Kingstowne Lawn & Landscape, we only use high-quality fixtures. There are all types of different finishes and styles—so much more than you'd ever see at the hardware store!

We are also utilizing LED lighting which lasts longer, is more durable, and is more energy-efficient than traditional lighting. It's more expensive on the front end but will save you money in the long run since it does not need to be constantly changed.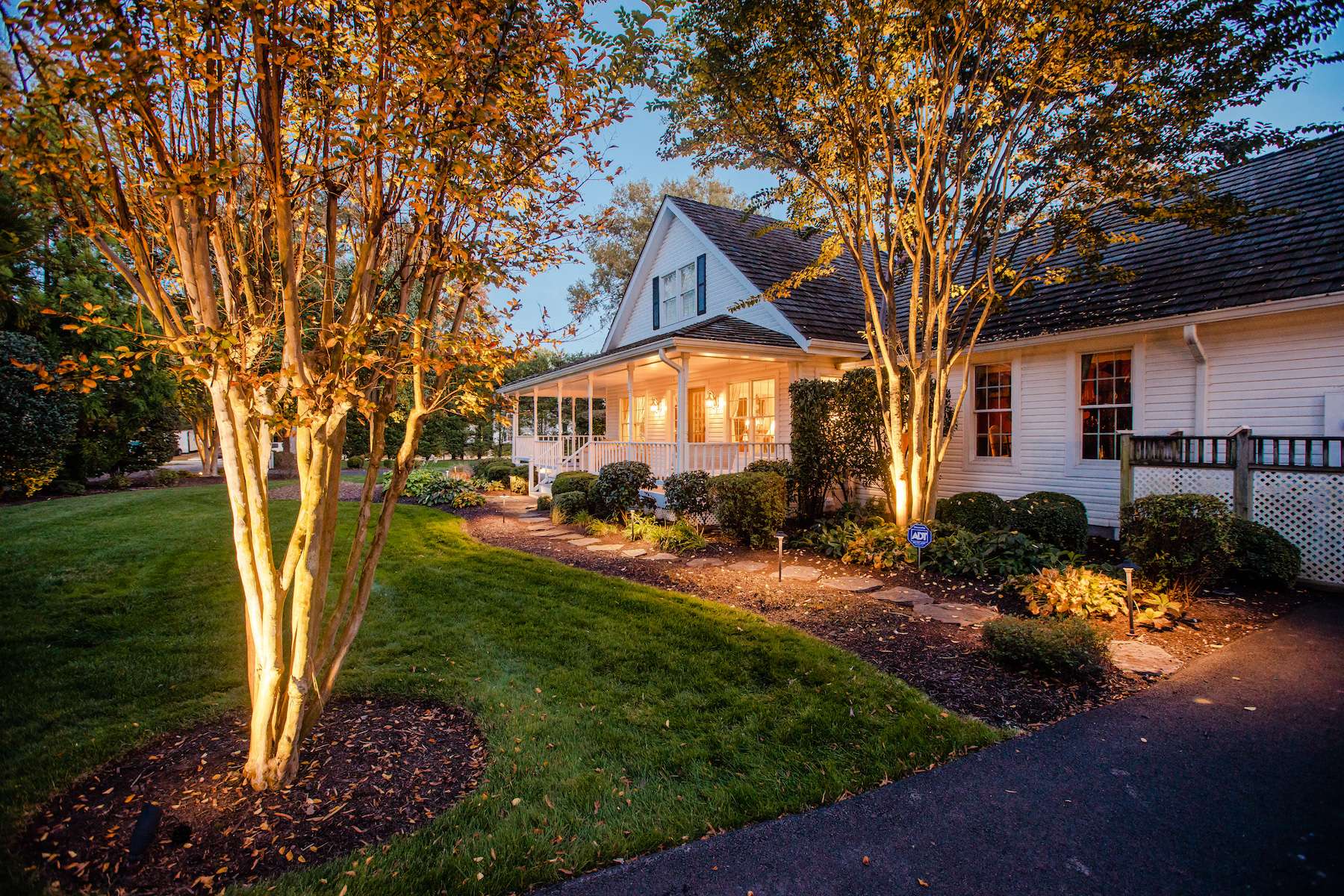 We can also offer homeowners different color options if they're interested in color-changing technology. While many homeowners just want the warm white, we can also offer bulbs in which the colors can be changed using an app on a smart device. That means you could have orange at Halloween or red and green for the holidays. It's a simple way to add some festivity to your home without the hassles of hanging string lights.

Of course, even the installation job can really differ when you compare a DIY approach to that of professional landscape lighting companies. There is a real art to a fantastic landscape lighting design. The rule of thumb is that "less is more." You don't want a ton of lights blinding you. You want just the right amount of light for your needs. One of the biggest mistakes we commonly see in DIY lighting jobs (or lighting installed by an unskilled "pro") is the use of way too many lights (or lights that are too bright). It shouldn't look like an airport runway.
Choose Kingstowne Lawn & Landscape for Professional Landscape Lighting
Landscape lighting can be a lot more involved than people often assume. If you really want the best results, it makes sense to work with a pro. After all, it's truly one of those projects that can give you a great return on your investment.

If you're exploring landscape lighting companies, we'd love for you to consider Kingstowne Lawn & Landscape.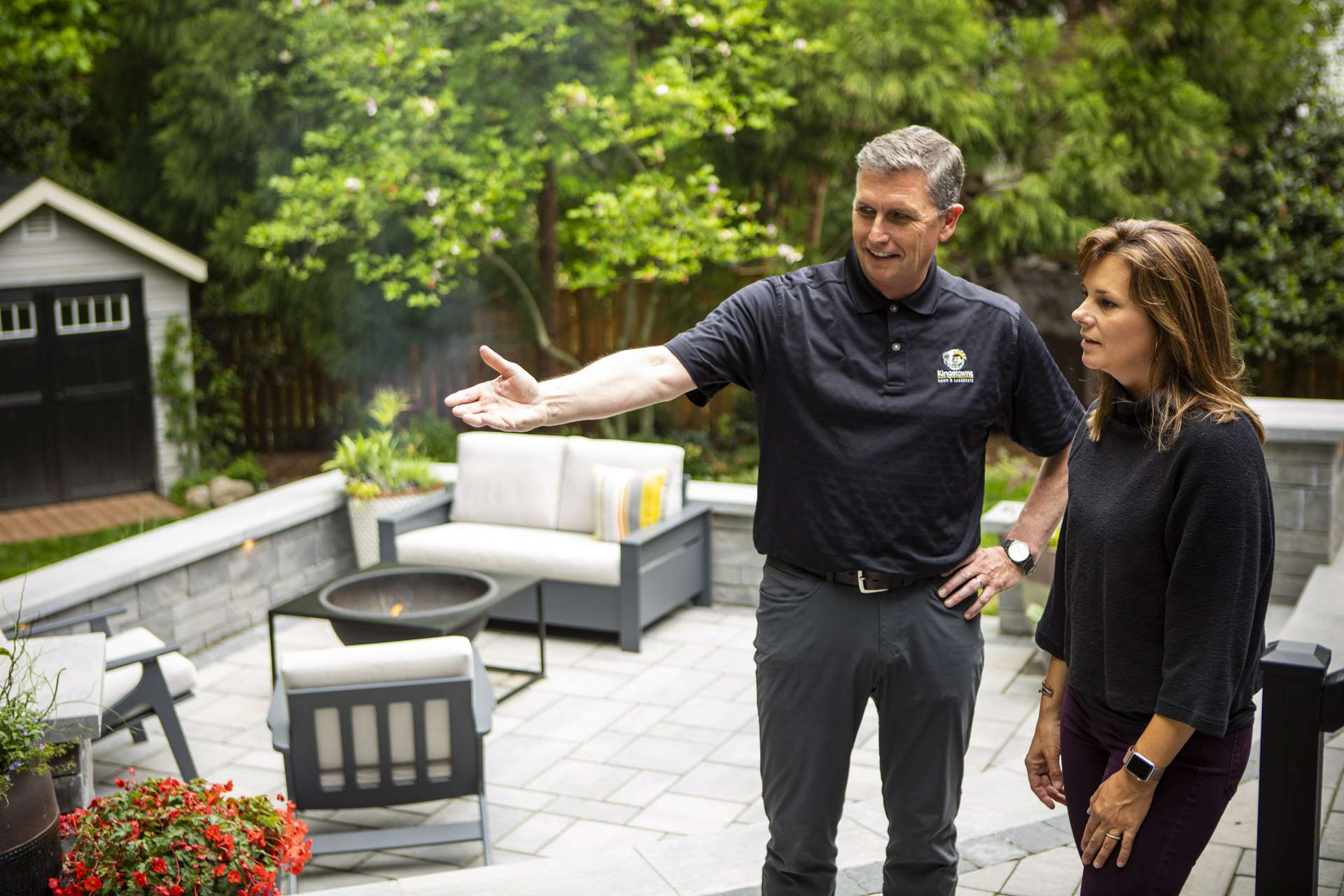 At Kingstowne Lawn & Landscape, we can help you with a design that's going to suit your property best. Although a lot of homeowners think that professional lighting is going to be incredibly costly, in comparison to an outdoor living project, it's really just a small cost upgrade. When you think about the fact that it will allow you to use that space more fully, it's a minimal investment for all of the benefits that you reap.

If you want the best for your outdoor space, then landscape lighting is a truly invaluable piece of the puzzle.

If you'd like some guidance on adding landscape lighting, request a consultation, get your customized plan, and get ready for the royal treatment.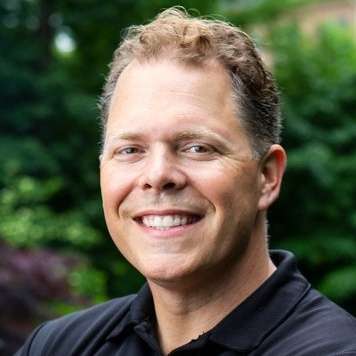 Krisjan Berzins - Owner, CEO
Since 1997, Krisjan has led the Kingstowne team with one simple philosophy, treat every customer like the "only" customer. His passionate pursuit of impeccable customer service has resulted in 24 successful years and a thriving company with over 85 employees, helping thousands of homeowners in the Alexandria, Arlington, and Springfield, VA area get what they want -- a worry-free property they can be proud of.