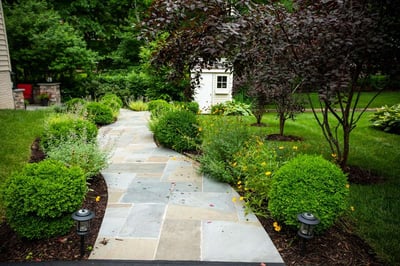 While it's true walkways serve a valuable purpose of taking you from point A to point B on your property, they're so much more than that. They also contribute to the overall aesthetic appeal of your property. Of course, walkways can have a negative impact (both functionally and aesthetically) if they aren't designed or built right.
If you're looking to begin planning your walkway design, then you may be wondering what your options are. The last thing that you want is to end up with something that you don't like or that doesn't meet your needs. That's why we want to guide you through some of the options and considerations so that you can choose the perfect walkway for you.
Walkway Material Ideas
You should know that there are many different material options to choose from when it comes to a walkway. What will work best for you will depend on factors like your style preference, your budget, and even the specific location on your property where you'll be incorporating the walkway.
Let's explore some of the options for a walkway design.
Stepping Stones
Stepping stones make a unique walkway choice. While these are often built with natural stone, they can also be built with larger pavers. What differentiates a stepping stone walkway is the spaces between the stones. This creates a simple walkway that can also add some charm.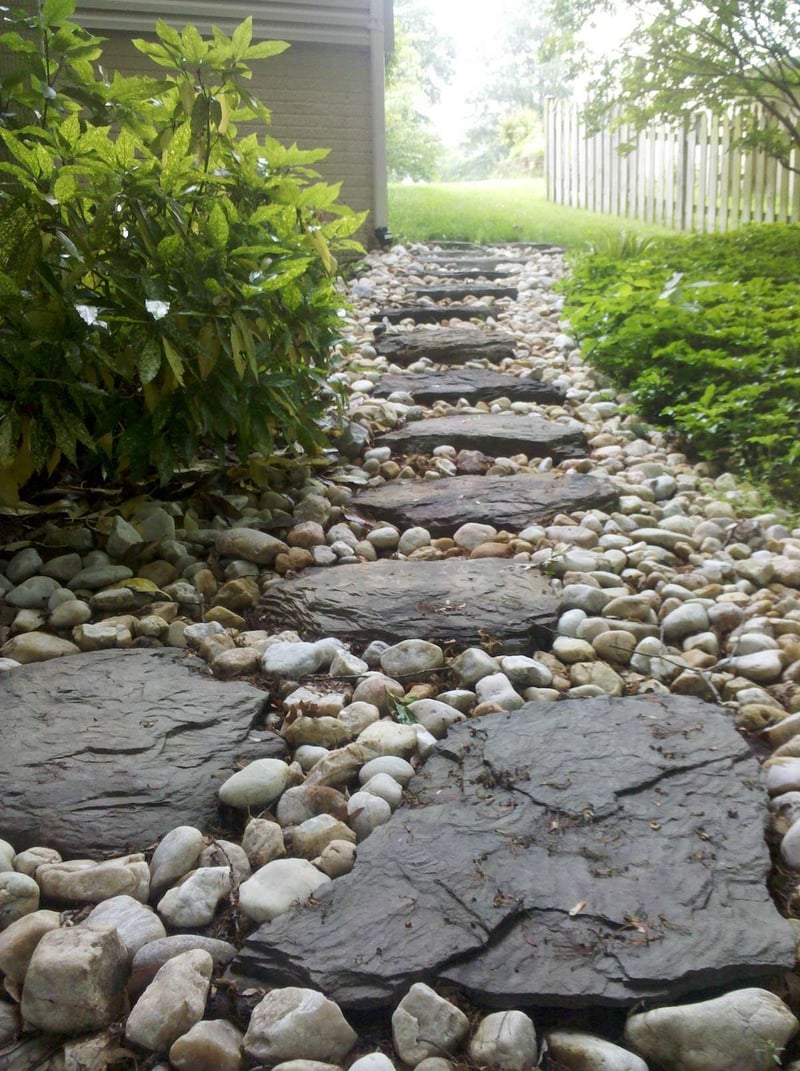 The stones may be laid in mulch or gravel depending on the location. But a stepping stone walkway is not ideal for every location on a property. For instance, it would not make a good choice for a front walkway that will receive the most foot traffic and needs to be optimally safe. A stepping stone walkway might work for a simple path in the side or backyard, maybe leading from a patio to a shed.
Gravel Paths
Like stepping stones, a gravel path is best used for light foot traffic. Due to being less stable (as compared to a paver or natural stone walkway), it does not make the optimal choice for a front walkway, that's going to receive heavy traffic.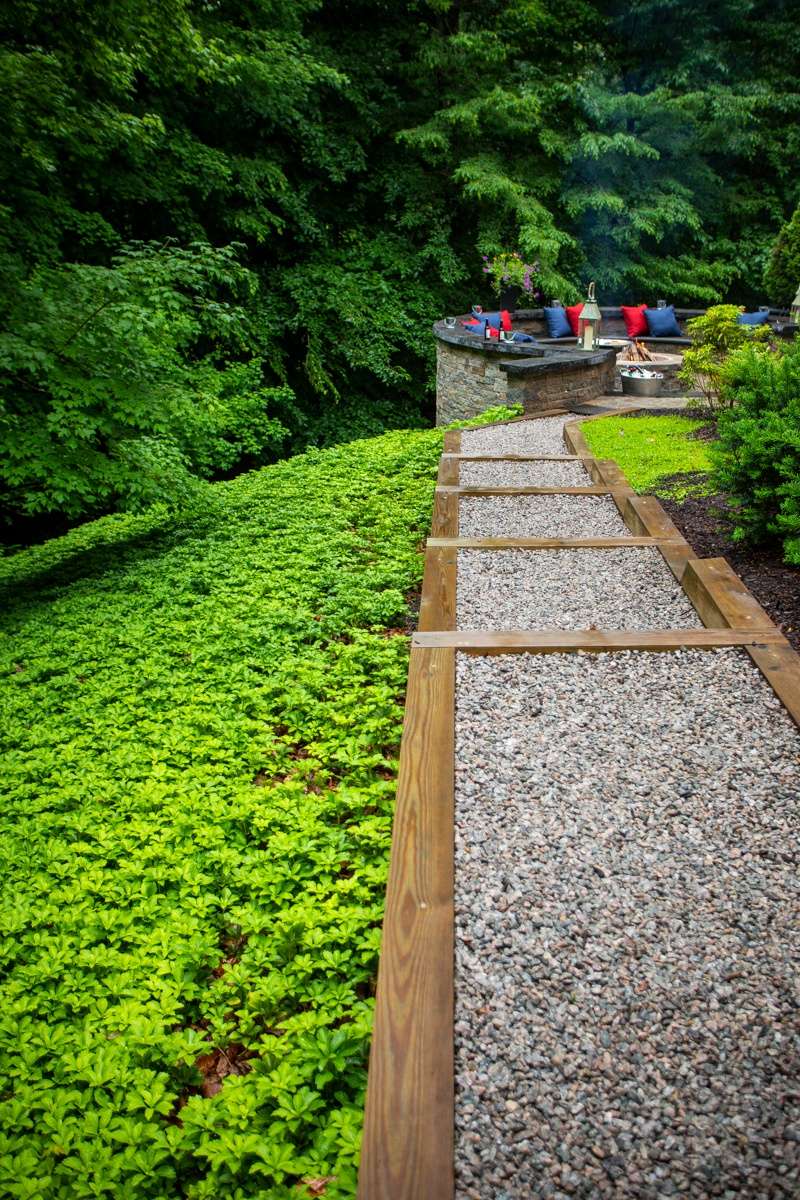 Considering it can be uncomfortable to walk on gravel barefoot, it would also not be the ideal choice for a walkway around a pool. But a gravel path can make a great choice for certain areas such as leading to a garage or shed or for a simple path through a garden.
However, keep in mind that gravel walkways are not a great choice in some locations. Gravel can also turn into projectiles that are picked up by lawn equipment or kicked, so be sure these areas are far from windows, glass doors, parked cars, etc.
Paver Walkways
Pavers are one of the more popular choices for a walkway design because of the fact that they are so versatile. Pavers come in a vast variety of colors, textures, sizes, and styles, giving homeowners a lot of choices when it comes to choosing what's best for them.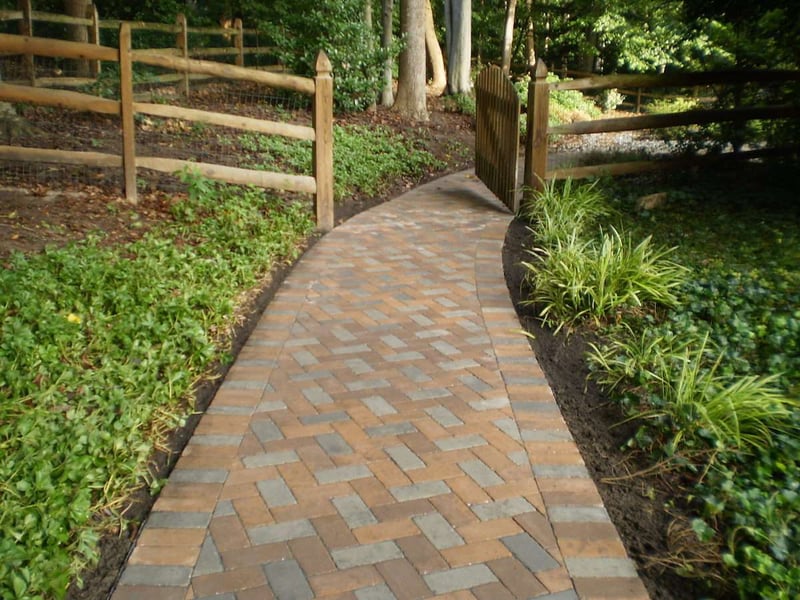 There are also many great walkway ideas featuring pavers. With so much variety, there are many possibilities for creating walkways with borders and patterns. Pavers are set on top of a compacted gravel and sand base which, if constructed properly, makes shifting and settling very unlikely.
Brick Walkways
In Alexandria, Arlington, and Springfield, VA, an area that features a lot of classic homes, brick walkways are another popular choice. Though pavers are sometimes called "bricks," in those cases, they're talking about the paver shape.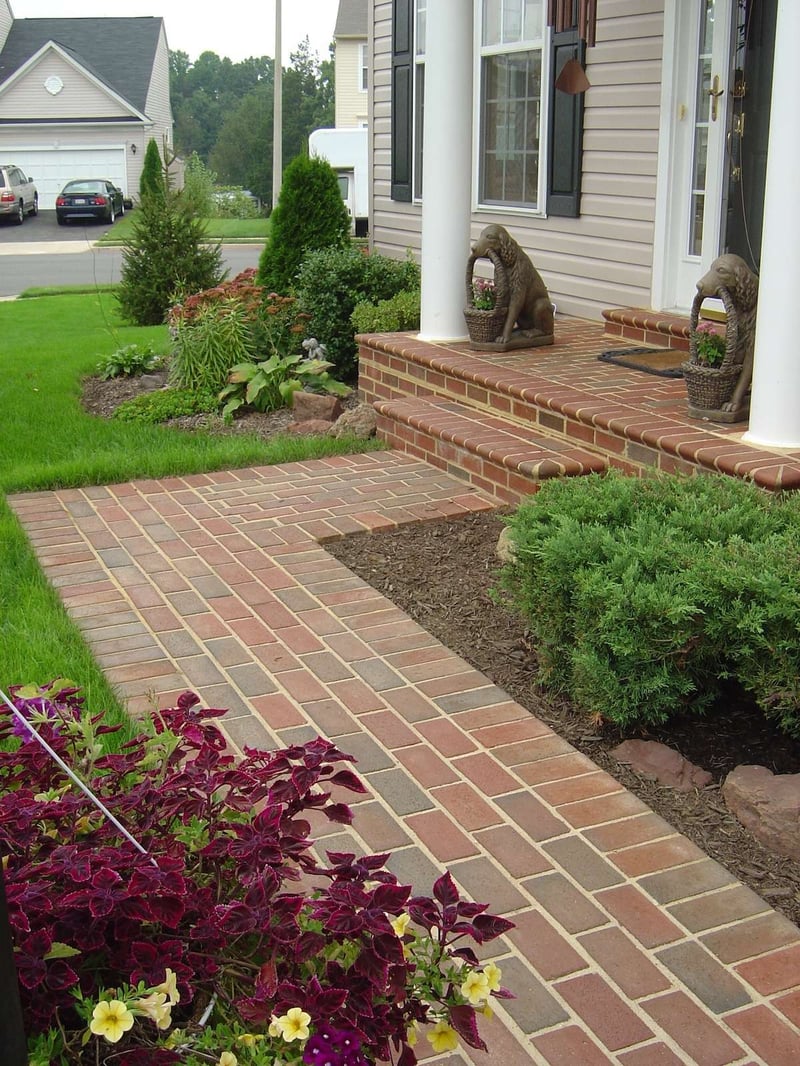 Traditional bricks are made from natural clay and have a distinct look and style. Even as it ages, a brick walkway will retain its charm. Brick walkways can be dry-laid or installed with masonry mortar on top of a concrete base.
Concrete Walkways
Concrete walkways are a great option for homeowners that have a smaller budget but still want hardscaping for their walkway.
They are a simple, no-fuss option that will absolutely achieve this goal at a lesser cost. However, these walkways could be typical and drab if used with a home outclassing this material choice. While finishing options such as broom finish or exposed aggregate offer a better aesthetic appeal than traditional poured finishes, keep in mind this type of walkway could not be your best option. A landscape designer can help you decide if it works for your home or not.
Natural Stone Walkways
Natural stone, such as flagstone or travertine, can also make an excellent choice for walkways. It is durable, attractive, and low maintenance.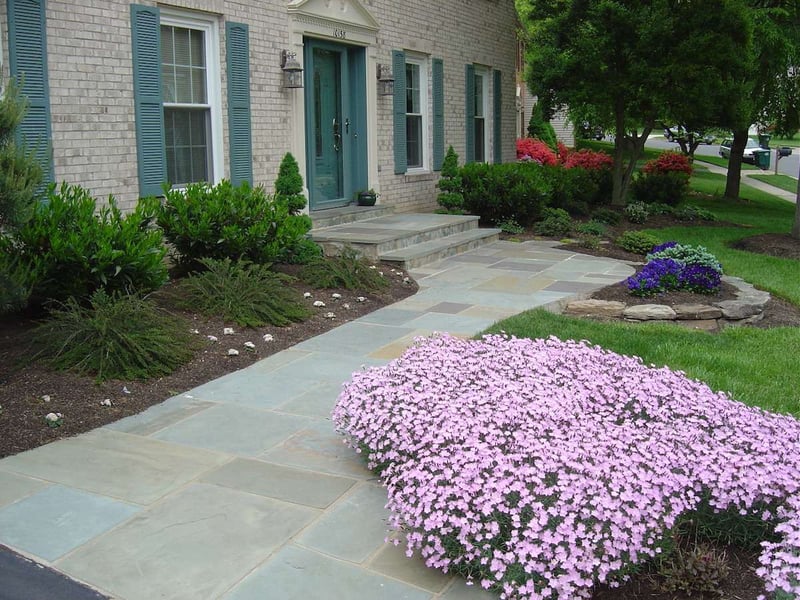 Some also say that natural stone is "incomparable." After all, pavers are made to mimic natural stone but this is the "real thing." Natural stone can be dry-laid or installed with masonry mortar and set on a concrete base.
What to Expect with
Walkway Cost
Of course, as with any landscape design project, budget is an important consideration. When it comes to walkway cost, your choice in material is going to have a major impact. In order to give you some idea of what to expect, the following list goes from least expensive to most expensive.
Gravel

Stepping Stone

Concrete

Paver

Natural Stone or Brick (these two being around the same cost)
As you consider your options, keep in mind that there will be other factors that also impact walkway cost such as accessibility of your site and grading issues, how long your walkway is going to be, and whether or not you're adding steps. If you have a short walkway on a relatively flat property, the most expensive option of natural stone or brick may be more affordable than a very long walkway in a cheaper material, being installed on a complicated terrain. Site logistics like these really impact the overall project cost more than the cost per square foot of materials.
Choosing
Walkway Companies Near Me
In our region, there is no shortage of walkway companies to choose from. Plenty of landscaping companies offer this hardscaping service. But you want to be careful that you choose the right company for the job or else you could wind up with something ordinary or that doesn't fit with the overall design of your landscape.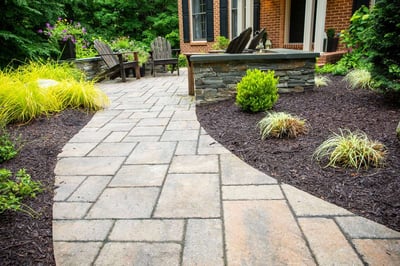 After all, while a walkway may seem like a simple project, it really can have a big impact on the overall appeal of your property. One common mistake with a walkway design is that it works against the home's architecture and style. For instance, a gravel path or a highly informal stepping stone walkway may not be the right fit for a higher-priced home.
It can also be a big mistake when the color of the walkway clashes with the home. Even something as seemingly minor as the color of the mortar on a brick walkway that clashes with the color of the mortar on the brick home can have a negative impact. A landscape company that has an eye for design will be able to avoid these types of mistakes.
It's also important to note that while there are many different materials for walkways, not every company is familiar with working with all of them. Most companies tend to specialize in a couple of them but it's rare to find a company that can offer all of them.
Clients of Kingstowne Lawn & Landscape have found that our eye for design, our abundance of walkway ideas and unique solutions, and our ability to work with any of these materials have made us a great choice for their walkway design.
You want lots of options so that you can choose the one that's best for you. You don't want to be pigeon-held to a particular walkway just because it's the only kind your contractors knows how to build.
By choosing the right landscaping company for your walkway, you can have all the options and feel confident that your walkway will be built right so that it is both a beautiful and a functional addition to your property.
If you're looking for some guidance on adding a walkway, request a consultation, get your customized plan, and relax as we give you the royal treatment.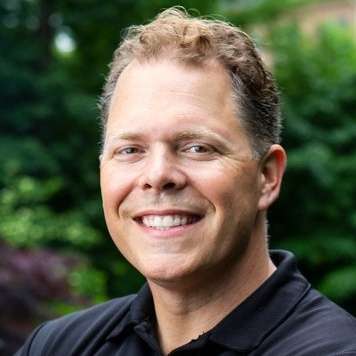 Krisjan Berzins - Owner, CEO
Since 1997, Krisjan has led the Kingstowne team with one simple philosophy, treat every customer like the "only" customer. His passionate pursuit of impeccable customer service has resulted in 24 successful years and a thriving company with over 85 employees, helping thousands of homeowners in the Alexandria, Arlington, and Springfield, VA area get what they want -- a worry-free property they can be proud of.