A patio can be an exciting addition to your Northern VA home. It can make your outdoor space so much more functional and therefore increase your time outside. With a patio, you can have a space to sit and lounge, to dine, and to socialize.

But if you're thinking about a patio, you might be wondering about your material choices. While you might prefer a paver or natural stone patio, the fact of the matter is that budget is an important consideration. With that in mind, there are certain times where concrete patios in Alexandria, Arlington, or Springfield, VA make a lot of sense.

Because we want you to understand your options—and to choose wisely—we're exploring what you ought to know about concrete patios.
The Pros & Cons of a Concrete Patio
As with any choice, there are going to be pros and cons and both should be considered as you weigh your options. After all, at Kingstowne Lawn & Landscape, we're all about transparency and we want you to have all the information before making your informed choice.

Let's take a look at what you need to consider.
The Cons
The aesthetics of concrete are what some homeowners might consider one of its biggest downsides. It definitely has a more utilitarian look and feel than pavers, brick, or natural stone.

Broom finished concrete (also called "brushed concrete") is the concrete patio choice that you might be most familiar with. It's a single color and gets its name because it's brushed with a broom for a finished look.

But exposed aggregate is another option, and thought to be more decorative. With exposed aggregate, a thin top layer of concrete is removed in order to expose the gravel or sand mixture for a more interesting look.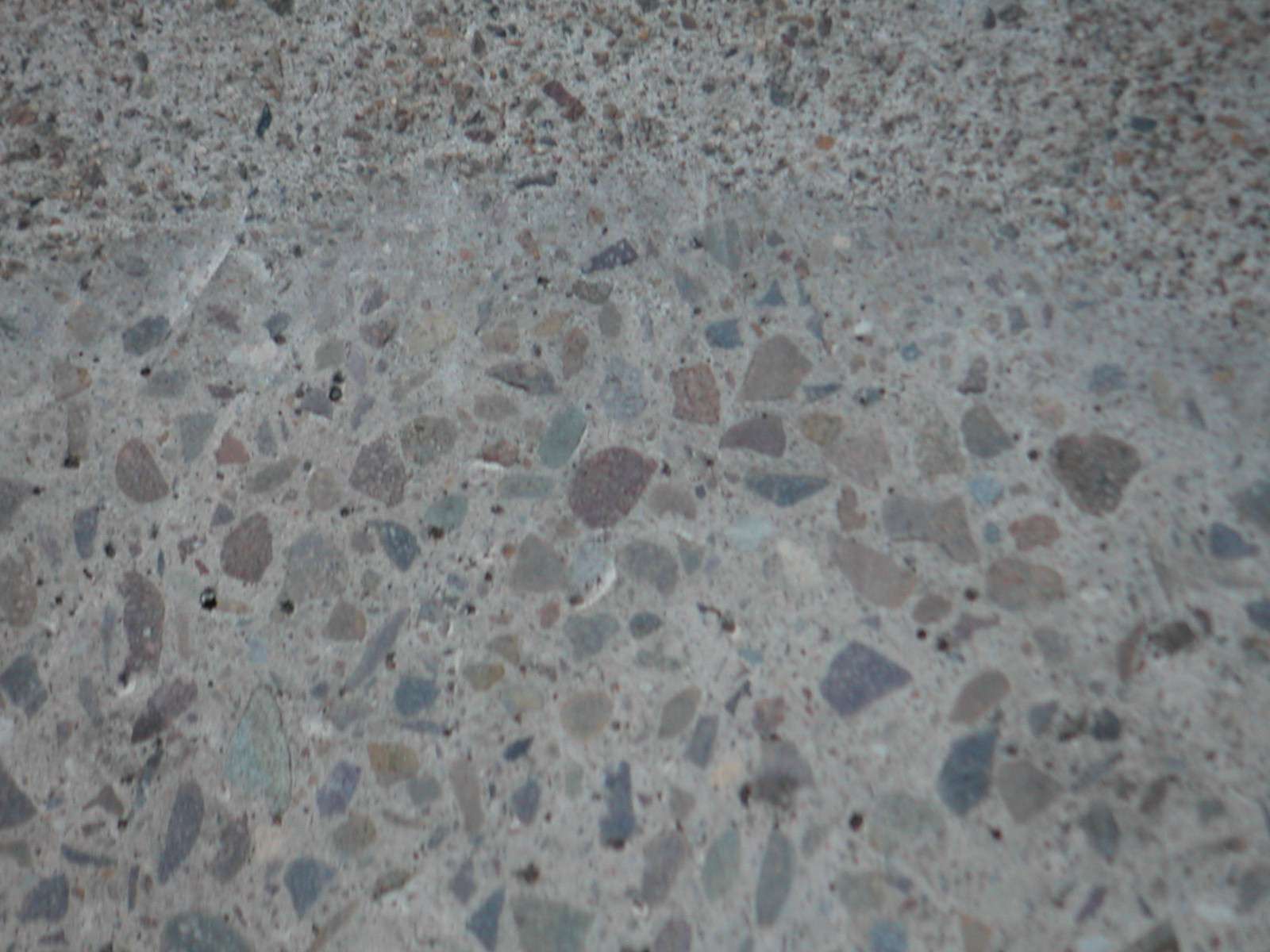 In terms of the other downside to concrete, there's also the potential for cracking. With the freeze and thaw cycle here in Northern Virginia, there's no way around the fact that concrete can and will crack eventually. Repairs for cracks require patching, which is almost impossible to disguise.
The Pros
While a concrete patio might not be your top choice in terms of looks, the truth is, it's a thousand times better than mud! And honestly we don't want to seem as though we're totally knocking concrete's aesthetics. For a lot of homeowners the clean, simplistic, and linear look of concrete is great.

But more than anything, the biggest benefit of concrete is its cost. It's the least expensive option of your patio material choices. For homeowners who really want a functional patio space but don't have the budget for a paver patio (or even more for natural stone), concrete is an incredibly viable option.

It can be installed quickly and give you that functionality you've been craving.
Weighing Your Personal Circumstances with Patio Options
Over the years, we've worked with many different homeowners on many different projects. Sometimes a concrete patio is the best choice, and sometimes it's a paver, brick, or natural stone patio. Ultimately, there's a lot of personal preference in coming to the decision that's right for you.

We can provide you with all of the options and the information, but ultimately, you'll choose what works best for you, your property, and your particular circumstance.

For instance, you might be in a circumstance where it just doesn't make sense to spend a lot of money on an outdoor space. Maybe you already know you're not in your "forever home," but you really want a usable patio while you're there. A concrete patio might make a lot of sense for your specific situation.

We've also worked with homeowners who are really set on a certain size patio but with pavers, it's out of their budget. We might be able to build the same size patio but with concrete, making it affordable.

Of course, we've also had situations where the material was more important than the size of the patio and homeowners chose to downsize their patio to be able to afford natural stone or pavers.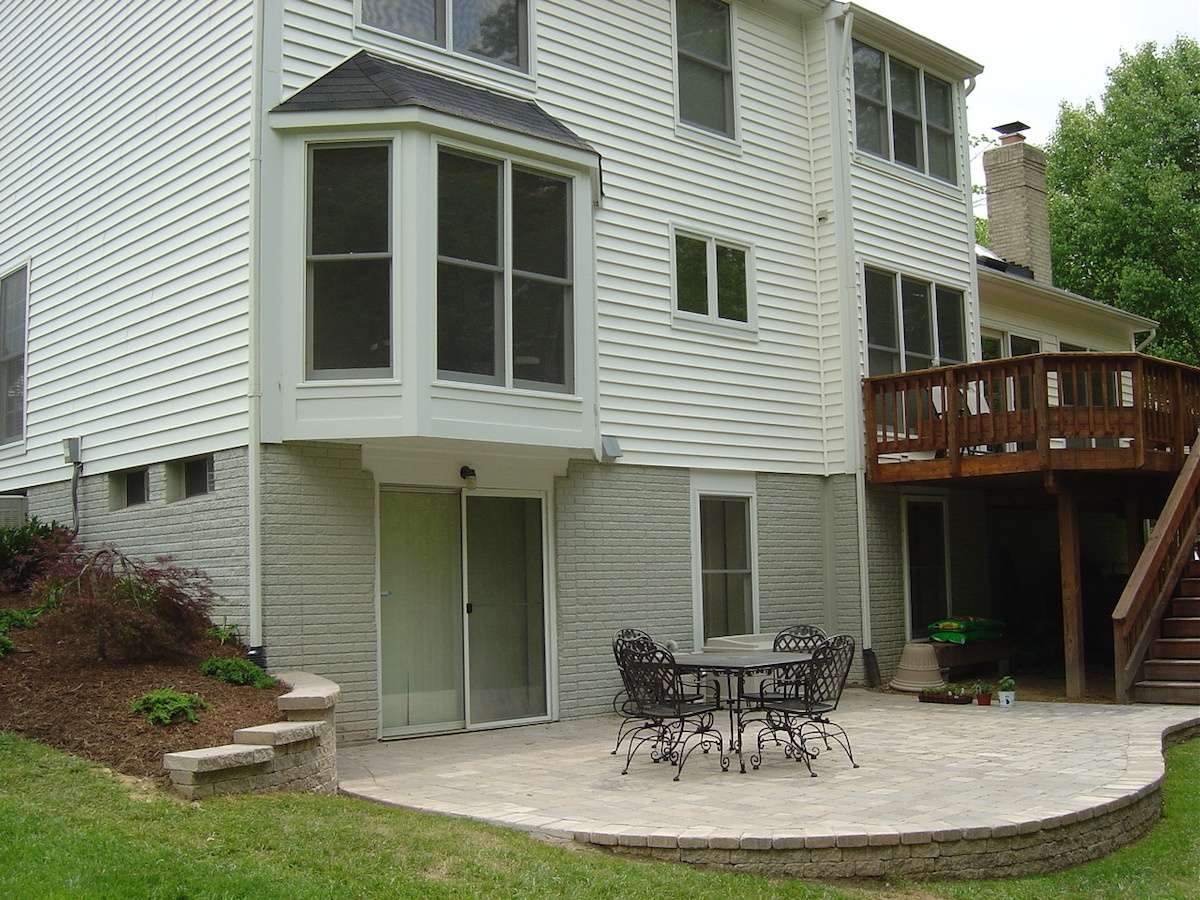 Whatever your particular situation may be, you can count on us to not just railroad you in one direction as some contractors might do. Instead, we'll give you all of the options and then help guide you toward the decision that is right for you.
Choosing Concrete Patio Contractors in Alexandria, Arlington, and Springfield, VA
If you've decided that a concrete patio is right for you, then your next step will be finding the right contractor for the work. The important thing to remember is that there is no one-size-fits-all approach to patios, even though some contractors might try to tell you that.

In reality, you want to choose a patio contractor that can work with all of the materials so that you have options that suit your wants and needs—and also your budget.

It may not be a simple choice but by hiring the right patio contractor for the work, you can feel confident that you're going to end up with the space that's right for you. That's important because no matter what material it's built from, your patio is going to end up being a place where you spend a lot of your time.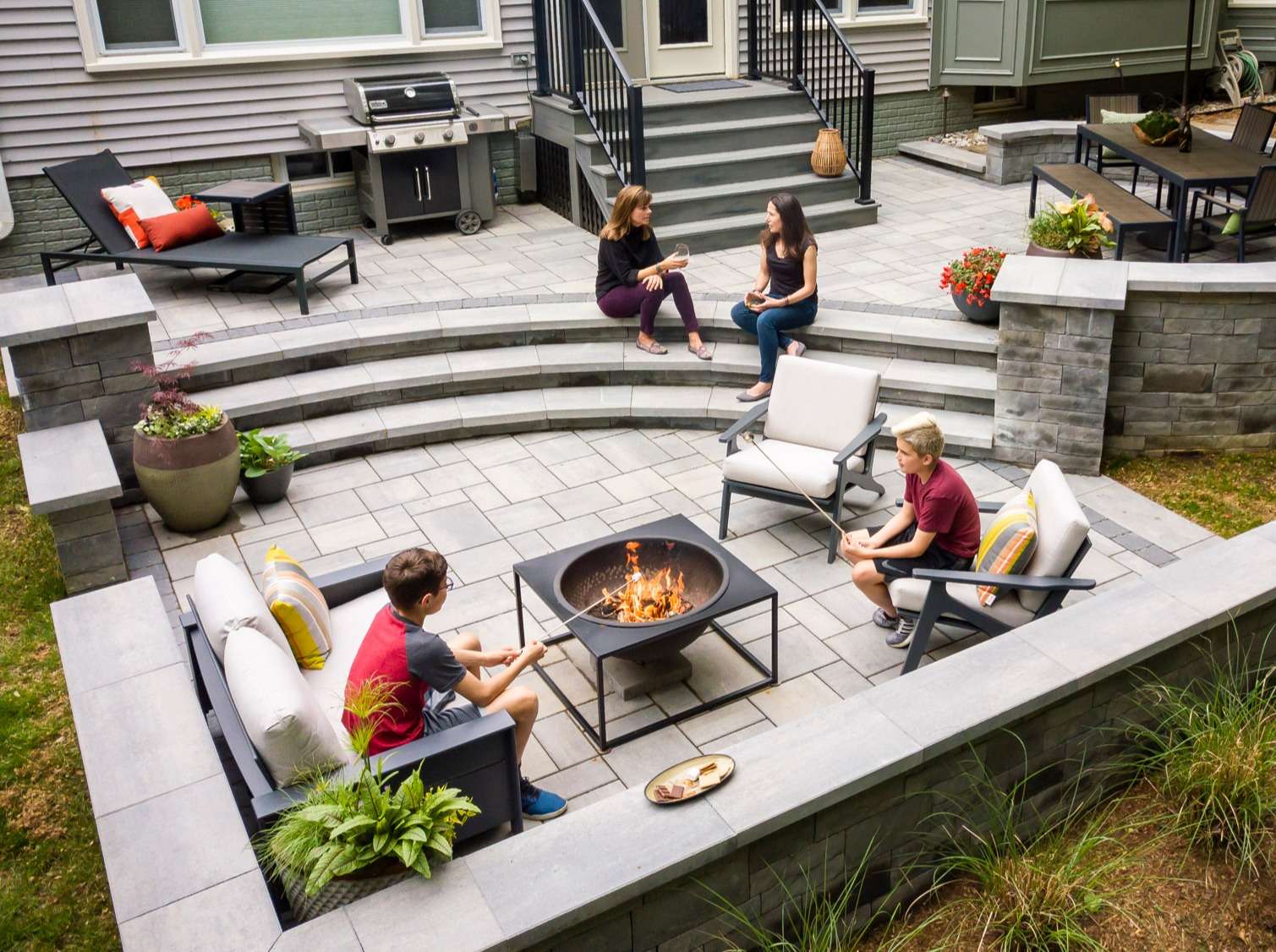 At Kingstowne Lawn & Landscape, you can count on us to help you weigh all of the options and ultimately choose what's right for you. We're here to guide you through the process so that you don't feel overwhelmed during the decision-making period or unhappy when your patio is finished. The last thing you want is to end up having regrets when it's too late to make changes.

When you work with Kingstowne, you'll also be working with a landscape designer, not just an order taker. So, even if you end up deciding a concrete patio is the right material choice for you, you'll still be able to have an attractive and functional patio space designed that works perfectly with your space. The truth is, many masons and other contractors tend to overlook the importance of the design. They're just pouring a concrete slab and moving on to the next project. But at Kingstowne, you're also gaining the assurance that the patio design is exactly what you were looking for.

In the end, that means that all you'll have left to do is sit back, relax, and enjoy your new space knowing that it was the best-possible choice for you.

If you'd like some guidance when it comes to your patio ideas, request a consultation, get your customized plan, and relax while we transform your space.
Image sources: exposed aggregate concrete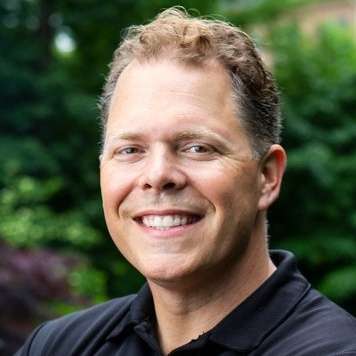 Krisjan Berzins - Owner, CEO
Since 1997, Krisjan has led the Kingstowne team with one simple philosophy, treat every customer like the "only" customer. His passionate pursuit of impeccable customer service has resulted in 24 successful years and a thriving company with over 85 employees, helping thousands of homeowners in the Alexandria, Arlington, and Springfield, VA area get what they want -- a worry-free property they can be proud of.