When it comes to creating a landscape design in Arlington, VA, one of the biggest challenges is space. Oftentimes, homes are close together with small to mid-sized yards. On top of that, Arlington is known for having a large number of restrictions. Creating an Arlington, VA landscape design inevitably means working within the confines of various rules and regulations that must be adhered to.

On many of these properties, homeowners want to be able to maximize the space they have as much as possible while also creating some privacy and separation from the other properties around them.

That was the case for this particular family. They brought in Kingstowne Lawn & Landscape to help give them a better functioning backyard that could become the private oasis they were looking for.
An Arlington, VA Landscape Design that Would Provide Privacy
One of the homeowners' biggest requests was a screened in porch that would provide them with privacy while allowing them to utilize their outdoor space more often.

Unfortunately, a screened in porch was not permitted due to the local restrictions on lot size and coverage. So, we got to work on creating as much of a sense of a screened-in porch as we could—while still adhering to the regulations.

The solution was a pergola with a motorized canopy atop of the client's deck.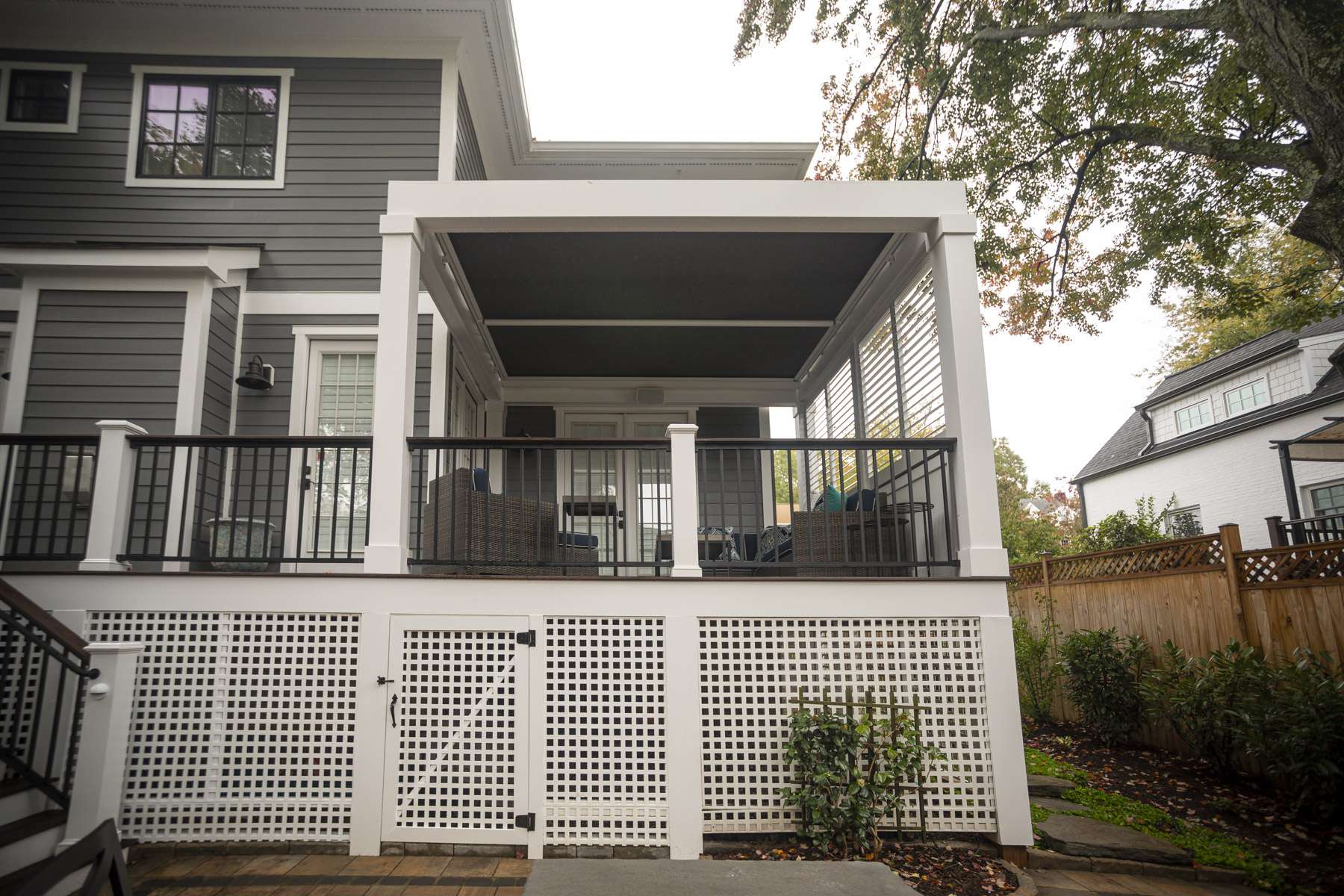 This allows the homeowners to create a secluded area when they need it to share special family time without feeling on view to all of the other neighbors. In addition, we also installed custom louvered privacy screens that were designed exactly for this space. These were the perfect solution for the homeowners' needs. They allow air to flow through when they're opened up (while still serving as a great privacy screen), but they could also be closed off for complete privacy. The homeowners wanted to seclude the space as much as possible without adding a wall and these custom screens do just that.

Fencing is also heavily regulated in Arlington, VA, but we worked with the county for a variance that would allow a slightly higher fence and give this family even more seclusion.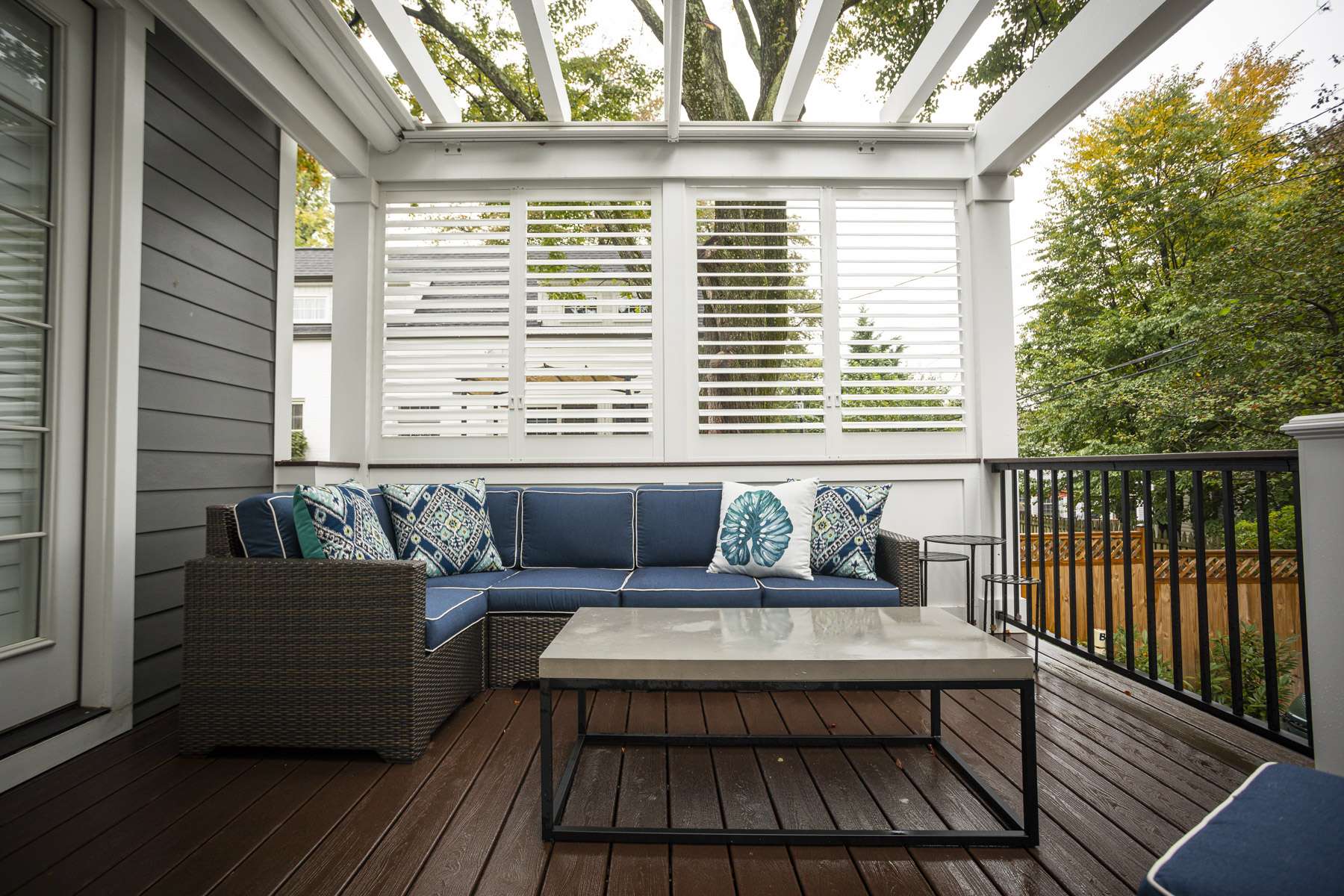 Sprucing Up the Deck and Adding a Patio in this Arlington, VA Landscape Design
While the deck was already there, it was in need of some updates to make it more modern and appealing. The existing deck had old vinyl railing which we replaced with black aluminum. This makes a big difference in making the space feel more open (and modern).

In addition, we also added some caps in white vinyl to add even more of a contemporary feel.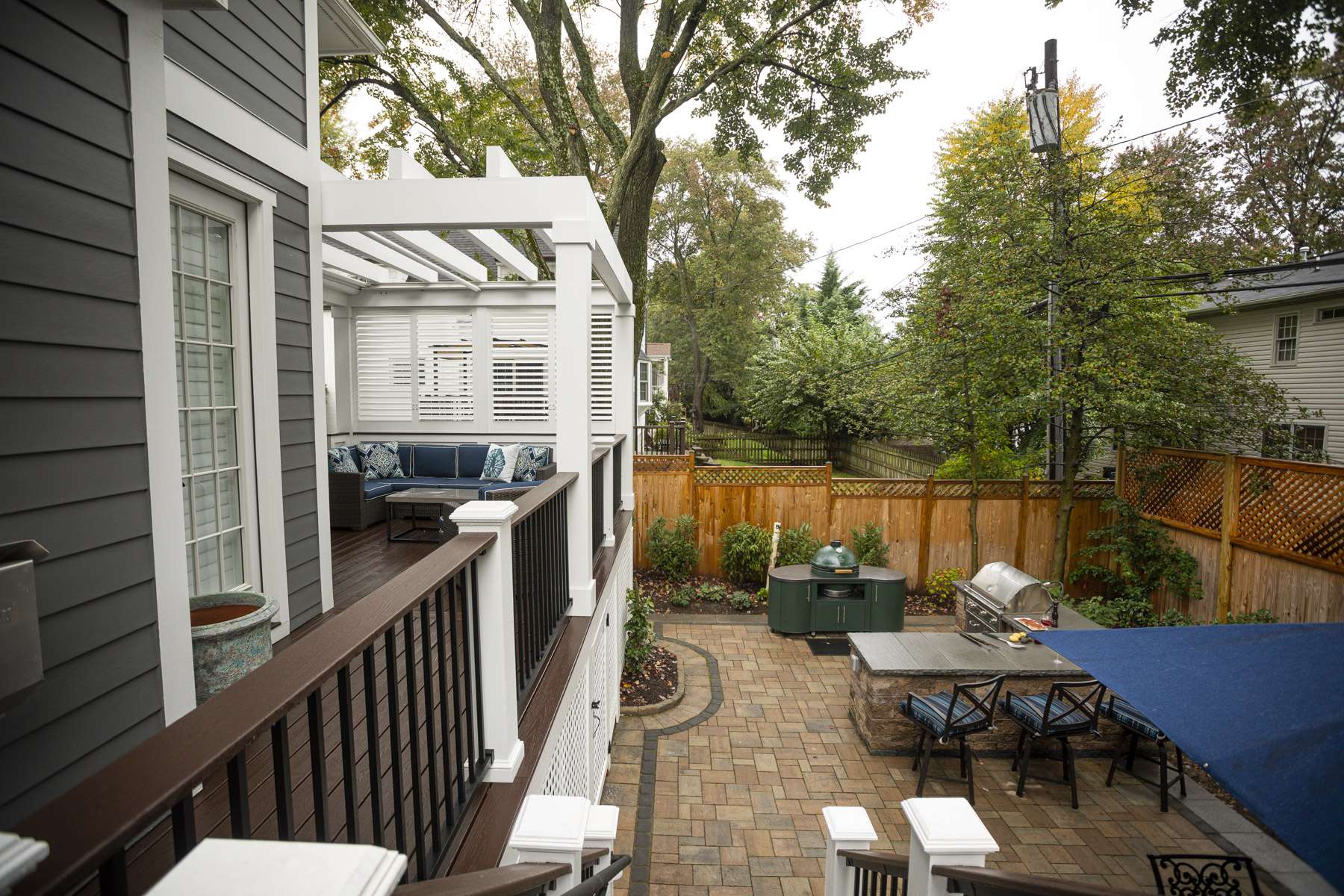 But one of the biggest changes that we made was relocating the stairs. Since the family was also having a patio area added below, it was awkward that the stairs were in the middle of the deck. It was not the most efficient use of space and took up room on the deck as well as where the patio would be.

The solution was to shift the staircase back about 8 feet. This provided more space and also improved the flow of traffic around the area (instead of awkwardly walking around stairs).

The relocation of the staircase helped to ensure there was plenty of room for an eating, cooking, and hang-out space on the patio.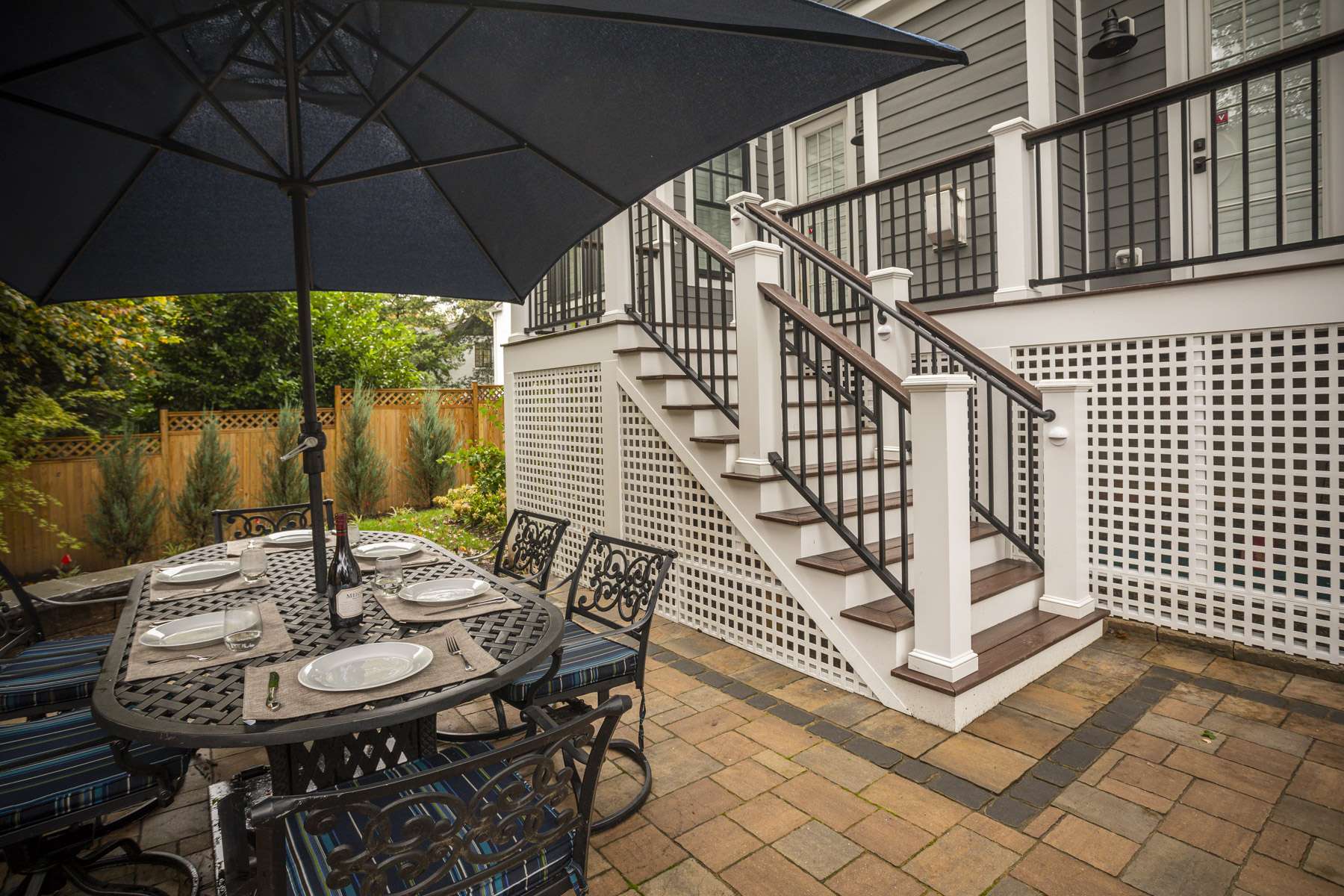 The new patio area included a grill island that has a built-in grill, a pull-out trash receptacle, and lots of countertop space for the cook to prepare a meal while also socializing with family or guests (who could be seated on the other side). This family was very into grilling and smoking meat and already had their own smoker, which we set up in the cooking area near the grill. Now, everyone can be together even as someone is cooking.

We also added some landscaping around the patio area to soften the entire space. This included some container gardens with colorful seasonal blooms to add lots of aesthetic appeal.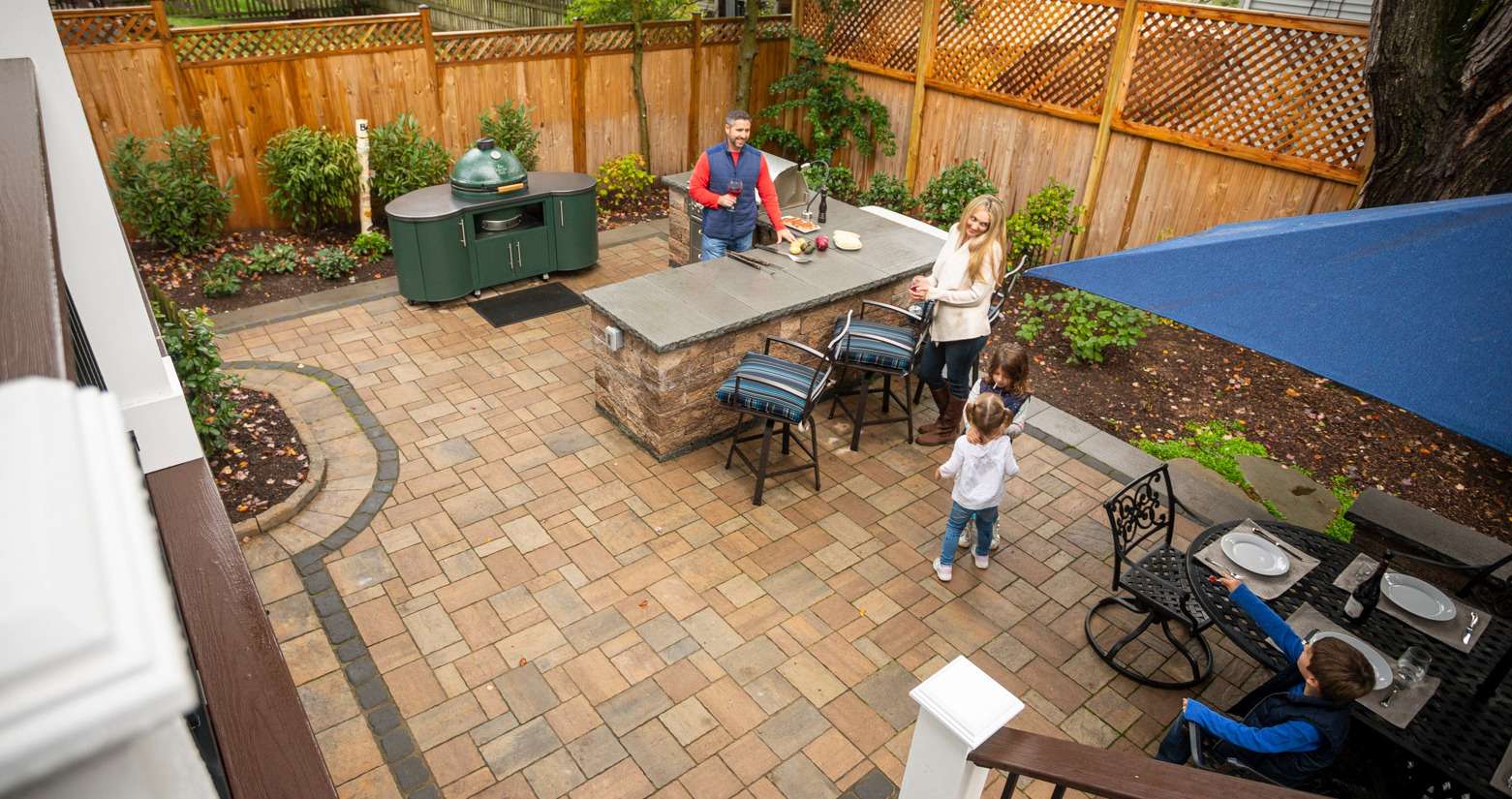 Working with Landscape Designers in Arlington, VA Who Can Find Solutions for Tough Challenges
Landscaping in Arlington, VA can come with a number of challenges that many landscape designers simply aren't used to. If a landscaper is used to building cookie-cutter landscape designs on property after property, they're not going to be prepared to create a customized solution for a smaller property.

In fact, when we work with many Arlington, VA homeowners, it's not uncommon for them to have been told something wasn't possible by other landscapers they talked to.

However, at Kingstowne Lawn & Landscape, we're always up for a challenge. We've been working in the Arlington, VA area for a long time and are quite familiar with the rules and regulations. We know that it means creating custom solutions that will look at each property individually and determine what will help those homeowners to get the most out of their space.

For most homeowners, we know it's all about maximizing the space and creating as much functionality as possible. Most homeowners are also looking for as much privacy as they can gain, even though they're close to their neighbors.

At Kingstowne Lawn & Landscape, we love working with clients like the ones featured in this case study. Helping to solve their problems and enjoy their properties more is what inspires us to do the work that we do. At the end of the day, we want clients to feel that they're getting as much use out of the space as possible. It's always our goal to help clients stay outside longer and to enjoy that time to the fullest.

If you'd like more information on an outdoor living project at your home, request a consultation, get your customized plan, and relax while we get to work creating your dream backyard.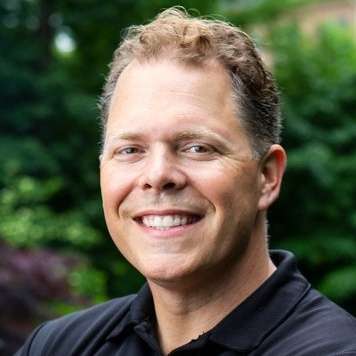 Krisjan Berzins - Owner, CEO
Since 1997, Krisjan has led the Kingstowne team with one simple philosophy, treat every customer like the "only" customer. His passionate pursuit of impeccable customer service has resulted in 24 successful years and a thriving company with over 85 employees, helping thousands of homeowners in the Alexandria, Arlington, and Springfield, VA area get what they want -- a worry-free property they can be proud of.