Getting the most out of your property always comes down to maximizing the space that is available. That's true everywhere but perhaps even more so in areas like Arlington, VA where space is truly limited.

This particular case study is an excellent example of the way in which a property can be better used when thoughtful attention is given to the landscape design. When this homeowner came to us looking to update his Arlington, VA landscaping, he wanted to be able to use the property more fully for everything from relaxing to entertaining. Though he contacted multiple landscape designers in Arlington, VA, he felt that we best listened to his wants and needs.

Here are the ways in which this landscape design in Arlington, VA helped to update the property while enhancing both functionality and aesthetic appeal.
Upgrades and Renovations in This Arlington, VA Landscape Design
One of the big aspects of this project was upgrading existing structures to help revitalize the look of this property.

In terms of curb appeal, the front of this home was in need of several important updates. The old asphalt driveway was in disrepair and the adjacent retaining wall was beginning to crumble. In order to be budget conscious, we replaced the driveway with concrete but dressed it up with an attractive paver border, which also helped to tie it in with the new backyard paver patio.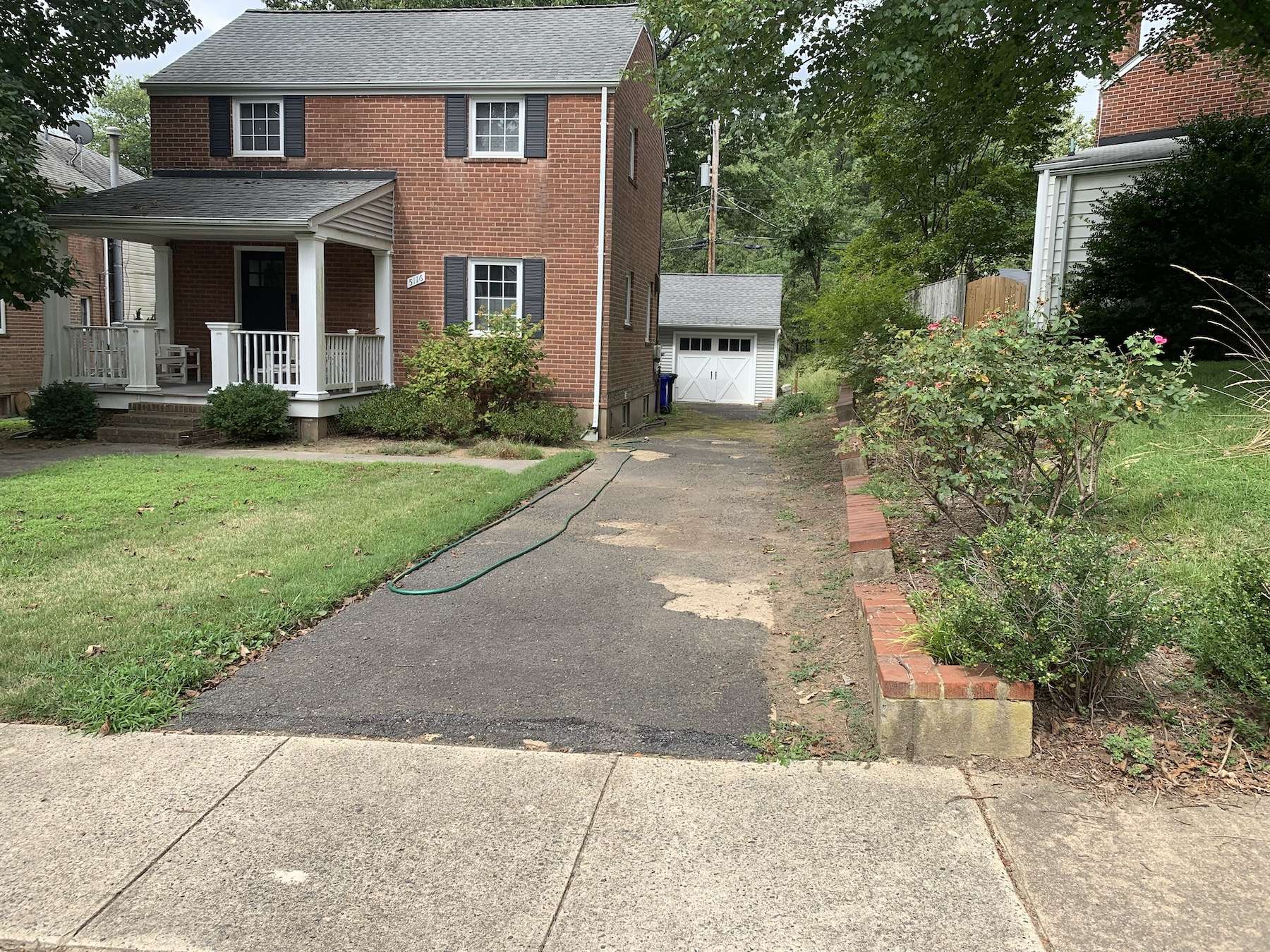 We also added a new, attractive retaining wall made from segmental wall block with a cap. The old brick and concrete wall was removed completely and a new footer was installed. Previously, the old block wall did not fully follow the property line. We were careful to take that into account. The new wall follows the property line exactly, giving the homeowner even more space with it now in the proper position.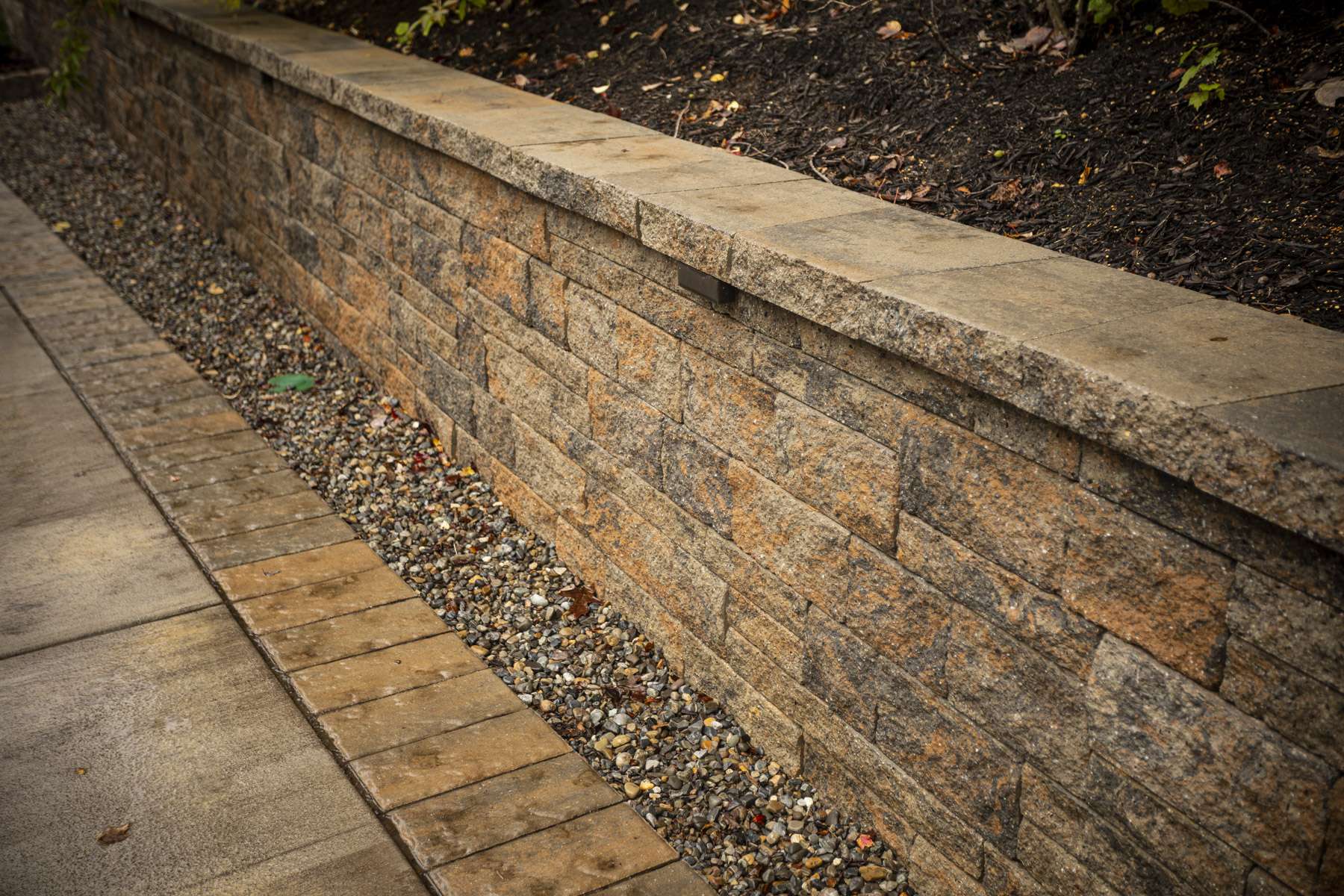 Alongside of the retaining wall is a decorative river rock border which not only adds an aesthetic addition but serves some valuable purpose.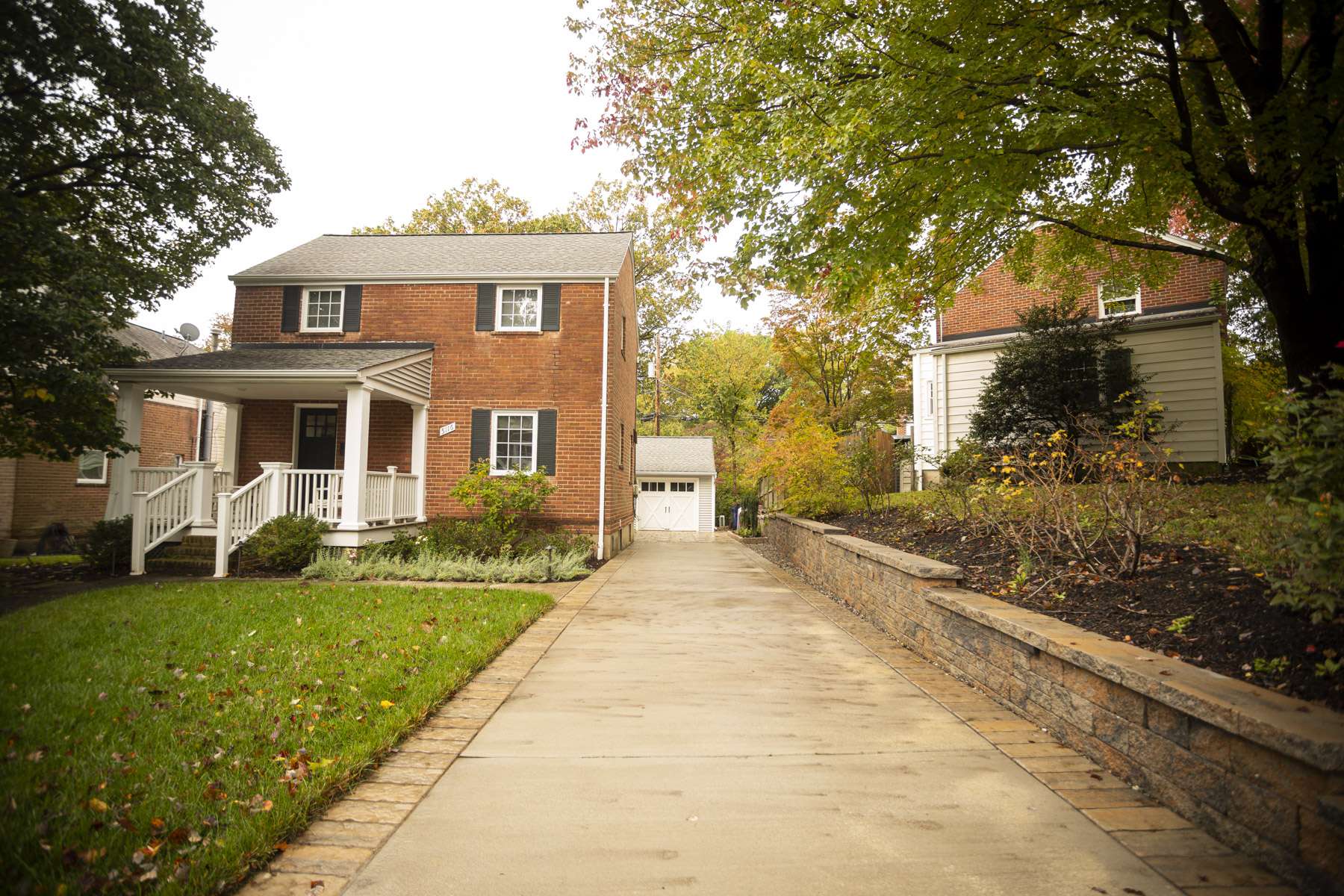 For one, it allows for some drainage as this is definitely a large impervious surface that covers quite a bit of space. But it also addresses the fact that the property line is on an angle. While we wanted to make sure the driveway ran straight, parallel to the house, the retaining wall followed the property line. This left for an uneven space in between the driveway and wall. But the decorative rock fills in that space in an attractive way.

We also helped to modernize the front and back porches with some minor facelift work. Both had old railing that was falling down. We upgraded the railing and repainted everything—helping to make it all look brand new.
A New Backyard Patio and Arlington, VA Landscaping
In order to get the most use out of his backyard, this homeowner was interested in transforming most of it into usable patio space. Of course, Arlington, VA has stringent requirements in terms of impervious surface.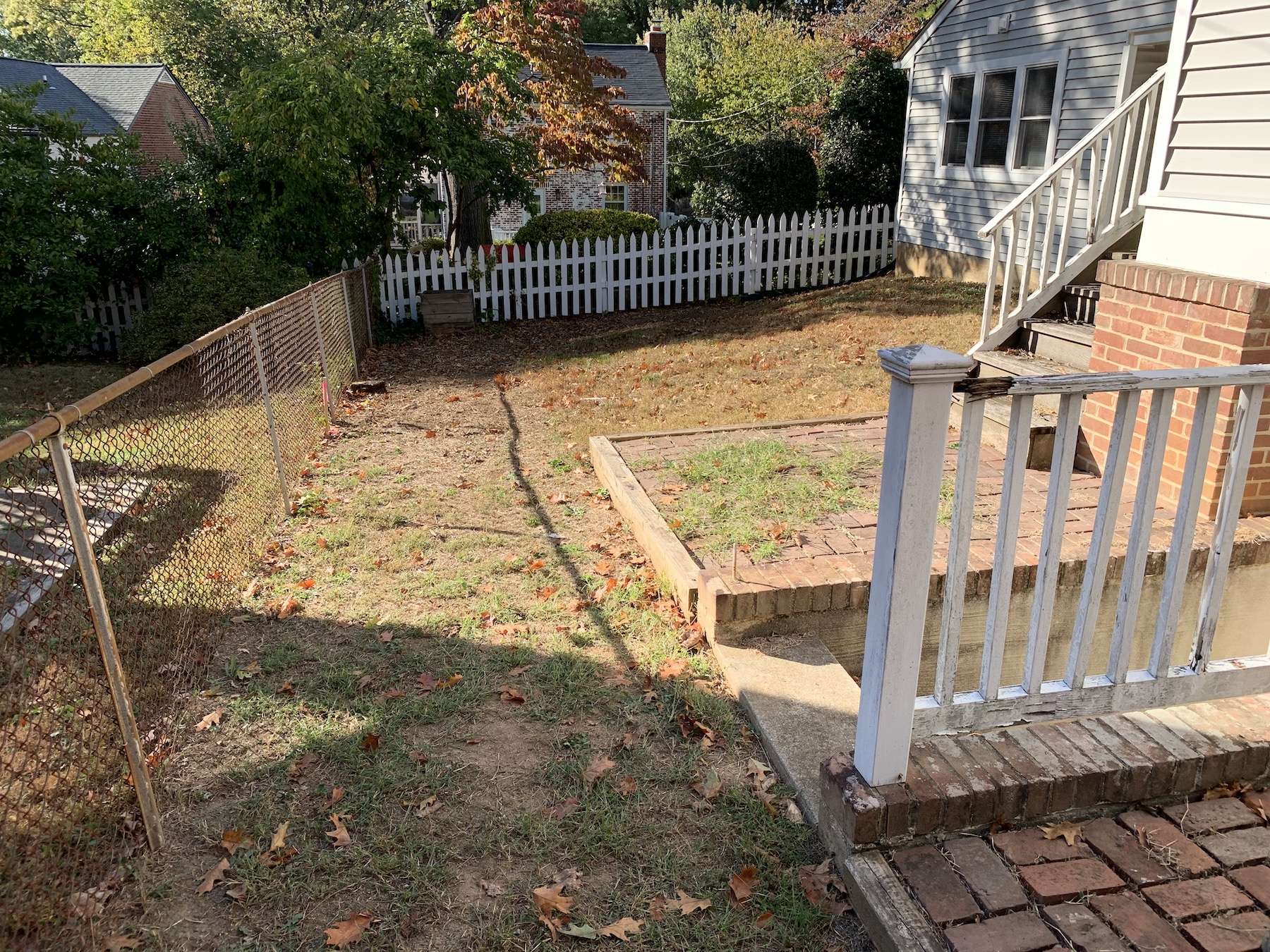 We were able to work within those requirements by using permeable pavers for the entire patio.

We also had some grading to work with. By working with the natural grade, we were able to create a fire pit area that had a sense of being its own "room," as it was two steps down from the rest of the patio.

The new patio gives the homeowner so much more functional space. Of course, with so much hardscaping, landscaping choices were important to "soften" the look. We added a variety of plantings around the patio including some ornamental grasses which add texture, interest, and even some privacy.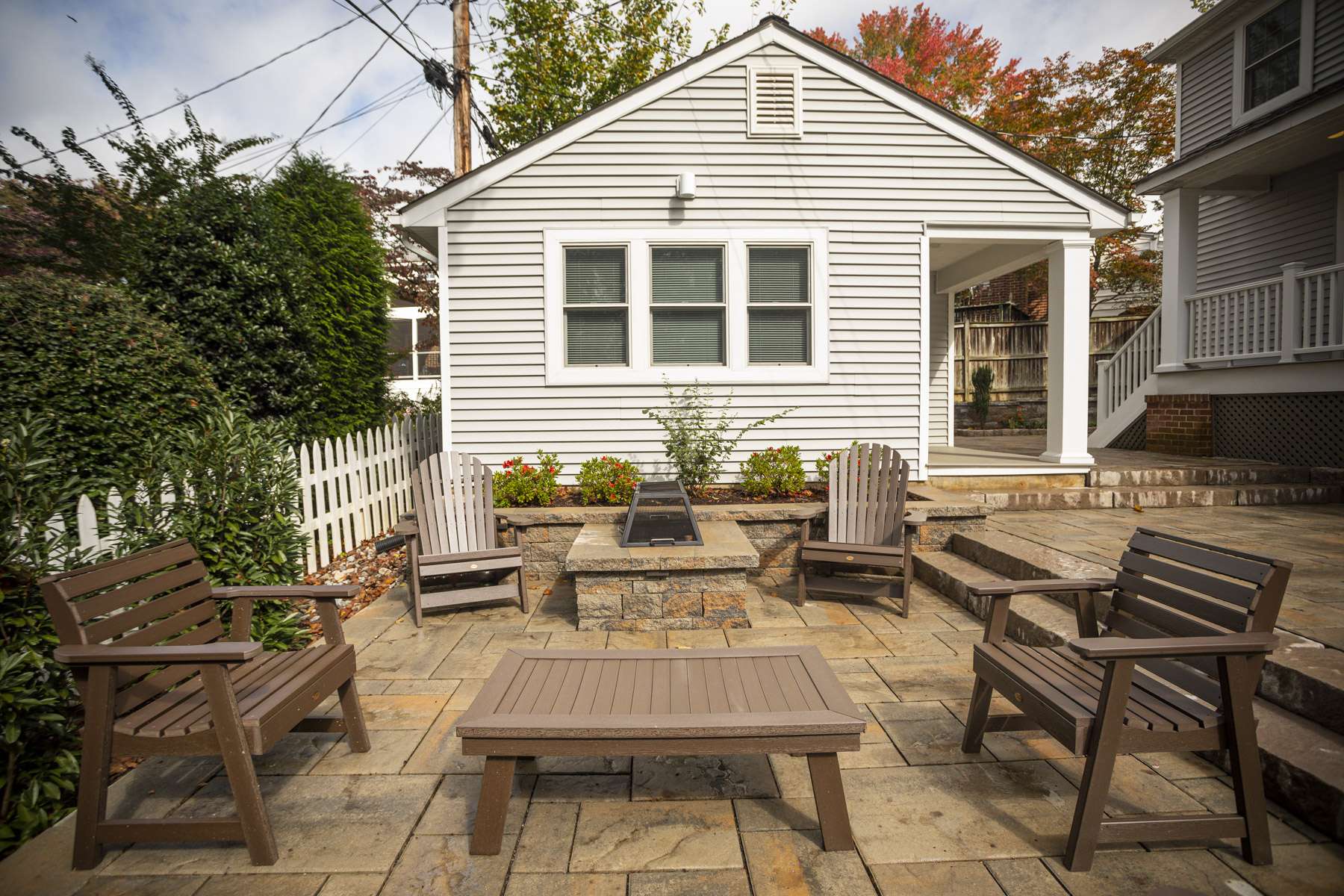 The homeowner had expressed the importance of having a low maintenance landscape so we were intentional about choosing plant material that would not need a tremendous amount of care to continue to look and perform well.

Finally, we also sodded any areas where there would still be lawn. Though we did replace much of the lawn with hardscaping in the back, we sodded any remaining spots (plus sodded in the front yard, too). Now that everything looked updated and new, it made sense to start with a fresh, healthy lawn.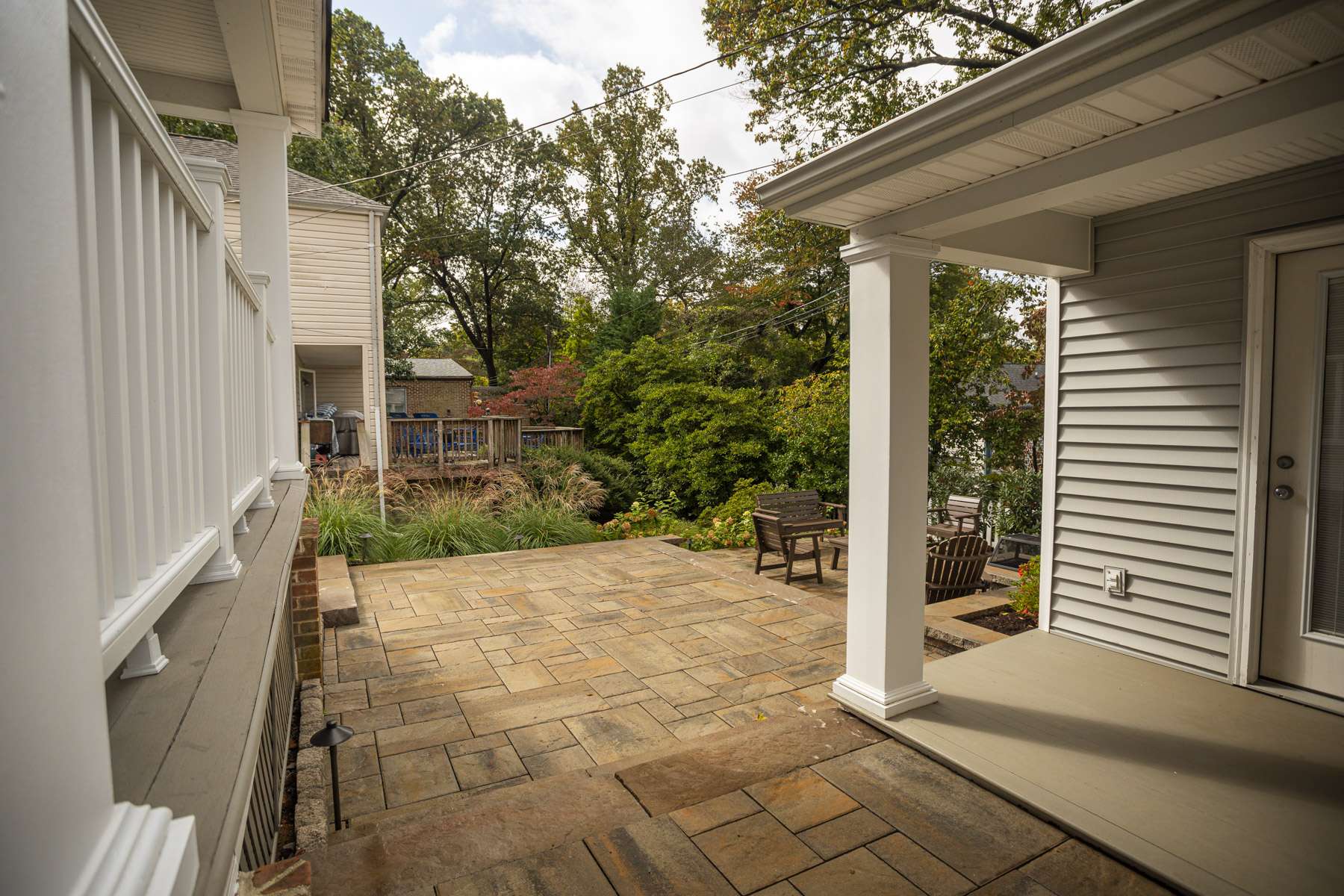 Working With Landscaping Companies in Arlington, VA That Offer Solutions
As we mentioned, this particular homeowner had shared with us that he met with other landscape designers in Arlington, VA, but he never felt as though the others were listening to him. He had some very specific ideas but also wanted to rely on a landscape professional to fill in the blanks with proven solutions. When we came to him with our proposed landscape design, it fit everything he was looking for.

We work with a lot of Arlington, VA homeowners and we know it's all about maximizing space and creating as much functionality as possible. It's also about having an exterior that helps to raise the value of your home while boosting curb appeal.

At Kingstowne Lawn & Landscape, we love working with clients like the one featured in this case study.

Helping to solve his problems with creative solutions and giving him a way to enjoy his property more fully brought us joy—and it's projects like these that inspire all of the work that we do. At the end of the day, we want clients to feel that they're getting as much use out of the space as possible. It's always our goal to help clients stay outside longer and to enjoy that time to the fullest.

If you'd like more information on an outdoor living project at your home, request a consultation, get your customized plan, and relax while we get to work creating your dream backyard.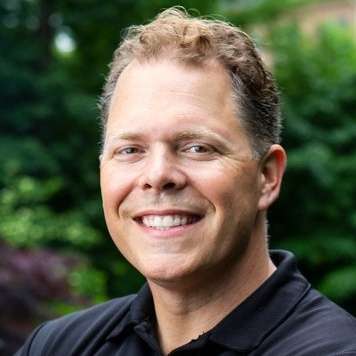 Krisjan Berzins - Owner, CEO
Since 1997, Krisjan has led the Kingstowne team with one simple philosophy, treat every customer like the "only" customer. His passionate pursuit of impeccable customer service has resulted in 24 successful years and a thriving company with over 85 employees, helping thousands of homeowners in the Alexandria, Arlington, and Springfield, VA area get what they want -- a worry-free property they can be proud of.