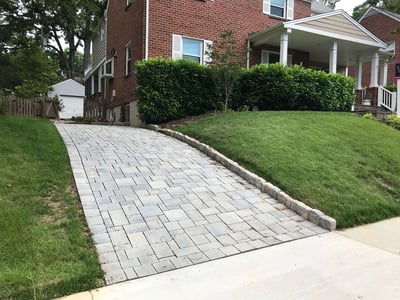 Whether you're required to use them or you just want to know more about what they are, permeable pavers are undoubtedly a hot topic of conversation in Northern Virginia these days. While the conversation is often being driven by local requirements, it seems that many homeowners are also just becoming increasingly in tune with the benefits of adding a permeable paver patio or using permeable pavers for a driveway.
There's no question that stormwater runoff can burden local waterways and even create nightmare scenarios on one's own property. As more municipalities are becoming concerned with these problems, there have been increasing restrictions placed on the amount of impervious surface allowed on a property. In some regions, such as Arlington, VA, permeable pavers are already mandated. It's believed that other areas like Alexandria and Springfield, VA will soon follow suit.
If it's an option that you're exploring, you probably want to know more about what permeable pavers are, how much they cost, and how they might look for your Northern Virginia hardscape project. We've rounded up some helpful information to guide you through understanding this unique choice.
What are Permeable Pavers?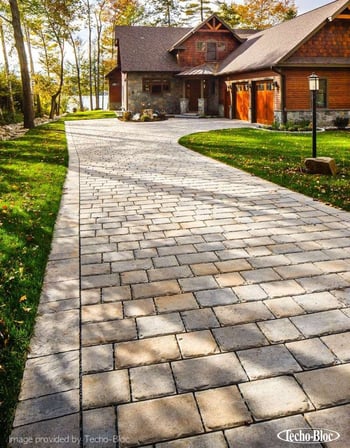 Permeable pavers (sometimes also referred to as permeable interlocking concrete pavement, or PICP) are pavers which provide a stormwater management solution to your property. They work by filtering pollutants, reducing water runoff, and keeping water on site without the need for a retention pond. With permeable pavers, any rain that falls on the patio, walkway, or driveway will seep back into the ground, which also reduces the burden on local storm drains.
Capturing the water so that it stays in the local environment and percolates naturally into the soil, as opposed to overwhelming storm drains or local waterways, is an environmentally responsible decision. But it's also one that can save you a lot of headaches. Even if you don't have an existing stormwater management problem, adding hardscaping with traditional pavers can actually create one if drainage is not addressed.
Permeable Pavers Installation
You might be wondering how permeable pavers are installed. The process is a bit different from traditional paver installation. Permeable pavers are installed using layers of varying-sized stone or aggregate underneath that filter and direct stormwater to underground aquifers.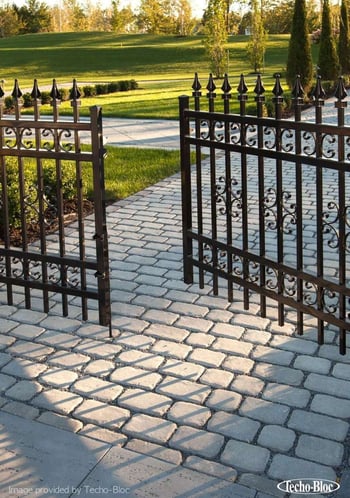 It's important to note that permeable pavers are just one part of a complete system—not something that would function on their own. In other words, if you laid permeable pavers without properly installing the base, the permeability of the system would fail. It is the various layers and sizes of crushed stone that makes the system permeable. When water falls atop of permeable pavers it is no going through the paver, it is permeating through the joints into the system below.
Because of this, in terms of permeable pavers installation, a significant amount of base preparation is necessary in order to accommodate all of the water that is going to be percolating into the gravel beneath the pavers. It's the installation of the base that is vital to the success of your permeable paver patio, walkway, or driveway. We have seen permeable paver systems fail because they were improperly installed.
That's why it's so important that you choose a landscape contractor who has experience and even certifications that prove they are truly qualified for the work. At Kingstowne, we have several certifications that speak to our level of expertise for permeable paver installation. This includes the Techo-Pro certification from Techo-Bloc. In addition, we are trained and certified by the Interlocking Concrete Pavement Institute (ICPI) in permeable paver installation.
What to Expect with
Permeable Pavers Cost
As a result of the extra base prep labor and material, the permeable pavers cost is naturally going to be more expensive than traditional pavers. You can expect to pay between 15 to 20 percent more for permeable pavers.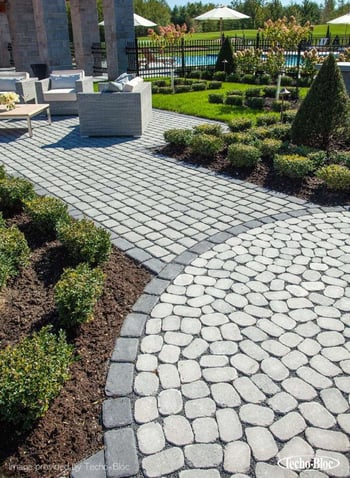 But there are long-term cost savings to consider for that investment. If you have an existing drainage problem and have a patio, driveway, or walkway built with traditional pavers, you might wind up seeing damage that could lead you to have to completely replace your hardscaping at some point. In a worst-case scenario, water that flows underneath of hardscaping with nowhere to go can actually lift the pavers and cause structural damage. At a minimum, water rushing over the top of your hardscaping can cause a mess.
Besides the risk of needing to re-do damaged hardscaping, should you have an uncorrected drainage problem, you could end up having to invest in a drainage system to deal with your stormwater management problem.
Permeable Paver Patio
, Walkway, or Driveway Design
We often hear homeowners express concern that their hardscaping project won't look as aesthetically pleasing with the use of permeable pavers. However, once we show them photos of permeable paver projects, one of the first things homeowners say is "I wouldn't know the difference."
The truth is, a permeable paver driveway, patio, or walkway really does look like any other beautiful paver project. It's what is happening beneath the surface with the percolation of water that makes all the difference. There are many beautiful products out there that allow you to have a gorgeous finished product.
Make Hardscaping Dreams Come True by Avoiding Water Nightmares
No matter what your reasons for considering permeable pavers, you're making a wise choice that will not only benefit the environment but your immediate property as well—without sacrificing looks or value in any way. Of course, truly seeing your hardscaping dreams come to life means hiring the right company for the job. It's important to choose a company that has the authority and the expertise to ensure your project is installed properly and therefore won't have problems down the road.
In the end, the choice is yours. By making smart decisions on your journey to a new hardscaped surface, you can feel confident that you're eliminating headaches and embracing some peace of mind along the way.
If you'd like some guidance when it comes to your permeable paver ideas, request a consultation, get your customized plan, and relax while we transform your space the way you dreamed it would be.


Image source: Techo-Bloc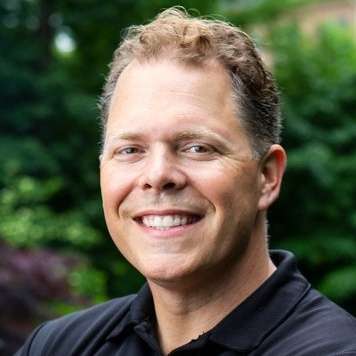 Krisjan Berzins - Owner, CEO
Since 1997, Krisjan has led the Kingstowne team with one simple philosophy, treat every customer like the "only" customer. His passionate pursuit of impeccable customer service has resulted in 23 successful years and a thriving company with over 65 employees, helping thousands of homeowners in the Alexandria, Arlington, and Springfield, VA area get what they want -- a worry-free property they can be proud of.