When you're staring at a lawn that has any number of issues, it can be easy to start feeling overwhelmed. You might not have any idea where to begin when it comes to fixing lawn problems.
The last thing that you want is to have to live with a lawn that's an embarrassment or a stress every time that you look at it. You're looking for answers and might be wondering how pros go about fixing lawn problems.
We understand that everything from fixing lawn burn to fixing a lawn full of weeds (as well as any other issues you might be dealing with) can feel daunting if you're just trying to figure out where to begin. That's why we're talking about how lawn care professionals tackle common lawn problems and why the right approach is important.
Lawn Problems in Alexandria, Arlington, or Springfield, VA
As we mentioned, there are a lot of different lawn problems that you might be dealing with. In fact, it's quite common for homeowners to be facing more than one lawn concern at once. In the article that we've linked to above, we get much more in-depth into problems that we often see in our area, but we'll summarize that here (and if you want more information, you can bookmark that article).
Northern Virginia lawn problems are commonly the result of these 10 factors/concerns:
Too much or too little water
Excessive shade
Poor soil
Thin areas
Broadleaf weeds
Grassy weeds
Surface insects
Grubs
Lawn diseases
Poor mowing and maintenance
How Pros Go About Fixing Lawn Problems
Chances are, the problem (or problems) that you're facing are on that list above. What you really want to know is where to even begin when it comes to addressing those concerns.
There are some very important steps that pros will take.
1. A Proper Diagnosis
The most critical step in beginning to address a problem with your lawn is to make the proper diagnosis. This may sound easier than it is. One of the biggest complications in a proper diagnosis is the fact that many of these common lawn problems mimic one another.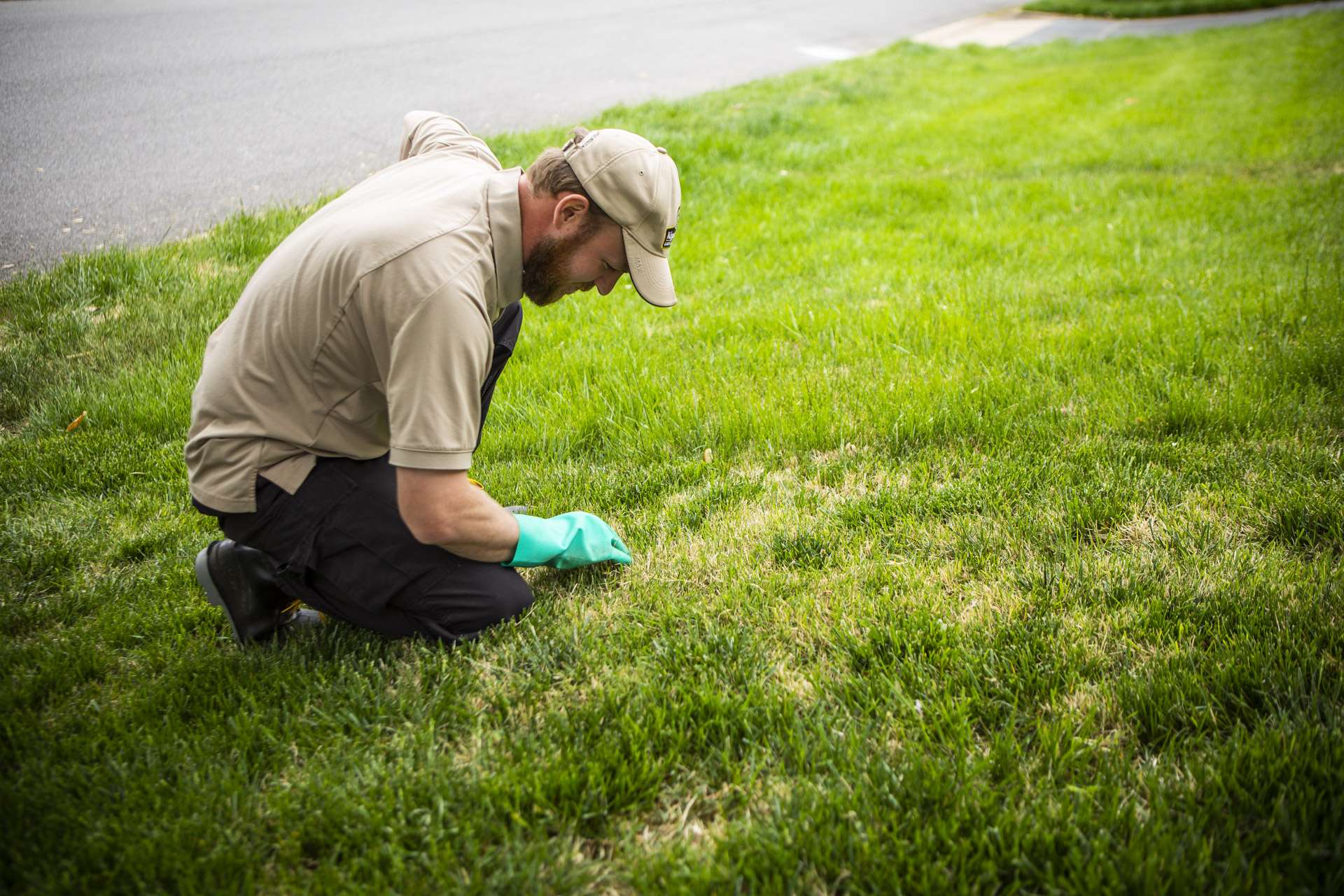 For instance, you might assume that your lawn is yellowing because it needs more water when in reality it is suffering from a fungal disease and watering it is only going to make the problem worse. You can see how important it is to first make the proper diagnosis before moving on to possible remedies.
2. Implementing the Proper Solution
Once that diagnosis is made (which may mean diagnosing multiple issues), a professional will rely on their knowledge and expertise to implement the appropriate solution.
You might be wondering if (as long as you know for certain what is wrong with your lawn) if you can have the same success as a pro. But the truth is, a professional will have access to commercial-grade products that are going to ultimately be more effective than anything you can purchase in a store. That means that if it turns out your lawn needs a control product to deal with a disease or a pest, they're going to be able to apply a superior product which should get you better results, quicker.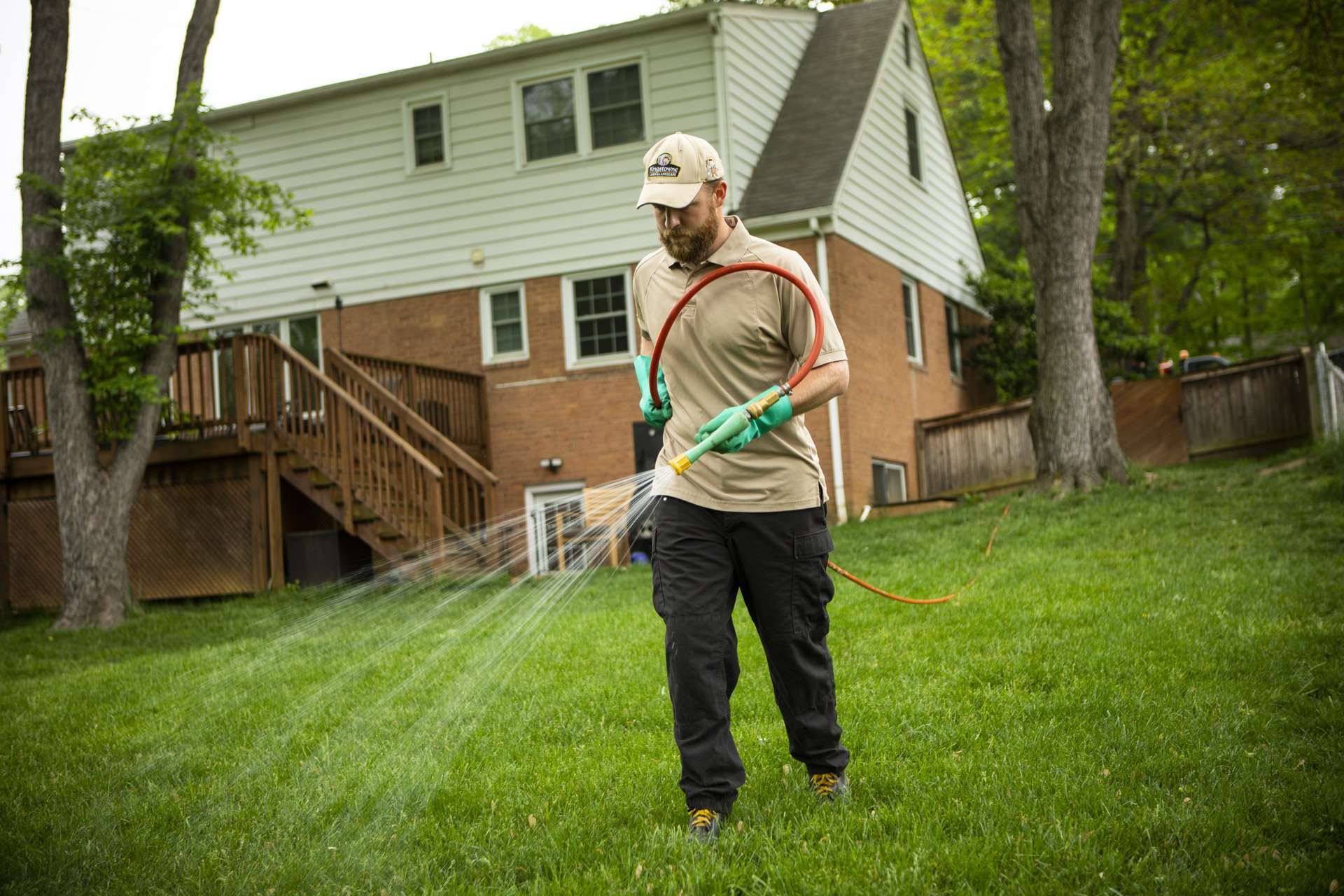 That's really important when it comes to something as potentially damaging as diseases or pests. On top of that, it's vital to recognize that there are different products for different lawn problems, which circles back to the "proper diagnosis" point. You pay for a professional not only for their access to better products but also for their knowledge and training.
3. Offering Recommendations to the Homeowner
The best pros will not just implement a solution and leave you in the dark. Instead, they'll educate you on what was performed as well as how you can help. That's because the best possible lawn results happen when the homeowner and the pro work as a team.
For Kingstowne, that means if we're there fixing lawn patches, as an example, we'll determine the cause, implement our solution, and then recommend advice on anything you can do in between our visits.
That might include watering recommendations or red flags to watch for that a problem is arising that needs to be addressed sooner than our return date. We believe that working closely with our customers is a really important step in the solution process.
4. Ongoing Maintenance
Finally, when you've gone through the investment of fixing lawn problems, you want to be sure that you keep your lawn healthy going forward. This is the value of investing in a proactive lawn care program. A professional will not only be able to help maintain your good results but will also be able to spot a problem early, before it has the chance to become serious.
Choosing a Pro for Fixing Lawn Problems
In order to ensure that your lawn problems are diagnosed and addressed properly, you are likely leaning toward working with a pro. You may be starting to recognize that when you invest in a professional lawn care service in Alexandria, Arlington, or Springfield, VA, you're also investing in peace of mind—and that's an incredibly valuable asset.
With the right professional, you will not only get on track toward fixing lawn problems but having a healthy lawn going forward (and ensuring that future problems are caught early). That means you can hand over your worries and get back to enjoying a great-looking lawn.
Are you ready to have a healthy and thriving lawn that you don't have to worry about? Request your quote, choose from our 3 lawn care package options, and relax as you get the royal treatment.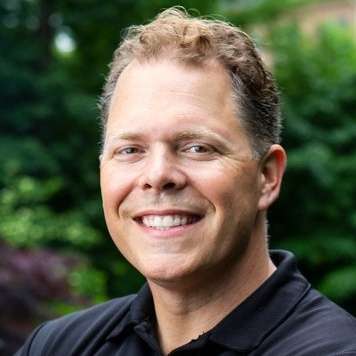 Krisjan Berzins - Owner, CEO
Since 1997, Krisjan has led the Kingstowne team with one simple philosophy, treat every customer like the "only" customer. His passionate pursuit of impeccable customer service has resulted in 23 successful years and a thriving company with over 65 employees, helping thousands of homeowners in the Alexandria, Arlington, and Springfield, VA area get what they want -- a worry-free property they can be proud of.