There is a tremendous amount of value that comes out of a great lawn. Not only is a lush, green lawn one that you may enjoy more easily with family, friends, and pets but it will also increase your home's value by dramatically boosting your property's curb appeal.
However, even though you understand that you're receiving value out of the services required to achieve these results, you still want to know how much does lawn care cost?
You should know that the cost of lawn care is dependent upon a variety of factors including products used, methodologies, and even what treatment options are included in a package. That's why it can be misleading to compare lawn care companies based on price alone.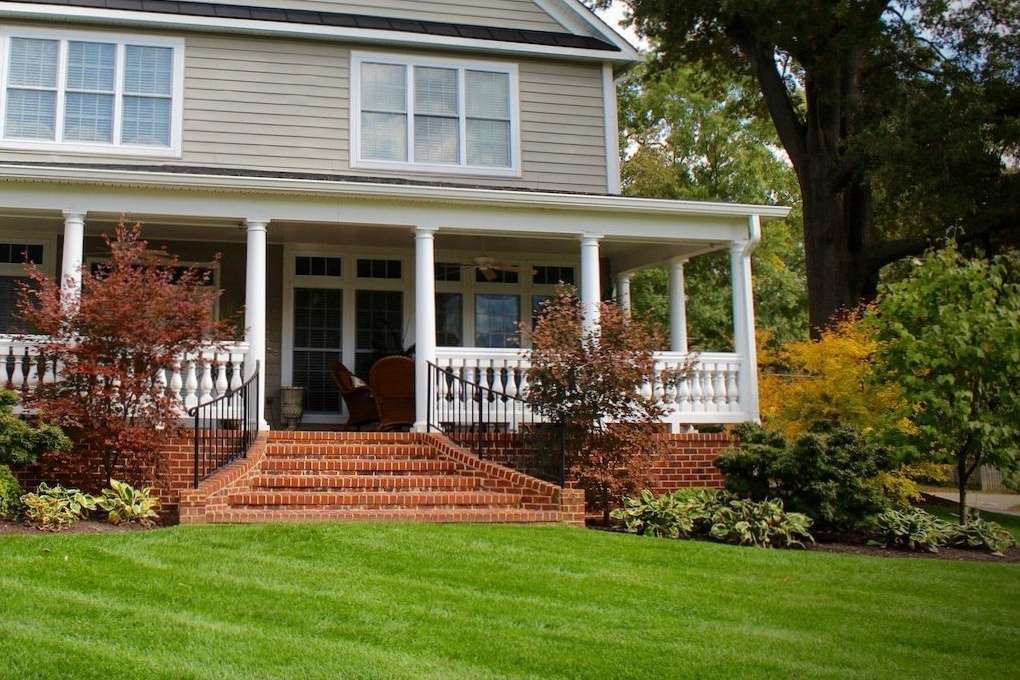 Even so, we certainly understand that you want to know what you're paying for and what you can expect for your investment. That's why we want to explain what goes into pricing and help you be able to line up any program or lawn care company in Alexandria, Arlington, or Springfield, VA and perform a fair comparison.
Factors that Contribute to Lawn Service Cost
In order to understand why different lawn care companies have different lawn service costs for seemingly similar services, you must understand what goes into the pricing.
Product
Though you might assume that every lawn care company out there is using the same (or similar) products, the fact is, there is a wide range of professional-grade products and some are better than others.
Naturally, the better products cost more. That means, when a company uses a higher quality product, you'll usually spend a little more for their services. But that benefits you with better results.
Licensed and Well-Paid Workers
It's ideal that lawn care companies have their technicians licensed by the Virginia Department of Agriculture. However, a lot of companies squeeze by with the bare minimum (meaning they are only "registered" and can verify there is at least one licensed applicator working at the company). But you know it's important to have highly trained and certified professionals on your property. That's why you'd like to work with a company that has all of its technicians licensed.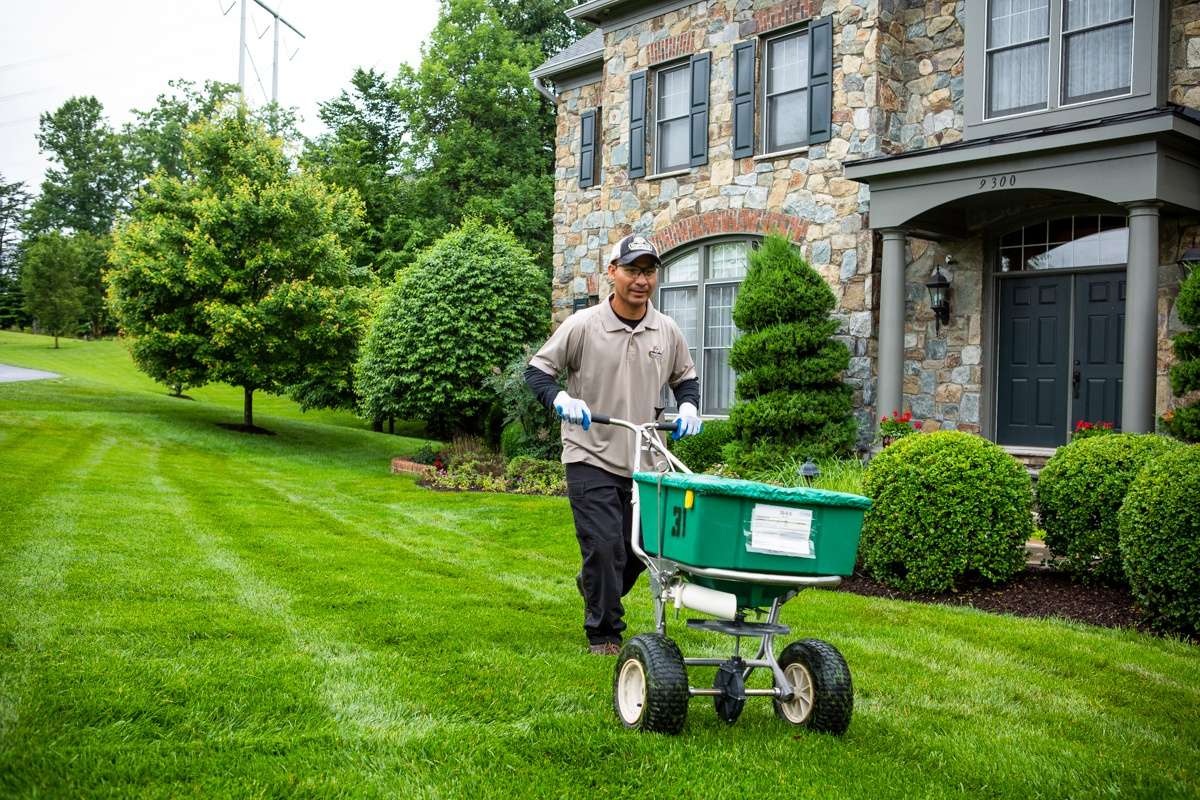 In general, labor is a big factor in lawn service cost. The technician who comes to treat your lawn needs to be paid for their time and expertise, and these labor costs are included in the price for lawn care services.
A low-priced service could potentially mean that the technicians aren't being paid well. Being unfairly compensated could lead them to cut corners. Ultimately, this causes frustration on your end because you're not getting the quality of service you expected.
Low prices could also mean that the lawn care company has a high technician turnover rate. Oftentimes, technicians eventually move on from poor-paying companies that don't value their employees. This can lead to a revolving door of different employees. Companies that invest in quality staff and keep employees longer benefits you, the customer, in the long run. You wind up with well-trained and experienced technicians working on your lawn year after year. You get a technician who really gets to know your property instead of a totally different technician every month.
Insurance Coverage
In addition to cutting corners with licensing, we've heard horror stories of lawn care companies who have cut corners with paying for insurance coverage. Does the company you hire carry the proper insurance should something ever go wrong? Are they covered to handle it?
There are a lot of small operations out there that fail to pay for insurance coverage and are putting the homeowner at risk as a result. We've had many customers ask to see "proof of insurance" over the years and we appreciate that they're exercising their right to information as a knowledgeable consumer. A lot of companies might claim to be "licensed and insured" but you should ask them to prove it.
Included Lawn Care Treatments & Service
There are a lot of lawn care companies out there that will try to rope you in with a low start-up price but you have to ask what's really included? Does their package include proactive treatments for your lawn's potential problems?

For instance, many lawn care companies leave grub control out of their package and try to sell it as an add-on at a later date. But if you wind up with grub damage in the meantime, you're out of luck. It's important to recognize that some lawn care programs cost more because they include everything your lawn needs without cutting any corners or leaving important services out.
Similarly, we find that a lot of lawn care companies have extra charges for additional weed control. If you have extra weeds that pop up after the lawn has already been treated, is your company going to refuse to come out or require you to pay for extra services? Or will those extra weed treatments simply be covered under the original price you paid?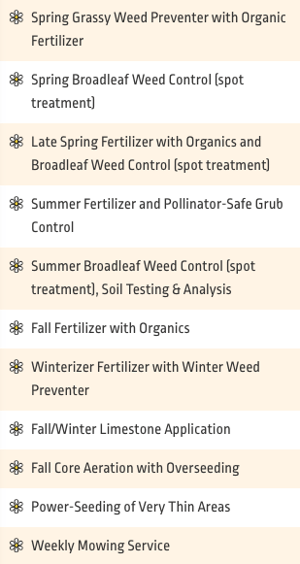 At Kingstowne, our packages might cost a little bit more than the competition, but we're not going to nickel and dime you for every little thing later on, as many lawn care companies in Alexandria, Arlington, and Springfield, VA do. Once you pay for your package, you've got the peace of mind that the program will continue to address weeds. If they pop up after the fact, we'll come back out and take care of that at no extra charge.
How Much Does Lawn Care Cost at Kingstowne?
We have no problem admitting right off the bat that we are not going to be your cheapest quote if you're exploring lawn care prices in the area. If you're shopping on price alone we aren't going to be the right fit for you for that very reason.
However, our guess is, if you've made it this far in the article, you aren't someone who is shopping on price alone. You care about the value that you will receive for your investment. You likely also know that under-investing can hurt you in the long run. Homeowners who wind up choosing the cheaper service could end up paying more in the long run. Being proactive can really save you from big costs down the road.
At Kingstowne, we may cost more for the reasons that we've outlined in this article. We use high-quality, professional-grade products, licensed and well-trained professional technicians, and we include quite a bit of services (that you need), even in our least expensive package.
The fact is, we don't believe in cutting corners to try to beat the competition's price. We also don't believe in leaving out valuable services just to try and make our package appear cheaper. To us, that's playing games and we don't do business that way. You can count on us to tell you honestly what your lawn needs to look its best.
As you consider lawn care companies in the area, we hope that you'll consider investing in one of our 3 programs, based on your needs. As with most things in life, you get what you pay for when it comes to lawn care and we want to give our clients the best.
If you want to feel confident that your investment in lawn care is going toward the best possible results, request your quote, choose from 3 lawn care package options, and relax as you get the royal treatment.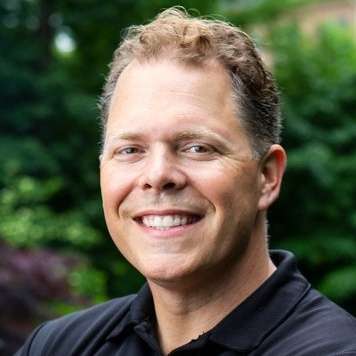 Krisjan Berzins - Owner, CEO
Since 1997, Krisjan has led the Kingstowne team with one simple philosophy, treat every customer like the "only" customer. His passionate pursuit of impeccable customer service has resulted in 23 successful years and a thriving company with over 65 employees, helping thousands of homeowners in the Alexandria, Arlington, and Springfield, VA area get what they want -- a worry-free property they can be proud of.