When it comes to home remodeling projects, a bathroom renovation is one of the wisest ways to invest your money—particularly if you're looking for a good return on investment. Studies show that most bathroom renovation projects allow homeowners to recoup upwards of 60 percent of the money they've put in.
These types of projects also increase the overall value of the home, make a home easier to sell, and of course, can be enjoyed by the current homeowners ahead of any future sales plans. Instead of feeling frustrated every time that you walk into your outdated bathroom, imagine loving a fresh new space.
If you have a bathroom in your Northern Virginia home that needs a refresh, you might be surprised to learn that we have a division of our company, Kingstowne Home Services, that handles these types of projects. It's not new (we've had this division for more than a decade), but we do find many of our clients don't always realize we offer it. After all, our primary business focus is on the outdoors—but as clients have gotten to know and trust us, the demands for indoor services have increased.
We wanted to tell you more about some of the bathroom renovations that we've completed in case you're considering a similar project.
The Story Behind a Bathroom Renovation
Although every home and homeowner's story is unique, oftentimes there's a similar pattern to the mindset behind starting a bathroom renovation project. So, let's talk about the narrative that we tend to frequently hear.
While we can certainly take on larger projects, most of the time homeowners call us in for a smaller powder room or half bath that needs to be refreshed. It has an outdated sink and fixtures, basic builder's grade cabinets, and old tile. Maybe it's 15 or 20 years' old and it's really showing its age. Styles are different now and a builder's grade bathroom can really drag a home's overall value down.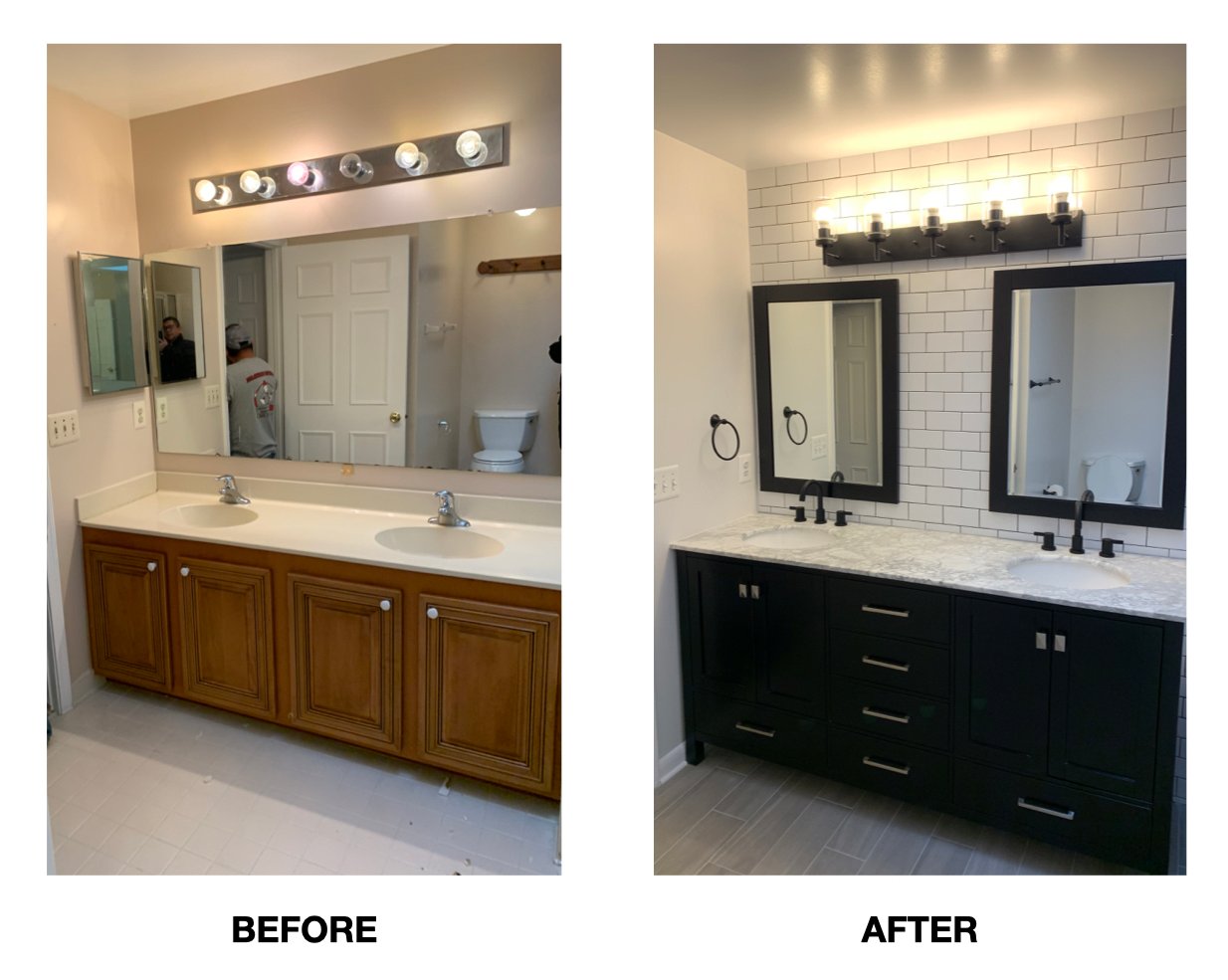 When clients reach out to us, it's often after we've already been taking care of their lawn and landscape, or maybe their pest control needs, and they mention that they have a bathroom that is in need of an upgrade. They usually aren't interested in spending $50,000 or more to refresh it, as some home builder designers might charge.
For one, we're talking about renovation projects in which the existing "bones" are already there. We're not creating a space from scratch so we don't believe in charging some astronomical amount. Plus, the homeowners who we are working with are clients that already know and trust us—and that we've built a relationship with—and we're looking to help by offering a fair price for the work that we perform.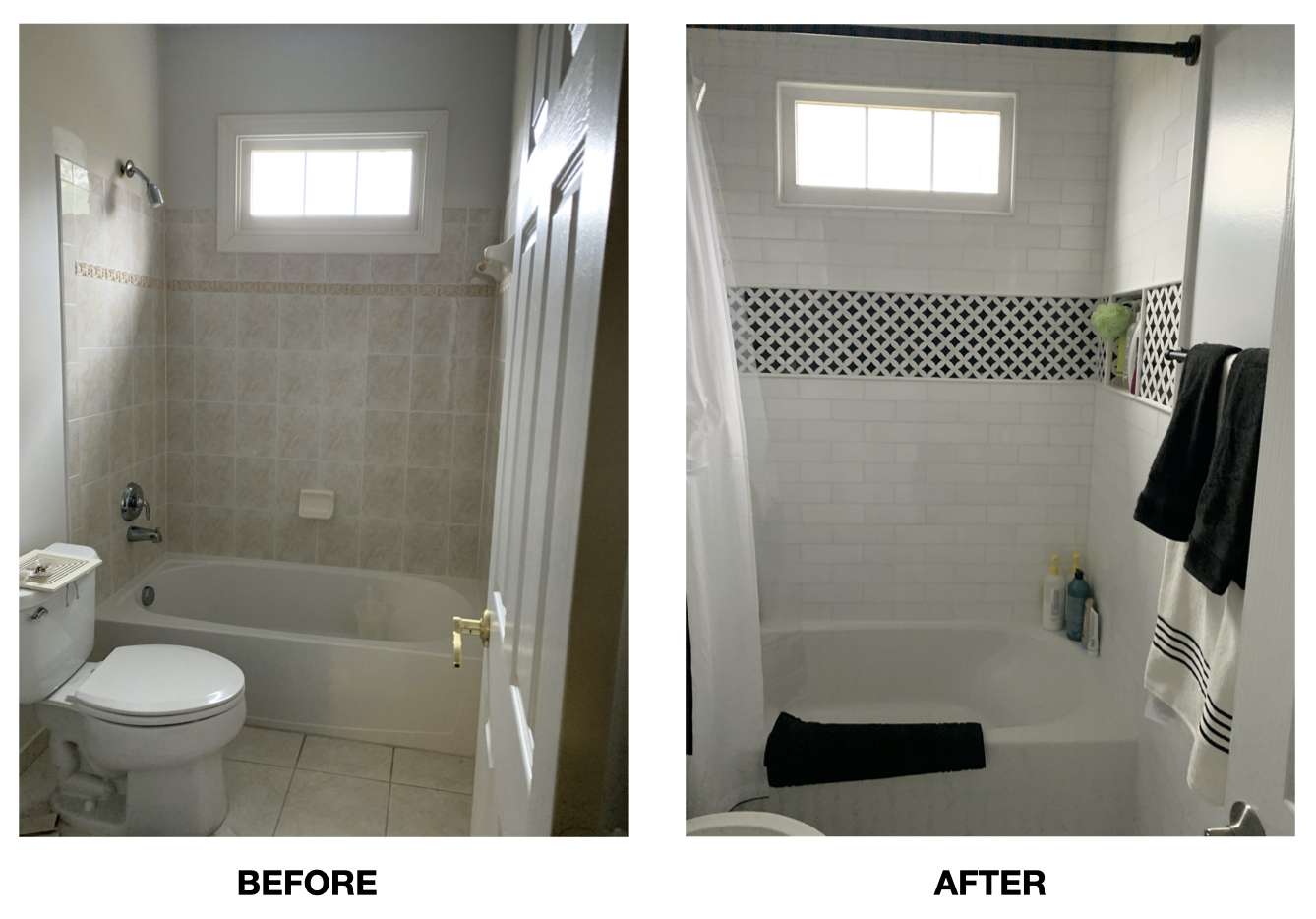 We find that most homeowners are pleasantly surprised when they reach out to us and ask for a quote, particularly if they've already had it quoted from a designer or a company that solely does remodeling.
What's Involved in a Bathroom Renovation in Northern Virginia
A bathroom renovation is all about upgrading materials to something that is modern and new. Some of the upgrades that might be included in a bathroom renovation include the following.
New flooring
Upgraded sink
Lighting
Cabinetry
Sink and fixtures
Tile in shower or tub (or on walls)
Fresh coat of paint
Of course, when it comes to selecting these types of materials we know that homeowners like to see them in person. They need to touch and feel the material and get a sense of what they like. Since we're not a home builder and don't have a showroom, we send our clients to our local vendors (our wholesale suppliers) so they do have the chance to go see the materials in person and pick out what they like. Then we ask them to tell us what they've picked out so we can take care of purchasing it and having it brought to your home.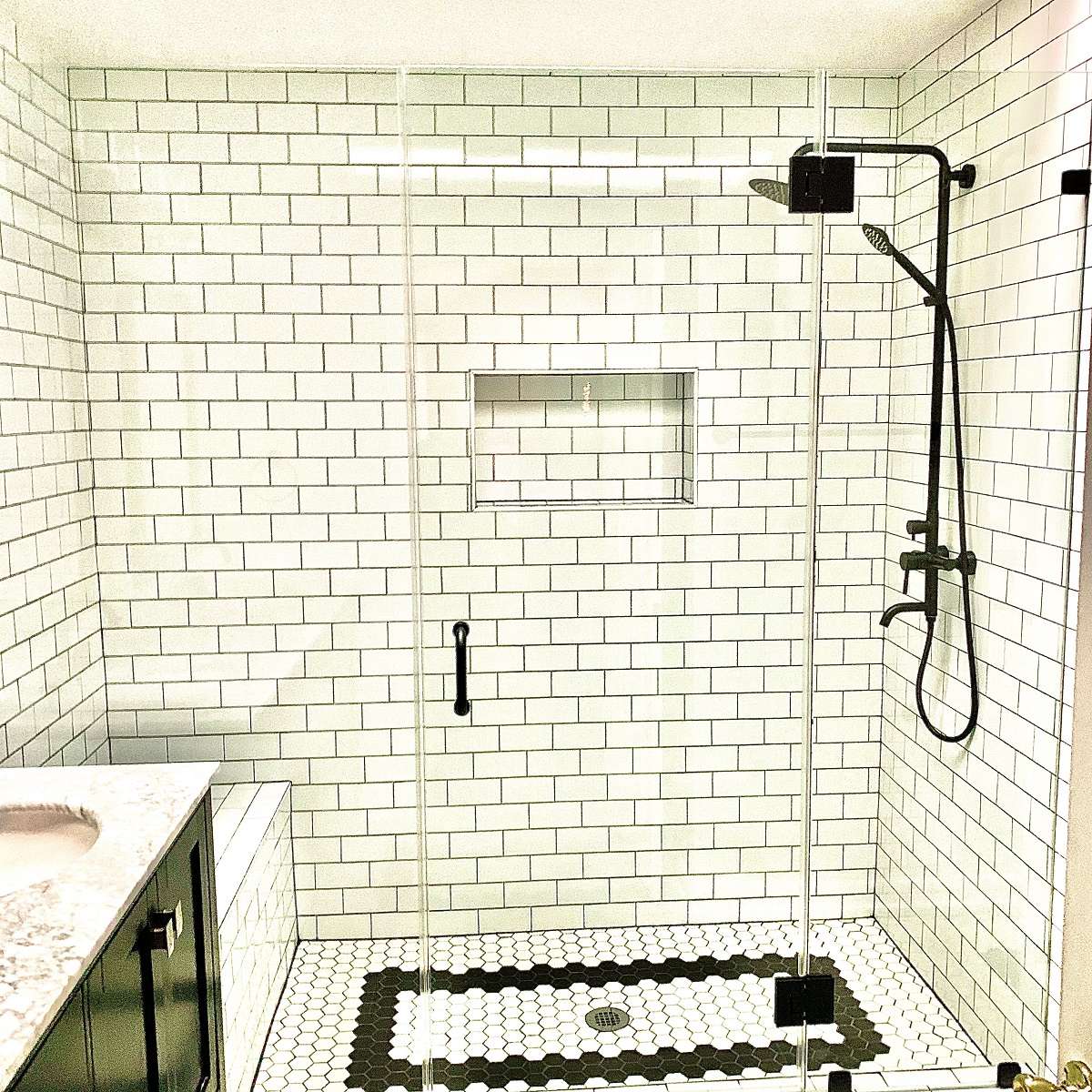 We find that most people are reassured that they do have the opportunity to go see these materials in person. It's not as though they have to look at everything online and make a choice from there.
When these projects are completed, we hear homeowners say that their space finally feels "custom," "modern and refined," and finally feels like "their own." So often people buy a house and get stuck with a space they don't like. But for likely less money than you think it will be, you can update that space to something you love.
Even if you think you will sell down the road, we tell homeowners that it makes sense to do these types of projects now rather than put them off. Why not get several years out of loving the bathroom yourself?
If you're going to have to upgrade it to sell the home later, why not consider doing it now and getting the enjoyment out of it that you deserve?
Working with Kingstowne Home Services on Your Bathroom Renovation (or More)
We know that home renovations projects can feel daunting. There are a lot of horror stories from companies who did a poor job or left it incomplete. But we believe you shouldn't have to worry that a home renovation project is going to go awry because you didn't choose the best company for the job. If you're someone who already knows and trusts Kingstowne, then we know you'll feel confident allowing us to handle your bathroom renovation.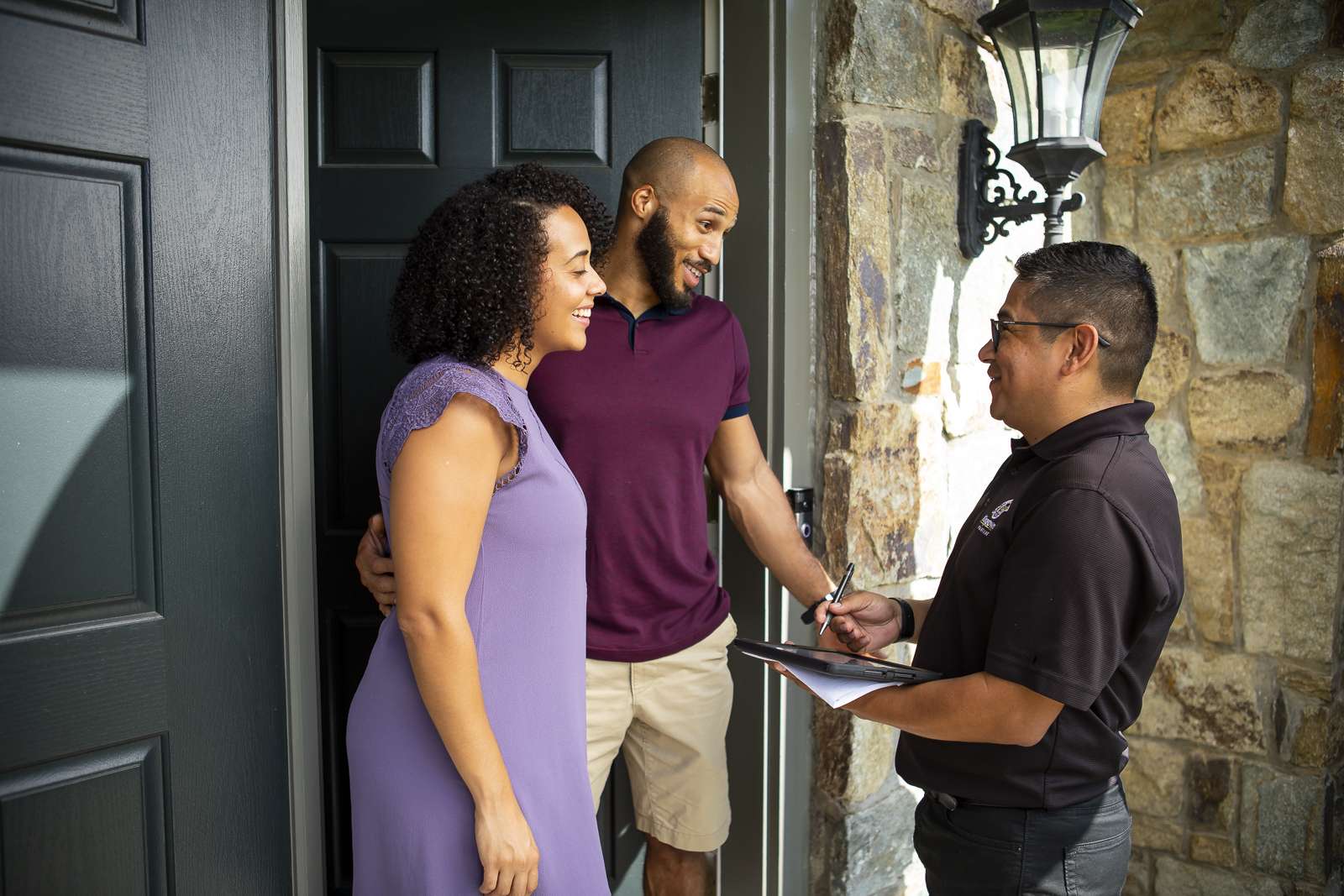 Of course, maybe you have other upgrades or interior projects that need to be completed. In addition to bathroom renovations, here are some of the other home services that we offer.
Interior and exterior painting
Pressure washing
Deck sealing and staining
Drywall
Carpentry
Tile and hardwood flooring
Gutter cleaning plans
Handyman services (ceiling fan installation, window treatment installation, smoke and carbon monoxide detector replacement, etc.)
No matter what the project, we invite you to consider Kingstowne Home Services. By doing so, you can have peace of mind that we're going to get the project completed in a timely manner and the way that you expect so that you can be happy with the finished result.
Ready for your home services project in Arlington, Alexandria, or Springfield, VA to be completed? Request a home services consultation and get ready to receive the royal treatment!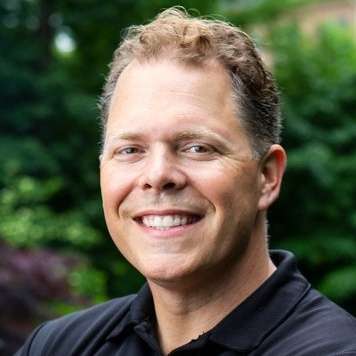 Krisjan Berzins - Owner, CEO
Since 1997, Krisjan has led the Kingstowne team with one simple philosophy, treat every customer like the "only" customer. His passionate pursuit of impeccable customer service has resulted in 24 successful years and a thriving company with over 85 employees, helping thousands of homeowners in the Alexandria, Arlington, and Springfield, VA area get what they want -- a worry-free property they can be proud of.