Choosing a great lawn care company can be a complicated endeavor. It might start as a simple enough task but as you start delving into what you're looking for, you might come to realize that there are quite a bit of differences from company to company. Not only that, but there are quite a few companies to choose from.
How can you choose the lawn care company that is best for you?
As you perform your search for lawn care companies TruGreen Lorton, VA is a name that you will very likely come across. There's a good chance that you've seen their trucks in the Alexandria, Arlington, or Springfield, VA area and they're a big name that you very likely know. But how do they compare to a local company like Kingstowne?
Let's take a look at some points in order to make a fair comparison.
Who is TruGreen?
TruGreen is not just a recognized name in Northern Virginia but across the country. As the nation's largest lawn care company, TruGreen serves more than 2.3 million residential and commercial customers across the United States. TruGreen Lorton, VA is just one of the company's 200+ branches nationwide.
Comparing TruGreen to Kingstowne
There are a number of differences between these two companies. Let's look at some of the ones that stand out.
Comparing Size
The most recognizable difference between TruGreen and Kingstowne is the fact that TruGreen is an enormous national corporation. That provides the benefit of having a well-known name—which undoubtedly can carry some power. People oftentimes choose a company just because they're familiar with a name. But there's also some risk involved in that decision.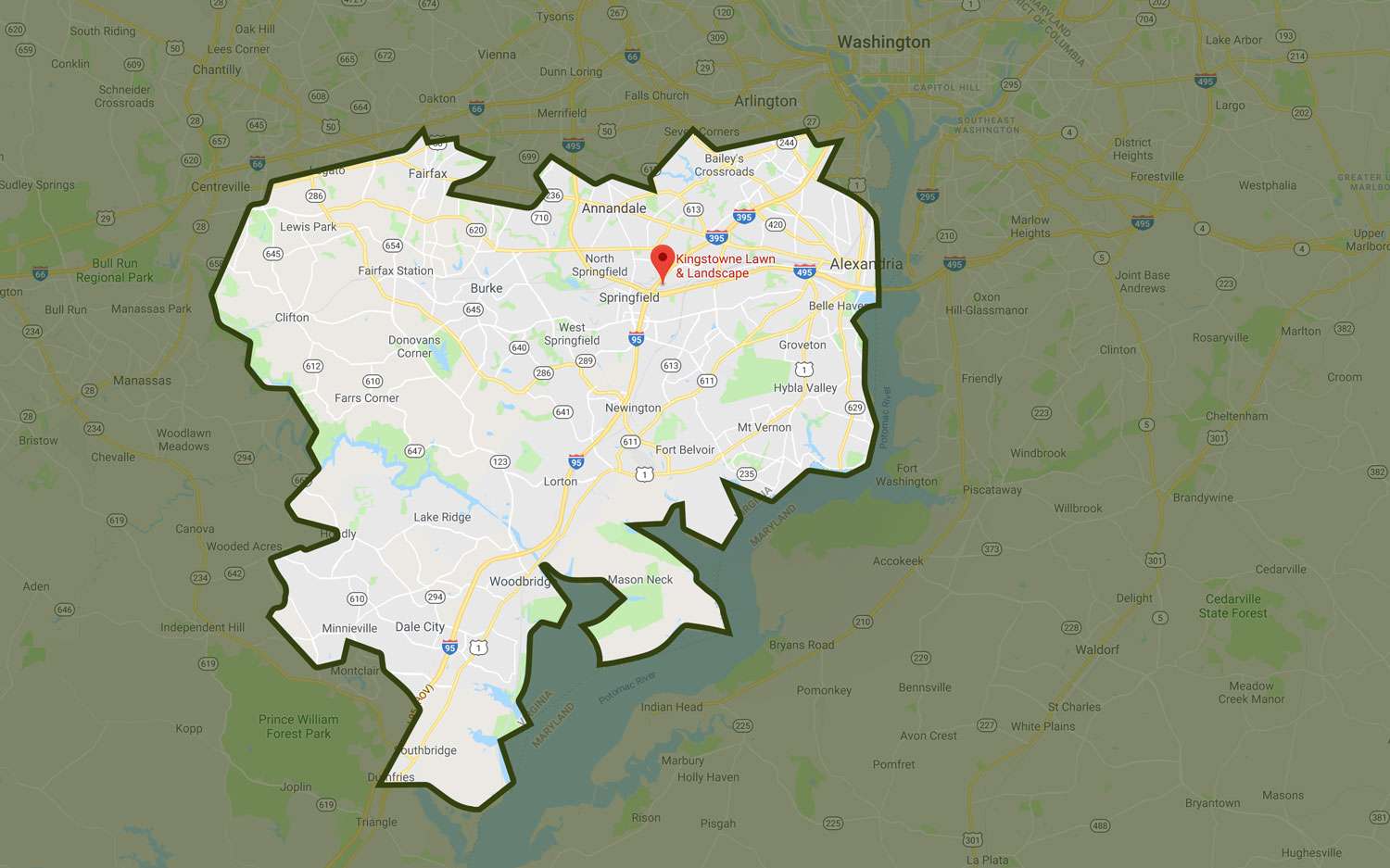 While Kingstowne might not be known on a national level, the company is committed to its smaller service area of Alexandria, Arlington, and Springfield, VA, and its surrounding communities—and has become a recognized name in this area. Being committed to a smaller service area has also allowed us to get to know our properties better, which has been a benefit to our customers.
It's also important to note that Kingstowne has a much smaller service radius than the typical TruGreen branch. That allows for reduced travel time and less fuel consumption. As a result, we are able to provide excellent customer service.
Comparing Service Offerings
In terms of service offerings, there are some similarities between Kingstowne and TruGreen in terms of their lawn care offerings. However, although TruGreen does have some pest control offerings, they are not as extensive as Kingstowne's since Kingstowne has an entire sister company dedicated to pest control.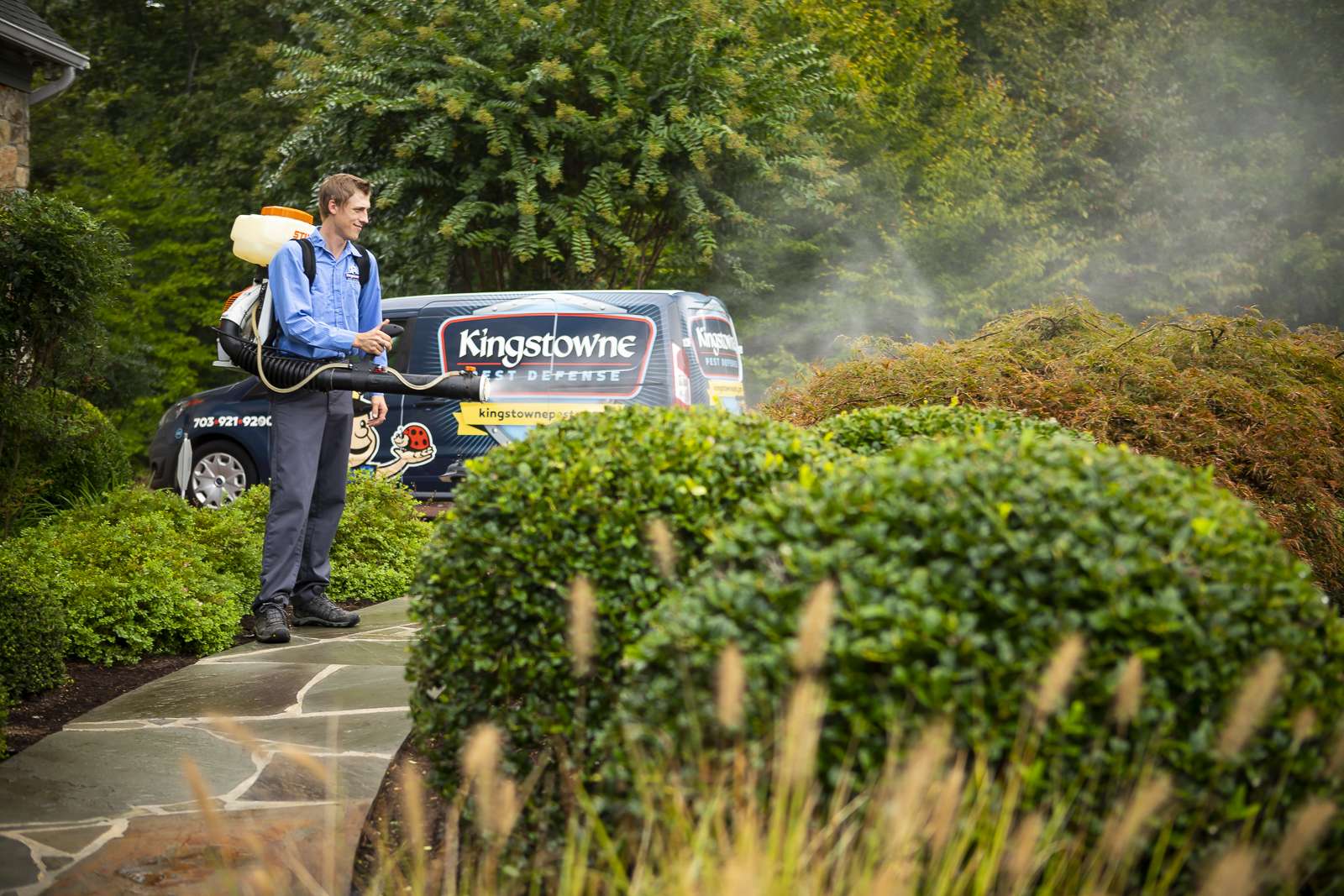 In addition, Kingstowne goes well beyond what TruGreen can offer since they also perform landscaping and hardscaping work.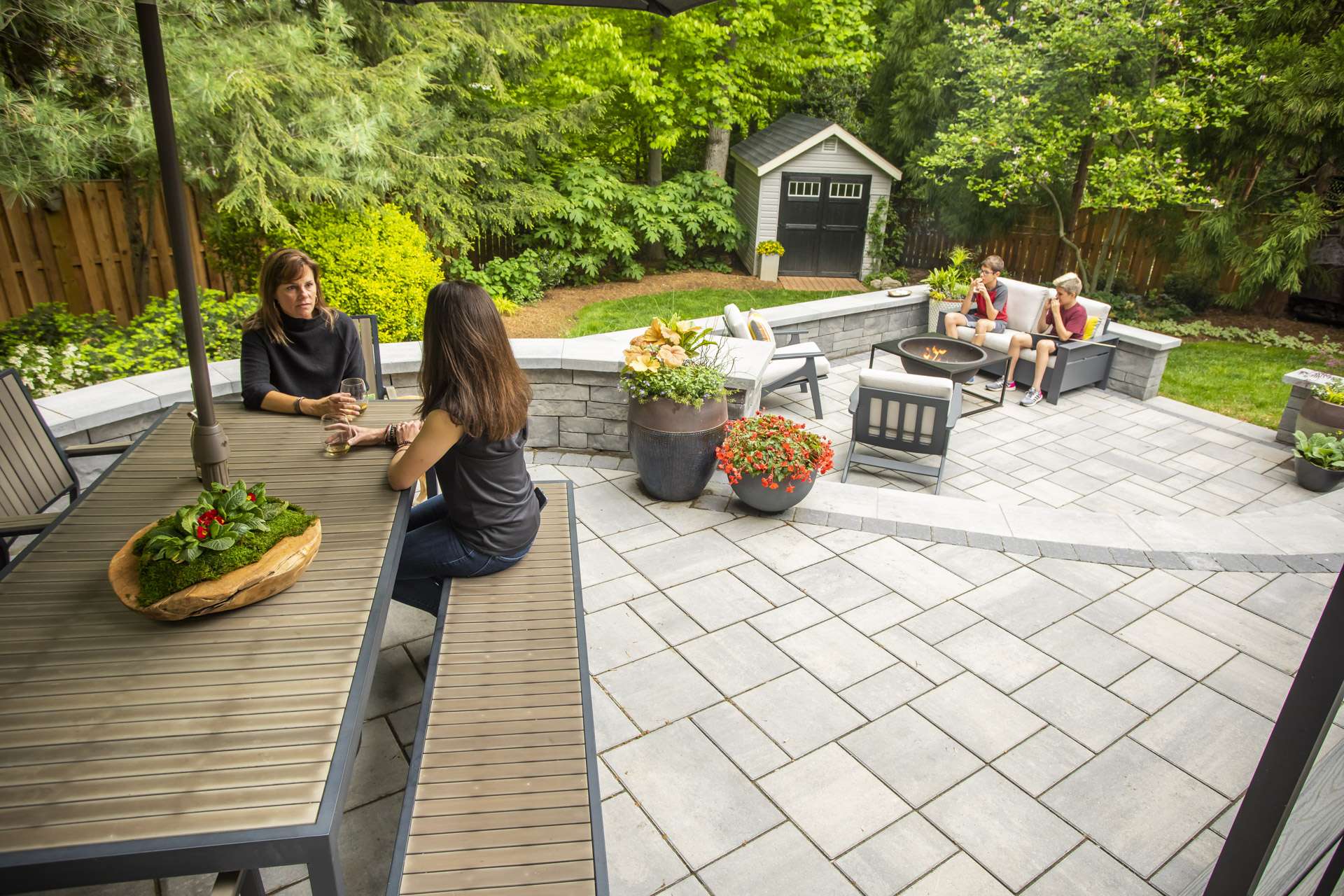 And another aspect of Kingstowne's lawn services include mowing, which TruGreen does not offer.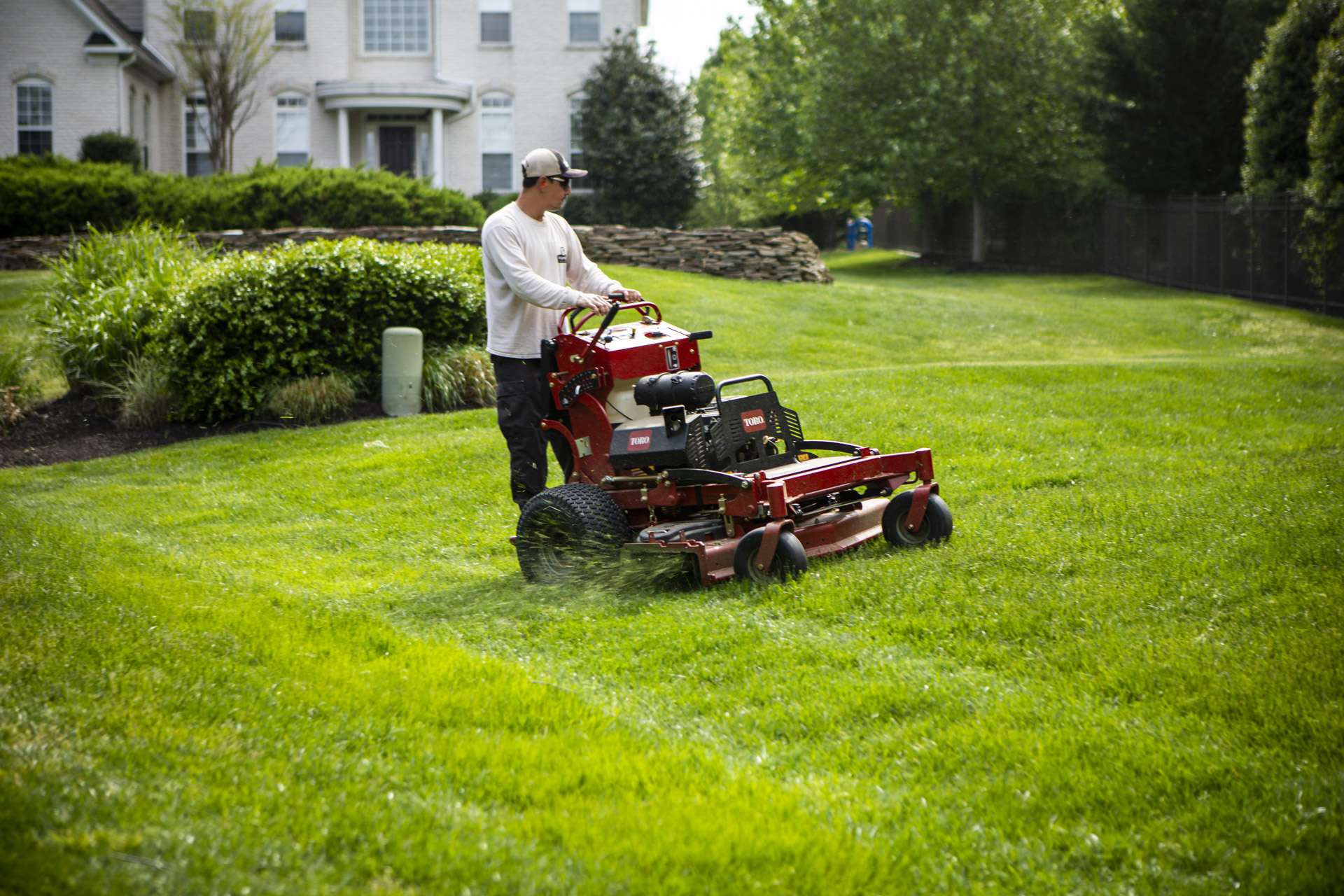 The fact that Kingstowne can offer comprehensive services is a big value-add for our customers. If you have landscaping issues that extend beyond lawn care services, then instead of having to hire another landscape company to come in, Kingstowne can help devise a solution that will work for you.
Comparing Teams
Generally speaking, large companies are often known for having a revolving door of employees. While that might not bother some people, we find that a lot of our customers like to get to know who is working on their lawn and we feel that's important.

TruGreen has somewhere between 13,000 and 14,000 employees and while you might see smiling faces on their website, you have to wonder whether they are just models in a nationally branded marketing piece. That's quite different from the folks that work at Kingstowne, many of whom are long-tenured with us. That's fairly uncommon in this industry.
Comparing Price
TruGreen often seems like the less expensive option but when you explore deeper, it may not be the case. TruGreen has been running the same special for many years, which is that the first visit is $29.95 for up to 5,000 square feet. But that's only for the first visit. This "bait and switch" tactic, which is a common marketing ploy, often tricks people who don't read the fine print to realize that their price is going to go up.

At Kingstowne, we don't play games. It's as simple as that. We believe in giving you the right price from the start. We're not trying to trick you into hiring us and we find that most people appreciate that honesty, even if it means they're paying a little more.
Comparing Online Reviews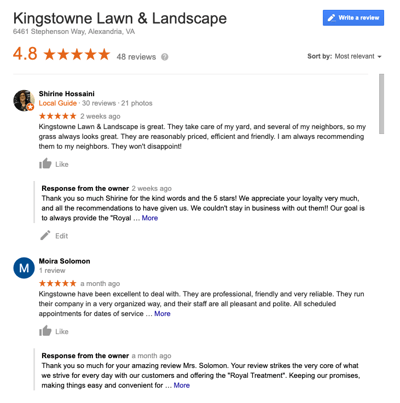 Online reviews can be a great way to get a sense of what others think about a company. Reviews provide "social proof," wherein you can see what homeowners who have utilized a company before you think of their services.
Here are the ratings from Google Reviews for both TruGreen Lorton, VA, and Kingstowne.
Kingstowne Lawn & Landscape Google Review: 4.8-stars
TruGreen Lorton, VA Google Reviews: 4.1-stars
Making the Best Choice
At the end of the day, you just want to be able to feel like you've made the best possible choice when it comes to hiring a lawn care company. After all, you understand that who you choose to service your lawn is not only going to impact your overall experience, but also the results that you end up with. When you make an investment, you want to feel confident that you're going to be happy with your choice.
By making a wise choice, you can gain that confidence. Plus, you can start working on building a long-term relationship with a local company who has team members living in this community, just like you.
Are you ready to work with the best? Request your quote, choose from our 3 lawn care package options, and relax as you get the royal treatment.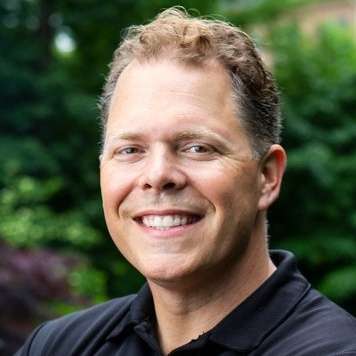 Krisjan Berzins - Owner, CEO
Since 1997, Krisjan has led the Kingstowne team with one simple philosophy, treat every customer like the "only" customer. His passionate pursuit of impeccable customer service has resulted in 23 successful years and a thriving company with over 65 employees, helping thousands of homeowners in the Alexandria, Arlington, and Springfield, VA area get what they want -- a worry-free property they can be proud of.