We know that nobody likes the idea of creepy crawlies like spiders, "thousand leggers" (centipedes), and cockroaches lurking around their home. But if these pests are on your property, it's only a matter of time until they make their way inside. Pests search for much of the same comforts of home that we are…food, water, and shelter.

Pests come inside to hunker down in a cozy place and they typically invite their friends to join them once they've found the perfect hang-out.

Many homeowners are interested in a perimeter pest control service to avoid all these worries. Investing in perimeter pest control is a great way to deter pests.

But if you have never used pest control before, you might be wondering what to expect from that first outdoor pest control visit.

We've put together this step-by-step guide of what to expect when pest control visits so that you can be prepared.
#1: Call and Get Your Quote
First and foremost, before we go into the first outdoor pest control visit, let's talk about getting your quote.

Kingstowne is able to get quick information out to prospective clients using technology. Because the cost of our perimeter pest control service is based on the size of your property, we can use satellite imaging technology to get you a quick quote.
We find that homeowners appreciate this since when you're dealing with creepy crawlies you don't want to wait long for someone to come out and provide you with an estimate. In most cases, we get prospective clients a quote within two days. Then, you can sign up for services.

Some people ask us why they would sign up during the off-season…or why we start our perimeter pest control service in March when they aren't seeing any pests yet. But the entire idea of perimeter pest control is to prevent pests from entering your home.

If you wait until you already have a lot of pests inside, it's a lot harder to play catch up.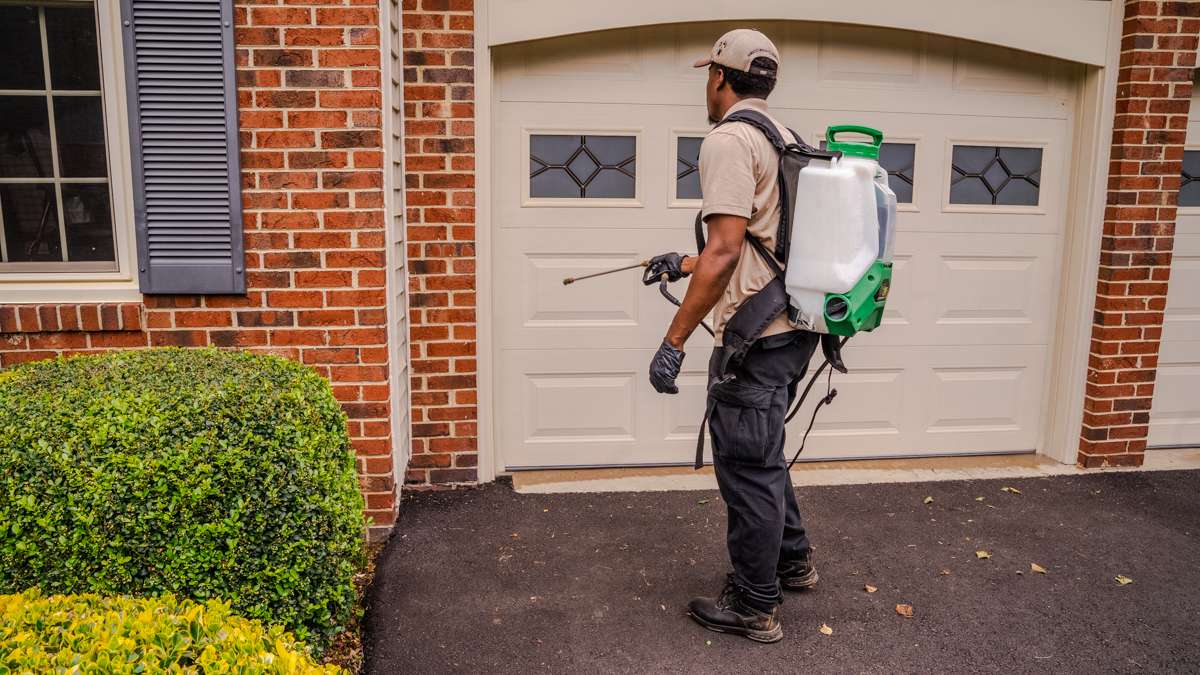 That's because perimeter pest control works by forming a protective barrier around your home that acts as a shield and keeps pests away. Once you already have an infestation inside of your home, you may need to deal with an exterminator and then come back to using perimeter pest control for future protection.

With our perimeter pest control service starting in March, we are trying to control the first generation of early pests so that they are not breeding the next generation…and the next generation…and so on. Stopping the problem early is key.
#2: Get On Our Schedule for Your First Outdoor Pest Control Visit
Once you are on our schedule (the earlier the better), you can anticipate your first outdoor pest control visit.

For a perimeter pest control service, you will see your technician applying professional pest control products all around the perimeter of your home. While there, they will be identifying potential entry points and treating those areas.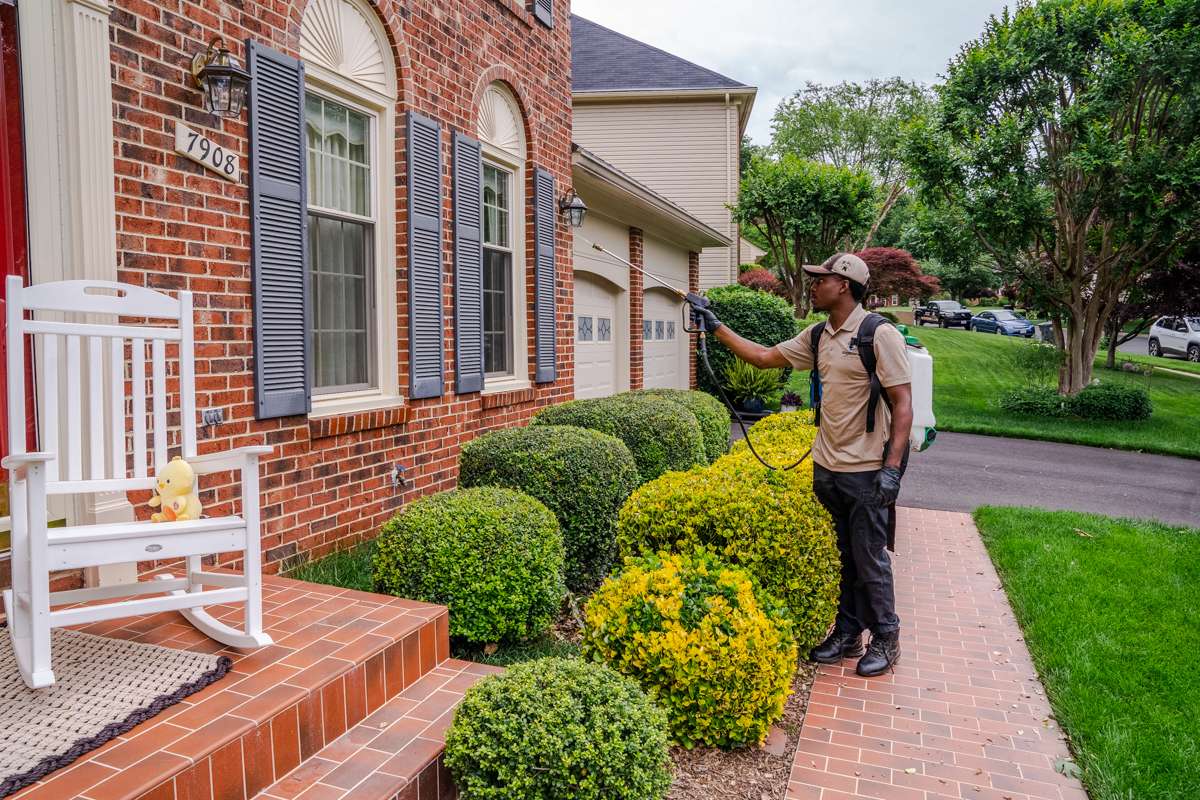 This includes landscaping, the home's foundation, doors and windows, and cracks and crevices. This is forming a "shield" to protect your home from pests. You should know that bugs are excellent at hiding but your pest control technician will seek out those potential hiding spots and make sure that they are treated.

During the first outdoor pest control visit you'll also see the technician seeking out and removing cobwebs.

We recommend keeping kids and pets inside during our visit. Once the product is completely dry (usually around an hour or less), it is safe to return outside. One of the nice things about the fact that we never enter your home is that you don't actually have to be at home for us to perform our visit.

You will notice that when we leave, we will leave a yard sign letting you know that your treatment was performed. But we always want to keep the lines of communication open so if you ever have questions, we invite you to reach out.
#3: Gain Peace of Mind Knowing You're in Good Hands
One of the best things about perimeter pest control is that it comes with peace of mind. You know that you are taking steps to keep pests out of your home and that's something to feel good about.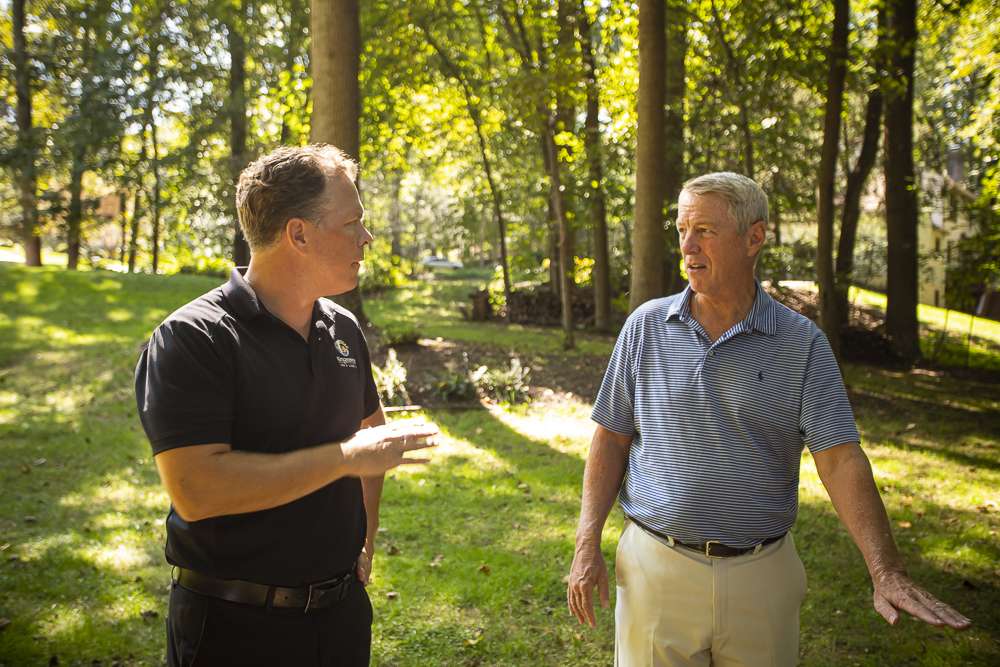 Once you've signed up for perimeter pest control, we'll make sure that you're getting regular treatments so that the shield stays strong.

Because we use safe products, they don't last as long as some more potent products. This just means coming out throughout the season to reapply the product and keep that barrier effective.
Choosing Perimeter Pest Control in Alexandria, Arlington, and Springfield, VA
When it comes to getting the results and the service that you desire, you want to choose wisely amongst perimeter pest control services in our area. While you have plenty of companies to choose from, you want to make sure to select a company that has your best interest at heart.

We've shared the steps that you can expect when signing up for perimeter pest control with Kingstowne Lawn & Landscape, but we know that it can be a different experience with other companies.

We are all about a no-nonsense, proactive approach. As we mentioned, we believe in preventing pests in the first place.

While there are a lot of companies that offer perimeter pest control services in Alexandria, Arlington, and Springfield, VA, we think you'll find that there are very few that are truly honest, responsible, and comprehensively proactive. A lot of companies are determined to sell you on the least number of visits just to get your business. They don't really care about solving your pest problem. They just care about their bottom line.

Whether you've already noticed pests or you're just being proactive about preventing them, we know you want to feel confident that you're getting the most value for your investment. We believe you should be able to enjoy your yard without having to worry about unwanted visits from annoying and even dangerous pests.

Learn more about hiring a pest control company for your home in Alexandria, Arlington, or Springfield, VA. Get started today and request a free Pest Defense quote and let us give you the royal treatment!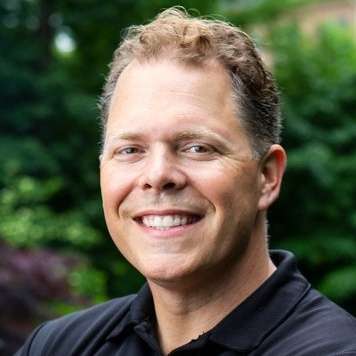 Krisjan Berzins - Owner, CEO
Since 1997, Krisjan has led the Kingstowne team with one simple philosophy, treat every customer like the "only" customer. His passionate pursuit of impeccable customer service has resulted in 24 successful years and a thriving company with over 85 employees, helping thousands of homeowners in the Alexandria, Arlington, and Springfield, VA area get what they want -- a worry-free property they can be proud of.