Gutters serve an important role of directing water away from the perimeter of your house. But when your gutters are clogged, they can easily begin to do more harm than good. Water that runs over the side of your gutters can cause damage to your home's siding or puddle at the foundation and lead to flooding. Water that is unable to drain (due to trapped debris) can also freeze in the winter and cause the gutters to detach from your home.

These are just some of the potential problems. The truth is, if you're not taking time to periodically clean your gutters, then you might be putting your home (and your family) at risk of a number of different problems.

We know that gutter cleaning in Alexandria, Arlington, and Springfield, VA is incredibly important—but we also know that it's not always performed properly. That's why we're walking through the steps that a pro will take for success.
1. Matching the Right Ladder to the Job
It might sound like common sense, but in order to perform this service, you need to have the right ladder for the job.

When it comes to successful gutter cleaning, even pros sometimes make mistakes. Usually the biggest mistake is failing to have the proper sized ladder. If you perform DIY gutter cleaning, then you probably already have a ladder that reaches your gutters. But pros sometimes make the mistake of bringing the wrong-sized ladder with them.

While some homes are two stories, others are four stories, so we always have several ladders with us to make sure we have the right ladder for the job.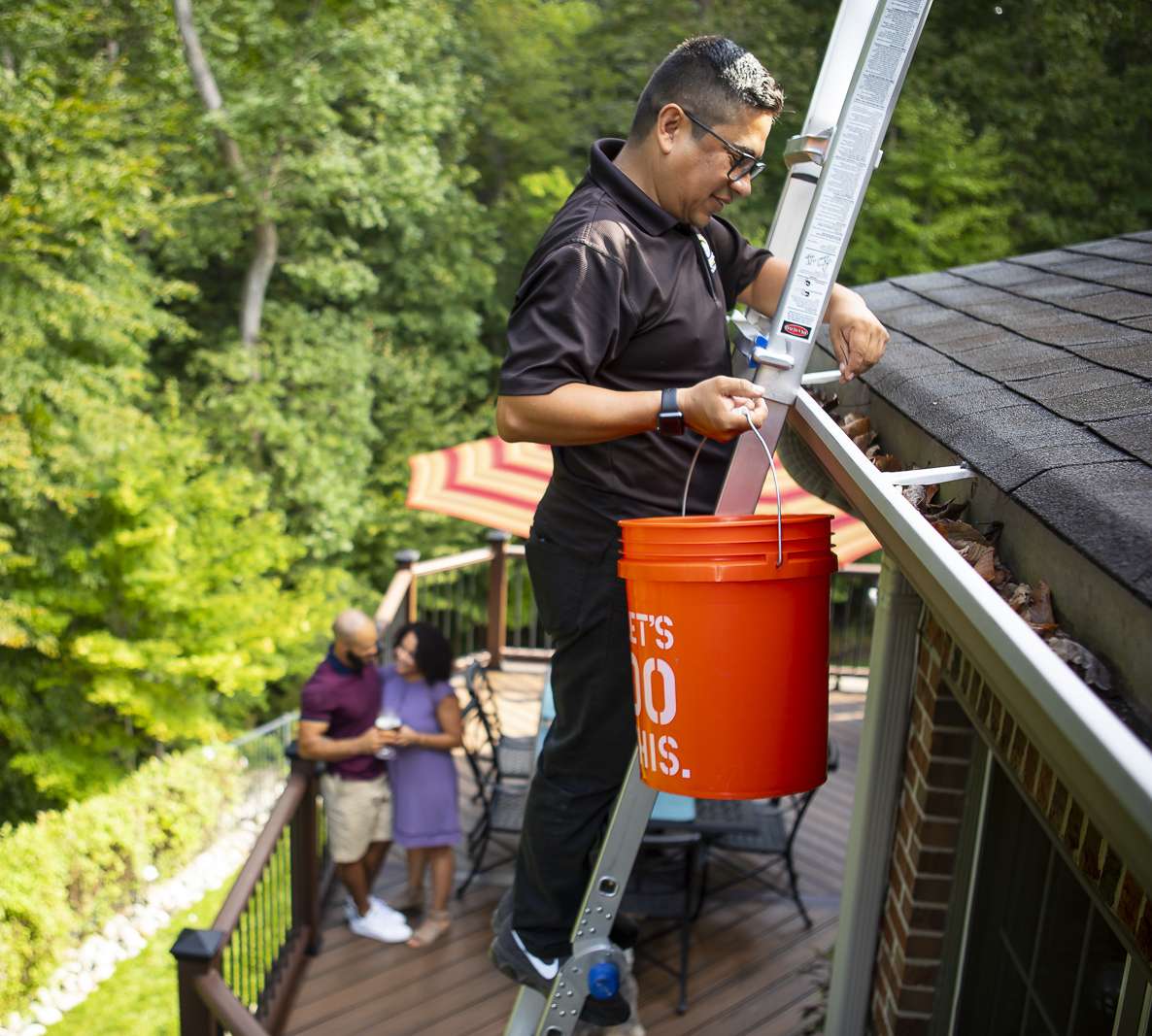 2. Safely Climb the Ladder
Once the right ladder is set up, the next step is to safely begin to climb.

This is something that many homeowners are uncomfortable with—and for good reason. Homeowners might be afraid of heights or just worried about getting hurt. Research shows that each year, there are 164,000 emergency room-treated injuries and 300 deaths in the United States caused by falls from ladders.

A professional will be well-trained in terms of how to safely climb and work on a ladder. But when homeowners attempt to tackle gutter cleaning on their own, things can go awry.
3. Begin Cleaning the Gutter
The next step is to begin cleaning the gutter by hand.

It's important that all debris is removed in order to prevent blockages but also to eliminate mosquito breeding grounds. Many homeowners are surprised to learn that the root of their mosquito problem is coming from a clogged gutter that's creating standing water and a breeding site.

This step is pretty straightforward as it comes but if there is any "secret" to it, it's that after completing hand clearing, we also use a pressure washer to fully wash the interior of the gutters. Sending high-pressure water through the spout confirms that it is fully free of any blockages.This might be a step that homeowners (or maybe even some pros) fail to do. It obviously involves getting a pressure washer safely up on the roof.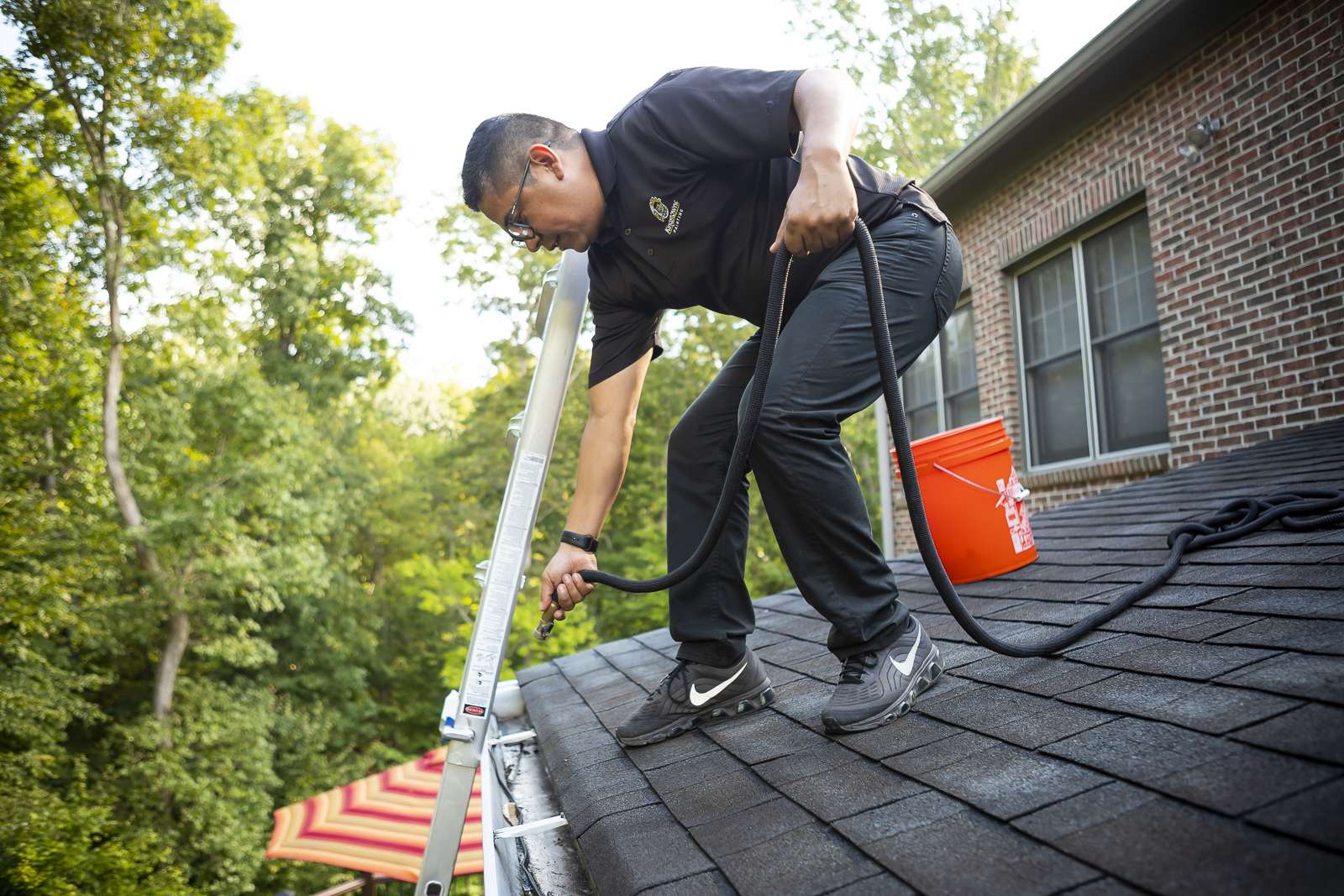 4. Rest Assured that Your Home and Family are Protected
When gutter cleaning is performed properly, then you can rest assured that your home's integrity will be protected and you'll be eliminating potential pest problems as well. But the key is that it's performed properly.

In addition to having the wrong ladder for the job or not being thorough in the cleaning process (including the added step of power washing), one of the biggest downfalls is not having this service performed often enough.

While there are a lot of companies that might offer a one-time gutter cleaning service, this should not be a once-and-done task.

Leaves and debris are going to continue to fall throughout the year (and in years to come), so you're going to continue to need gutter cleaning. You might have it performed once by a pro and then assume you'll start keeping up with it on your own. But people get busy and frankly have better things to do than clean their gutters on a free weekend.

It's recommended that you have your gutters cleaned a minimum of three times per year. However, if you have a large number of trees, you might need more than that. Therefore, you need to have a plan that is customized to your property's specific needs.

The key word there is plan.

With a gutter cleaning plan, the burden is removed from your plate and you know that your gutters will be taken care of. You won't have to call the company each time you need the service performed and try to get fit into their busy schedule. As part of an ongoing plan, a pro will show up when the timing is right.

You'll gain the benefits and let go of all the worries.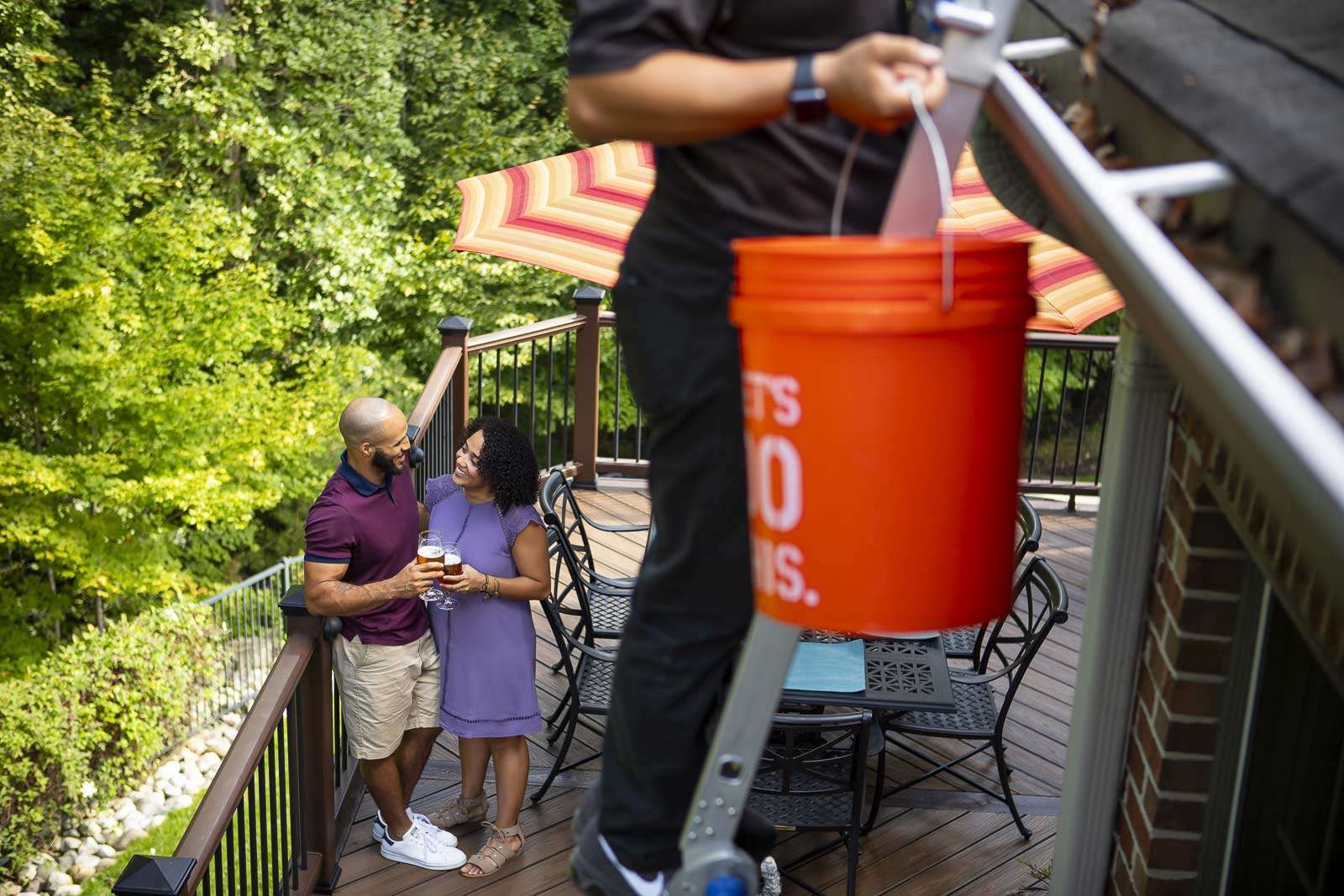 Making a Wise Choice in Gutter Cleaning Near Me
As with anything, not all gutter cleaning services are going to be created equally.

Be careful to choose a company that can offer you peace of mind that you're truly getting your value out of the investment you make in gutter cleaning. It means finding a company that will be prepared to do the work with the proper equipment (including the right-sized ladder), will perform it thoroughly (with the use of a pressure washer), and will be able to offer you a plan that means you'll receive these services on an ongoing basis. You shouldn't have to call and schedule an appointment every time that your gutter needs to be cleaned. You should know it's being handled.

By making a wise choice and investing in a professional gutter cleaning service plan, you can reap all of the benefits without any added burden. It's one of the easiest ways to know that your home and family are protected and that you don't have to take any risks or danger in the process. In the end, that's a win all around.

If you're ready to hand over the worries associated with gutter cleaning, request a quote, get your customized plan, and sit back and relax as you get the royal treatment.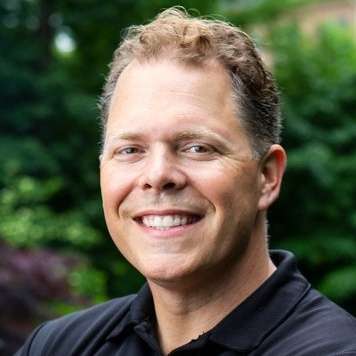 Krisjan Berzins - Owner, CEO
Since 1997, Krisjan has led the Kingstowne team with one simple philosophy, treat every customer like the "only" customer. His passionate pursuit of impeccable customer service has resulted in 24 successful years and a thriving company with over 85 employees, helping thousands of homeowners in the Alexandria, Arlington, and Springfield, VA area get what they want -- a worry-free property they can be proud of.